TFB Game Week | Texas – West Virginia
Posted on: November 16, 2017
How do you feel about this Texas team heading into the West Virginia match-up? It's another week and another Air Raid offense, cue the DJ Khaled GIF, another one! This game always excites me, because of 'Holgo'. You see, Dana's long been a favorite coach of mine, a favorite offensive mind. Add him to the list of coaches I wished coordinated the Texas offense, one can dream, right? Anyhow, this week's game will surely test the Longhorns, a team that boasts a stingy defense and an offense that helps boost the Big 12's defensive stop rates. You're welcome, Big 12 defenses. Without further ado, let's take a look under the burning couch cushion.
Five Factors (images courtesy of footballstudyhall.com)
Texas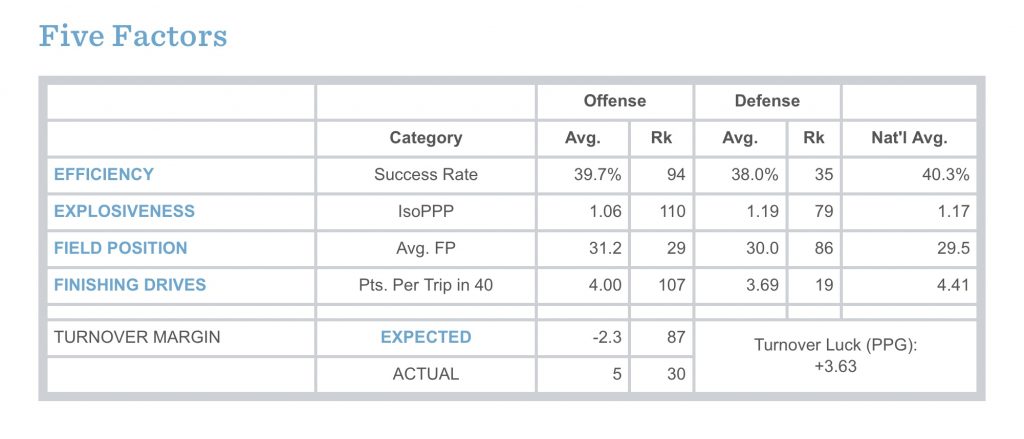 West Virginia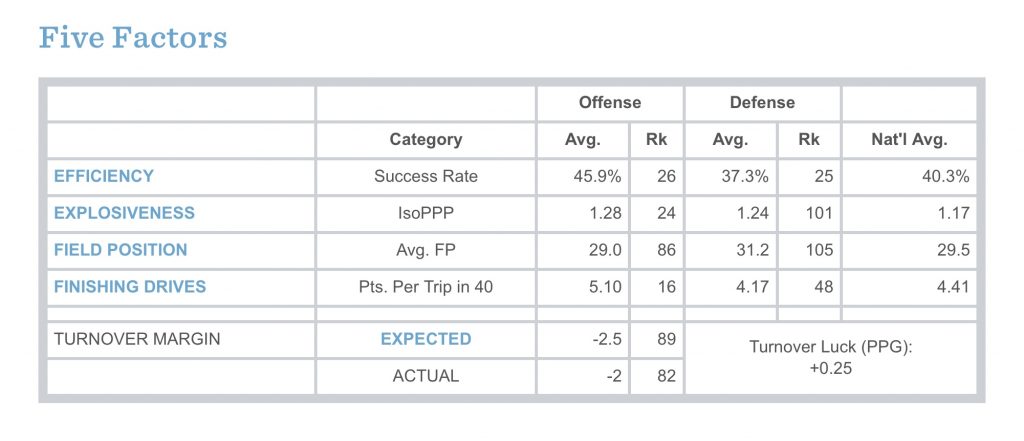 As you've known for weeks, the Texas offense sticks out in all the wrong ways. Herman and Beck managed to put together an inefficient, non-explosive, and non-scoring offense their first shot. Is that entirely their fault, no. However, if you took the 'Mastermind' hype seriously coming into this season, your bubble's been burst for some time now. On the other hand, Orlando's had more luck on his side and his unit is playing well despite the fact that they tend to give up costly explosive plays from time to time. West Virginia, they have a productive offense that is the polar opposite of the Texas offense. It's their defense that's problematic. They tend to struggle against Explosiveness, but are efficient and fairly good at Finishing Drives. This Saturday morning, a possible rainy day, we'll see how it all plays out.
Offense
Gibson 3-3-5 – This is a unique defense in the Big 12. Gibson's 3-3 Stack is an aggressive blitzing 8-man front defense. They like to blitz standard downs to create as many negative plays as possible, to put the offense in passing down situations. If and when the offense finds themselves in passing down situations, they'll drop 7 or 8 and play a variety of 1-high and 2-high coverages. While they are not good statistically, they are capable of stopping a one or none-dimensional offense like Texas.
Bear Front – The Bear front may be Texas' biggest issue this Saturday. The Bear front is when 3 down defensive linemen cover both guards and the center. For teams whose base play is Inside Zone, this is problematic. It doesn't allow a combination block up front and forces the guards and center to block one-on-one. More, what's behind the Bear is a quick fitting 8-man front. The Texas run game, in its current form isn't near good enough to consistently move the ball against the West Virginia front.
The Return – Connor Williams is back! He's been gone a while and will likely have rust, but you've seen the other left tackles play. On a bad day, Connor plays better than any alternative on their best day. Connor's presence will allow for different schemes and for either Derek Kerstetter to remain at right tackle or for Tristan Nickelson to return there, more on that below.
Beat The Bear –  The Bear front makes it harder for Inside Zone running teams (Texas) to attack the A and B gaps, as they generally compress against Bear fronts. That leaves the C-gap (outside either offensive tackle). The problem, there are 5 other defenders fitting the run outside of the 3 down linemen, waiting for the back to 'bounce' the run. To beat the Bear, you need to attack the C-gaps. That's where Williams' return may have the most impact. 'Bear' with me.
Tackle Attack – If the 'Eers front is intent on taking the guards and center out of the play, then use the tackles to attack. Herman-Beck have seen this before and they've pulled the tackle around the guard next to him and up to the 2nd level or they've pulled the tackle clear around the opposite tackle. Either way, one or both change-ups will be welcomed sights. Lastly, because I'm devilish, I'd have a read-option scheme that keys one of the 3-techniques (leaving him unblocked) in my back pocket.
Perimeter – What you notice about West Virginia's defense is that they do yield space outside. They have to because they love setting 8-man fronts. Whether it's in the alley or sideline, throw to 'grass' with quick hitches, inside and outside. Will the staff do this, probably not, because they hate easy yards (lol). The point, there will be space to exploit by alignment alone and when you have Humphrey, Hemphill-Mapps, and Heard, let them finish, YAC. Expect Bubble, Stop, Hitch, Slant (a big one) and Drag outside, give Shane quick moving targets, snap and throw quick.
Drop Back – Where the 'Eers are particularly vulnerable because they play a fair amount of 1-high defense is the weak side Post or breaking the route off flatter, more lateral (like Square-in). Also, utilizing Bubble action to flood the zone and 'wheel' the blocker up the sideline behind a vertical route. More importantly, have a 3rd Fix plan, as well as a throwaway plan. This has been a big criticism of mine all season. Instead of 2nd or 3rd and 10-plus, keep it at 10, every yard makes a difference. The other concept I like is a dual inside vertical concept run to the field. They ran similar against KU. They ran a Stick under two vertical routes and broke off one of the vertical routes inside. Again, the 3rd Fix is important, whether it be an outlet to the back or an outside Hitch rerouted inside, working back to the quarterback, help Shane out! Lastly, what you'll often see when the 'Eers bring the Bear is Cover 1. Run lucky number 7, the corner route against the 1-high deep safety or the Skinny Post inside the corner and out of reach of the 1-high safety. They can create similar with Herman's baby, 3-Level.
The offense needs to score points. To do that, they'll need a wrinkle up front to run some, a good quick game outside, and some timely deep shots. The 'Eers defense isn't very good when you give them more than one thing to attack. So, give them more than one thing to attack.
Defense
Holgo-Raid – Holgorson is a bright offensive mind. He's a shrewd schemer and his offense is oriented vertical. Much like Oklahoma State, they have a well-developed 'shot' game, both play-action and drop back. They are also able to run out of multiple personnel sets and have backs with good footwork and speed. There's a reason they're one of the nation's best offenses.
Wide Splits – Holgo embraces the wide splits you may remember from Sterlin Gilbert's offense. This creates wider running and passing lanes and will stress the Texas defense's ability take the top away, fit the run, and pursue the perimeter screen and quick passing game. Look to see how this feature effects the Texas defense's structure and alignments.
Two Seams – This offense loves to attack deep and are particularly good attacking the seams. Much like the Oklahoma State plan, taking the top of the defense away forces the offense to work more underneath and laterally. Force Grier and the West Virginia offense to execute underneath and outside while contesting the inside receivers and pursuing and striking the outside receivers. The idea is to literally flatten West Virginia's attack to the short zones and the perimeter.
Box The Run – Texas mainly spills runs and in West Virginia's case, it's important to box the run to the short side of the field. To do this, the defense can cheat numbers to the field, while using the 5-man box to deny vertical entry and force the back to bounce to the boundary, where weak side support can quickly come up to make tackles, the corner and boundary safety. The 'Eers like Zone and pulling the guard or tackle to gain a blocker play side. Orlando can use different fronts himself to dissuade certain calls. Then use slants and linebacker-end exchanges to attack the edge.
Key The Back – West Virginia's Draw game is pretty nasty. Their tell is the back will often stay motionless post-snap, as if he's looking for his protection assignment. Then, once the rush lanes are set, Grier will hand the ball off. Of course, that's not all. Holgorson and 'Spav' will expect Orlando to pressure, making it more important to key and follow the back. Against pass situations, whether formation or down and distance, Orlando can use a defensive lineman to track the running back while 'contain rushing', then bring a linebacker after Grier should the back release. The roles can obviously be flipped.
Grier – He is a great deep passer. Take that away and he's prone to interceptions. I expect a relatively conservative approach outside at the corners and a more aggressive physical and bracketing approach inside and up the seams. Grier is not a great runner, but is strong and can scramble for yards. Something bothersome the last two weeks, the Texas 'contain rush'. It's important for the rush to stay disciplined, maintain their lanes, and proper depth. I still say, spy Grier. Tighten the noose and should he escape, there's a speedy linebacker or safety ready to greet him.
Dime – This package is paying dividends. It leverages the defensive line, utilizes speed at linebacker, and varies the run fits and coverage with 4 defensive backs inside. You saw Jason Hall play last Saturday. He's great in and around the line of scrimmage, defending the run and rushing off the edge. I'm curious if Orlando deploys Hall as the 'heavy' Dime defender against some of West Virginia's one and two tight end sets (standard down and short yardage). Expect some tailored coverage in this game, both 1 and 2-high. One thing Orlando does is plan special for the better passing attacks. Again, eliminate the busts on the back end and this defense is a monster.
What the Texas defense cannot do is have a similar opening to the TCU game. Keep penalties to a minimum, keep your hands off receivers upfield, get your head turned, contest everything. West Virginia will have trouble with Texas' front. This unit has carried a lot of water for this defense up to now and I expect them to continue. As far as the extent the Texas defense can limit the West Virginia offense remains to be seen. That said, I can't wait what remains to be seen. As always, let me know what you think in the comments.