TFB Bowl Week | Texas – Missouri
Posted on: December 26, 2017
Bowl season is an entirely new season for some teams. Ask Texas fans if they'll see the same team this week that they saw during the regular season. For Texas, the roster was under constant flux during the season too, mainly on offense. The fact that many familiar faces (some starters) won't be available for Texas doesn't bode well. This team was far from complete during the season. Now, they face a good (not great) Missouri football team, one that has its own problems and are the inverse of what Texas has been this season. Meaning, they're all offense and no defense in the way that Texas is all defense and no offense. Just how that all figures into this Wednesday's game will be interesting. Can the Texas defense carry this team to a win with a depleted roster? Will the offense be able to move the ball against a bad (SEC! SEC! SEC!) defense? Given what we've seen from Texas against other bad defenses, the prognosis is negative. I'll be keeping this one brief, Holidays and all, and I wish you and your families a Merry Christmas and Happy New Year. For starters, let's take a look at how these teams Five Factors stack up (Five Factors per footballstudyhall.com).
Missouri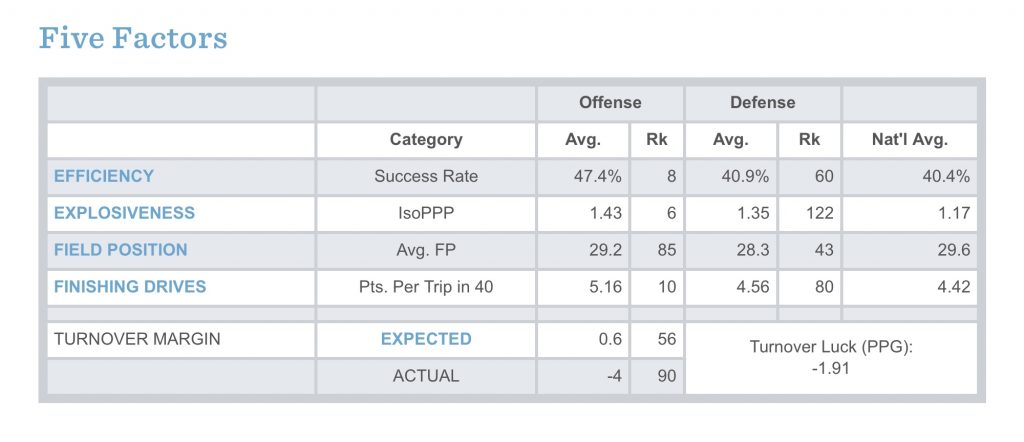 Texas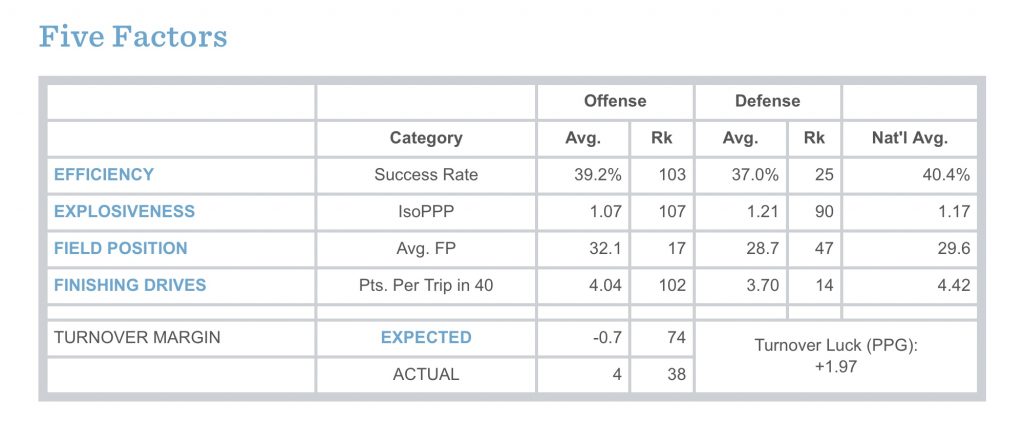 Offense
Shane will get the start and we'll see how short his 'leash' is. I have zero confidence in the Herman-Beck offense. Add to that, Texas will be missing the likes of Lil'Jordan Humphrey and Toneil Carter, not to mention the others, Williams and Warren. On the other hand, it looks like Elijah Rodriguez is back in the lineup and will get the start at left tackle. Keep your eyes on that. We'll see just how effective the 'newish' unit is up front. This brings me to my first point.
Big Uglies – The best part of Missouri's bad defense is the defensive line. While they're not great, the opposition isn't either. Can the Texas offensive line finally win some up front to allow the offense to breathe? Also, given you'll see a new starter on the line, especially at left tackle, will Rodriguez hold up better than the other alternatives seen during the season?
Daniel & Kyle – The bulk of the carries will go to both Young and Porter. Those will be the only two backs available for the Longhorns. Young has grown into a good all-around back, while Porter's shown to be consistent and limited in effectiveness. It seems he never acclimated to the type of reads asked of the backs in this offense, whereas Young has. Missouri runs a 4-2-5 heavy in 'match-quarters' and while they're a bit disordered and soft on the back end, they can and will stop the run if there's little else to worry about. That's where Shane comes in.
Shane – Texas' best play is Zone-Bubble and I'd add, Bubble is their best play because it takes the offensive line completely out of the equation. With Shane in the game, perimeter screens and quick passes becomes all the more important, as the quarterback run game is mostly eliminated. I don't need to tell you that Shane is a capable passer. He can make the throws needed to win the game. The question becomes, will the entire unit play well enough to support his effort? If there are drops and busts up front, it severely limits Shane's potential as an accurate passer. Shane will need to play well too, as even he's been prone to bad decisions from time to time. It's either him or it's the way he's being coached. That's very hard to tell.
Formation – When it comes to 4-2-5 defenses, some distortion is needed. For Texas, that means some unbalanced formations, 3X1, 2X1, and Quads. Add to that, using formation into boundary (FIB), Stack, and Bunch can add stress to the run and coverage responsibilities of the linebackers and safeties. Texas already does all this and that part bodes well.
Concepts – As mentioned prior, Zone-Bubble is Texas' base play and best play. Texas will be limited at both tight end and running back, expect mostly single tight end and single back sets. Adding motion will help constrain inside runs and can be used to add backfield split-flow along with an 'extra' runner and lead blocker, as the back can lead for a motion ball-carrier. For the most part, Texas' base runs (Zone & Counter) can be utilized with most screens and quick passes. Downfield, the sidelines are yielded and the hook-curl zones are after vertical 'clear-outs'. Allow Shane to work the sidelines and routes against linebackers. The Mizzou secondary isn't cohesive, so test it early and often. So long as Texas isn't shy about attacking deep, I think they have a chance to move the ball.
Defense
This too will be different. As of now, DeShon Elliott and Malik Jefferson will not play. That should make you very curious. Orlando will need to find workable options at both spots. You will likely see Locke play in Elliot's spot. He should be fine there. At weak side linebacker, you may see Johnson slide over to the strong side and Wheeler play the weak side spot. Either way, there's talent on this defense and you may not see much 'drop-off' at all.
Defensive Line – Though Texas will be without defensive tackle, Chris Nelson, that still leaves them with Poona Ford, Gerald Wilbon, Charles Omenihu, Malcolm Roach, Breckyn Hager, and Ta'Quon Graham, depth is still present. What you could see is Ford flanked by Omenihu and Roach, weak and strong. Also, you'll see Wheeler in place of Malik. If that's the case, expect Orlando to use Wheeler to help set the front more often with Johnson scraping. Wheeler is good at the line of scrimmage and they'll need that against Mizzou's offensive line.
Nickel & Dime – Mizzou plays a lot of single tight end and 4 receiver sets. Expect to see Texas' Nickel and Dime packages. It's likely Orlando feels comfortable with Dime, especially with Hall at the weak side outside linebacker spot. That allows a lot of flexibility at the line and in coverage, as it disallows spread teams to formation into better match-ups. No matter what, you're aligning to 3 defensive backs to either side.
Zone & Pull – Mizzou is 'heavy' zone, but will 'pull to numbers' where they can gain an advantage. It's a simple and effective run game and Texas will need to take care of alignment. Together with a somewhat conservative approach on the back end, Texas will need to mind the gaps up front.
Coverage – This one is tricky in how it fits with the simple Mizzou run game. The very wide receiver splits widen the safeties (2-high) or safety (1-high). Where Mizzou's big plays come from are creases opening up inside in the run game or down the sidelines on fade routes. Texas can either cap the sideline verticals with safeties over and corners under and play man everywhere else, or they can play the corners well-over the top of any sideline verticals. The latter allows them to bring more numbers against the run, expect a mix of both ideas, as Orlando's defense can play a soft 'quarters' coverage to either side coupled with a bracket opposite or Texas can play Cover 1 with 'Catch' technique outside (off-coverage). Much like Oklahoma State, what is the Mizzou offense without their favorite big pass plays? Orlando will ask that question.
Overall, it's a decent match-up. Texas is the underdog and that is fine. Given the roster's losses, it will make it more difficult for Texas to compete at a high level. That said, both Beck and Orlando have talent to deploy on both sides of the ball. On offense, players like Foreman, Heard, and Burt will have a chance to shine. Not to mention, Rodriguez returning bodes well for the offensive line as a whole. On defense, both Wheeler and Locke will be asked to fill-in for Jefferson and Elliott. Both are capable players and I suspect it both forces and allows Orlando to play a bit different up front and on the back end, as they possess different strengths. Texas will look for it's first bowl win in what seems like one hundred years (lol). Do you think they get it done? As always, let me know what you think in the comments.