Open Post | Wednesday, January 10th
Posted on: January 10, 2018
– Tyree Wilson: As many of you know, Texas recently offered 2018 DE, Tyree Wilson (West Rusk High School).
Blessed to receive an offer from the University of Texas pic.twitter.com/8dvM28bIIT

— [Tÿrëë Wïlśöñ]•7️⃣ (@tyreesoclean23) January 7, 2018
Recruiting…
I spoke to Wilson's coach who tells me that he senses Wilson didn't sign with Texas A&M early because of some of the instability with all the coaching changes. He did however say that, "he loves coach Price and he likes Texas A&M but he's going to take some visits just to make sure". I'm told Wilson will visit Texas, TCU and Arkansas.
Wilson recently picked up offers from Texas and Florida but with Wilson's upside, plenty more offers could come. In fact his coach tells me that Ohio State and Oregon have reached out. Interestingly, Wilson's mother ran track at Oregon.
The Upside…
I'll tell you exactly what I see in Tyree Wilson. I see the bend and body type that Alabama and Georgia recruit. Long long guys who can run that they put into their machine of a strength and conditioning program and then those guys come out the other end as monsters who reek havoc on offensive lines for four quarters.
Wilson's coach tells me they measured Tyree without shoes and he stands at 6'5.5 and weighs 230 lbs. By the looks of him he will easily carry another 40 to 50 lbs. He has an 83 inch wingspan! That's the type of non-negotiable length. Despite his length coach says, "he's so stinking long but he's strong. Tyree works out with 225 lbs. And he's still young. He won't turn 18 until May."
In talking about why Tyree has gone a bit under the radar up until recently, his coach said, "He hadn't come into his body his junior year. It was after his junior year that he got man muscle. I might be bias but I've seen some player. Tyree isn't a three star. He's a mid four star. I mean, he runs a legit 4.6. He ran 4.61 and 4.62 at camps this summer. He was offered within a day at every camp he went to".
Tyree also checks the character and work ethic boxes, according to his coach, "he's got the grades. He's a great kid. He's a practice player. He enjoys practice. He loves the weight room. I've had kids who can play but they might not be able to handle the heat. Tyree loves it".
– After the Army All-American game, I was able to catch up with two future Longhorns.
Anthony Cook
The first was Anthony Cook, the 5-star CB out of  Houston Lamar.
Anthony's decision to go to Texas was probably the most unknown and biggest decision in the 2018 class so far. According to him he choose Texas due to the DBU tradition of the University offered, "Being from Texas and being a good DB, I want to bring that tradition back. For the love of my state and wanting to do something great is what drove me to Texas." Cook is excited about pushing himself with the competition at the next level and making a name for himself in college.
Anthony will get his wish as he will arrive on Texas' campus as a student and member of the Longhorns starting this Thursday, joined by Caden Sterns, Brennan Eagles, Casey Thompson, Cameron Rising, BJ Foster, and Ayodele Adeoye.
I was told by one family member of the defensive back class that the incoming DBs want to take their numbers to be sequential. Anthony Cook confirmed this and told me that with Kris Boyd being #2, Jalen Green will take #3, Cook will be #4, and D'Shawn Jamison will be #5.
Junior Angilau
The other player I got to know was the big 6'6″ 300lbs OL Junior Angilau out of Utah. Due to his how personable and hard-working Angilau is, he was elected team captain of the West team. The guy really is funny and fun to talk to.
Angilau fell in love with the Texas coaches as the recruiting process went on. This was a huge reason he decided to play under Tom Herman, expressing, "If you have a coach that you'll die for then there is no limit to how good you can be."
The knock on Junior has always been that he plays in a triple-option offense in high school. There isn't a lot of pass blocking in the triple option whereas there is a ton in the spread. But Junior seems ready to get into the spread offense and learn as soon as he gets to campus, "It was a heck of a lot of fun playing spread… It's so much easier. I'm not even tired…"
There is still no decision nor time frame for his decision between going on his mission or going to college. He wants to go to college because he loves the game of football, but he has a feeling he can change peoples lives if he were to go on the mission.
If he does end up deciding to go to college this year, he'll be playing with his cousin senior OL Patrick Vahe. As soon as I brought up his cousin he he started to jump around and got a whole lot more excited at the idea of messing with him during practice, "I'm going to mess around with him every practice, man. I'm going to get him so mad!… I just always mess around with my teammates just to make them happy. I always keep the mood light." – (Will Baizer)
– All-American Game Targets/Commits Notes: Let me start off with this note: it's a for fun game, so it is tough to tell if the player is really giving their all or going through motions. Furthermore, it is one game with an unfamiliar coach after one week of practice with guys they've probably never played with. For some cases, I don't feel this is a serious representation of what you may see at the next level. With that said…

Under Armour
Josh Moore
Was targeted once, and it wasn't a great throw. He showed great fluidity in his route running, but that's no surprise. That's about all I can say.
Keaontay Ingram
Sometimes you have bad days. That's just sports. Keaontay had trouble getting anything going. He went backwards a few times, fumbled, and dropped an easy pass. This was a combination of the holes not being where they were supposed to and just some boneheaded plays. Mostly there was never anything open where ever he went. Oh well.
Al'Vonte Woodard
He wasn't targeted very much, however he caught the balls that were thrown his was. Of the 8 total catches for his team, two of them were his. Al'Vonte showed that he's more than just a guy who stretches the field on a go route, something I heard during the off-season. He ran some sharp routes which gave the QBs a window to get the ball into him. He also made a pretty great catch and adjustment to the ball on a comeback route where the CB was right on top of him. When asked to block he does so alright. He could hold his blocks a bit better.
A nice throw to #HookEm WR signee Al'Vonte Woodard (@Vonte_4) and he brings it in through tight coverage. pic.twitter.com/4qM6w1J5jv

— Will Baizer (@WillBaizer) January 5, 2018
He seemed to be a reliable player.
Malcolm Epps
Asked to block almost all night long. Appeared to be a willing blocker at times, but other times was less enthusiastic (it's also an All-American game, so that doesn't necessarily mean anything). He was good at initiating the block, but he was thrown off some blocks before long. He'll have to really work on holding his blocks and using his hands past initial contact when he gets to Texas. I wish he would've been able to catch the ball because that is where he excels.
Keondre Coburn
While his presence wasn't felt in the stat sheet, it was felt by the QB and RB. Keondre Coburn bullied the middle of the line despite being double teamed much of the night. He was a clog in the middle of the line, and that is exactly the type of presence that works best in the 3-4 front that Orlando likes to employ. Another thing that I noticed was his play awareness as he recognized and literally took out the screen option when the offense tried to run the RB screen. High football IQ.
On the flip side he did get caught up a few times in blocks when he got high. Most of the time he was able to maintain his feet throughout each play and take up two blockers, but a lot of the time it resulted in him being taken out of plays.
Overall an okay night for him. Showed what needed to be shown.
Ayodele Adeoye
He read the runs and passes well and covered well enough. I'd like to see him wrap up at the point of attack instead of launch himself. Not very speedy, but has a good eye for where the play is going. He needs to get faster to play in the Big 12. Still, I liked what I saw overall. A good nose for the ball.
BJ Foster
Foster was an absolute freak of nature during the UA game. He may have avoided a targeting call (yeah that would have 100% been called targeting in college), but he absolutely demolished kids all night flying to the ball full speed. He saved a touchdown with a vicious hit, and knocked 5-star Penn State RB commit Ricky Slade so hard and perfectly that he coughed up the ball. He was all over the field all night long and basically shut down any passes deep to his side. This game was a display of the awareness, ridiculous closing speed, and disregard for human life that made him a 5-star to begin with.
#HookEm signee BJ Foster (@nofear_2) laying the wood. pic.twitter.com/xjxxkWHpXl

— Will Baizer (@WillBaizer) January 4, 2018
#HookEm Safety signee BJ Foster (@nofear_2) lays the wood to save the TD. Just… wow! pic.twitter.com/KztVLxYpLS

— Will Baizer (@WillBaizer) January 5, 2018
DeMarvion Overshown
Overshown put on display what made so many people excited. He's an athletic freak who is also a football player. He showed speed in coverage, made big hits that jarred balls loose, read the QB to force some incompletions, and made open field tackles in run support. On top of all of this he was a made some impressive plays on special teams. His ability to cover one-on-one from the safety position is something he'll be asked to do as a Longhorn. The fluidity of his hips and size really helps in this regard.
DeMarvion Overshown (@dee_overshown6) with the stick to stop the TD. #HookEm pic.twitter.com/tKcXqFGogw

— Will Baizer (@WillBaizer) January 5, 2018
D'Shawn Jamison
A quite day for DJ, but that isn't a bad thing. What I took away from this game is the guy is quick. Like really quick. He accelerates well, he has speed, and he even makes his decisions quickly. This could've bit him the butt a few times, but it didn't because he was never picked on.
---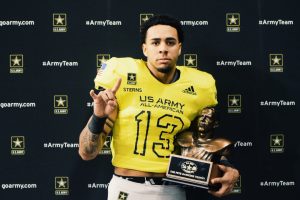 Army
Jaylen Waddle
In a day where not much offense was found, Jaylen Waddle still found a way to produce. Waddle was a problem for some elite DBs out of the East as they had trouble keeping up with his acceleration, speed, and cuts. He caught the defense off guard early for a 46-yard catch and late in the game winning TD. As we've said before, Texas really wants Waddle and for good reason. The in-home will be important.
Brennan Eagles
Like I said above, the it wasn't a good day for offense. Brennan Eagles wasn't targeted much during the game despite being open multiple times. I still think he's a special talent as he displayed during practices throughout the week.
#HookEm WR signee Brennan Eagles (@_BrennanEagles_) is an exciting guy. I expect playing time early.

(📽️@Rivals) pic.twitter.com/4gUWDoWqDM

— Will Baizer (@WillBaizer) January 3, 2018
I think learning to use his strength and size will be a big part of realizing his full potential. I expect him to come in early this Spring and see playing time in the fall.
Junior Angilau
As I mentioned in my piece where I interviewed Angilau (here), he has never played in a Spread offense and only had a week to practice it. He struggled a few times in pass protection, but so did everyone else. If he arrives in Austin this summer, I think he'll be just fine in run blocking, but will need to have a tune up on pass protection.
Caden Sterns
I've been pumping Caden Sterns for about a year or two now, and boy did he show out. He was flying all over the field making tackles in run support, grabbing two interceptions, and covering guys one-on-one. He displayed his instincts through his play and his understanding of the game and leadership by being the guy who got everyone set up pre-snap. Furthermore, Caden showed out a number of times during practices.
😱😱😱 #HookEm DB signee Caden Sterns (@lil_STERNS2) with the diving pick after covering elite WR Jaylen Waddle

(📽️@Rivals) pic.twitter.com/cooU248aiS

— Will Baizer (@WillBaizer) January 3, 2018
Texas signee Caden Sterns with a 💥 pic.twitter.com/CMsutcjFZM

— Sam Spiegelman (@samspiegs) January 4, 2018
Very impressed with Sterns.
Jalen Green
Green was a bit on and off. He missed a few open field tackles and at times let a bit too much happen when playing off-man coverage. I feel as though this is expected as Jalen is still a bit raw and that was known. What was impressive was a few plays he made that flashed what he can be turned into where he got a diving PBU and ran across the field to save a TD. Still think the guy is elite.
Anthony Cook
Cook never really had a chance to make a play due to the defense that was run. When he did he was called for a foul. He made some open field tackles and missed others. Almost had an interception, but gave up a catch instead. So it wasn't his best day ever, but he was playing a position he isn't used to. Put him up on the line of scrimmage and let him play physically and he'll performs better. He'll be on campus early, so I hope they put some more muscle on him and he really takes in the coaching. – (Will Baizer)