Open Post | Weekend, March 9th-11th
Posted on: March 9, 2018
– A few nights ago, 2019 DB Bobby Wolfe decommitted from TAMU.
Trusting the process…… pic.twitter.com/ylFjvqDcMB

— Bobby "HOLLYWOOD" Wolfe🎬 (@iambobbywolfe1) March 7, 2018
I know there are quite a few people acting as though somehow TAMU was about to steal every recruit possible. The reality is that the TAMU staff has a tremendous amount of pressure on them. I can tell you from conversations that I've had with recruits that their staff is putting pressure on players. I don't think this is the only decommitment you will see from the currently committed players.
On a scale of 0 to 75 million dollars, how epic is it? https://t.co/PYy1pebRAl

— Super K (@SuperK_TFB) March 7, 2018
– In last weekend's Open Post we noted…
Earlier this week, I spoke with 2019 OL, Kenyon Green and his father. Green's father told me that they were targeting this weekend for a unofficial visit to Texas. However, due to another commitment they've decided to postpone the visit. They are now looking at taking a visit next weekend (March 10th).
Green is close friends and a former teammate of current Texas offensive lineman, Sam Cosmi.
Green's father did reconfirm that they will indeed will visit Texas this weekend (March 10th).
– Jordan Whittington is set to make his announcement this Saturday, March 10th. Announcement is expected early afternoon.
– As Andrew noted the other day, 2019 LB Owen Pappoe (Loganville, GA) plans to take an official visit to Texas. Pappoe is teammates with Texas DB target, Kenyatta Watson II. I spoke with a source close to Pappoe and was told that Pappoe may actually take an unofficial visit to Texas even before his official visit.
I'm told that coach Washington has been recruiting a number of the Grayson High School prospects and it sounds like Watson and Pappoe may not be the only visitors from Grayson to come in at the end of April. I'm working on a list of possible recruits from Grayson that may be visiting.
Also of note. One source told me not to assume that Pappoe will end up at UGA. Source said that the last class being so stacked is giving some in-state players pause. -(Super K)
–Demani Richardson: I recently had the opportunity to speak with the father of 2019 TAMU DB commit, Demani Richardson (Waxahachie, TX). Demani's father tells me that they will take an unofficial visit to Texas on March 24th.
Though Richardson grew up a Texas fan, he has only been to UT for football camps. This will be his first real unofficial and toured visit to Texas. -(Super K)
–Calvin Anderson: The Rice grad transfer left tackle has announced that he will make his decision public this Saturday, March 10th. Anderson has narrowed things down to OU, UT, Auburn and Michigan.
… Saturday pic.twitter.com/6B3mva6EoI

— Calvin Anderson (@THE_CONDA25) March 8, 2018
I spoke with Anderson at length last week and he told me that he had not yet made a decision. He said that he has evaluated all four schools and felt he would be helping himself at any of the four schools.
According to at least one GM, Anderson could have gone in the 4th or 5th round this year. The issue, as Anderson described it to me, is that the level of competition makes it difficult for any team to take him much higher than that.
When I spoke with Anderson he said that what he has been waiting on is that "gut" feeling or that sign in heart on which is the right school. Last week when we spoke I even asked him if there were any schools he could at least eliminate to help him settle on one and he said he could not.
It seems that Calvin has finally come to peace with one school and is ready to announce.
I still believe Texas is the most likely destination. -(Super K)
– In case you missed it, late last month Texas offered 2019 TE Brayden Liebrock out of Arizona (Chandler HS).
I am beyond blessed and humbled to have received an offer from the University of Texas!!🐂 #GoLonghorns pic.twitter.com/32EJDhsipv

— Brayden Liebrock (@LiebrockBrayden) February 20, 2018
Liebrock tells me he will be visiting Texas the 18th or 19th of this month. It will be part of his Spring Break trip where he will also visit Ohio State and Notre Dame.
Brayden has been on a roll so far having stand out performances at both the Pylon Elites 7-on-7 tournament and the Opening Regional in San Francisco. Aside from Texas, Liebrock holds offers from Ohio State, Notre Dame, Cal, and Arizona State.
Tim Beck and Derek Warehime have been building a solid relationship with the rising prospect. And, that work is paying dividends as the staff will have chance to get Liebrock on campus and further strengthen that bond. – (Will)
– The father of Kenyatta Watson, the big time DB out of Georgia, tells us that they have set up a return visit to Texas which will be on April 5th. He will also be visiting Notre Dame on March 24th. So, according to his father, Kenyatta's visit schedule looks like:
Notre Dame UOV on March 24
Texas UOV on Apr. 5
Notre Dame OV on Apr. 13
Texas OV on Apr. 27.
As we have stated in the past, we feel confident in Texas in this recruitment. – (Will)
– Last night, I spoke with 2019 DE/OLB, Nana Osafo-Mensah. I came away from that conversation feeling like Texas is much more in the mix than perhaps I earlier thought. Mensah said that he plans to visit Texas on March 24th.
He also said he plans on taking an official visit to Texas this spring.
A decision date is rapidly approach. Nana says he will announce his decision on May 19th. I'll have more on this later. – (Super K)
–Bryan Carrington: According to our sources, Bryan Carrington has been given a promotion and a fancy new title. The former Assistant Director of Player Personnel now holds the title Director of Recruiting at Texas.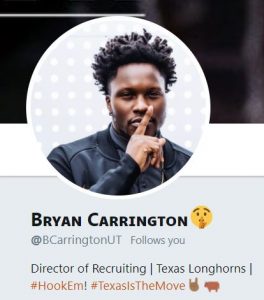 Carrington was instrumental in the success of the 2018 class, helping the Longhorns snag top recruits like Joseph Ossai and Daniel Carson, while also sealing the deal with a number of others. He is a recruiting force, and it became well known.
Bryan Carrington was being actively pursued by a number of schools (most notably LSU). Before this was happening, Carrington was in talks with Texas to be given this new title and a pay raise.
It seems Tom Herman and Chris Del Conte do not play around.
In his previous role, Carrington was tasked with making sure on-campus visits ran smoothly, identifying prospects, and helping the staff with general day-to-day recruiting duties.
Per a source, Carrington will continue to be responsible for identifying targets, gathering intel for the staff, and making sure the recruiting business runs smoothly along with a few more responsibilities.
Texas didn't waste much time locking Carrington in and making sure he was well taking care of. The news of LSU pursuing Carrington broke last week and we are told that a handshake deal between Texas and Carrington was done before the week ended. -(Will)
–Orange White Spring Game: The Longhorn Network will give Texas fans a full Forty Acres experience on Saturday, April 21, concluding with Football's Orange-White Spring Game that night inside Darrell K Royal – Texas Memorial Stadium. Lowell Galindo will call the action, and he will be joined in the booth by Hall of Fame former Texas Head Football Coach Mack Brown and also Rod Gilmore. Longhorn Legend Emmanuel Acho will serve as the field analyst.
The day begins with Texas Softball hosting Oklahoma State at 12 p.m. CT at Red and Charline McCombs Field. Texas Baseball hosts New Orleans in a nonconference matchup at 2:30 p.m. at UFCU Disch-Falk Field on LHN prior to Texas GameDay beginning at 5:30 p.m. Kickoff inside DKR-Texas Memorial Stadium is at 6:30 p.m. and the day will conclude with full highlights and analysis on Texas GameDay Final for an hour at the conclusion of the Orange-White Spring Game. -(Will)
2019 Big Board Introductions | Defensive Backs
As always, the state of Texas is loaded to the brim with talent in the defensive secondary. If you look through Texas for football talent, you'll practically be tripping over top end DB talent.
However, with the historic haul of DB talent in 2018, the need to get a ton of players will be minimized in 2019. Texas will likely focus on elite targets, both in and out of state, and try to get them locked in. I expect 2-3 corners and 2 safeties in this class, depending on who they get.
DB
– 5-star CB Derek Stingley – Dunham (Baton Rogue, LA) 6'0″ 170
One of the best all around defensive backs in the nation. He's got speed, smarts, and technique. He'll be able to line up against any wide receiver and shut them down. He is legit.
While LSU is the heavy leader in this recruitment, Texas is a wildcard that could make a run at him particularly if they put another good defensive product on the field in 2018.
– 5-star S Brian Williams – Bishop Dunne (Dallas, TX) 6'0″ 185 – TEXAS A&M
Brian is built like a D1 safety, and has the skill sets that you desire for run defense and pass defense in a D1 safety. He has the speed and force to run downhill and blow up the run, but can just as easily flip his hips in the run game and be a tremendous player in pass protection. He's already a 5-star football player, and he hasn't even reached his peak.
His commitment to A&M was a surprise to every person who knows him. While, he is not a guy who will likely flip, that will not deter Texas from trying.
– 5-star CB Chris Steele – St. John Bosco (Los Angeles, CA) 6'1″ 188
Texas will be looking out of state this cycle for a number of reasons. One of them which they have put themselves in position to be in the thick of things with is Chris Steele.
Usually, in high school, you'll either find a guy who is an athlete or a guy who is a technician. Steele not only possesses great size and speed, but he also just knows how to play the position. He displays great technique and situational awareness on the field. On top of all of this, the guy knows how to lay the wood.
The teams fighting Texas for his talents are OU, Oregon, USC, Miami, and a few others. Texas has already put themselves in a very good position early here. It's just a matter of getting him on campus and keeping it up. Good thing Steele plans on visiting Texas over the Spring, it's just a matter of when. Perhaps it'll be to the Spring Game with fellow Californian DeGabriel Floyd? 🤔
– 4-star S Lewis Cine – Trinity Christian (Dallas, TX) 6'2″ 180
Lewis Cine could potentially be found money for Texas. Coming from New England, Cine recently moved down to Dallas and now attends the school where Deion Sanders coaches. Cine has it all in terms of his build. He has great length, is strong, possesses speed, and hits like a truck.
Cine is currently in love with Penn State, and has really built a solid bond with the coaches up there. Any school that wants to beat out Penn State will have to beat out the relationship they have built. Texas is on the right track here, being the school that has shown the most love to Cine. Cine will be giving the schools down south an opportunity to win him over, and Texas is looking the best out of all of them.
– 4-star S Demani Richardson – Waxahachie (Waxahachie, TX) 6'2″ 205 – TEXAS A&M
Demani was one of the stand out players in last years Prime 21. He is fast, strong, and built like he's already in college. Demani has the size of a D1 LB, plays very physically, and has super closing speed/acceleration. He's also not bad in coverage. Richardson is one of the top DBs in the region for sure.
Demani recently committed to A&M, but I don't think that commitment is anywhere near solid. We expect him to visit Texas again this Spring and get the red carpet treatment on the forty for the first time.
– 4-star S Jalen Catalon – Legacy (Mansfield, TX) 5'9″ 180
Just an impressive athlete. He has crazy downhill burst, speed to cover any WR, plus awareness of the field. He is a powerful hitter despite his 5'9″ frame. He's ridiculously versatile and could play nickel or safety at the next level.
Texas has made Catalon a priority in this class, but they have some catching up to do with programs like Clemson, Ohio State, and Oklahoma. I've been told if Texas really pushes, then Catalon is very attainable for them.
– 4-star CB Erick Young – Fort Bend Bush (Houston, TX) 6'1″ 195
Young has the size and strength you want in your boundary corner position. He's not afraid to play tight up on the line, and has a powerful jab punch to knock receivers off their routes. He doesn't have the quickest burst on the field, but he's the guy you put on the redzone threat inside the 20. Erick might be one of the best, if not the best, DB in the state.
Texas is right in the middle of this recruitment with A&M and OU being the biggest players.
– 4-star CB Jeffery Carter – Aledo (Aledo, TX) 6'0″ 180
Carter runs a 4.4 forty, so you already know his closing speed is noteworthy and he has the ability to keep up with any WR. When Carter reads the play well, he has the acceleration and power to make the other team pay for their mistakes. This makes him deadly on routes like wheels and hitches. When the receiver does catch a ball on his side, he is not a bad open field tackler.
Currently Texas has backed things off a bit with Carter whilst A&M has surged to be the leader in this recruitment after he decommitted from the Sooners.
– 4-star DB Kenyatta Watson – Grayson (Loganville, GA) 6'2″ 180lbs
Texas has an outside shot to gain the services of the versatile defensive back. Kenyatta could play either boundary corner or safety at the next level, but will most likely play corner at Texas. Duane Akina always made sure his safeties could perform man-coverage before he'd think of using them. Kenyatta already has that down.
Texas made a heck of an impact on Watson after he visited a few weeks ago. He will be shutting things down in a little bit, and Texas is the leader in this recruitment against Notre Dame. If he decides to go to Texas, he will help the Longhorns get the interest of a few of Georgia's finest.
– 4-star CB Bobby Wolfe – Madison (Houston, TX) 6'2″ 180
Wolfe has been jumping from commitment to commitment, now being a former commit of both Ole Miss and Texas A&M. He's a guy who is going to want to be wined and dined, but if you look at what he can do on the field, he's worth it.
Wolfe is built for success. He has the size and strength to go against the bigger WR's, but sub-4.5-forty speed to keep up with the speedsters. His versatility allows him to play any DB position you place him in. If he can get the technical parts down of being a DB, then the sky is the limit.
Wolfe currently has a child, so straying far from home won't be likely. It's a battle between LSU and A&M with the door open to Texas.
– 4-star CB Marcus Banks – Dekaney (Houston, TX) 6'0″ 170
Banks is a true cover corner who possesses the size the Texas staff looks for in their corners. After he gets some more muscle on him, he'll be hard to get by. After his trip to LSU Banks called the Tigers his favorite. However Texas and A&M have made a big impression on him. This recruitment will be a roller coaster because Banks just wants to enjoy the process, and I don't expect him to make a decision anytime soon.
– 4-star CB/WR Tamauzia Brown – Newton (Newton, TX) 6'1″ 175
I don't think he's a priority for the Longhorn staff, but he will likely be their plan B should things fall through with a few targets. He's an excellent plan B and would most certainly be a plan A type of guy for most other programs, but as I mentioned earlier, with the strong 2018 class it just comes down to numbers. He'll likely play CB at the next level and has the length and quick twitch speed to do so. He'll just need coaching up to take his game to the next level.
-(Will)