Open Post | Wednesday, May 2nd
Posted on: May 2, 2018
– Garrett Wilson: 5-star Lake Travis (TX) Wide Receiver Garrett Wilson committed to Ohio State over Texas. The biggest reason for Wilson's commitment was the success the Buckeyes have had under Head Coach Urban Meyer. And Wilson knows for a fact he will be competing for National Championships in Columbus. The same can't be said for Tom Herman and Texas right now. Yes, Herman took Texas to a bowl game and won and brought in the #3 recruiting class in the nation in 2018. But Wilson just wasn't sold on the passing attack in Austin and what he feels will be there if he were to attend Texas.
Now, the book isn't closed on this one. Obviously it's not going to be easy at all to flip Wilson from Ohio State. Though if Texas can put an impressive product on the field in 2018 with a much improved passing game, I wouldn't count them out. Add to the fact they can get Wilson on campus whenever he wants as he lives in Austin. Also I don't think Wilson will be an early enrollee, so that would give Texas even more time.
Now what I'm NOT saying is to expect Texas to flip Wilson down the line. All I'm saying is that Texas can get back in this one if they have some major improvements in 2018. I will also have a post up later today about what's next at WR for Texas. – (Andrew)
---
– What's next at Wide Receiver: As I mentioned in my previous post, Texas missed out on 5-star Wide Receiver Garrett Wilson last night. So I wanted to talk about what's next for Texas at the position. While Wilson was the top guy on Texas' board, there is a no reason Texas can't sign another really good Wide Receiver class in 2019. Though it is interesting as a 6 of the top 7 rated Wide Receiver's in the state of Texas are already committed. Here is the breakdown down of most of the available Wide Receiver options on the board for Texas.
– Cuero (TX) Jordan Whittington: Already committed to Texas, and landing him over Texas A&M looks even bigger than it did before.
– West Mesquite (TX) Dylan Wright: A freak athlete, and while most felt like TCU led with him for awhile. It sounds like Texas is sitting in a really nice spot in this one right now. Though he doesn't plan to make a commitment until late 2018/early 2019.
– Notre Dame Prep (AZ) Jake Smith: A prototypical slot Wide Receiver that Texas loves in Out Of State WR Jake Smith. He has already taken two unofficial visits to Texas, and plans to take an official during the season to see what a game weekend is like in Austin. That right there shows how interested he is in Texas, if he's willing to pay his own way twice to visit. Most feel USC is the main competition for Smith, but Texas is in a nice spot. I'd say, if the Longhorns don't currently lead they're at least in the Top 3.
– Bowie (TX) Elijah Higgins: Another huge, freak athlete at Wide Receiver. He is very close with Garrett Wilson, another Austin native. So Ohio State could be a team to watch here. He also loves the academic prestige of Stanford. He was all-Texas early on but seems to be taking a harder look at some other schools too.
– Millwood (OK) Demariyon Houston: A guy that hasn't been talked about too much, but took a visit to Texas. One key to this recruitment is his teammate Running Back Marcus Major. It seems like the want to play together at the next level. Texas has offered both, and Texas just made Houston's Top 12.
– University Lab (LA) Makiya Tongue: A 6'1 210 pound athlete, who could actually be a better Outside Linebacker or Safety at the next level. But he seems to want to have a shot at playing at Wide Receiver in college. He told me that Texas is willing to give him that shot. He'll take an official visit to Texas this weekend.
– Mater Dei (CA) Bru McCoy: Similar to Tongue, McCoy is 6'3 215 and would likely be an elite outside linebacker. But he wants to play Wide Receiver at the next level and every school is going to give him that shot. He's a 5-star player regardless of position. He unofficially visited Texas over the weekend, and while most have him pegged to sign with USC. Texas is in the thick of this one, and will receive an official visit. Texas Linebacker commit DeGabriel Floyd is doing a lot of work in this one. – (Andrew)
---
Quick Hitters:
– Super quick update. JUCO Inside Linebacker, Lakia Henry will be visiting in mid to late-May. No official date yet. He will be finishing his finals on May 11th and then heading to Ole Miss, then Tennessee, and afterwards Texas.
– A lot of sites are reporting that Stacey Wilkins will be visiting this weekend and is a Texas and Oklahoma battle. While those may technically be right (that the teams to beat are Texas and OU), I am not very confident in Texas' chances here.
He will not be visiting Texas this weekend, and at this point I think he's Oklahoma bound.
However, he may visit Texas this next season for a game.
Coaches Visit Notes:
– Texas just offered Lake Travis' incoming 2020 QB Hudson Card who I have been told is just a ridiculous athlete. It'll be interesting how they play this recruitment given they are also heavily recruiting the highly touted California QB Bryce Young, but Texas is standing pretty here at this point despite him also having offers from Ohio State and Alabama.
– I said in my piece yesterday that Texas is in a good position with Branson Bragg. The thing that put them in such a good position is the excellent trip he took most recently where he got to sit down and know Herb Hand. Well Hand is currently in Crandall getting to visit with Bragg. Things are going well.
– Herb Hand will also visit East Texas' Tyler Lee to see Beaux Limmer, a guy whose tape I fell in love with. He's athletic and strong. He's a guy who given a few years of development would be an ideal tackle.
– I also stated in Monday's  post that Texas was in a good position for Nolan Catholic's NaNa Osafo-Mensah, but playing a bit from behind. Even though he is visiting this weekend, Oscar Giles was in Fort Worth to visit the defensive end. Again, Texas has set themselves up in great position here. Need to execute.
– Giles also made his way to Dallas Carter to see DL Barnard Wright who has recently picked up offers from Alabama, Clemson, Florida State, Georgia, and other big schools. Texas will soon jump in.
– Drew Mehringer visited Cedar Ridge to see Baylor commit Jaylen Ellis. Ellis will be a bit more difficult to pull in now that he knows he's a secondary target, but we believe if Texas truly pushes, this one should go their way.
– Texas will be visiting California 4-star 2019 safety Chris Adimora this week. It's no secret that Texas is a leader in the recruitiment. USC would be his favorite, but they currently have around 20 scholarship DB's on their roster and most of them are underclassmen. This has set up Texas in great position to go around the West Coast and find players like Adimora and Pola-Gates and have a better shot with them then they usually would.
– However, Naivar first stopped in Duncanville to see 4-star 2020 safety Chris Thompson. Thompson is currently pretty high on Texas after Texas did a good job of fending off some early push back from the Aggies. Getting a good start in 2020 with Darius Snow and Chris Thompson would be great for Texas' chances of landing a top class again, and Naivar is killing it there. – (Will)
---
– Recently, I talked to Chandler (AZ) Tight End Brayden Liebrock. He told me he was planning to officially visit Texas this weekend and then he tweeted this out:
Texas Official Visit this weekend!!🤘🏼🤘🏼 #HookEm pic.twitter.com/0LVpJsEhD3

— Brayden Liebrock (@LiebrockBrayden) May 1, 2018
Liebrock is a guy that the Texas staff has really turned their attention to after Baylor Cupp committed to Texas A&M. Liebrock holds 20+ offers including Ohio State, Alabama, Notre Dame and others. Right now the only official visit he's taken was to his home state school, Arizona State. I was also told that Liebrock plans to make an earlier decision. And he has already taken an unofficial to Texas, so this is huge weekend to Texas to put themselves in a prime position to land a Top 15 TE in the nation. – (Andrew)
---
– This past weekend, Texas played host to Elite 2019 Wide Receiver/Outside Linebacker Bru McCoy from Santa Ana (CA) Mater Dei, for an unofficial visit.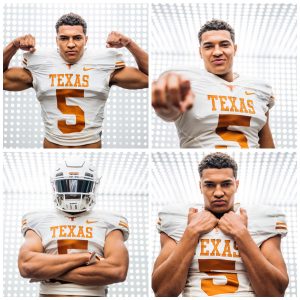 I was able to Catch up with Bru's father, Horace McCoy and he was gracious enough to share some of his thoughts about the visit, and Bru's recruitment going forward.
As Super K mentioned in a previous post on Bru, the McCoys are approaching Bru's recruitment in a very diligent and thorough manner. They are truly looking for the best fit as a player and as a person, and they will be patient with the process.
When we touched base, I asked Horace how the visit went and without hesitation he replied, "The visit was over the top Charlie! It was a great experience and BC (Bryan Carrington) is the best recruiter in the game."
As the conversation continued, I asked if the family planned on taking an official to Texas coming off of the unofficial and he said, "An official is likely for sure. Bru will narrow down his choices relatively soon and start the process of scheduling his official visits."
As for the most impressive part of the trip, Horace told me "It is tough to narrow it down to one thing but Drew (Mehringer) made a huge impression on my wife and I. His coaching style is a good fit for Dru". He continued by saying "Also, how they plan on using Bru was very appealing."
Horace had great reviews about the campus and city of Austin as well, saying "Overall, the campus, facilities, and Austin itself are all big pluses."
I wanted to be clear about how the staff plans on using Bru should he choose to attend The University of Texas, and Horace told me they planned on using him much like he is used at Mater Dei: "Bru's main position and focus would be at Wide Receiver, but they could also use him coming off the edge in packages in passing downs on defense, which is very similar to what he is doing at Mater Dei."
From all indications, the Texas staff did exactly what they had to do in order to stay in the thick of things for the Elite athlete and seemingly exceeded all the expectations the McCoys had. This race is by no means over, and Texas has certainly positioned themselves well for the run down the home stretch. – (Charlie)