Open Post | Monday, September 10th
Posted on: September 10, 2018
Texas Recruiting | The Reality | Javonne Shepherd Note
– Charlie S
Getting off to a slow start is obviously is not what the Longhorns needed both on and off the field. Other programs are seizing the opportunity to increase the pressure on the Texas staff by building some substantial momentum not only for 2019 but also in the future classes.
Most notably, Texas A&M has swung the pendulum in the state towards College Station in a big way. Coming out of the Clemson game, they landed two major 2020 Longhorn in-state targets in Demond Demas and Mailk Hornsby and even with the loss, there is no sign of them slowing down on the recruiting trail as of right now.
While Tom Herman and his staff are faced with a myriad of issues on the field, they are also faced with the need to hold their impressive 2019 class together as evidenced by this tweet from 2019 Longhorn offensive tackle commit Javonne Shepherd…
This recruitment about to get real crazy😤

— J. Shepherd (@JavonneShepherd) September 9, 2018
Super K reached out to Javonne and asked him point blank if a flip is coming, his response: "Gods plan".
That is a problem.
We all knew that the Aggies would continue their pursuit of Texas commits which they have targeted, and the Longhorn's sluggish start is doing themselves no favor in keeping the class together.
While Texas A&M appears to have all the momentum in the world right now, I would pump the breaks on the Aggies a bit as they are currently 1-1 and they have a very difficult schedule ahead of them.
Nobody has denied Jimbo is a good coach, but to win that division, and beat Saban along the way you have to be a GREAT coach. When all is said and done, they may very well have a very similar record to years past at the end of the season.
All that being said, as we have maintained from the beginning, until Tom Herman and his staff come out and put a product on the field that is closer to a top 25 team than a team that loses to an unranked team which they had a major physical advantage over (Maryland) or have to hang on to a win at home against a team which was a 20 point dog (Tulsa), the recruiting will suffer.
The Aggies are not the only threat out there. OU is having tremendous success once again in the state of Texas and Ohio State, Florida State, Alabama and various other programs have reached into the state and pulled out a number of elite players.
With the amount of out of state commits in this class, there is a real danger that their eyes could begin to wander as Texas is seemingly stuck in neutral at this very early point in the season and the lure of heading to Austin could be dimming.
In a nutshell, the bleeding on the field has to stop before the bleeding off the field can be contained.
---
Quick Note On Demond Demas & Malik Hornsby
– Charlie S
– This weekend, while visiting Texas A&M for their game against Clemson, 2020 wide receiver Demond Demas verbally committed to the Aggies.  While there is plenty of time left in his recruitment, it will be another case of Texas having to play from behind in the recruitment of one of their top priority targets,
– Also, 2020 QB Malik Hornsby also committed to Texas A&M after attending the Clemson game. Again, while Texas has a 2020 QB already in the fold in Hudson Card, Hornsby is a recruit that Texas has up near the top of their 2020 priority list.
---
Derrian Brown & Kenyatta Watson | Up Close
– Super K
Last weekend, I made my way out to Georgia to see Texas commit, Kenyatta Watson, and Texas running back target, Derrian Brown, in person.
Kenyatta Watson
Watson is a nice size cornerback. Probably stands around 6'1 and he's already over 180 lbs. Once McKnight gets a hold of him, he should be field size ready as a true freshman.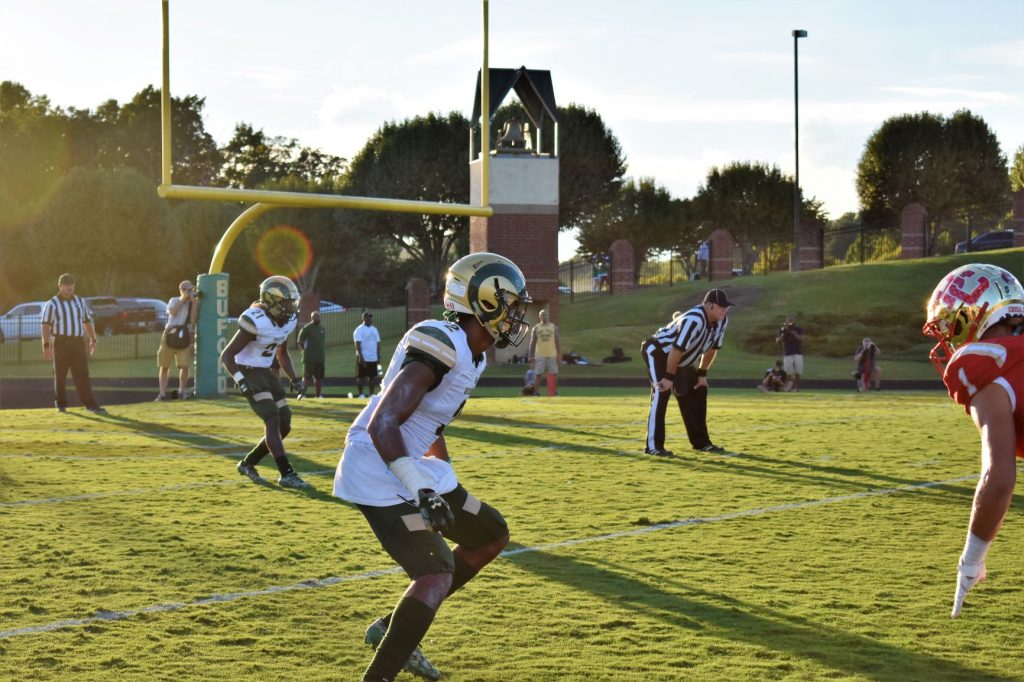 I didn't get to see Watson tested much at all. As such, I can't comment on his ability to play the ball in the air or stay with wide receivers downfield. But just watching his feet and hips while in coverage, his movement is fluid and he's light and quick-footed. He glides across the field and even if Bergen Catholic wanted to throw the ball his way, there really wasn't any point of separation.
It was pretty obvious that the coach of Bergen Catholic held Watson in very high esteem. In fact, I heard from someone at the game that the Bergen Catholic coach commented on Watson saying, he's a Sunday player.
There was one time, Bergen Catholic threw a ball to the running back out of the backfield to Watson's side. That didn't go well for Bergen Catholic. Watson easily threw his blocker away and tackled the running back (a Nebraska commit by the way) in the backfield.
Watson looks like a finesse guy just because of he's got the great feet, the loose hips, and the twitch. But is absolutely physical. He does not mind sticking his face on a receiver or a ball carrier. In fact, he looks for work and necessary or not, he'll come in and clean things up. There were multiple times where Watson's added insult to injury to an offensive player who was already being tackled by multiple Grayson defenders. But that's what Orlando likes. He wants everyone running to the ball.
Beyond his obvious ability, I loved his intensity and desire to win. Grayson was down to Bergen Catholic throughout the game and ultimately ended up losing, but Watson was trying to fire guys up the whole time.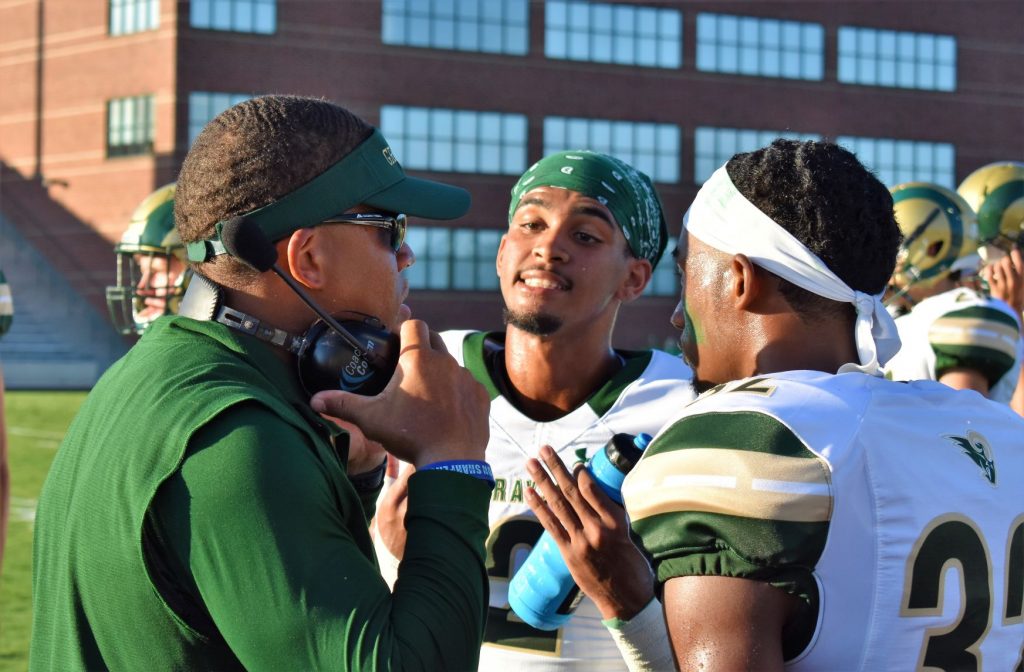 The game was ultimately an exhibition in the sense that it doesn't have an effect on Grayson's standing in Georgia. Bergen Catholic is a top team out of New Jersey that came down to Georgia to play.
Watching most of Kenyatta's teammates after the game, it was clear that they knew the game didn't matter as it relates to their goals in the state of Georgia. But looking at Watson after the game, you'd think he lost a national championship game.
The man clearly takes winning and losing very seriously.
I could've been mistaken but it looked like he had tears in his eyes but he still gave us the Horns…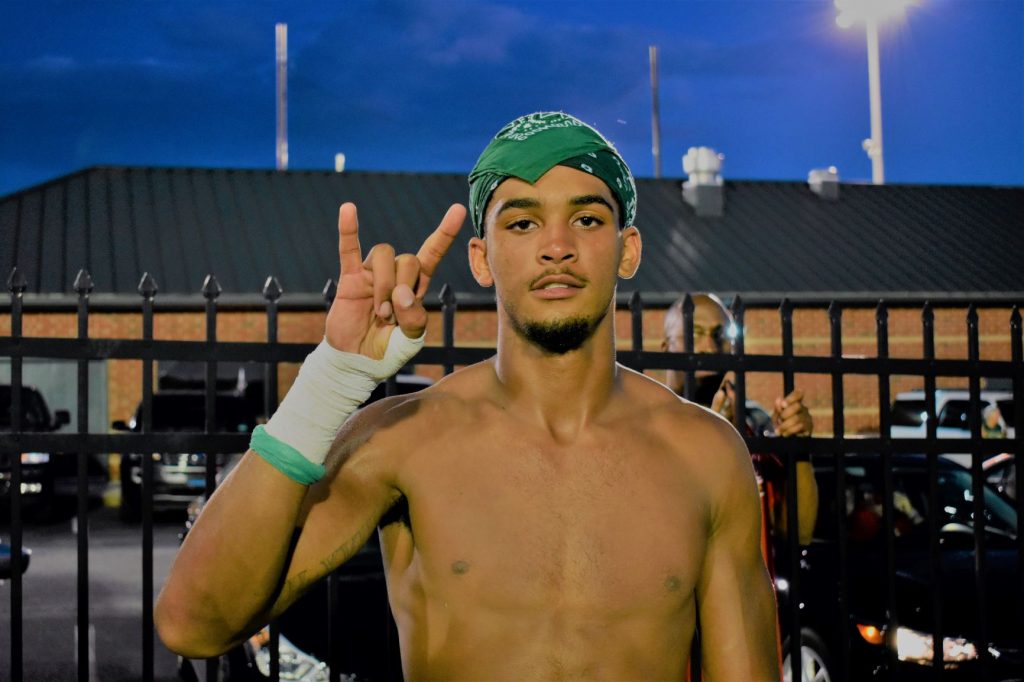 Watson plans on being in Austin for the Texas vs. USC game.
Derrian Brown
Derrian Brown is a workhorse. On film, you see a small shifty back who can make guys miss but despite having multiple backs on Buford's loaded roster, Brown took the bulk of the carries. He dished out punishment and took punishment. And kept coming.
Brown's team, Buford played Deerfield Beach (FL). Deerfield is stacked with division one talent on both sides of the ball. It was tough sledding but Brown was ultimately able to break off a couple of big runs and he kept Buford in the game till the end.
I know there are some who have criticized Brown's size but he's fine in that department. He's 5'10 and already around 185 lbs. Easily has the frame to hold 200+.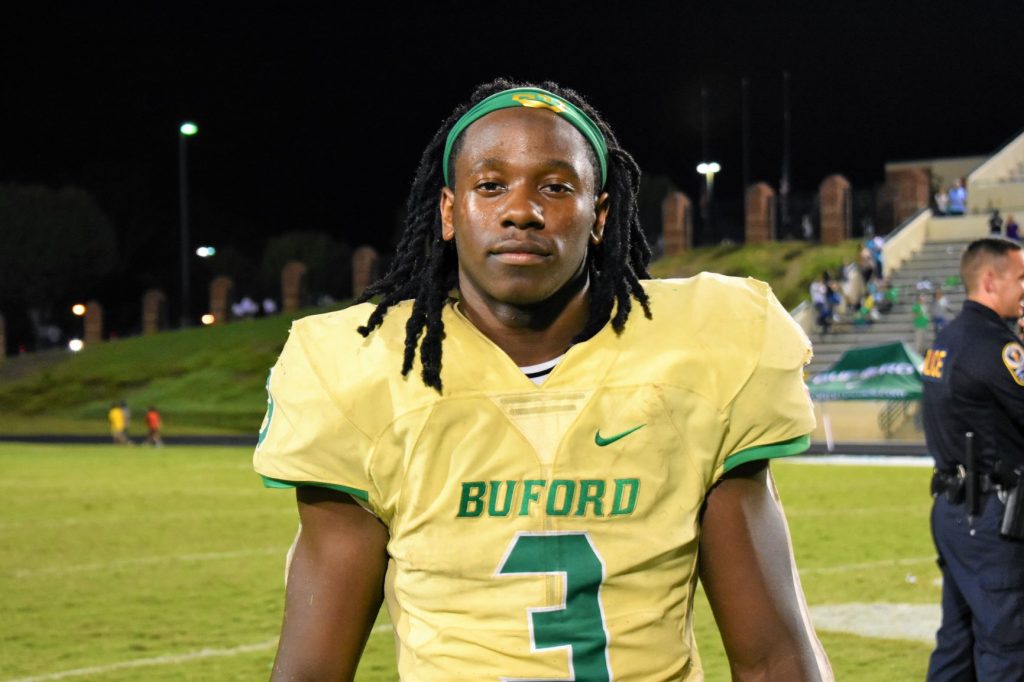 Brown is a nice combination of twitch, balance, and resilience. He's shifty so it's hard to get a clean hit on him. But even when a defender or two are able to get their hands on him, he isn't easy to bring down. And again, they just keep feeding him the rock and as much as you're hitting him, he's hitting you.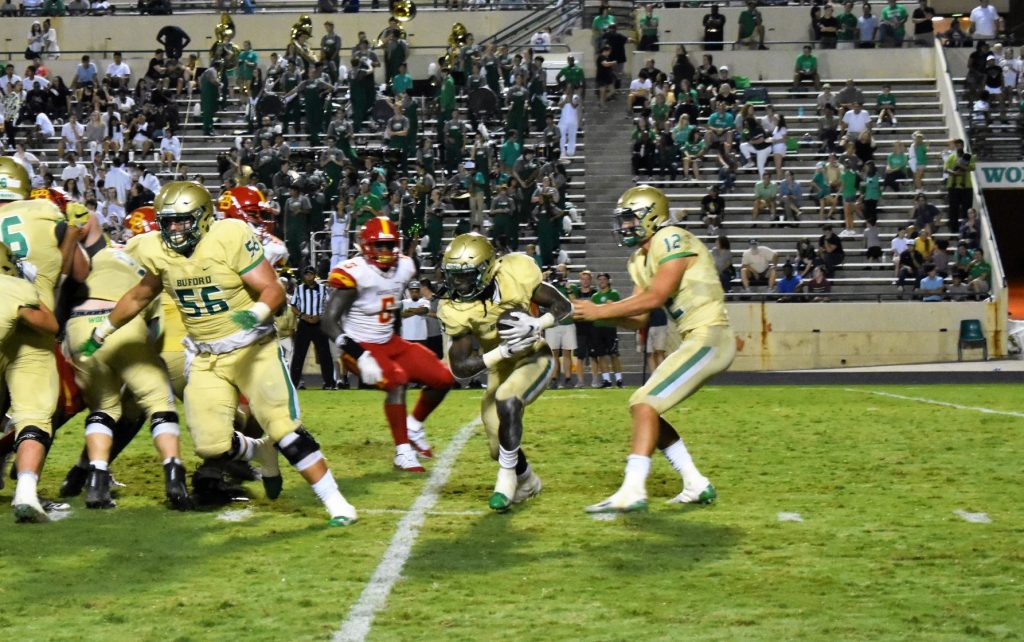 Brown can get to his top speed very quickly but I wouldn't say he's necessarily a home run threat. I'm not sure that matters though because he's going to accelerate faster than the defenders so if you do catch him, it'll be after he's ripped your ass for a 30 or 40 yard gain.
He ended the game with nearly 200 yards on 33 carries.
In terms of his recruitment, I spoke with him and his father after the game and was told that they plan on taking their official visit to Texas for the USC game.
Brown is clearly very high on Texas. If things go well on the USC visit, don't be surprised to see them pull the trigger.