Open Post | Wednesday, September 26th
Posted on: September 26, 2018
Texas Makes a Move | Lewis Cine Update
– Super K
This past weekend, fans got a chance to see just what having elite defensive backs can do to change a game. 2019 4-star DB, Lewis Cine got a chance to see it as well.
#HookEm fans are seeing what their young elite safeties can do for a defense.

2019 4-Star DB, Lewis Cine, says he saw it too, this past weekend.

And he liked what he saw. pic.twitter.com/3B8yDxjyLx

— Super K (@SuperK_TFB) September 24, 2018
Cine took an unofficial visit to Texas this past weekend where he saw some things he hadn't seen before, "I got the feeling of the game environment. That was the first time I got to see a game, to see them in action. The defense was going wild and making play after play after play. And mind you, it was young guys making plays."
Cine continued, "So, that tells me that I can come in and contribute early".
This wasn't Cines' first visit to Texas. When he moved to Texas last spring he made an unofficial visit to Texas and then followed that up with a summer official visit but he says, "This was the best visit to Texas, so far. I saw great things yesterday".
Prior to his visit Cine told us that he had a top three of Georgia, Penn State and Texas. However, reading between the lines it felt Georgia and Penn State were the clear favorites. However, if that was the case before, it might not be anymore, "Texas is in there too. Definitely in the mix. They do have a real chance, now".
Cine's family lives in Boston so we talked about distance and he said that whether he goes to Penn State, Georgia or Texas, his family is still going to be far away. Penn State is obviously closer but it's still nearly 450 miles away and New England traffic ain't no joke. Add to it the fact that Cine says he likes the state of Texas and he likes warm weather, the Longhorns may have some additional advantages in this one.
Cine will take his final official visit in early October when he gets out to Gainesville to see the Gators play. He says, "after that I'll be ready to make a decision pretty quick".
---
Texas Ranked 18 in AP Poll
-The Football Brainiacs
After dominant wins over ranked USC and TCU, Texas makes a huge jump back into the AP poll this week coming in at number 18. 1-0 in the Big 12 and Texas has all their goals still in front of them.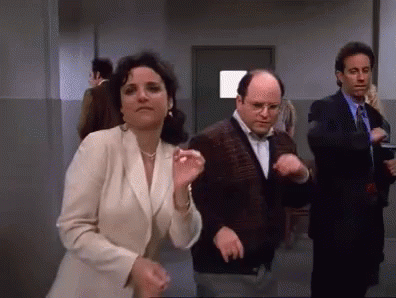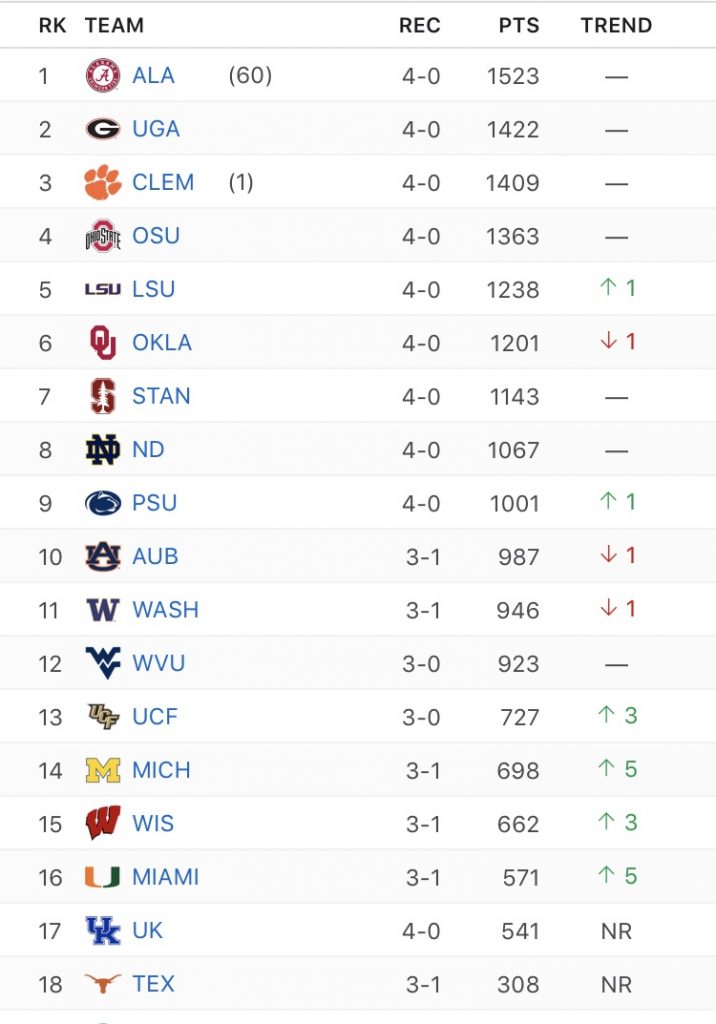 ---
Monday Injury Update
– Will Baizer
Practicing Tuesday:
– WR Brennan Eagles (hamstring)
– RB Keaontay Ingram (knee)
– DB DeMarvion Overshown (knee)
– OC Zach Shackelford (foot)
Doubtful for K-State
– DB Jamarquist Durst (shoulder)
– DB Montrell Estell (concussion)
– OL Patrick Hudson (heat illness)
Out for until November:
– DE Malcolm Roach (foot)
---
Jalen Catalon Top Four
– The Football Brainiacs
For those of you who have read our previous posts, this top four from star DB, Jalen Catalon, won't come as a surprise.
"Be strong and courageous. Do not be afraid; do not be discouraged, for the Lord your God will be with you wherever you go."

Final 4… pic.twitter.com/dK8ei9t0um

— Jalen Catalon (@jcatalon27) September 25, 2018
---
Quick-Hitters | Shepherd, Demas & Broughton
– Super K
***Javonne Shepherd let me know that he is back with his team at North Forest and is expected to play in the next game.
***Spoke with a source who tells me that while Demond Demas was not planning on flipping to Texas. I am told that he was considering a possible decommitment. It's obviously very early in the process for him and it's clear that he wants to enjoy the process.
***Spoke with 2020 DL, Vernon Broughton, and his mother. I'm hoping to get by his practice today or tomorrow to give you some thoughts on how he looks in person.
I'll have a full write up on Broughton, shortly. But wanted to highlight a couple of points. Texas is certainly in this one but Broughton comes from a basketball family. His mother coached nearly 20 years at the D1 level. So, this is going to be a recruitment that Texas will need to win on effort. They aren't going to be able to rely on the Texas name brand or even winning. The Broughton's don't have a deep knowledge of football tradition and Vernon isn't prioritizing the NFL.
Right now, it appears Baylor and Oklahoma State are outworking everyone else in the recruitment of Broughton. Also, wanted to note that the family says they don't want to drag things out. So, while a decision isn't imminent, this one will probably end sometime in late winter/early spring.