Open Post | Weekend, September 7th – 9th
Posted on: September 7, 2018
Sourced Note | Trey Sanders High on Texas
– Super K
Let me preface this by saying that I received this information while I was out in Georgia to see Texas running back target, Derrian Brown (I'll have a write up on him, shortly). So, it was before the Maryland game.
But while I was there, I happened to speak with a source close to five-star running back, Trey Sanders (IMG Academy). As you know, Sanders visited Texas this past summer.
The source said, "Trey doesn't like to talk about recruiting but I can tell you that Texas quietly leads for him. That's very quiet. I'm not saying things can't change but at this moment, Texas is, quietly, his leader".
Why?
"He loved that visit"
---
Texas Coaches And Players Remain Positive
– Alex Briseno
Tom Herman set the tone of the week when he addressed Texas fans during a press conference on Monday.
"I would tell them, we expect to win every game," Herman said. "We're extremely disappointed when we don't. But the sky is not falling. The sun is going to come up. Hopefully tomorrow, we're going to get to practice tomorrow. If it doesn't come up, we're all kind of screwed on that deal, right?"
While Herman's comment may frustrate Longhorn fans, it appears the entire team has adopted a similar mentality.
Sam Ehlinger spoke to the media on Tuesday afternoon, 72 hours removed from the game-ending interception against Maryland. He didn't seem upset, not even in the slightest. He displayed the same level of confidence and appeared to have moved on from fourth quarter offensive collapse.
"We have a 24-hour rule around here," Ehlinger said. "We got back to Austin around midnight, went to bed around 1 a.m., and didn't get up until 11ish so that would be about 24 hours to where we started the game. The aftermath was short. Our minds are on Tulsa."
Breckyn Hager, on the other hand, was very transparent about what went through his mind in the events following Texas' loss.
"At first I was real confused. It was a real interesting feeling after that game," Hager said. "Then I started to look around and observe my teammates' faces and their expressions. I saw people really, really hurt, more so than ever. I saw them hurt, then I started feeling bad. I went home, couldn't really sleep. I logically thought it through, and as soon as I woke up I started calling and texting. The determination and reborn look in their eyes the next day was one of the most refreshing things I could have seen. It really had me feeling optimistic and excited to get better and beat Tulsa."
Hager attributed the team's performance to the "hostile environment" as well as the humidity during the game. Hager admitted his cramps were so severe that he couldn't even walk during the first half.
Whether the mere 47,000 fans in attendance created a hostile atmosphere is debatable, but one thing this team is adamant about is that they simply wanted to be "too perfect."
"We were too passionate and too riled up," Hager said. "We really were. We wanted that game so bad. We were so excited and ready to play. I don't know what it is. We just played real tight. We didn't just let it loose. It wasn't the team I'm used to seeing."
Tre Watson also had the opportunity to speak to the media for the first time of his Longhorn career.
When asked about his turnover, he simply said, "The ref called what they called so I can't argue with it. You've got to move forward and learn from it — just don't put the team in that situation. I bobbled it and they said I didn't have possession through the ground."
With so many negatives to analyze, from the back-to-back-to-back turnovers to the defense's performance in the first quarter, it's hard to look at the wide receiver's performance, more specifically, Devin Duvernay's.
Aside from the clutch reception to convert on fourth down with the game on the line, Texas' highlight of the game was easily Devin Duvernay's 39-yard diving touchdown catch from Ehlinger in the first quarter.
"He ran like 23 miles an hour on that play," Ehlinger said. "I've seen him do that before. When it left my hand I was like 'Oh God. He's too open.' It's always the ones that are too easy that you're worried about."
While Texas did score 22-consecutive points, that's not what will make headlines this week — and it shouldn't. What should be noted though, is this team's seeming lack of worry even after back-to-back losses to Maryland.
While several things from this year's loss resemble last season's 51-41 loss, Herman has said Saturday's loss doesn't feel like last year.
Fortunately for Texas, it will get to put on a show with its home opener coming against Tulsa, a team that went 2-10 last year. The bad news is that this Longhorn team won't get the chance to prove to its fans that this year won't be exactly like last season's for two weeks when it hosts USC and TCU in back-to-back games after the Tulsa game.
For now, all we have to look at is Texas' loss to a team who is drowning in an investigation and, oh yeah, its head coach.
---
Jo'Quavious Marks Visiting Texas
– Super K
2020 running back out of Georgia, Jo'Quavious Marks (Carver) will take an unofficial visit to Texas this weekend.
I will be at The University of Texas Saturday. #HookEm🤘🏾 @EJHolland247 @SuperK_TFB @ChadSimmons_ @MattDeBary pic.twitter.com/9pAbRqk9nq

— Joquavious marks (@JoquaviousMarks) September 5, 2018
Marks is an elite running back. I saw him at the Pylon event in Atlanta this past summer. He has the quickness to make his vision dangerous and the speed to run past third-level defenders. He's absolutely elite.
Marks tells me he will be in Austin with his mother for the visit.
Obviously great news to get him on campus this early.
---
Derrian Brown & Kenyatta Watson | Up Close
– Super K
Last weekend, I made my way out to Georgia to see Texas commit, Kenyatta Watson, and Texas running back target, Derrian Brown, in person.
Kenyatta Watson
Watson is a nice size cornerback. Probably stands around 6'1 and he's already over 180 lbs. Once McKnight gets a hold of him, he should be field size ready as a true freshman.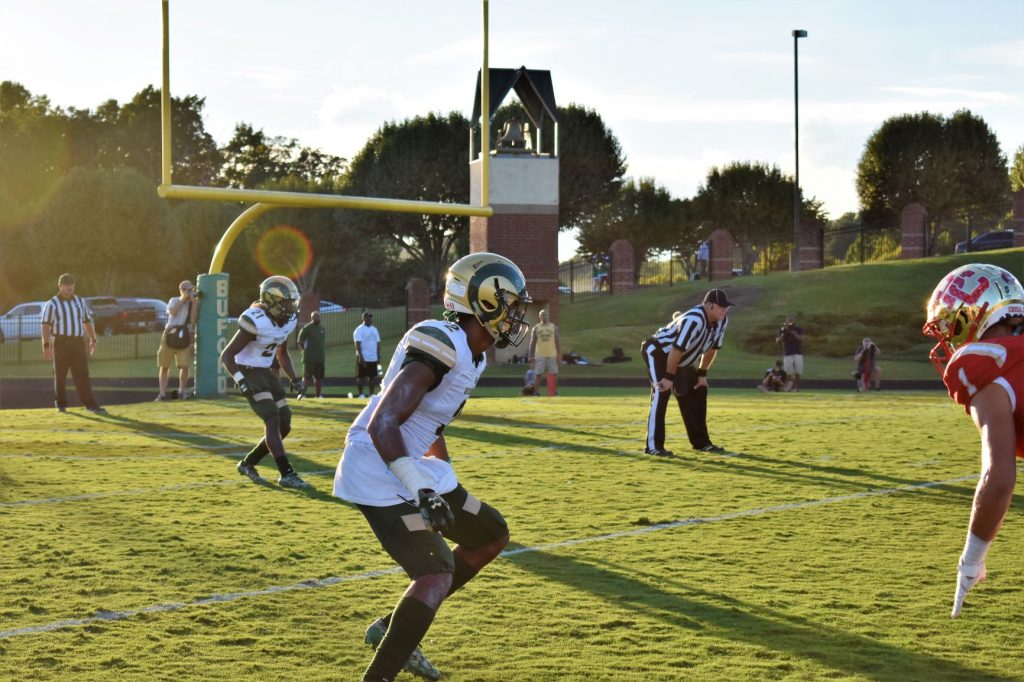 I didn't get to see Watson tested much at all. As such, I can't comment on his ability to play the ball in the air or stay with wide receivers downfield. But just watching his feet and hips while in coverage, his movement is fluid and he's light and quick-footed. He glides across the field and even if Bergen Catholic wanted to throw the ball his way, there really wasn't any point of separation.
It was pretty obvious that the coach of Bergen Catholic held Watson in very high esteem. In fact, I heard from someone at the game that the Bergen Catholic coach commented on Watson saying, he's a Sunday player.
There was one time, Bergen Catholic threw a ball to the running back out of the backfield to Watson's side. That didn't go well for Bergen Catholic. Watson easily threw his blocker away and tackled the running back (a Nebraska commit by the way) in the backfield.
Watson looks like a finesse guy just because of he's got the great feet, the loose hips, and the twitch. But is absolutely physical. He does not mind sticking his face on a receiver or a ball carrier. In fact, he looks for work and necessary or not, he'll come in and clean things up. There were multiple times where Watson's added insult to injury to an offensive player who was already being tackled by multiple Grayson defenders. But that's what Orlando likes. He wants everyone running to the ball.
Beyond his obvious ability, I loved his intensity and desire to win. Grayson was down to Bergen Catholic throughout the game and ultimately ended up losing, but Watson was trying to fire guys up the whole time.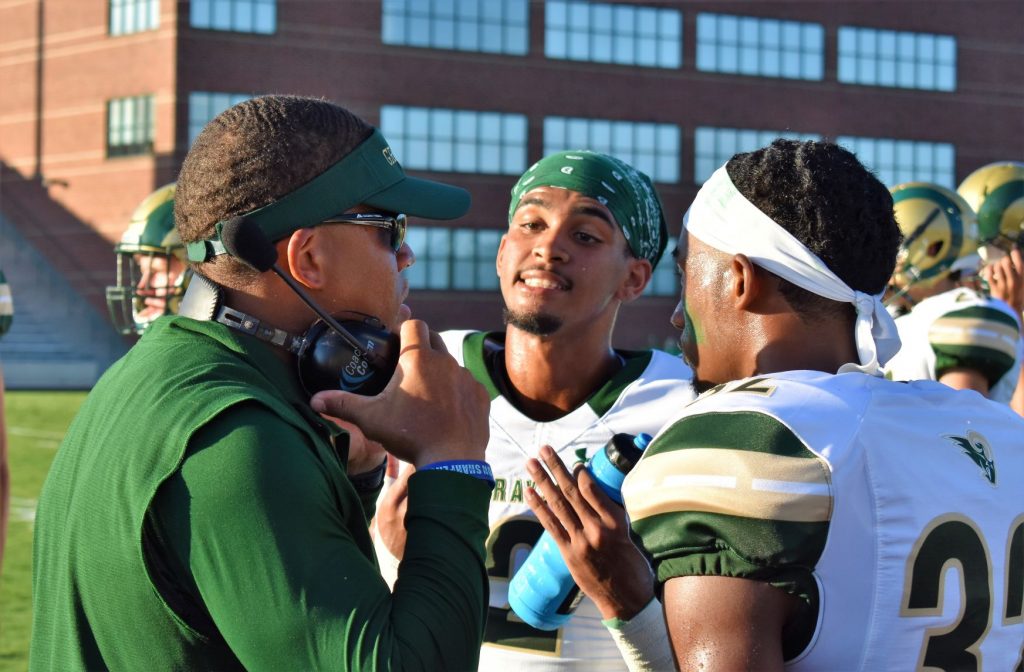 The game was ultimately an exhibition in the sense that it doesn't have an effect on Grayson's standing in Georgia. Bergen Catholic is a top team out of New Jersey that came down to Georgia to play.
Watching most of Kenyatta's teammates after the game, it was clear that they knew the game didn't matter as it relates to their goals in the state of Georgia. But looking at Watson after the game, you'd think he lost a national championship game.
The man clearly takes winning and losing very seriously.
I could've been mistaken but it looked like he had tears in his eyes but he still gave us the Horns…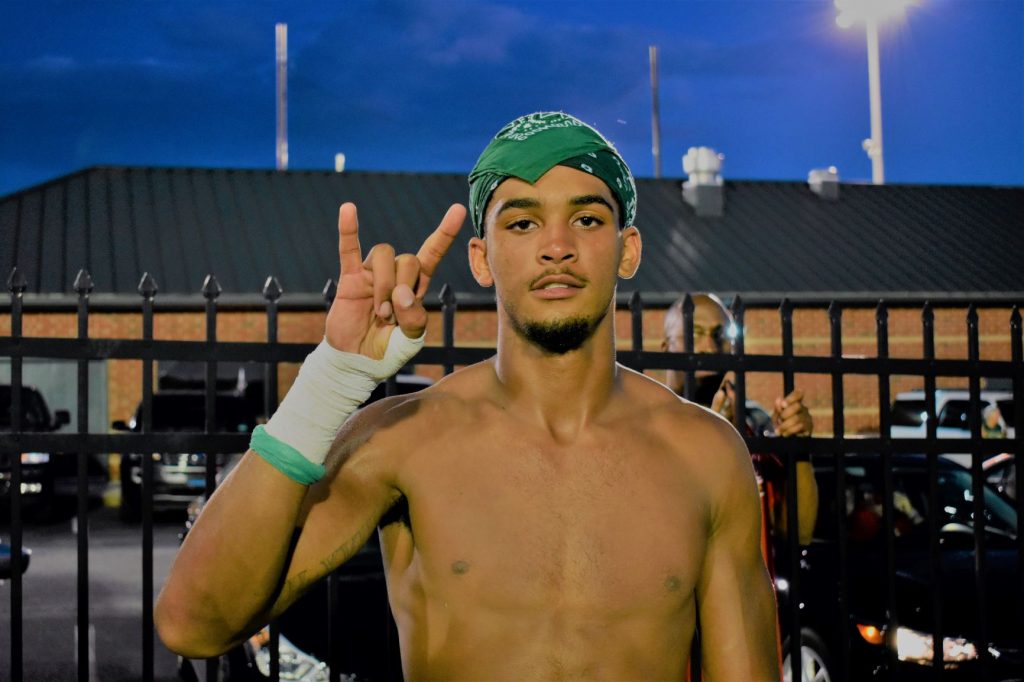 Watson plans on being in Austin for the Texas vs. USC game.
Derrian Brown
Derrian Brown is a workhorse. On film, you see a small shifty back who can make guys miss but despite having multiple backs on Buford's loaded roster, Brown took the bulk of the carries. He dished out punishment and took punishment. And kept coming.
Brown's team, Buford played Deerfield Beach (FL). Deerfield is stacked with division one talent on both sides of the ball. It was tough sledding but Brown was ultimately able to break off a couple of big runs and he kept Buford in the game till the end.
I know there are some who have criticized Brown's size but he's fine in that department. He's 5'10 and already around 185 lbs. Easily has the frame to hold 200+.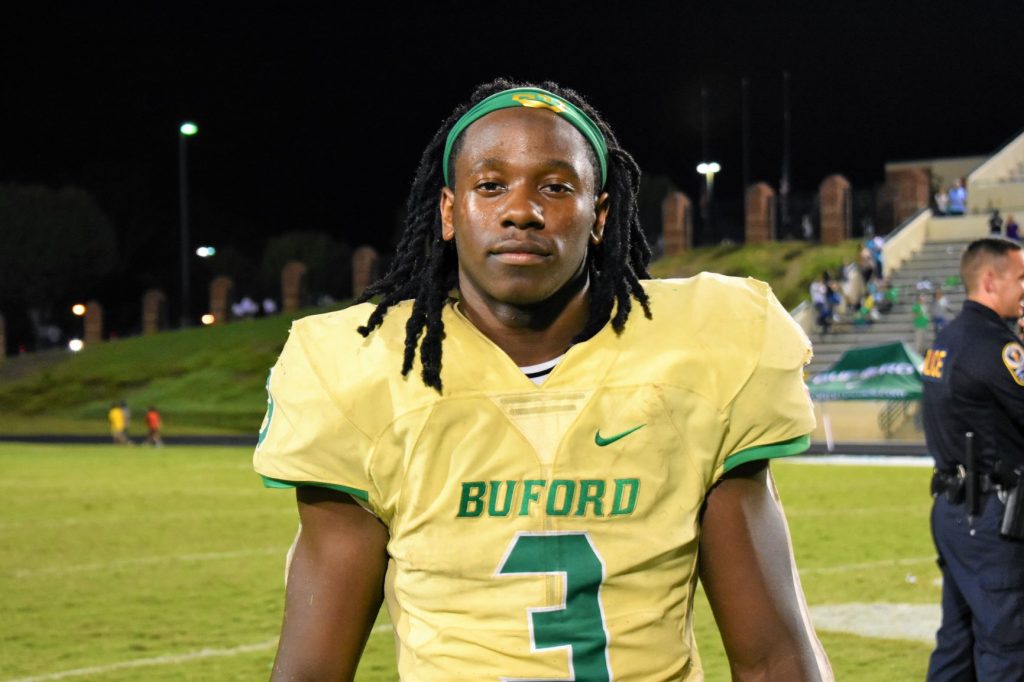 Brown is a nice combination of twitch, balance, and resilience. He's shifty so it's hard to get a clean hit on him. But even when a defender or two are able to get their hands on him, he isn't easy to bring down. And again, they just keep feeding him the rock and as much as you're hitting him, he's hitting you.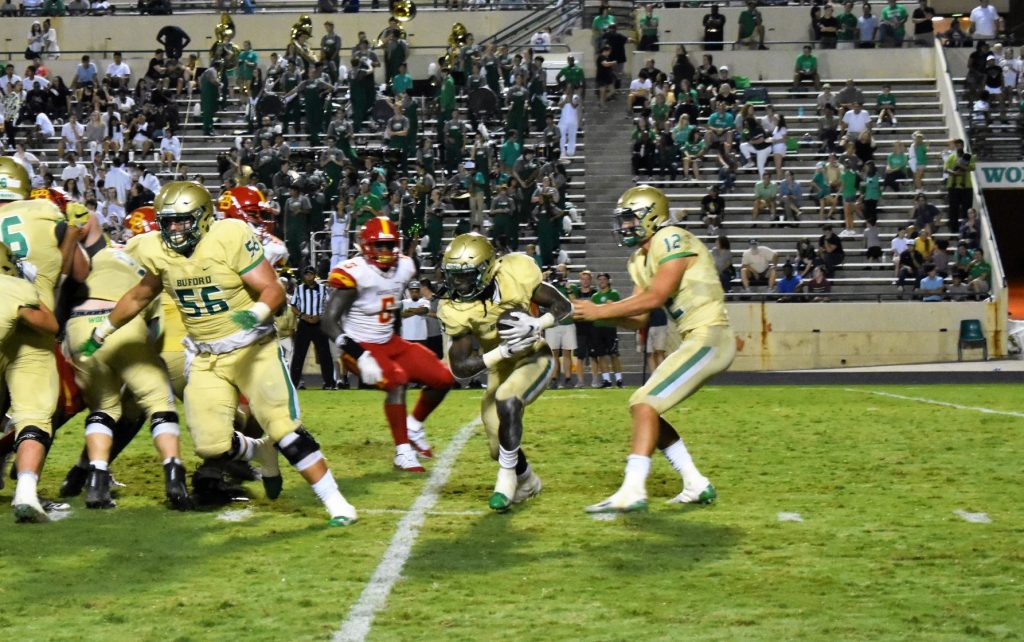 Brown can get to his top speed very quickly but I wouldn't say he's necessarily a home run threat. I'm not sure that matters though because he's going to accelerate faster than the defenders so if you do catch him, it'll be after he's ripped your ass for a 30 or 40 yard gain.
He ended the game with nearly 200 yards on 33 carries.
In terms of his recruitment, I spoke with him and his father after the game and was told that they plan on taking their official visit to Texas for the USC game.
Brown is clearly very high on Texas. If things go well on the USC visit, don't be surprised to see them pull the trigger.
---
Tom Herman | Thursday, September 6th
– Alex Briseno
Herman opened up his Thursday availability with several injury notes:
Patrick Hudson suffered from a "full body cramp issue." Hudson was taken to the emergency room on Wednesday. Hudson is now out of ICU. His body temperature is now back to normal. He is obviously out for this week.
"Heat illness, that's what I know. His body temperature rose. Our staff did a great job, go him dumped in a cold tank, got his temperature dropped, sent him to the hospital, the doctors got his temperature down to normal and the tests are to try and figure out why he got a heat illness."
We did have the ambulance show up once our crew couldn't get his body temperature down in the cold tub.
***Other Injury Notes***
Zach Shackelford sprained his foot during Tuesday's practice and is expected to be "week-to-week deal." Davante Davis and Kris Boyd are both expected to play. Brandon Jones will be out for "at least this week."
Elijah Rodriguez will now move to center, Derek Kerstetter will move to right guard and Sam Cosmi will be at right tackle.
Herman said that causes "quite a bit" of concern, but with a matchup against Tulsa on Saturday, the offensive line shouldn't be a make or break deal.
As for Texas' home opener, one of Tom Herman's biggest goals is to get his team to play looser.
"When an umpire starts a baseball game, he doesn't say work ball, he doesn't say stress ball, he says play ball. Play. The stress stuff, the intense stuff, and the stressful situations are Sunday – Friday. Saturdays are a reward to go play. I think that has resonated with a lot of the guys."
While a loss to an unranked opponent, especially to a team that went 4-8 last season, will never be accepted well at Texas, Herman is expecting to see a jump from last week to this week.
"I would hope we have a big jump, especially with how we start. Again, if that doesn't happen it doesn't mean that the sky is falling."
Herman has stuck to his guns in regards to the starting quarterback. However, when asked if we could possibly see Shane, he said, "If It necessitates itself."
Texas' matchup shouldn't be a nail-biter, or even close to it, but Herman has always been adamant on not letting teams beat them twice in the same season. Even if there is a hangover, it will tough to see Tulsa coming to town. But that doesn't seem to be a concern for the head ball coach.
"The thing that I do notice is that after Sunday, the building has been like it has always been," Herman said. "Guys are bopping around, smiles on their face. There's certainly no hangover in that building."