USC – Texas | Helton Hath No Fury
Posted on: September 13, 2018
Let's be clear. Texas has been far from impressive thus far. However, at this point, they've only played one Power Five opponent. No, I don't count Tulsa as any sort of measuring stick even though all of us would've liked to see a more impressive performance, rather than a new collection of sputtering offense and defense. Those are clear 2018 growing pains. It's time they get over those and start putting it all together, or else. If Texas loses another non-conference game against a weak USC, Tom Herman's seat will be perpetually hot the rest of the season and leading into 2019. This game sets up well for Texas. Though both programs are starting slow this season, USC managed to look worse than Texas in its first two games, though some of you may argue that point. That said, Coach Helton will really want this one bad, because USC doesn't mess around with loser coaches. This one will be hotly contested, make no mistake. Let's dig in.
Tale of The Tape (per footballoutsiders.com)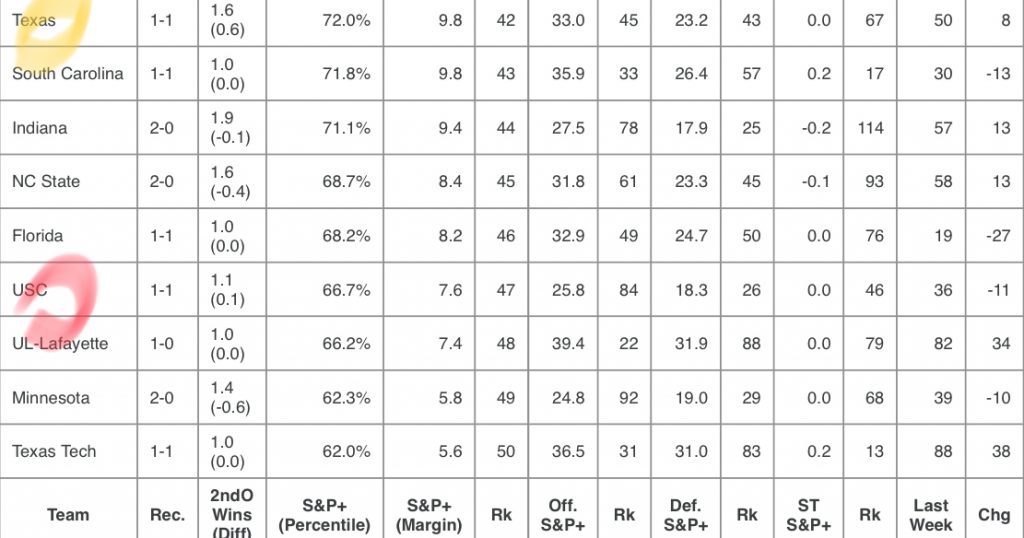 As you can see, the Texas offense is off to an improved start over last season S&P+. Now, you can't say the same for the defense, though some drop off was expected, at least by me. Will Texas maintain their current Offense S&P+ throughput the season and perhaps improve upon it? Also, will the Defense S&P+ rise. Though these metrics average over time, they tend to indicate part of the why a team is winning or losing games. As for USC, their offensive rating is bad, but their defense ranks fairly high. The unfortunate issue for the SC defense is having to play a bit extra because the offense isn't very efficient at the moment. This tends to make them more fragile, something Texas can take advantage of, especially since the SC defense's weakness has been shown to be playing run defense. Exploit that and you may have a 'W' on your hands.
Defense
Personnel – USC will still attack using a mix of one and two tight end sets, forming mixed personnel groupings as formations. This is not last year's physical bunch. Texas will be able to match well at ever level, mostly with Nickel defense. When SC utilizes 4 wide receiver sets and some passing down 3 wide receiver sets, you'll see the Texas Dime defense.
Quarterback – I'm not impressed with the freshman quarterback. His release isn't good and it's obvious they're scheming to get him as many easy throws as possible, remind you of anything? He's not the athlete Darnold is, nor the passer, at this point. The question is, will Texas force the pass and will they finally get pressure in the backfield?
Stop & Blitz The Run – Texas will look to take away interior gaps and deny vertical entry much like last year. The defensive line will be tasked with forcing the action sideline to sideline, allowing the Texas defense to pursue inside-out. Blitzing closes the gap in initiative for the USC offense and is an aggressive approach to creating tackles for loss and passing down situations for the young quarterback. Utilizing end-linebacker stunts to attack the b and c-gaps allows Texas to remain option-sound while also immediately creating pressure against any run-pass options. Expect to see Texas compress the alley some like last season too because it forces throws and again, keeps the action horizontal, as opposed to vertical and downfield.
N.B. The Heltons will test Jet motion (Sweep), the Texas defense needs to prove early, that it's not a problem.
Pass Defense – While Orlando likes and wants to be aggressive, I'd caution against that some on pass downs or more obvious pass sets. Texas may be wise to allow some access outside to the field and boundary while triggering zone drops by the outside linebacker (Nickel & Dime) positions. Otherwise, Texas defense's normal mix of man and zone coverage should serve as kryptonite for the young passer. This can mesh well with the run defense by allowing the safeties to 'slow-play' the run and pursue runners forced to the sidelines via the front. This also allows them to identify receivers in the seams early and take them away. Lastly, defensive backs like Boyd, Locke, and Jones would be wise to safely jump routes when eyes are on the quarterback's release. Daniels' release allows clear pictures as to when he's releasing the ball and when he's not. The danger in that is lack of restraint, why 'safely' is the operative term.
Pass Rush – Bring Breckyn, Charles, Anthony, and Malcolm. I don't think Texas will need to game its fronts much to generate pressure, but what I would like to see is Breckyn and Malcolm stunt inside to generate interior gap pressure. Meanwhile, Charles will need to help maintain a strong position defending the run (strong side), then fighting up field to collapse on the passer. Lastly, Wheeler is pretty good at the line of scrimmage, I like him attacking various gaps against both the run and pass.
Offense
The Texas offense has seen better days. While I've been one of the biggest critics of 'The OC' (offensive collective), my optimism hasn't waned. Why is that? I understand what the offense is trying to do, it's not flashy, nor is it a style I prefer to view. That said, success will depend on the offensive line 'gelling' and Sam Ehlinger completing a higher percentage of his passes. None of that changes against the reviled Trojans this weekend!
WhOle Offense – The one thing I am a fan of is watching an offensive line savage a defensive front. With some time, this Texas offensive line will be doing just that. Continuing to build around Zone, Counter, and Option is the ticket for Texas and the quarterback. Drawing numbers in and taking shots in empty spaces behind them is how it's all supposed to work. USC presents a pliable defense, one Texas can and will run against. It's all a matter of pitting the big uglies and Sam against the Trojans lackluster front, RUN THE DAMN BALL!
Sam – While we can't (yet) conclude Sam's improved, this game provides him a good test, against a brand name, against a struggling defense. Sam will need to execute in three ways to help win the game. For starters, make correct run reads. The USC defense will attempt to mix who they want carrying the ball with various defensive front manipulations. It's Sam's job to recognize the few critical instances when keeping it totally guts the defense. Sam will need to execute the 'simple' things well, mainly screen passes when the perimeter coverage indicates a throw. The completion benchmark for Sam is sixty percent. If and when Sam is above that mark, good things will follow. Make good reads and don't hesitate, let it go. I'll be looking for a decisive quarterback and will take an error to go with that. Lastly, if the situation arises, exercise awareness. Don't be afraid to throw the ball away and live another down. While all that is obvious, when you track it, you realize how quickly unforced errors add up to stifle efficiency and the potential for big plays.
Seam & Sideline – USC will be switching up coverage based on how well they're defending the run with it. Throws Sam can make are in intermediate zones in the seam (up the hash) and outside down the sideline. Play-action will create opportunities to attack the Hook in the seam and sideline Streak and or comeback. Note that this approach fits well with the types of screens and flares Texas likes to scheme. Texas may not have a full-fledged diverse pass game, but you can make a living attacking the seam and sideline if you target the flats and run Drag routes underneath. If the run game's effective, USC will have difficulty defending even the simple stuff, just how it works.
Overall, the match-up is good. It's a stiff test and very manageable. Texas made last season's game a classic. Will this year's be the same? Tune in on Saturday and find out, we'll discuss more then and after, hook'em!