Open Post | Wednesday, October 3rd
Posted on: October 3, 2018
Marcus Washington Moves His Decision Date Up
– Super K
Again, things looking great for Texas…
Oct.26th🎬 Decision will be made✅ https://t.co/lImV6VVmDZ

— Marcus Washington (@_MarcusW11) October 1, 2018
---
Monday Injury Report
– Will Baizer
Out for Season
– LB Malcolm Roach (Broken Foot)
– TE Max Cummins (Surgery)
Doubtful
– OL Patrick Hudson (Medical)
– DB Montrell Estell (Concussion)
– DB BJ Foster (Concussion)
Good to Go
– RB Keaontay Ingram (Knee)
– DB Jamarquist Durst (Shoulder)
– WR Brennan Eagles (Knee)
---
TFB Short | The Disappearing Jamison
– CJ Vogel
Remember this?
Any time you can steal points without having to grind through a long offensive drive, your odds of winning exponentially increase. Whether it be a pick-six, blocked punt or any type of return, a massive change in momentum can go a long way in terms of the outcome of a game.
Texas true freshman wide receiver D'Shawn Jamison provided that exact type of spark Saturday for the Longhorns when he returned a punt 90-yards to the house midway through the first quarter.
D'Shawn Jamison turned on the jets 💨

(via @CFBONFOX)pic.twitter.com/OhPAnyXgtC

— Bleacher Report CFB (@BR_CFB) September 29, 2018
Jamison's return ignited a run of 19 unanswered points for the Longhorns who took a 19-0 lead into halftime.
The former Houston Lamar product was recruited to do exactly what he did Saturday.
Unfortunately for Jamison, and Longhorn fans watching the game, that was the only return 'Shark' would see on the afternoon. Head coach Tom Herman opted to roll out junior safety Brandon Jones back deep on punts for the remainder of the game.
"Brandon (Jones) is our punt safe guy. So with the lead and the field position, we were forced to be in punt safe the remainder of the game," said Herman in the post-game press conference.
For the remainder of the game, any type of explosive play in the return game was thwarted by a safe, conservative approach.
Though Kansas State punted on the plus side of their 40-yard on three of their five punts, eliminating any type of opportunity of an extra scoring play is a wild move. Especially when the Texas offense mustered up just 10 points on the day.
Getting too conservative and playing not to lose seems to be all too common with this Texas team who has now seen three-possession second-half leads dwindle. The second half of the Kansas State game was all too similar to the Tulsa game where Texas almost squandered a 21-0 halftime lead.
Moving forward, Texas will face increased firepower from the likes of Oklahoma, West Virginia, Texas Tech and Oklahoma State.
Lead or not those teams can score in hurry. This team cannot get passive and skip out on opportunities for plays like Jamison's to occur.
---
Demarvin Leal | In-Person + Insider Take
– CJ Vogel
I went down to San Marcos for the match-up between Converse Judson and San Marcos High School to see Texas A&M commit DeMarvin Leal in action.
Due to a 47-7 blowout and a running clock in the second half, Leal was not on the field for long, nor was he on the field really for any meaningful downs since the San Marcos offense was unable to string together any threatening drive in the first half.
Leal saw a plethora of double and triple teams throughout the night. San Marcos also game-planned to run opposite of Leal for most of the night, however that didn't stop him from racking up several QB pressures and a sack.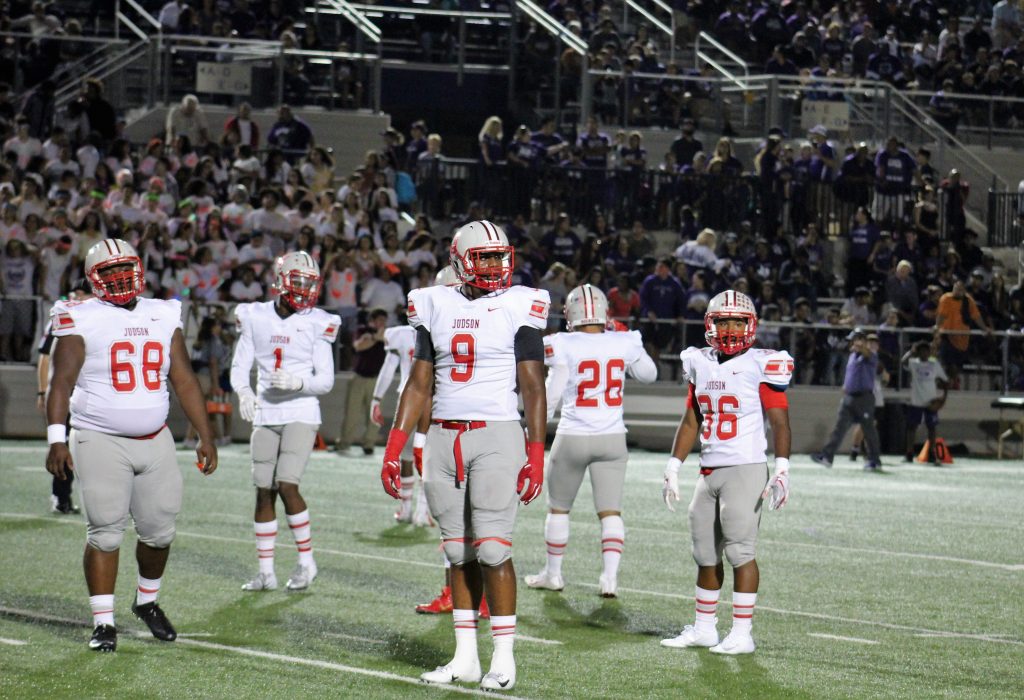 The 6'4", 280 lb defensive end slid down the line as a 3-technique, a 4i, and as a 5 for most of the evening. He also saw time as a blocker on field goals and as a up-back on the punt team.
On the sidelines, Leal was very open to being coached up by the Judson staff. Each team he came off the field he was met with a defensive coach to discuss the previous series and any adjustments needed to be made.
I was very impressed with Leal's quickness off the ball and his ability to beat blockers in one-on-one situations. His agility will allow him to see playing time quite early in his collegiate career. At times, Leal was too tall out of his break which prevented him from breaking through the offensive line.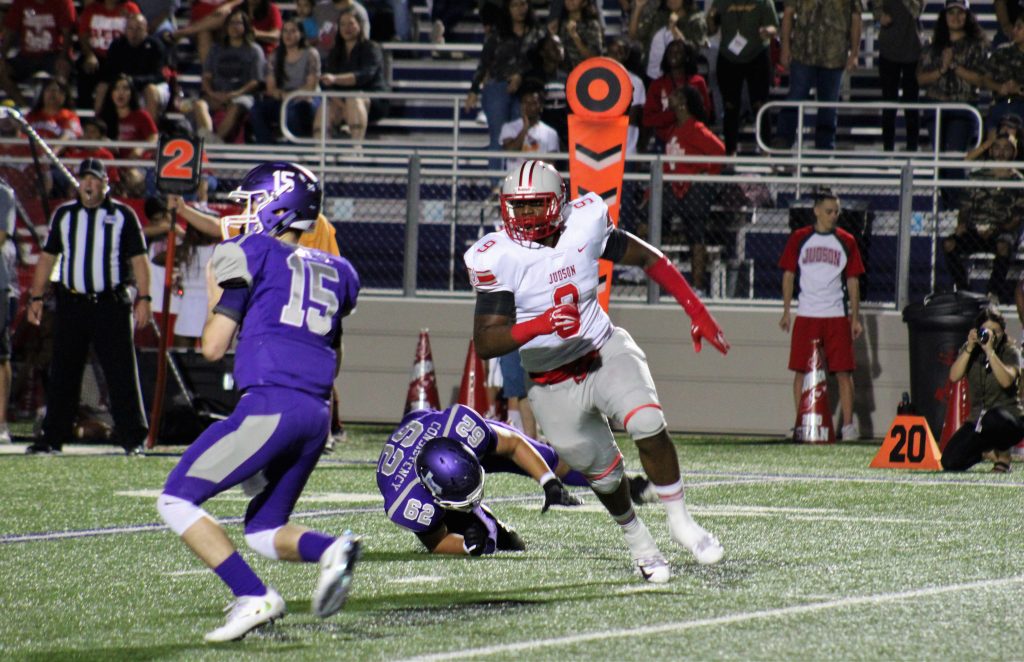 The real question is how firm is Leal to A&M and do the Longhorns have a shot at flipping him?
"I'm still committed to Texas A&M 100%," said Leal after the game. "I plan on going to the A&M game [October 6th] against Kentucky."
As for any future visits to Austin or Tuscaloosa, Leal said he does not have anything in the works for either school. Instead, he is focusing on early enrolling to get a head start with Texas A&M Defensive Coordinator Mike Elko.
It still might not be all the way over for UT. Leal's mother and several members of his family are still very much pro-Texas. Plus there is a lot of schedule left for both teams.
As they say, winning takes care of everything. Texas certainly has momentum on the field at this point of the season, and a win over Oklahoma at the Cotton Bowl could certainly open up doors that were previously closed.
If you would like to read CJ's Insider Note, please click the Donor Board link!
---
Thoughts Going Into Texas-OU
– Andrew King
The game we all love is approaching, one of the best rivalries in college football.
Texas vs Oklahoma at the Cotton Bowl in Dallas, Texas.
There's an even bigger buzz about the game this year as both teams are ranked going into the game for the first time since 2012 as Texas sits at #19 and Oklahoma sits at #7. ESPN's College Gameday Crew will be in town for the game. FOX will also have a live crew set up outside the Cotton Bowl as well. Not sure that's ever happened for a regular season game.
Here are some of my thoughts on the Longhorns and Sooners heading into this matchup.
– Texas DB's are playing well, but this will be their biggest test of the season.
Safeties Brandon Jones and Caden Sterns are probably two of the top three Texas defenders right now along with Gary Johnson. Kris Boyd has been good, but inconsistent at times in 2018. Davante Davis has been solid as well. Those guys are going to decide this game in my opinion. Facing CeeDee Lamb and Marquise Brown and slowing those two guys down is going to be the deciding factor. Oklahoma has some other really good weapons on offense but if Texas can contain those two because they're not going to completely stop them, they have a real shot to win this game.
– Time for Breckyn Hager and Charles Omenihu to make their money.
All the talk in the offseason was about Texas' DE duo in seniors Breckyn Hager and Charles Omenihu. Neither guy has had a real "breakout" senior season. Both played well last week vs Kansas State as Omenihu had two sacks and Hager was in the backfield some and made the game-winning play with a pass deflection. If they can make Kyler Murray uncomfortable and keep him inside the pocket, Texas has a chance to slow down Oklahoma's elite offense.
– Kyler Murray is going to show up, so Sam Ehlinger better.
I've been watching Kyler Murray since his HS days, and he's the best recruit I've ever seen live. He steps on the biggest stage like nobody I've ever seen in person. He's shown that the OU offense hasn't skipped a beat with him replacing Baker Mayfield even with all the talk of him and his MLB deal with the Oakland A's. He's going to show up on Saturday, he's going to make the Texas defense look silly at times. So the big question is, how will Sam Ehlinger show up in the big game? I'm not saying Ehlinger needs to throw for 400+ yards for Texas to win this game. I just think there's a better chance this game is in the high 30's or 40's than it being a 28-24 game. So Ehlinger needs to sling it and let it fly this weekend.
– BOLD PREDICTION: IF Keaontay Ingram is healthy, he jumps onto the national scene this weekend.
Only five games into his freshman season, and we all know Texas RB Keaontay Ingram is the future at RB for the Longhorns. He has dealt with knee and rib injuries over the last few weeks, but he has still been the most productive RB by a long shot. He's not the fastest guy, but he's very shifty and has great vision to make cuts in traffic. He also seems to have the ability few RB's have which is that the defense rarely gets a clean shot on him. He's averaging over 6 yards per carry on the season. And if he's healthy this weekend, I think he has a huge game on the big stage and people around the nation will start to learn who this young RB is.
---
Lewis Cine Sets Decision Date
– Andrew King
Trinity Christian School (TX) S Lewis Cine has set his decision date for October 10th and has narrowed his list to five schools.
10.10.18.. SET YA ALARMS 🚨 @ChiminInMedia pic.twitter.com/UOvbeo7Anz

— LEWIS CINE (@LewisCine) October 2, 2018
Not really any surprising schools in the final five. As it consists of Texas, Michigan, Penn State, Georgia, and Florida. Cine will take his final official visit to Florida this weekend. Penn State was the early leader in this recruitment. Then Cine moved from Massachusetts to Texas and the Longhorns started to make a surge in his recruitment. Then after moving down south he took a few visits to Georgia. And they're recruiting better than anyone right now, and they've made Cine a top priority. And when a school like that makes a recruit a top target, they usually take notice.
Right now I feel pretty good about saying Cine commits to Georgia next week. Texas already has two safeties committed in Tyler Owens and Chris Adimora. They will then turn all their attention to Mansfield Legacy (TX) S Jalen Catalon to finish their DB class. Texas, Oklahoma, and Arkansas are the top three for Catalon right now IMO.