Open Post | Weekend, November 23rd – 25th
Posted on: November 23, 2018
Jared Wiley talks Early Enrollment
– CJ Vogel
Friday night marked the end of Jared Wiley's high school career at Temple High School with a 41-34 loss to Mesquite Horn.
The next step for Wiley will be to graduate in December and early enroll to the University of Texas. Wiley will jump right into the Yancy McKnight weight program for the offseason and prepare for spring football.
Wiley is taking everything he learned from his high school experience in stride and hopes it benefits him greatly at the next level.
"Just learn from it," Wiley said following the loss. "I have to get better as a person and a leader on the field."
"I think this is a big learning experience for everybody over here. That God has a plan and that this is just another chapter in our lives. Even though we lost, we're still going to wake up tomorrow, we're still human and football is still going to be there at the end of the day."
Wiley had been commanding the ship of the Temple offense as the team's quarterback this season, however he is projected to move to tight end in Tim Beck's offense.
"We haven't really talked about it a lot," said Wiley about Beck's plan for him next year. "I'm sure  he knows that I play wherever they want me to."
Wiley joked that quarterbacking isn't off the table, but with the bodies in the quarterback room right now, it's highly unlikely he sees time behind center.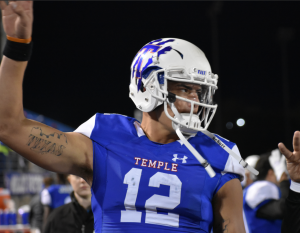 Wiley said he loves watching Texas games and has been impressed with the Longhorns' jump in offensive production from year one of the Herman regime. He used the word "explosive" when describing the play style for the Longhorns.
As for the rest of the 2019 recruiting class, Wiley is a pretty quiet kid, and he even said he hasn't been much of a recruiter during the cycle. However, he did say he was hopeful about Texas' chances with some of the big 5-stars left.
Wiley may also be a factor in the recruitment of elite 2020 wide receiver Quentin Johnston who currently holds offers from Oklahoma, Texas Tech, Houston and Virginia Tech.
I think Texas is in for a treat when Wiley gets to campus. Wiley will get to fill out more of his 6'6" frame and get in tune with the offense in a key developmental period. He has true athleticism and is real good with the ball in his hands.
---
Finishing the 2019 Defensive Class
– Super k

Early signing period is rapidly approaching. Let's go through who's in the boat and who else is needed.
Defensive Line
T'Vondre Sweat, Peter Mpagi and now, Myron Warren, and Jacoby Jones are all in the boat…
2019 top JUCO DE, Jacoby Jones on his #HookEm visit, this past weekend.

Pictured with Recruiting Director, Brian Carrington & QC coach, Rashaad Samples. pic.twitter.com/thHP0nbA8b

— Super K (@SuperK_TFB) November 20, 2018
As far as whether they'd take another defensive lineman after Jones, I was told: "it would have to be the right guy". In other words, it would need to be someone really special for staff to make room for. Otherwise, Jones would finish the class and it would be on to 2020.
Defensive Backs
Kenyatta Watson, Chris Adimora, Tyler Owens and Marques Caldwell are all in the boat. I still think Peyton Powell probably ends up a defensive back at Texas.
It's my sense that they are done at this position. The only contingency plan would be if a guy like Watson ended up elsewhere. There has been a little bit of something behind the scenes but for the most part I get the sense that Watson is locked in. A lot of the speculation about Watson is coming from the fact that Tennessee is refusing to let go. And, some believe that with Pruitt, a former DB coach now head coach leading the charge and the proximity, that it could make a different late in the game.
It doesn't appear that way now because I believe Kenyatta wants to be at Texas but I'm sort of reserving judgement.
Linebackers
In the boat De'Gabriel Floyd, David Gbenda (I saw him in person about a week and a half ago and liked him), and Marcus Tillman Jr.
Here I believe the final piece Texas is waiting on and hoping for is JUCO LB, Caleb Johnson. Johnson was planning on taking his official visit to Oregon this past weekend and then announcing but he tells me that he pushed the visit back to November 30th. So it'll be another couple week or so before Texas finds out about Johnson.