Open Post | Weekend, November 30th – December 2nd
Posted on: November 30, 2018
Quick Hitters | Running Back Recruiting
– Andrew King
Texas holds one running back commitment in the 2019 class, from Buford (GA) Derrian Brown. The Longhorn staff would like to take more than one running back in this class. And there are three main names to know.
IMG Academy (FL) Trey Sanders
Sanders is the crown jewel at running back in the 2019 class. He took an official visit to Alabama over the weekend, and most see them as the leader for Sanders. Texas has given Sanders a lot to think about, but most say his parents prefer Alabama. It's hard not to see why, and it sounds like that is still the case following his visit to Tuscaloosa over the weekend. The top three for Sanders looks like Alabama, Texas, and Florida. Texas could be running second right now, but I'm not sure it's going to matter in the end.
IMG Academy (FL) Noah Cain
Next is Cain's high school teammate in Noah Cain, who is originally from Baton Rouge Louisiana but lived in Texas for years following Hurricane Katrina. It seemed like LSU was the favorite for Cain for some time until the Tigers flipped 5-star running back John Emery Jr from Georgia. That move seemed to put Texas in the pole position for Cain. The one thing that keeps coming up with Texas and Cain is that it seems to be the "most logical decision for him". Penn State, Ohio State, and Auburn looked like the other challengers for Texas, but another school has jumped in the race and they have a pretty good track record with running backs. Cain took an official visit to Georgia over the weekend. No school has a better track record with using two backs like Georgia. With Nick Chubb and Sony Michel and now D'Andre Swift and Elijah Holyfield, who are both approaching 1,000 rushing yards each for 2018. They could be Texas' biggest challenger for Cain moving forward.
Cerritos College (CA) RB Rhamondre Stevenson
This is a guy I'm not particularly up to speed on, but the following post by Super K will bring you up to speed. He picked up a Texas offer only five days ago. Both Texas and Oklahoma are going after this guy pretty hard right now. He's a guy that can make you miss and can be an instant impact guy.
MY TAKE: I really think Texas could take three running backs in 2019. With the likely trio being Cain/Brown/Stevenson. Here's my thinking behind it. Texas currently has six scholarship running back on campus right now. Tre Watson is gone after this year, Kyle Porter wanted to redshirt this year, which makes me think he could be gone as well. Toneil Carter and Daniel Young have played very little in 2018, so they could be wanting a fresh start to see more playing time. And Kirk Johnson will likely never make an impact at running back at Texas. So that leaves Keaontay Ingram as the only sure thing at running back at Texas for 2019.
---
Rhamondre Stevenson to Visit Texas
– Super K
In case you missed it, Texas recently offered JUCO RB, Rhamondre Stevenson (Cerritos College).
With the Sooners having offered a couple weeks ago we had already begun doing some research on Stevenson. Everyone I spoke with out in California raved about Stevenson. I had multiple people including JUCO head coach who faced Stevenson tell me that he's not only the best JUCO back in California but can also absolutely play at this level.
He's a big back but also has breakaway speed and exceptional COD for a guy his size.
Based on his offer sheet, I'd imagine this one will end up coming down to Texas and OU.
Although OU extended an offer first, Texas has actually been recruiting Stevenson for a longer period of time. Coach Drayton has been in touch with Stevenson for a while now.
Rhamondre tells me that he will absolutely take an official visit to Texas but says no date has been set yet. Also of note here, Stevenson is a May grad.
Should Noah Cain commit to Texas, the question we will be hoping to answer for you all is whether Texas will be in a position to take Brown, Cane, and Stevenson.
In my estimation, it would be a good idea to do so. You add a back to replace Tre Watson but in some ways, you're getting an upgraded skill set to go along with what is becoming a physical offensive line.
---
Big 12 Championship Game | Injuries OU Side
– Charlie S
– The Sooners have had zero media availability leading up to the Big 12 Championship game and I know you guys are looking for injury info from that side.
– While we do not have an official injury report, I can tell you that Lincoln Riley said he does not expect anyone who did not play last week due to injury to play this week
Last week the Sooners were without:
Justin Broiles (NB/S) Believed to be in concussion protocol
Jordan Parker (S) Believed to be in concussion protocol
Kahlil Haughton (S) Off field injury
With that being said, the already hurting Sooners secondary is now low on manpower.
Also of note:
Trey Sermon (RB) Did play sparingly, dealing with a lower leg issue
TJ Pledger (RB) did suit up last week but did not participate (Hip Flexor)
Mark Jackson (Edge) suited up but did not play last week (undisclosed injury the week prior)
---
2019 Offensive Tackle Isaiah Hookfin | Sets Official Visits
– Charlie S
Isaiah Hookfin has been tweeting out his official visits and obviously, Texas will get one.
Texas will be his last official visit following stops at Baylor and Minnesota.
While we are confident where Texas stands in his recruitment, I would not go as far as to say this is a lock right now.
12/14 Texas OV

— Isaiah Hookfin (@IsaiahHookfin) November 29, 2018
---
Bru McCoy Update | Reaction To Kingsbury Hire
– Charlie S
Super K has been out of the country but I was able to talk with him briefly regarding the Bru McCoy situation. Here is what he had to say:
*** Prior to the Hire, K's sources told him that with Helton staying, it was going to make it that much more difficult for Texas to pull Bru McCoy
*** One of his sources added that as long as Helton didn't screw up the Offensive Coordinator hire, USC was going to be very tough to beat.
*** It has been widely reported that USC is finalizing a deal with former Texas Tech Head Coach Kliff Kingsbury and K exchanged a few messages with McCoy's father.
*** As you would probably expect to hear, they were very pleased with the hire.
*** This was always going to be a tough one with McCoy being close with JT Daniels and Amon Ra who are very happy at USC and with Clay Helton
** Along with the players, McCoy's family really does think highly of Helton.
This one continues to trend toward USC. Texas is still in it to a degree, but if you haven't already, you need to start preparing yourself.
---
TFB Championship Week | Texas – ou
– Gabriel
Happy hating, y'all! I don't know about you, but I've been enjoying the shiny gift that is 'Hate Week 2.0'. The football gods have blessed us, indeed! Anyhow, I'm here to tell you, this time may be harder. To be honest, I'm not sure this Texas team has it in them.
Why, you ask? After their lull in the first 3 quarters of the RRS, they seemed to figure things out and now, even the little guy (Kyler) understands he's got to put the team on the back from time to time, very dangerous stuff. It's safe to say, it's easier to tackle Kyler's ego than him running, so fast. Texas will need its best effort, all sides, and some luck in my opinion.
The last time around, Texas held a 21-point lead with nine and a half minutes to go. When there were three minutes left, the game was tied, yikes! The sweet spot for slowing down the ou offense is to limit yardage to about 500 yards and 25 to 30 first downs. The obvious tricks are earning stops (3 and out) and field goals instead of touchdowns, both very difficult against the ou Bro-Raid. Lucky for Texas, the ou defense often blows (lol) over in the wind, likely allowing the slower and less explosive Texas offense to keep pace.
The only unfortunate aspect here is this, the Texas run game should be better, because if it were, it would likely be THE difference in this game. For that reason alone, Herman meeting with former Kansas head coach, David Beatty, intrigues me. Why? Because Beatty's perspective is that of a coach that's been forced to scour ideas and film for any little edge having dealt with the disadvantages coaching Kansas Football, a program bereft of FBS-competitive talent.
Now, I don't put too much stock in it besides Tom trusting Beatty's eye and honesty about what he sees when he watches Texas. There's also the fact that Kansas managed to move the ball well against a bad ou defense, nothing wrong with trying to gain the upper hand, if you ask me.
Tale of The Tape (per footballoutsiders.com)
Texas
Offense S&P+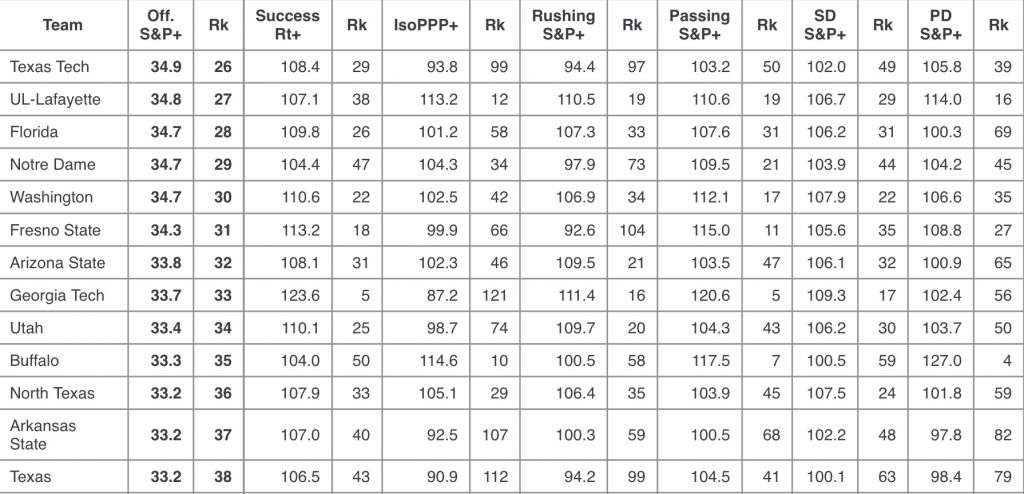 Defense S&P+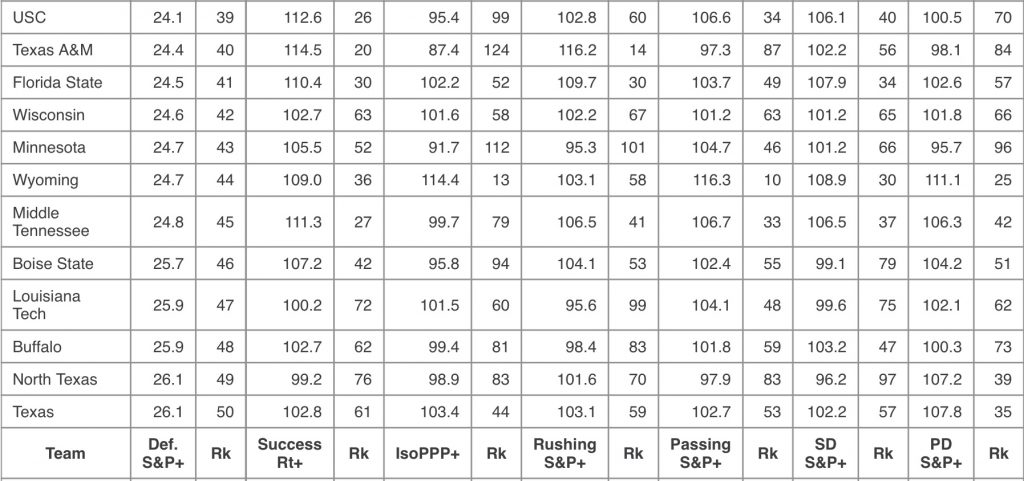 ou
Offense S&P+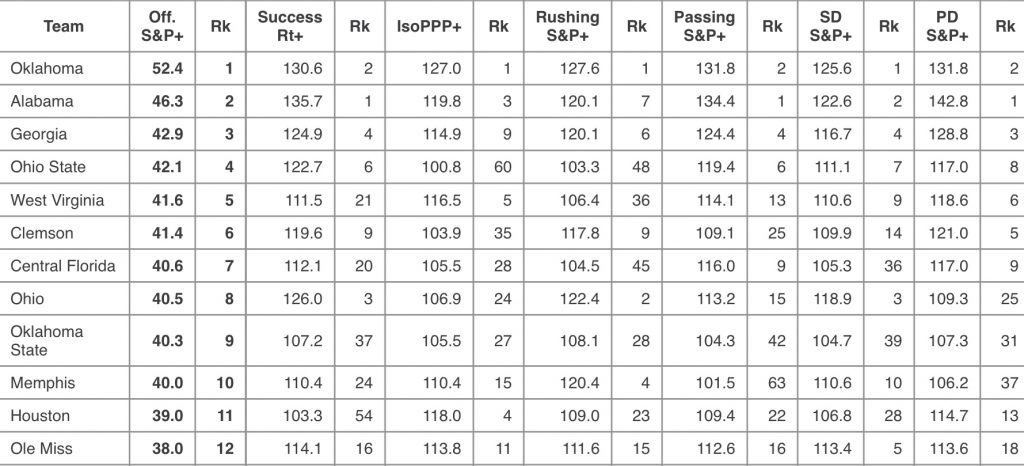 Defense S&P+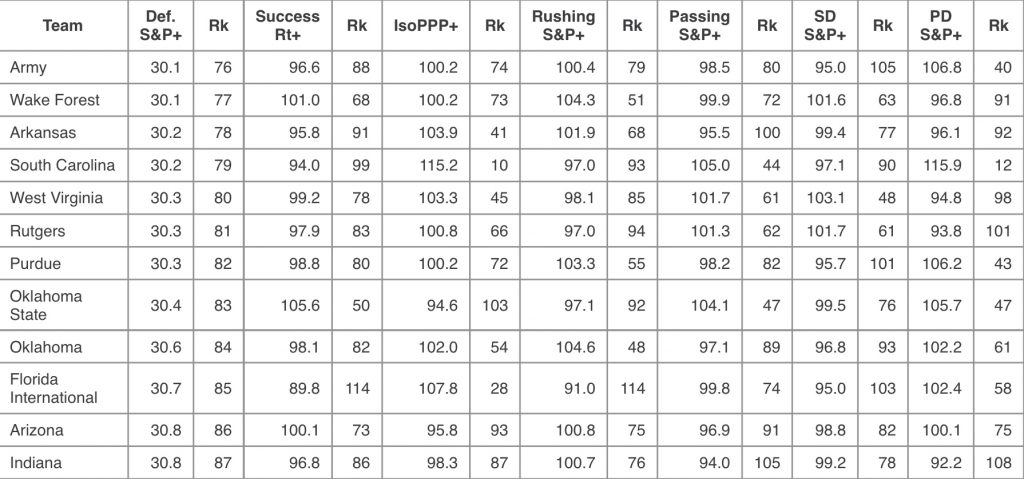 Defense
The ou offense is a three-headed monster, Kyler, the offensive line (run game), and Marquise Brown. Don't get me wrong, they have other weapons, but those three are veritable football smoke-shows. It's a delicate tight rope act to cover Brown safely while also trying to account for the run game, Kyler included. Is there a way for Texas to sneak a 12th player on to the field? Remember, as soon as you bracket Brown, you have nine defending ten. One of those ten is Kyler who can 'house' the ball on any given play. Orlando has his hands full, for sure, but there was some success in the last game, while it lasted. You'll see similar this Saturday.
Cover Two Robber – Against ou '10 personnel' (4 wide receivers, 1 back), Orlando utilized two high safeties with an 'Robber Safety', BJ Foster. This coverage is meant to take away intermediate crossing routes, the one Brown kills teams with. The problem for Orlando is, only Jones, Boyd, and Locke possess speed. The others, Davis, Sterns, and Foster aren't quite as fast. There simply aren't enough complete defensive backs on this team, with speed. This defense is safe against intermediate and deep zones, but not against the run game, though Orlando doesn't mind hedging against more damaging passes and yielding some space at the line of scrimmage. I don't mind this approach, as it seeks to allow the best part of the Texas defense to do the heavy lifting. Nevertheless, it's too bad a guy like Josh Thompson can't be on the field more full-time, for his speed.
Amendment – Deploy Gary Johnson at the 'Robber Safety' position against one-tight end personnel. This allows Gary to crash down hard against runs and or take away the middle and spy Murray. He's played the spot before and it also affords Orlando's defense to remain structured against the sooners' motion package, something that gave Texas issues last time because of the safety rotation, leaving gaps unaccounted for up front.
Furious Five – Whether Johnson remains at Rover or deploys as a 'Robber Safety', the front five need to take care of the offensive line. Texas didn't spill well enough the last time around and it's important to simplify angles and pursuit against so much speed. These five guys will need to shut down the ou Zone and Counter GT schemes. Add to that, maintain lanes during pass plays, because of Squirt. Something I'm curious about, is whether Orlando's better off deploying Roach more at Nose on standard downs, with the intent of attacking the guard and A-gap to either side post-snap. Roach possesses quickness that neither Nelson or Wilbon have. That leaves those two anchoring the weak side of the formation. Either way, the guards need to be attacked aggressively more often. This makes it difficult to establish the double-team up front in Zone and pulling the guard in Counter. Create a situation where you're highly rewarded when 'guessing' right and or baiting the Counter scheme to the side the guard and A-gap is being attacked. Penetration is key, to disrupt both schemes.
Coverage, The Good & Bad – I hate seeing two safeties high because it takes them out of any immediate action. That said, it's a necessary evil. Perhaps the defense can sneak in an extra player or two after all, the sidelines, especially to the field. Sometimes, you have to let a guy compete on his own. This happens a lot with Boyd, but less so with Davis. Texas can vary their run support and coverage out of their Cover Two Robber shell by switching up who's on an island and disguising where the zone coverage is. I hope Orlando chooses to stay more structured in this way while walking down the 'Robber Safety' based on 'blocking surface' and match-up.
The Last Debacles – Texas did a poor job remaining gap-sound against some of ou's motion package and the Draw play, running back and quarterback. Some of that is acceptable except when the quarterback houses the ball from fifty yards out, no bueno. Also, defending the cutback is very important because ou does a great job blocking opposite the play side. They know every run has a chance to come back their way. What happens is, backside defenders get sucked in towards the play side, then when the run cuts back, they're crack blocked inside by receivers, frustrating. Some of this can be alleviated by the backside edge defender keeping his outside shoulder free so he can cut the runner off, funnel him inside, and allow the second level to clean up. Lastly, ou's RPO and play-action game is very good. It's important to play the receiver first until the runner is confirmed. This will limit some yardage. As far as play-action goes, get Kyler to hurry or scurry, then pray they keep the genie in the bottle locked-up.
N.B. What you're looking for from the Texas defense is more damage control. Make a one or two more critical stops, prevent 1 more touchdown and force a field goal attempt. That's what we're talking about. With a stellar performance, ou is held under forty points. Give up the booty and you're looking at greater than fifty on the scoreboard and we're all super sour. We'll talk about the offense, they also have a hand in this.
Offense
Will it be feast or famine? The Texas approach is efficiency-based, unlike the hated Raid-Bros north of the Red River. Tom wants at least two first downs each drive and great punts. That said, he knows points are required, especially against the Crimson Scare. Unfortunately, Texas isn't fully pulverizing fronts yet. If it were, I'd be very confident about this Saturday. Texas will need a mixed approach to keep ou's wounds bleeding out, torturous. The advantages are Johnson outside, Humphrey inside, and the multiple run backfield run threats. Can ou match, I doubt it.
Personnel – Clearly, Texas is best when utilizing one tight end, Beck, along with Johnson, Humphrey, Duvernay at receiver, and either Watson or Ingram at running back. Let's talk about how these guys can make a bloody mess out of the Crimson and Charmin defense.
More Humphrey – Texas will need to change up its route tendencies to avoid similar interceptions as last week's thrown LJH's way. Humphrey needs more simple targets each week. For example, the Tunnel Screen he's been successful running should be run a couple more times including a play-action fake out of the same look. Duvernay will be open deep on the Fade or Post. I'd like to see LJH get a touch or two from the backfield. Texas ran Outside Zone to the boundary well last time around. This time, give them a taste of LJH charging the boundary corner with Sam reading an unblocked defender to the field, numbers and pain. Backfield alignments also yield better pass pattern match-ups too. If ou sticks with a linebacker in coverage, Texas can motion away to create space for a quick Flat route concept, be creative with your most versatile player.
Run Wrinkle – Texas is a Zone and Counter team. When a Texas guard pulls, defenses are used to him kicking out or leading through the C-gap outside the opposite tackle. If Texas were to also pull the guard through the A or B-gap, it would be a welcome change-up and add to the troubled sooners run fits, especially to the weak side. Lowly Kansas had success leading through the A-gap, right up to the Mike linebacker. I like that, because Kenneth Murray deserves a good snot-clearing block. Another simple wrinkle is utilizing Inside Zone blocking and running it like Lead ISO with Beck through the B-gap. You get the idea.
N.B. If and when Texas has a late lead, mind the holding. Texas received multiple holding flags during the fourth quarter last game and that led to sooners defense stops, a rarity. Don't hold late.
The Quilt – Texas wants to be as run-centric as possible. However, when it starts seeing seven to eight in or near the box, passing becomes more promising and you can't just throw all fades to Collin Johnson, some. Texas had success with Fade, Double-In, Deep Curl, Mesh-Wheel, and Seam (RPO). The sooners will likely avoid man-coverage as much as possible because of run defense. This makes is a tiny bit more predictable to find holes to sit receivers in. What I'd like to see a bit more of are quicker breaking routes, like an In or Slant outside a Seam, Post, or Corner route. Something else to take advantage of, when there's motion, the alley away from motion typically walks down, blitzing frequently. Texas can punish this by leaking the back to the Flat. Running In or Slant-Flat is another concept to take advantage of a vacated alley and to keep pressure off and shift eyes the opposite way or to a Drag coming into picture from the opposite side. Is the Texas pass game multiple enough to destroy the sooners defense? I guess we'll find out.
I've enjoyed this season with y'all. Anything less than winning Saturday will disappoint me. This team is supposed to be at this point, don't let others tell you otherwise. Tom's coming off an easy week (Kansas) and that usually spells well for his teams, as planning and 'reps' for the next opponent are installed ahead of time. It will not be easy, but I know this team can do it and the sooners tears will have never tasted better. As for our tears, should Texas lose, well, we ran out years ago! Hook'em!!!