Open Post | Wednesday, December 5th
Posted on: December 5, 2018
I'm Back | Quick-Hitters | Stevenson, McCoy, Watson
– Super K
Was out last week but I am back and ready to rock for early signing period. A few notes to get up…
***In general, I'm expecting mostly Texas commits in for official visits this weekend. Guys like Caldwell, Mgpagi, Owens, Wiley, Tillman. Next weekend will be a bigger recruiting weekend so I suspect we will see some non-committed players in town.
***One of the players who I think you'll see come in next weekend is JUCO RB Rhamondre Stevenson. I'm waiting to hear back from him on a date but again, I wouldn't be surprised to see him come in for his Texas official next weekend (Dec. 14th)
***Also, speaking on Texas commits, there was a lot of questions around whether or not Kenyatta Watson would ultimately sign with Texas. There was some concern that Tennessee would manage to flip him in the end.
The latest I've heard is that coach Herman and coach Washington will be by to see him this Wednesday. And the talk of Tennessee, according to someone close to Watson, is "dead. He is signing with Texas…"
***I believe Charlie passed on my note regarding Bru McCoy, last week. I still see this one trending USC. The question I'll be checking on this week is if Texas will reengage with Kennedy Lewis. It would still be nice to add an athletic big bodied receiver. Lewis doesn't take a back seat to anyone in terms of size and athleticism even if he's still raw.
***Also, JUCO LB target, Caleb Johnson took his official visit to Oregon this weekend. I'll try to catch up with him over the phone but I did exchange text messages with him once I got back from vacation and he said that Oregon has not locked this one up. He said he's still deciding between Texas, Oregon and Arkansas.
That's gotta be a good sign given the fact that he grew up an Oregon fan. I kind of thought this one would be over on the trip. But at least according to Johnson, it's not.
***Lastly, congrats to Longhorn nation. I wasn't able to see the game where I was but a Big 12 championship and Sugar Bowl invite against Georgia in the second year under Herman…that has to feel great!
The class is mostly finished so I'm not sure it will have much of an effect on the 2019 class but it'll be great to use in the off-season to recruit 2020.
---
Herman's Growth as Head Coach on Display in Big12 Championship Game
– CJ Vogel
Every coach across the nation is looking for some sort of loophole in a rule to take advantage of in the midst of the season. Whether your focus as a coach is to steal opponents' coaching signs, deflate footballs, or just take advantage of a rule, everyone is doing something that results in an advantage being gained.
Texas head coach Tom Herman has found a loophole in the rulebook that has yet to be exploited in college football.
In the first quarter of the Big 12 Championship Game this past Saturday, Lincoln Riley was forced to call all three of his timeouts to prevent delay of game and another early in the fourth quarter.
OU's timeouts on offense:
(10:05 in 1st): After long pass + facemask penalty, OU comes out in two tight end set which allows Texas to sub new personnel in. OU gets set/ref with 7 seconds left and is unable to make adjustments at the LOS before playclock expires.
(4:36 in 1st): Previous play was long incomplete pass to Marquise Brown, he is subbed out. Texas substitutes in DeAndre Christmas-Giles in for Jamari Chisholm, the back ref leaves the ball with 7 seconds left on playclock. OU calls second timeout.
(0:27 in 1st): This was the one instance in the first quarter where a substitution by Texas did not cause a timeout.
(PRIME EXAMPLE) (14:15 in 4th): OU's personnel gets mixed up with 20 seconds to go on playclock. Right before back ref is about to leave the ball, Herman runs Christmas-Giles onto the field with 7 seconds left on the playclock and forces the ref to allow the substitution. OU is forced to call another timeout.
https://www.youtube.com/watch?v=3uzVJi6N5yc
2:05:30 in the video above.
The current rule in college football says at any time the offensive personnel changes, the defense will be given the same opportunity to add/subtract a player from the field. The rule spawned in 2014 to combat hurry-up offenses being able to rotate personnel at any time which then puts the defenses in a position of being caught with 12+ men on the field at the time of the snap or just being physically worn out all game.
Herman was able to steal three timeouts from his opponent in the conference championship game. It's this type of gamesmanship that separates the good coaches from the great coaches.
Obviously the game didn't pan out to where those timeouts were necessarily needed, especially with the atrocious prevent defense in play at the end of the first half, but it is incredibly refreshing that the Texas staff is actively searching for ways to get advantages in the middle of the game.
Herman has used this technique before. In the second half against West Virginia, and in the second half of the Iowa State game.
Now you may wonder why teams don't do this against Texas. Herman and Beck run a prototype of the traditional hurry-up offense, however they don't exactly aim to snap the ball as quick as possible. The Texas offense is designed to keep the same base personnel on the field for the majority of the drive (Watson-Johnson-Humphrey-Duvernay-Beck), preventing any opportunity for the defense to substitute under the protected rule.
Texas has mastered the art of keeping the same personnel on the field, getting set early, then making adjustments midway through the playclock to find a play that best suits the down-and-distance.
This is why you see the Texas offense look to the sideline so often before snapping the ball on a majority of offensive plays. The threat alone of Texas snapping the ball early in the playclock makes defensive substitutions risky in the sense of a free-play or a five yard penalty.
In the end, it all comes down to the plays made on the field that determines the outcome of the game. But anytime a coach can get a legal advantage in the middle of the game that results in a timeout being stolen from the opposing team it certainly plays a role in the conclusion of the game.
With all this being said, I have to tip my cap to Herman. He's finding ways to outsmart opponents in ways that have not previously been exploited.
---
Jalen Catalon Update
– Andrew King
Texas currently has 21 commitments in their 2019 class as December begins. So that means the majority of the work is done, but there are still a few key uncommitted recruits out there. One is Mansfield Legacy (TX) safety Jalen Catalon.
Catalon let me know that Texas safeties coach Craig Naivar will be in Mansfield to visit with the top safety.
Catalon has a final four of Texas, Oklahoma, TCU, and Arkansas. He has taken official visits to Arkansas and Oklahoma during the season. He told me that he'll be in Austin on December 14th. That seems to be shaping up as the big recruiting weekend for uncommitted targets.
Catalon has said he wants to make a decision in January, but told me it won't be in early January. "My TCU official visit will be on January 11th. So I will have a [commitment] date after that visit."
MY TAKE: There has been a lot of talk for awhile about Arkansas being the biggest threat to Texas. Two of Catalon's high school teammates are committed to Arkansas, and Chad Morris has probably been in most involved head coach in Catalon's recruitment. They know Catalon can be a 'program changing' guy for them. But don't sleep on TCU here. I've been told on multiple occasions that if Catalon's parents could make the decision, he'd be at TCU. Them getting the final visit is also a reason to watch out for them. But Texas has a HUGE opportunity to blow them away in a few weeks coming off a very successful regular season in 2018.
---
Demariyon Houston & Wide Receivers | Quick-Update
– Super K
As you all know by now, Demariyon Houston decommitted from Texas.
The most polite way I can word this is we'll call it a mutual parting of ways. It does not appear to have anything to do with interest from Oklahoma. The Sooners have not been in touch.
I'm told the targets remain Bru McCoy, Bru McCoy and Bru McCoy.
I kid, sort of. Obviously, Higgins and Kennedy Lewis are still out there and remain targets to a degree. But I don't think Texas is going to make any determinations until they know what McCoy is going to do.
The Longhorns continue to feel they have a shot at McCoy.
You've got to think they're also waiting to see what Collin and LJ decide. Last I heard, neither have made a final decision.
---
Injury Updates on Caden Sterns and Breckyn Hager
– Will Baizer
*** An MRI on the lower leg injury that freshman safety Caden Sterns sustained in the Big 12 Championship game revealed the injury will not require surgery. He has begun treatments and rehabilitation and is expected to be available to play in the Sugar Bowl.
*** Senior defensive end Breckyn Hager sustained a cut to his hand in an accident Saturday after the game. He is being treated and is expected to be available for the Sugar Bowl.
I'll spare y'all the picture of his hand, but it's pretty nasty.
---
Potential Juniors in NFL Draft
– CJ Vogel
With the regular season over, we have now entered Decision Season for juniors and redshirt sophomores regarding their future of entering the NFL Draft of returning back to school.
For Texas, there is a plethora of talented young players that will be making the all-important decision sometime in the next month or so:
S – Brandon Jones
WR – Collin Johnson
WR – Lil'Jordan Humphrey
DE – Malcolm Roach
DT – Gerald Wilbon
WR – Devin Duvernay
OL – Denzel Okafor
QB – Shane Buechele
There are four decisions that Texas and its fans will keep a close eye on. Those are Brandon Jones, Collin Johnson, Malcolm Roach and Lil'Jordan Humphrey.
It's likely the four aforementioned players will receive grades from the College Advisory Committee, the accumulation of NFL scouts and NFL-sanctioned scouts that provide information regarding draft stock and advice for players with the decision to leave or return at hand.
Each school is allotted five draft grades from the CAC and for the time being there is no reason to believe the four players won't receive one if they choose to perform at the Texas Pro Day. But that doesn't mean they are sure-fire to leave.
In fact, after the game, Brandon Jones told reporters he is leaning towards returning back to school for his senior season.

Obviously it is not set in stone, though it is reason for optimism.
Jones wasn't the only Texas player to receive attention for his current Draft status after the game. The mother of Lil'Jordan Humphrey was on Twitter pleading her case for her son to return to school.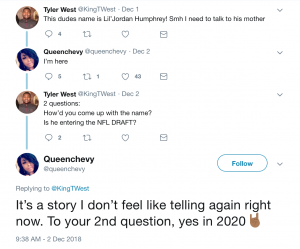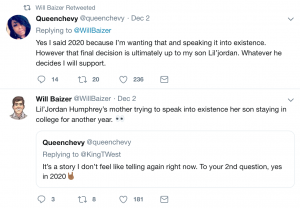 Our own Will Baizer dug further to find out what LJH's mom meant by her tweets. Obviously, this doesn't guarantee Humphrey will be back on the 40 Acres next season, however having her in the corner of having him come back to school is certainly a positive for the Longhorns.
There was not anything big coming out of the camps of Collin Johnson, Roach, Wilbon and Duvernay following the loss.
Collin Johnson is currently a projected 2-3 round pick according to Walter Football, and is the 13th best wide receiver prospect according to CBSsports.com. So in reality, the odds of Johnson turning the page and going pro will likely come down to the draft grade he receives from the CAC.
I'm less confident about Roach or Duvernay declaring. In fact, I was told by a source close to the team "there's no way" Duvernay is not back in Austin next fall. The source also hinted at Roach just not having enough game film that would warrant an early departure.
So while the news surrounding Jones and LJH are both optimistic for Texas fans, a lot can change from now until the Draft. We should find out the majority of decisions by the end of January.
Another note: Unlike last year, it's looking good for Texas to be at full strength for their bowl game against Georgia. So far, no one has brought up the idea of sitting the bowl game, and (so far) no is suspended for a violation of team rules.