All American Bowl Recap (Thursday)
Posted on: January 4, 2019
More updates on the Texas signees and targets in the All American Bowl in San Antonio.
---
Jordan Whittington
I caught up with Whittington following the Thursday practice to get his thoughts on the Texas Sugar Bowl victory over Georgia.
"It was amazing. It shows that Texas is 'back' like Sam [Ehlinger] said," said the Texas HS state champion. "And we're only going to get better."
At the time of talking to Whittington, the news of Collin Johnson's return had not been released, however Whittington said he wants to do whatever he can to get on the field early.
Whittington said he obviously expects to play receiver, mostly out of the slot. He also added that Beck and Herman could very well put him in the backfield at some point next season as well.
---
McKel Broussard (New)
The Texas staff has been in some contact with California DB McKel Broussard out of Sherman Oaks, California.
Broussard is a legit 6-foot tall and has not looked out of place at all this weekend. Though his offer list at the moment isn't as flashy as other prospects here this week, Broussard is a player and deserves a look.
Broussard is real close with De'Gabriel Floyd and was seen hanging around the Texas signees throughout the practice. He even jumped in a couple photos with the Floyd, Whittington and Owens during the media availabilities.
As of now, there has not been a whole lot of contact between the staff and Broussard. Though he did say he expects it to pick up after this week. Broussard mentioned Floyd as a "bridge" between him and the staff.
Broussard has been down to Austin twice, as recent as last Friday. He's hearing from New Mexico, LSU, Arizona, Boise State and will commit in the February.
---
Bru McCoy
I was unable to get anything from McCoy today. The West practice is going to be held away from the Alamodome tomorrow but I should be able to get in contact with him then.
---
Tyler Owens
Like McCoy, I'll try to get more on him tomorrow. But so far, Owens has been phenomenal at the All American Bowl practices so far this week.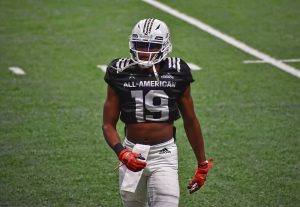 ---
De'Gabriel Floyd
You can check up on Floyd's interview on yesterday's practice recap post.