Open Post | Wednesday, January 30th
Posted on: January 30, 2019
Intro to 2021 OT Reuben "Deuce" Fatheree
– Will Baizer
When you enter the halls of Foster High School in Richmond, TX, it is not hard to spot Reuben "Deuce" Fatheree. The 2021 5-star offensive tackle is an astounding 6'8″ and 300lbs, with feet quick enough to land him an early spot on the varsity basketball team.
Deuce has shown to be both proficient in pass protection using his relatively quick feet to handle the pass rush but also has enough strength to consistently produce pancakes in the run game at the high school level. He's a high floor prospect with an even higher ceiling, and the nation has taken notice. He boasts nineteen D1 offers.
I got to sit down with "Deuce" Fatheree and his father, Reuben, to discuss their trip to Texas over the past weekend for "Elite Day," and understand more background on their approach to the recruiting process.
Some families are pretty heavily involved in the recruiting process and others tend to let the recruit make the decision. Reuben describe their approach as being somewhat in the middle, "We'll all give out input and he'll just have to decide that this guy will be here for me. It will go back to him to find his fit, with a lot of input from mom and dad."
In the end, like most parents, the family just wants to know that there will be a support network and familiarity around their son during his time in college, "For us parents, I want to find out who is going to take care of my son… when he has a problem who is going to be there for him."
Luckily for Texas, the Fatheree family has already dealt with having a child in Austin as Deuce's sister played basketball for St. Edwards, and did not have a negative thing to say about the environment, "Let's just say I enjoy my Cabo Bob's. Get that a little early and then go on to the game."
Deuce and his family have yet to visit any school outside of Texas (they have visited every school in Texas so far), so it is no surprise that this recruitment may take some time, "My message to him is to keep getting away from the athletics and keep getting to know these coaches a little more personally. Get to know the guys on the team… Our goal is to get him to look at as many schools as he can, so then when it's time to be looking at officials he'll have a pretty good idea."
Nevertheless, the Longhorn coaching staff has been working hard to establish an insurmountable relationship with the young prospect by consistently getting him on campus. When I asked the father about their family's view of the program I was met with some excitement, "The family atmosphere and the warm welcome was noticeable. Since our first trip up there, it's always been warm. It's very comfortable. [Deuce] feels comfortable."
That sense of family atmosphere was amplified by the tight group of player the coaching staff brought to campus. The Fatheree's told us that it allowed them to expand their relationship with the staff, "Them picking the best players in the state was definitely good for Deuce to know that. I think Coach Herman laid that out there for him. It was also good considering it was a small group, and we got to sit and speak with Coach Hand and his wife. I was able to ask him some questions on the athletic program. Got away from that and talked about the academics and the help they'll receive. It was a really good visit. We got to know a little different side… They answered all the questions we have at this time."
Deuce described the relationship with Hand as already being a "close" one and expanded on that by saying, "The first time we met I didn't know who he was, but he's very… loud, which I like. Like, 'Hey Deuce! How are you doing?!'" The two got to build on that relationship even more during the basketball game where Deuce got the chance to sit with Coach Hand and discuss their love of playing basketball.
However, Deuce's favorite part was "…meeting Matthew McConaughey… I told my mom to go take a picture with him because I know she's in love with him… It was good to know his background, that was really cool."
Beyond being star struck, Deuce enjoyed the more direct conversation with Tom Herman where they talked about coming down to Texas, his game on the field, and what they needed to do to make Deuce a Longhorn.
While Deuce enjoyed the one-on-one time, his father emphasized his appreciation for the speech Tom Herman gave addressing the program and where it was going, "I thought he was to the point, and he just laid it out there. There was no gray. He just put it out there… I liked that a lot."
Right now, Texas and Texas A&M are the leaders here, and after talking to his father, I get the feeling that there was more to like about Texas. But I will hold off on claiming Texas the leader and there could possibly be recency bias given their trip and the fact that the family is yet to visit any school outside the state.
The main competition outside the two state schools has to be Oklahoma, LSU, and Alabama. Each will get their shot to dazzle the young 5-star. Having successful trips like this with Deuce and his family will ensure Texas is the one that he chooses when the hats are on the table.
---
Grad Transfer Offensive Tackle Visiting Texas
– Charlie S
*** Another name to know is Virginia Grad Transfer RJ Proctor. I touched base with Proctor a little while ago and he let me know that he will be officially visiting Texas on February 16th.
Proctor (6'4/335) saw the field for all 13 of UVA's games during the 2018 season. He started five of those, three at right guard, two at left guard. The versatile lineman will be eligible to play immediately in 2019 as a graduate transfer.
Proctor plans on visiting Ohio State, Florida State, OU, and Texas. He is also in the process of trying to narrow down his final official visit.
Texas will get their shot here in a few weeks.
---
Official Visitors This Weekend
– Charlie S
Quick note on a pair of official visitors this week:
*** 2019 offensive tackle commit Javonne Shepherd (Houston, TX) will be in Austin. This is huge for Texas as he is coming off a visit to College Sation and Texas A&M.
We know a lot of people think A&M is likely to flip Shepherd, but at this point, we do not share that sentiment and we feel Texas holds onto him.
Obviously, if anything changes our opinion, we will keep you updated.
*** Dodge City C.C. inside linebacker Lakia Henry is also scheduled to take his official visit to Texas this weekend.
Texas is hoping to seal the deal and take his commitment and we feel there is a solid chance that could happen. We will catch up with Lakia prior to his visit.
---
Quick Update | Chad Lindberg | Decision Timeline
– Super K
Texas is off to hot start recruiting 2020 offensive linemen. They already have Jake Majors and Logan Parr committed.
Another target they'd love to get in the boat is Chad Lindeberg. As I've mentioned, Lindberg is a very complete offensive linemen. Great size, bend, feet, power and IQ. In fact his head coach over at Clear Creek told me he believes Lindberg will play on Sundays.
It's no secret that Chad likes Texas. He's visited on multiple occasions and is fairly quick to flash the horn.
While Texas appears to be in a pretty good spot, it doesn't sound like Chad will be making a decision anytime soon. He says he's headed to LSU next weekend for an unofficial visit. That will be followed by a visit out to Stanford on February 28th. Just my opinion, but I think that's the visit to watch.
In terms of a decision date Chad says he's looking at doing it, "possibly at the end of the summer".
Lindberg is a high academic athlete. Getting into Stanford won't be a problem. Texas is used to going to battle with Stanford for offensive linemen and that may happen in this cycle.
---
Arizona Targets In-Person | Updates
– Super K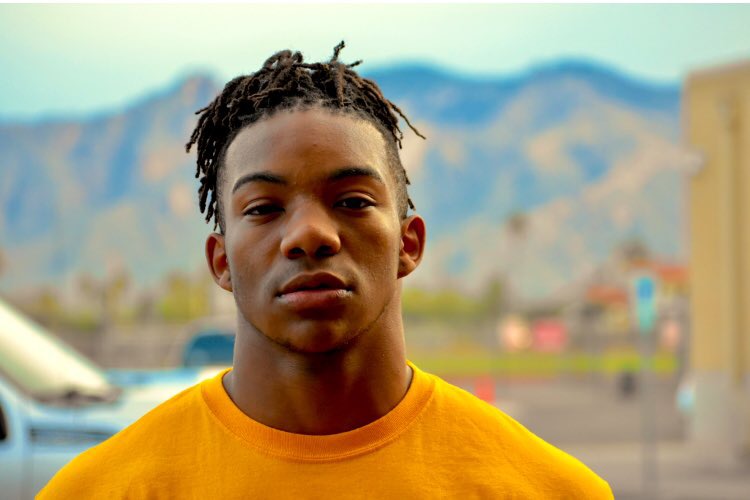 (2020 RB Bijan Robinson Pictured)
Stopped by  Salpointe Catholic (Tuscon, AZ) to see a few of the top guys in Arizona.
***Lathan Ransom (2020 safety). Craig Naivar was at Salpointe yesterday to see Ransom. Ransom is a tall, muscular safety who can hit. I've been told he's the hardest hitting safety in Arizona.
Ransom is expecting the Texas offer to come this week. His head coach said that Naivar said he wants to convene with the staff back at Texas this week but the offer should be on the table by Friday.
In terms of a visit, Lathan said he has some close family friends living in Austin so once the offer comes, he plans on setting up a trip to Texas.
***Bijan Robinson (2020 running back). Man, well put together running back. 6' and chiseled 205 lbs. Great pedigree, as well. Told me his father played at Arizona and I believe his grandfather is former NFL and Arizona running back Paul Robinson.
He holds a Texas offer. Picked up the offer recently. It sounds like Bryan Carrington is doing most of the recruiting for Texas in this one.
In his words BC is, "super dope".
Robinson is another elite back in this stacked 2020 class.
***Jonah Miller (2021 OT). Miller holds a few early offers. Jonah tells me he picked up offers from Arizona State, Colorado and Arizona.
He said he plans on visiting Texas in February.