Open Post | Weekend, January 4th – 6th
Posted on: January 4, 2019
All American Bowl Practice
– CJ Vogel
WR Jordan Whittington
Fresh off a historic state championship performance, Whittington is on the field again and is putting on a show. Whittington is easily one of the shiftiest players on the field and guarding him was a nightmare during 7 on 7.
Whittington appears to be rolling in the top group for the West team, consisting of OU signees Spencer Rattler and Austin Stogner and Texas target Bru McCoy.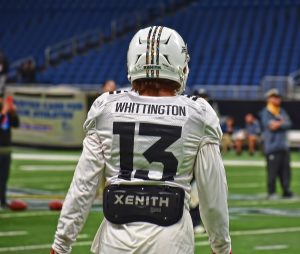 LB De'Gabriel Floyd
I didn't see much of Floyd in individual drills, but he did make an impact in the team period. I tagged a video of Floyd streaking into the backfield untouched during the team period.
S Tyler Owens
The first thing I can say about Owens is he is fastttttttttt.
Once again, Jordan Whittington was virtually unguardable. He repeatedly got open on basically every route he ran from what I could see.
The one DB I saw that could hang with Whittington out of the slot WR position was Tyler Owens. Owens actually guarded Whittington quite often thoughout the practice, and guarded him the best of any safety that stood up to the test. However, most times, Owens was about a half-step behind Whittington.
Owens is lengthier than I anticipated.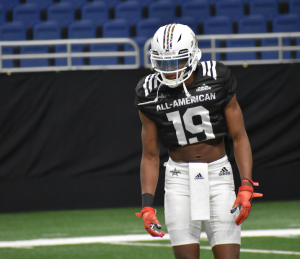 My favorite play of the day is below
De'Gabriel Floyd LOVES to hit. In practices like this, it is encourage that players stay off the ground for obvious injury reasons. Well, that didn't stop Floyd who drilled a RB during the team period.
Floyd is going to be a real stud.
---
While it is unclear if Floyd is still in the ear of Bru McCoy, I am hearing former USC commit Chris Steele is. His message to Bru is to stay away from the Trojans which is rather interesting.
McCoy is still set to make his commitment during the All American Bowl game on Saturday.
I will hopefully have more on him tonight.
One more guy to keep an eye for the late signing period is McKel Broussard out of Sherman Oaks, California. Broussard is a short, quick DB and could be a nice fit at the nickel position. I saw him with the Texas commits often throughout the practice and he even tried to sneak into the Texas signee photo after practice.
---
Five ESD Thoughts | Offense
– Andrew King
For the last few years, Texas's recruiting classes have been stronger on the defensive side of the ball. This class has a lot of firepower on the offensive side. And after the early signing day, I think the offensive side is looking like the strong part of the class. Here are five thoughts from me on the offensive class.
Arizona Duo
Wide receiver Jake Smith and tight end Brayden Liebrock are two guys who I think are going to be real difference makers in Austin. Smith is the Gatorade High School Player of the Year. With former winners of the award being guys like Kyler Murray, Jonathan Gray, Jacob Eason, JT Daniels. Smith is elite, and could make a real impact as a true freshman in the slot and in the return game.
Liebrock is someone I expect a lot from, but maybe not as much as a freshman. At 6'5 220, Liebrock is going to gain some weight in the offseason. But the biggest question for him is going to be how he adjusts to the physicality of the college game at tight end. Liebrock is the best receiving tight end that Texas has landed in quite awhile.
I noted this in the comments in one of our recent posts, but offensive coordinator Tim Beck deserves so much credit for landing these two. He has strong ties to the state of Arizona, and he got Smith and Liebrock to buy into his offensive vision.
2. Herman's QB
Texas signed quarterback Roschon Johnson and he will be enrolling early in Austin in a few weeks. Now I don't expect Johnson to play in 2019 with Sam Ehlinger leading this team and some depth behind him. But Johnson is a quarterback that fits exactly what Tom Herman has had so much success with guys like Braxton Miller, Greg Ward, and JT Barrett.
Johnson is a great runner and can throw it too. He has time to develop and grow as a passer, and that's exactly what he needs.
3. The Elite Offensive Tackle
In the past few classes, Texas has failed to sign an elite offensive tackle in the state of Texas. With guys like Greg Little and Walker Little on pace to become first round draft picks. Texas got their guy in 2019. Tyler Johnson signed on Wednesday, and even bigger news is that he's enrolling early at Texas. The was some talk that he wasn't sure if he'd have enough credits to finish in December. He'll be in Austin early and has a real chance to play in 2019.
Another thing about Johnson is that he's physically ready to play right now. At 6'5 310, and he's only going to get bigger in Yancy McKnight's weight program when January rolls around.
4. Instant Impact
I think it's only right for me to add this, as someone I think can have an instant impact in Texas' offense is athlete Jordan Whittington. Who broke state records this afternoon as he and Cuero won the 4A state championship. He totaled 377 total yards and 6 touchdowns and did just about everything for his team.
Whittington is going to start his career at wide receiver in Austin. There has been some people that think he could play safety at the next level (he had 11 tackles today as well) and he's even showed he could play running back. I think his future is on the offensive side, as he's such an explosive athlete. And freaky athletes are what the Texas offense has been missing at times over the years.
Whittington is another guy who is physically ready for the college level. He is 6'1 200 and looks like he's been in a college weight program for years. He's another guy who is enrolling in a few weeks.
5. Finishing Out the Offensive Class
Texas is done at quarterback, tight end, and likely wide receiver in the 2019 class. The two spots to look at them adding to between now and February is the offensive line and running back.
Texas has running back Derrian Brown committed. But Texas has wanted to take two backs in the 2019 class for awhile. After missing on Noah Cain and Trey Sanders during the early signing day, it's back to the drawing board at that position.
Along the offensive line, Texas has Tyler Johnson and Isaiah Hookfin signed. Offensive tackle Javonne Shepherd is committed, but didn't sign. So I'd look at him as an uncommitted recruit, even though he could very well end up signing with Texas. The staff wants to take four offensive lineman. And if they hang onto Shepherd, expect them to go down the junior college or grad transfer route for their final offensive line recruit.
---
WR Collin Johnson to return for Senior season
– Will Baizer
Texas WR Collin Johnson announces he'll return for his Senior season.