Open Post | Weekend, March 8th – 10th
Posted on: March 8, 2019
Josh White in Focus | Set to Visit Texas + Insider Note
– Super K
I recently stopped by Cy Creek High School to visit with 2020 linebacker and recent Texas offer, Josh White. I came away impressed.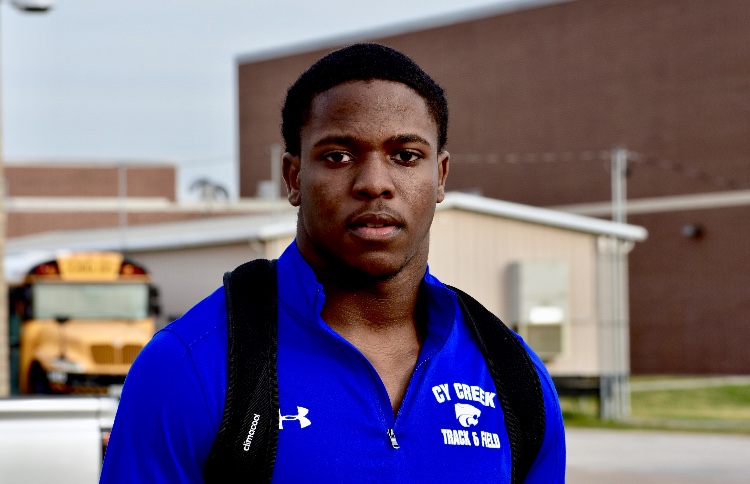 Background
When you first meet Josh, you feel like you're meeting a young man…not a kid. He looks you in the eye, speaks clearly and shakes your hand.
As I take my own notes and make my own evaluation of a prospect, this is something I consider. It shows that the player knows, at a minimum, how to communicate with an elder and more specifically with the coaches at the next level.
What's inspiring about Josh's story is that his maturity as a young man is immediately obvious despite not having his father around. He was raised by a single mother who clearly did a great job of instilling among other things, a strong work ethic in him.
"She's a hard worker", Josh said about his mom. "It's just me and her. My dad left at a young age. She works two jobs so I can be out here and do what I do right now. She means a lot. She teaches me what work ethic is. You see her coming home late, twelve at night, just from working two jobs and then she's got to wake back up at six to go to the other job. She teaches me work ethic for real".
When Josh first decided to play football it was his mother who not only encouraged him to play but told him that if he was going to play he would need to take it seriously.
"I played for the Cy Creek Cowboys. It's like a little youth team around here. So, I'm coming in like I'm going to play just to see if I like it and my mom was like, no, if you're going to play you're going to do this. You put your mind to it and you go do it".
By Josh's own admission he wasn't one of the best in youth football. As recent as eighth grade, Josh was playing center on the offensive line.
Coming out of eighth grade, Josh went to "Cy Camp" which is a camp held at the high school for incoming high school football players. That's where he was discovered by his linebacker coach, coach Smith.
"I ran the shuttle out here and my shuttle was like a 4.35 and he (coach Smith) was like, yeah you can come play linebacker for me and I said, alright".
"He taught me everything I know. Playing in the box, like, how to stay square playing in the box, how to turn your shoulders when you get out of the box and then get back square".
Josh said coach Smith is like a mentor figure to him.
So, we spoke with coach Smith to find out what he sees in Josh.
"He's the real deal. You won't find one better that can read football plays, read offenses, he reads linemen and there's not a lineman that can block him. He's strong. He's fast. He's agile and he reads well. That's everything you need".
What coach Smith saw in Josh so early on was his ability to change direction, "Watching him run and change direction. It's all about changing direction. As an incoming 9th grader he looked pretty good. So, we had an idea. Everything else is history".
Coach Smith admits that he didn't realize Josh would necessarily become the player he'd turn in to. He started to see it though, once Josh got into his freshman year.
"During his freshman season we had him on kickoff and he would almost beat the ball down the field. He'd make every tackle on kickoff and at that point, we knew he was going to be a ballplayer and then once we got him into his sophomore season and I got him at practice learning every day as the varsity coach and just seeing how fast he learned and picked up things. His willingness to learn. His hunger to be a smarter football player".
Coach Smith finished the conversation by commenting on Josh's speed just to clarify that he isn't just an agile player, "He's got flat out speed, too. There isn't a running back who can beat him to the edge. Not one that we play. And he's the biggest 200m runner you'll ever see".
Josh's goal in track this year is to crack into the 22-second mark. That's as a 6'1 210 lb linebacker.
Recruiting
While Josh's offer list has exploded recently picking up offers from schools like Miami, OU, Auburn, Arkansas, and others, he's not new to the recruiting game.
***First offer was from Baylor. He picked up last year. Baylor came into the gym to see a former teammate, Miles Battle. Or at least, that's what Josh thought. The next day, Baylor offered Josh. "It felt good. I was just in the weight room working trying to get ready to be a D1 player, progressing every day. That's when I knew I could really do this".
***Josh has visited Texas already. Coach Orlando has maintained contact with him throughout the process. So, although Texas only recently offered, the relationship with Texas and coach Orlando is already there for Josh.
***When I spoke with Josh prior to the Texas offer, he mentioned that if Texas did indeed offer, they'd immediately jump near the top of his list.
***Josh took a recent visit to Oklahoma.
***He'll be taking an official visit to Oklahoma State on March 21st.
***Josh is set to make a return visit to Texas this weekend.
***I don't expect Josh to take his recruitment out too far. He's looking to take finish his visits this spring/summer and then make a decision
***In terms of what Josh is looking for in a program and a coach…
"I'm looking for a coach that can take me in and be completely flat out honest with me and coach me up to the best of my ability – to get me to the league…as long as he can coach me up and take me where I want to go, that's all that matters".
***Schools to watch in this one are going to be Texas, LSU, OU, Oklahoma State and Baylor.
---
2020 WR Troy Omeire Visiting Texas
– Andrew King
In addition to linebacker Josh White, expect Texas to host another top 2020 target in Fort Bend Austin (TX) wide receiver Troy Omeire this weekend.
So far this recruitment has been a Texas-Texas A&M battle, and I don't expect that to change. The Aggies had the early momentum, then Omeire visited Texas a few times during the season and it sounded like the Longhorns had the lead. Right now I'd give the edge to Texas A&M.
This weekend is obviously a chance for Tom Herman and company to swing things back in their favor.
---
Talking Point | Proposed Rule Changes
– CJ Vogel
There could be some tweaks to the college football rule book for the 2019 season:
---
TARGETING
Everyone's favorite rule in college football is attempting to increase the punishment severity for repeat offenders.
The current version of the rule enforces a half game suspension for a player found guilty of targeting. That suspension can carry on to the next game if the foul occurs in the second half of the ballgame.
The NCAA Football Rules Committee proposed to increase the suspension for a player responsible for two targeting fouls in a season. Following a second targeting offense, the player will be suspended for the entirety of the team's next scheduled game.
Another alteration to the targeting rule includes replay and the initial call on the field. The rule would remove an officiating crew's ability to overturn a player's ejection while still maintaining the accompanying 15-yard penalty.
How would this directly impact Texas? Anthony Cook would not be suspended a full game immediately following his first targeting offense in the 2019 season despite missing having to miss the first half of the week one opener against Louisiana Tech for a targeting call against Georgia in the Sugar Bowl.
OVERTIME
As everyone knows, the NCAA hates cool things.
The 7-overtime classic between LSU and Texas A&M last season will likely be the last game of its kind if the new rules go are approved.
The rules committee is attempting to change the overtime set up as well. Beginning in the 5th overtime, teams will alternate 2-point conversion attempts until a winner is declared instead of the traditional offensive drives beginning from the 25-yard line.
Teams will also be given two extra minutes between the 2nd and 4th overtimes which is a no-brainer decision.
---
While the proposed rules are still undergoing alterations, the final proposals will be presented to the Playing Rules Oversight Panel on April 17. If passed, these rules will go into affect for the 2019 season.
---
Updates from Georgia | Jo'Quavious Marks, T Lee & Kobe Pryor
– Super K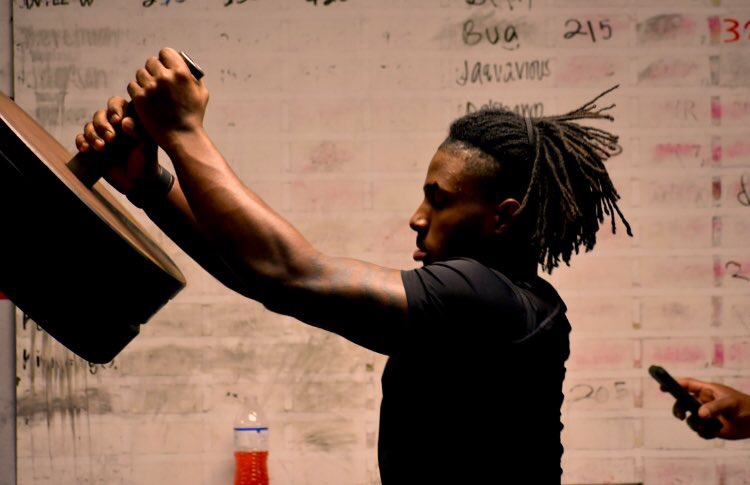 I've been visiting a few schools out here in Georgia.
***I stopped by Carver High School to see Texas target, 2020 running back, Jo'Quavious Marks.
Marks is a back with true speed…game speed and measurable speed. Very tightly wound young man. Imagine he is very difficult to tackle. Powerfully built, fast, and keeps his legs moving.
His coach spoke very highly of him as a complete back and as a student. I believe he will be an early enrollee.
Texas is a real threat here. He said Ezekiel Elliott is his inspiration which obviously plays right into coach Drayton's hands.
The coaching staff at Carver also has a tie to coach Hand which I can get into later.
Marks said he is hoping to take an unofficial visit to Texas on March 23rd.
***I also stopped by Buford HS (GA) to see Arizona State 2020 ATH commit, T Lee.
T is being recruited by coach Jason Washington. So, the offer Texas made to T was as a defensive back.
I can tell you that if Texas wants to really push here, they'd be tough to beat and he basically admitted as much.
With all the talented defensive backs in the state though, I'm not sure how hard the Horns will push. But coach Washington is remaining in regular contact.
***Also, went to Cedartown to see Texas running back target, Kobe Pryor.
Pryor is a bigger back with good speed to go along with it. Great young man. Small town kid with small-town manner and work ethic. He comes from a school that puts out running backs.
As I mentioned, Nick Chubb was in there working out with Pryor. The 2019 running back at the school, who was working out with them as well, is a West Virginia signee.
And this is the next running back up after Pryor…
They have a lot of talent in that program and the coaches are developing those players the right way.
So far he's taken visits to Auburn and has a Clemson visit this weekend. He and coach Drayton have been talking about him getting to Texas before the end of the summer. So, either a spring or summer visit. He said coach Drayton gave him the option of making the visit an official or an unofficial visit. But he plans on visiting.
---
Thirsty Thursdays | WRs & DBs – Combine Notes – OL Moves
– Darius Terrell
Welcome back to another edition of Thirsty Thursdays! As always, I'm here to try to help quench your thirst for Longhorn Football in the drought of the offseason, along with other topics of interest in Longhorn sports this week.
With spring football practicing opening on March 11th we continue to take a look at each position group for the Longhorns. This week we will direct our attention to the Wide Receivers and Tight Ends on the offensive side of the ball, while we will conclude our look at the defense by focusing on the Defensive Backs.
Offense
*Wide Receivers/Tight Ends*
Starters:
X: Collin Johnson (6'6 225) Senior
Z: Devin Duvernay (5'11 210) Senior
Slot: Josh Moore (6'1 175) Sophomore
TE: Cade Brewer (6'3 250) Junior
Projected Backups:
X: Brennan Eagles (6'3 225) Sophomore
Z: John Burt (6'3 195) Senior
Slot: Jordan Whittington (6'1 205) Freshman OR Jordan Pouncey (6'1 205) Sophomore
TE: Reese Leitao (6'3 250) Sophomore
Reserves:
X: Malcolm Epps (6'5 230) RS Freshman
Z: Al'Vonte Woodard (6'1 205) RS Freshman
Slot: Jordan Pouncey (6'1 205) Sophomore OR Jordan Whittington (6'1 205) Freshman
TE: Jared Wiley (6'6 240) Freshman OR Rob Cummins (6'5 260) Sophomore
What We Know: Collin Johnson and Devin Duvernay return and are expected to be the Senior leaders of the Wide Receiver room. Johnson (68-985-7) contemplated an early entry into the 2019 NFL Draft, before ultimately deciding to return to Texas for his final season with All-American aspirations. Duvernay (41-546-4) is one of the premier deep threats in the Big XII with his straight-line speed and reliable hands. Sophomore Slot WR Josh Moore (7-53-1) was on the field early and often before missing the final eight games of the season with a shoulder injury. He is expected to be a full-go for spring practices. Junior TE Cade Brewer, who was impressive as a True Freshman in 2017, is the leader in the clubhouse heading into spring practices to be the starter for 2019.
What We Hope: Sophomore Wide Receiver Brennan Eagles is an impressive specimen at his size and speed. The hope is that he is able to take the next step and can be relied upon as the X if Johnson is to miss any type of extended time. Texas will be in search of a go-to guy in 2020 and the hopes are that Eagles can be that guy. He needs to flash more in 2019. Senior John Burt was redshirted and will be counted on to bring his track speed (Big XII Champion in the 60M Hurdles) and stretch the field along with Duvernay at the Z. Burt seemingly lost some confidence after his freshman season where he was a starter, but by all accounts, he has continued to persevere and has an opportunity to be a big contributor in 2019 if he can consistently hang on to the football. True Freshman Jordan Whittington is going to be on the field if he is healthy, whether that comes at the expense of a WR or RB remains to be seen.
Texas primarily used one Tight End sets last season. If Cade Brewer is closer to being 100 percent two years removed from his ACL surgery, he would represent a much more athletic target in the passing game than departed Senior captain Andrew Beck did. His primary competition will be Redshirt Sophomore Reese Leitao, whom many Texas fans are interested to see.
What to Watch For: Who will be the fourth Wide Receiver on the field when Texas decides to go to "10" personnel? The slot position is one to keep an eye on, as there may be a battle that takes place between Jordan Whittington and Josh Moore. Texas fans have yet to get a good look at guys like Al'vonte Woodard, Malcolm Epps, and Jordan Pouncey. Epps is especially interesting since Texas appears to want to keep the big-bodied pass catcher at X instead of TE. Pouncey was a featured player in last year's Orange-White Game, but I don't remember seeing him at all on Offense during the season last Fall. With the talent that is arriving in the summer in the form of the 2019 class, it would behoove these young men to have strong spring practices and secure their places on the totem pole. True Freshman TE Jared Wiley is an early enrollee but is not expected to be a big contributor in 2019, after spending his Senior season playing Quarterback at Temple High School.
Defense
In the Texas defense, the "Field" Corner refers to the Corner that will take the side of the field that is furthest from whichever hash mark that the ball is placed on. The "Field" Corner is your Cornerback that can cover the most ground. The "Boundary" Corner will always go to the shortest side of the field, where the safety generally can assist more in coverage, if necessary. The "JOKER" in the Texas defense is a Safety/Linebacker hybrid in a 3-3-5 look that Texas aligns in often in the offensively-charged Big XII.
*Defensive Backs*
Starters:
Field CB: Jalen Green (6'0 185) Sophomore
Boundary CB: Anthony Cook (6'0 195) Sophomore
Nickel: Josh Thompson (6'0 200) Junior OR D'Shawn Jamison (5'10 180) Sophomore
Free Safety: Caden Sterns (6'0 205) Sophomore
Strong Safety: Chris Brown (5'11 210) Junior OR DeMarvion Overshown (6'3 210) Sophomore
JOKER: BJ Foster (6'2 210) Sophomore
Projected Backups:
Field CB: Kobe Boyce (6'0 175) Sophomore
Boundary CB: Donovan Duvernay (5'9 175) Junior
Nickel: D'Shawn Jamison (5'10 180) Sophomore OR Josh Thompson (6'0 200) Junior
Free Safety: Montrell Estell (6'1 200) Sophomore
Strong Safety: BJ Foster (6'2 205) Sophomore OR Chris Brown (5'11 210) Junior
JOKER: DeMarvion Overshown (6'3 210) Sophomore
What We Know: Texas loses both starting Cornerbacks in Kris Boyd and Davante Davis. The duo was solid and brought a ton of experience to the Defensive Backfield for Texas last season. They will return what should be one of the best duos of Safeties in College Football in reigning Big XII Defensive Freshman of the Year Caden Sterns and Senior leader Brandon Jones, who had the option of declaring early for the NFL Draft. Sophomore B.J. Foster will continue to man the JOKER role, where he proved to be a versatile playmaker. They will be counted on early in the season to provide support for talented Sophomore Corners Anthony Cook and Jalen Green. Junior Josh Thompson, who was up-and-down in 2018, is expected to begin the first spring practices as the starter in the Nickel.
What We Hope: Texas is banking on Cook and Green being as advertised as consensus top-75 national recruits. Cook looked very promising as a Freshman playing in all 14 games, including a start versus Oklahoma State. Green was primarily a Special Teams player and saw limited action on defense. Sophomore D'Shawn Jamison returning to the defensive side of the ball provides Texas with some much-needed depth and competition at the Nickel spot. Jamison was initially recruited to man the Nickel for Texas as a part of a historic 2018 DB recruiting class before spending his Freshman season on offense out of necessity. Texas has question marks at Cornerback and I'm only counting four that are on scholarship heading into Spring 2019. Redshirt Sophomore Kobe Boyce was inconsistent in limited action in 2018 and Redshirt Junior Donovan Duvernay has yet to see much action. Both players will have every opportunity to secure backup roles or possibly more, if one of Green or Cook aren't ready, or if any injuries were to occur.
What to Watch For: Senior Free Safety Brandon Jones will not participate in spring practices due to having ankle surgery to clean up a high ankle sprain that he played with the handful of games in 2018. What that does is create an opportunity for young players like DeMarvion Overshown, Montrell Estell, and Chris Brown to earn the trust of the Defensive coaches. I am projecting for Brown to begin practices with the first group, but expect for Overshown, Estell, and Brown to all see plenty of run at that Safety spot throughout practices and for a pecking order to form quickly after the pads come on.
The Combine
Over the weekend, the Longhorns had 5 players from the 2018 Sugar Bowl Championship team participate in the NFL Combine in Indianapolis in hopes of improving their chances of hearing their names called as early as possible near the end of April. Let's take a look at how guys measured up (pun intended) and whether we feel like their stock went up or down after Indy.
Davante Davis – 6'2, 202lbs, 4.57 40, 14 Bench reps, 37" Vertical, 10'5 Broad Jump, 6.76 3 Cone, 4.15 Shuttle
Davis is a guy that is viewed as a prospect that needs to play in a Zone Coverage scheme as a Cornerback and a potential Safety by some. Davis has tremendous size for a Cornerback at a verified 6'2. His 40 time was average for all participants at the position and was a good time for Davis considering his size. His Shuttle time was among the top-10 for Cornerbacks in attendance. Everything I've seen on Davis has him as a 6th-UFA option. I believe that Davis did nothing to hurt himself in Indy and he will hear his name called late on Day 3 due to him having some potential position versatility.
Kris Boyd – 5'11 201lbs, 4.45 40, 19 Bench reps, 36.5" Vertical, 10'7 Broad Jump, 6.94 3 Cone, 4.08 Shuttle
After a showing at the Senior Bowl that unanimously hurt his stock, Boyd was among the top performers at his position in all of the testing in Indianapolis. His 19 reps on the Bench Press were the most of any Cornerback at the combine. His 4.45 40-yard dash time, Broad Jump, 3 Cone, and Shuttle (3rd), were all among the top-10 of every Cornerback in attendance. It has never been a question of physical ability with Boyd. He definitely helped his stock on Monday and someone will always be there to fall in love with his measurables and competitiveness at a premium position. Coming off of the Senior Bowl, Boyd was likely viewed as a 5th– 6th round prospect. I'd be surprised if he fell past the 4th Round now.
Gary Johnson – 6'0 226lbs, 4.43 40, 16 Bench reps, 33.5 Vertical, 10'1 Broad Jump, 7.15 3 Cone, 4.57 Shuttle
Measuring in at 6'0 was a win for Johnson, as was weighing in at over 225 lbs. Johnson is being viewed as strictly a WILL linebacker in a backside pursuit role and potential Special Team star by NFL teams. He is viewed as not having the ability to take on blocks regularly to be an undersized MIKE backer such as Lavonte David or Roquan Smith. His 4.43 40-yard dash time was tied for the second fastest of any Linebacker in attendance. None of his other numbers stood out or were in the top-10 for his position group. I will personally start watching for Johnson on Day 3, in the early part of the 5thRound.
Charles Omenihu – 6'5 280lbs, 4.92 40, DNP in Bench Press, 36.5 Vertical, 9'7 Broad Jump, 7.48 3 Cone, 4.36 Shuttle
Omenihu was a standout in Mobile and has seen his stock steadily rise all year long. Omenihu checks a lot of boxes for NFL evaluators and has the production to go along with his potential. Omenihu's 36.5" vertical jump was the second highest of any player listed as a Defensive Lineman at the combine. Omenihu will participate in the Bench Press at Texas Pro Day. Omenihu is a virtual lock to go in the top-50 picks in April with an outside chance of sneaking into the end of Day One.
Lil'Jordan Humphrey – 6'4 210 4.75 40, 13 Bench reps, 33.5" Vertical, 9'11 Broad Jump, 7.09 3 Cone, 4.29 Shuttle
Lil'Jordan Humphrey was the lone early entry for the Longhorns in this year's draft class. Humphrey was also the only Longhorn player that undoubtedly hurt his stock in Indianapolis. His 4.75 40-yard dash time was the slowest of all Wide Receivers in attendance by a large margin (.12). Humphrey will have an opportunity to improve upon his time at Texas Pro Day, but it kind of feels like the damage has already been done. After all, Humphrey did arrive at the Combine at 210lbs, which was lighter than his playing weight this over the past two seasons, in an assumed attempt to run a better time. I believe in the player 100 percent and would bet a decent amount of money that he will be considered a steal for someone a year or two from now. LJ Humphrey draft watch for myself starts on Day 3 towards the middle of Round 5.
Offensive Line Moves
The commitment of Georgia Tech graduate transfer Parker Braun over the weekend really got me thinking. At the beginning of this decade, graduate transfers still weren't that common of a deal yet. All that I can recall hearing about is Russell Wilson going from NC State to Wisconsin and Greg Paulus going from Duke to Syracuse, to play Football as a grad transfer Quarterback after playing four years of Basketball for the Blue Devils.
I can't recall having any teammates that were transfers from another program while I was in Austin during 2010 and 2011. The spring of 2012, we brought in big Defensive Tackle Brandon Moore and Offensive Tackle Donald Hawkins from the JUCO ranks. Both guys were recruited from JUCOs, although Brandon had spent a season at Alabama under DL Coach Bo Davis, who was on staff at Texas when he was brought in. Prior to the disaster that was 2010 season, I got the impression that the staff at the time didn't feel like it was worth the hassle of trying to keep a JUCO transfer eligible (who presumably struggled to qualify out of HS) at a place like Texas or be open to taking a transfer that may not have worked out at a previous stop.
Fast forward to 2018, Texas is coming off of a Texas Bowl win in Tom Herman's first year as Head Coach. All-Conference LT Connor Williams declares early, leaving a huge hole on the left side of the line. Sam Ehlinger has just led the team in rushing over the course of the entire season with just 381 rushing yards in 13 (THIRTEEN!!!) games. Coach Tom Herman was proactive in finding quick, stop-gap solutions for his program when the options within were not ready. Rice transfer Calvin Anderson and Cal transfer Tre Watson were far from superstars in 2018 for Texas. That isn't what Texas needed them to be. What they brought on the field was very solid play, but what they brought to the locker room, film room, and weight room, as grown men was exponentially more valuable.
Parker Braun entered his official visit to Texas this past weekend fully intent on taking his other scheduled visits to Ohio State and Florida. What he saw on campus and after spending time with OL Coach Herb Hand and Tom Herman was enough to convince him that he had seen all that he needed to see. Braun, a 2-time All-ACC performer represents possibly the best player on a unit that could be one of Texas' strongest groups in 2019. It is pretty easy to conclude that the success stories of Anderson and Watson as grad transfers at Texas played a role in Braun feeling confident enough to pull the trigger so quickly.
In Tom Herman's first recruiting class at Texas in 2017, which was a partial class, he brought in three JUCO players: East Mississippi Community College Kicker Josh Rowland, Northeast Oklahoma A&M Defensive Lineman Jamari Chisholm, and Dodge City Community College Linebacker Gary Johnson. In 2018, Offensive Lineman Mikey Grandy was signed out of the College of San Mateo. And finally, in 2019, Texas signed Butler Community College Defensive End Jacoby Jones and Fullerton Community College LB Caleb Johnson. Both are expected to contribute in 2019. The aforementioned players represent a mixed bag, for sure. But what they also represent is a complete difference in mindset from previous staffs. This current Texas staff seems to fully understand that they inherited a team that was void of dependable upperclassmen talent in 2017. I believe that they know that they still need their recruits to become upperclassmen before Texas is back to where it needs to be. I am encouraged with how proactive they have been in addressing other needs until that happens. The days of a Texas Football staff not exhausting any and all options to make their team the best that it can possibly be appear to be over.
---
Update | 2020 DB Jalen Kimber
– Will Baizer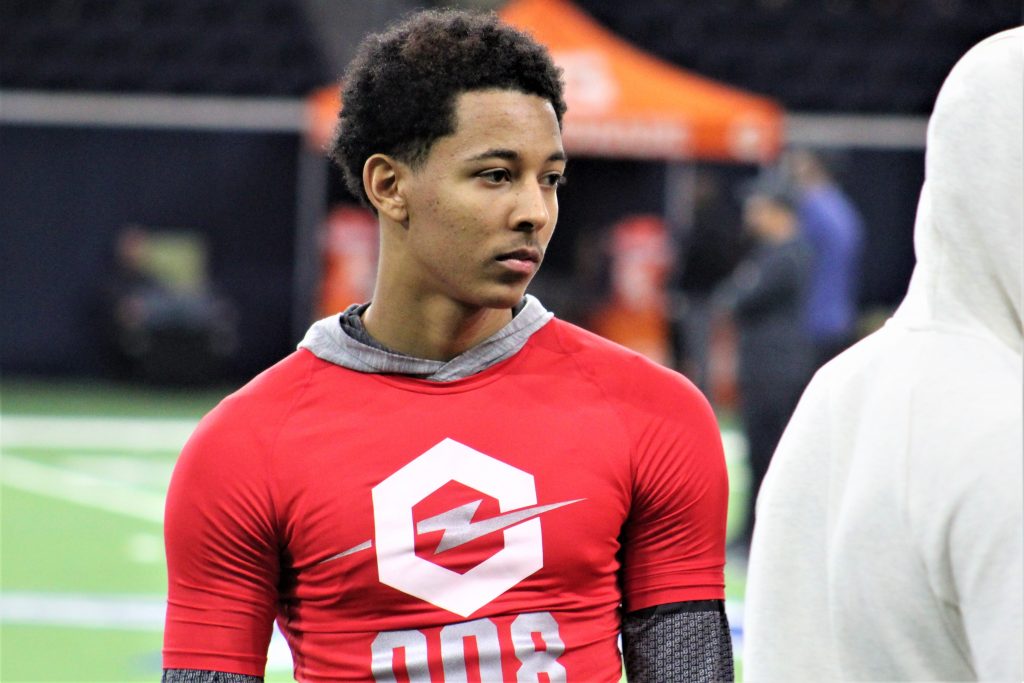 One of the biggest needs for the Longhorns in the 2020 class will be the cornerback position. Texas has cast a wide net inside the state of Texas with seven offers to different corners in the state. The one thing that connects each one of these corners is that they are above 6'0″ and are crazy athletic.
Manfield Timberview's 2020 cornerback, Jalen Kimber, may be the most athletic corner in the state and put his claim on the title by putting up the best SPARQ score (a score that determines an athletes athleticism) at last weekend's The Opening Dallas regional with a 125.85. To get that score he recorded an official 4.47 forty, a vertical jump of 40.8″, a shuttle time of 4.00, and a Powerball throw of 37 feet.
The day before he put up these crazy numbers, he was in Austin visiting Texas. According to Kimber, the trip was one of the best he's ever taken, "It was fun. They gave me a whole lot of different scenarios of how I would fit in, and I could probably come in there and play early if I go there. And the campus is beautiful. I like Texas a lot now. They jumped up."
The trip to Austin consisted of hanging out with Jason Washington as he and other coaches toured the campus, athletic department, and dorms. However, the thing that seemed to really stick out to him was his time with Washington in the film room: "It was in the film room. I like the way he coached and the energy that he had." During the film review, Washington pulled up Kimber's film to show how he would use him, and the scenarios were so familiar that Kimber told me, "They put up plays of what I've done and what they've done, and it was the exact same thing."
With this visit and an offer in hand, Texas has securely put themselves towards the top of the race for the long-armed, athlete. Kimber expressed that he wants to commit before the season and will do his official visits this Spring. He also told me that Texas is for sure on that list of official visits.