Open Post | Weekend, May 3rd – 5th
Posted on: May 3, 2019
Linebacker Grad Transfer | Update
– Super K
As you know by now, Florida linebacker graduate transfer and TX native, Kylan Johnson (Skyline) visited Texas this past weekend.
I noted over the weekend that he is indeed a take for the Longhorns.
I am told that the visit went well and that the staff expects Johnson to end up at Texas pending an academic issue. Since Johnson has graduated this issue has more to do with ensuring his entry into the Masters program and Texas.
However, the person I spoke with did not foresee this being anything that would prevent Johnson from coming to Texas, rather just something that will take brief period of time to handle.
Linebacker is a position of need for Texas and the immediate help would be welcomed.
But this also points to what I mentioned in my recent linebacker 2020 recruiting breakdown, namely that more offers probably need to go out this spring.
---
Linebacker Offered | Kourt Williams
– Super K
I had noted that this was a possibility in my linebacker breakdown. Texas has extended an offer to 2020 LB, Kourt Williams out of St. John Bosco (CA).
Kourt is an incredible athlete, perhaps the most athletic linebacker in the country. I first discovered him at the LA Opening event.
I felt at that time, Texas should've offered him.
He has already narrowed his list significantly and taken a number of unofficial visits. He begins his first official visit this upcoming weekend when he makes a return trip to Norman.
I will check with him to see if he plans on taking an unofficial visit to Texas. The last time I spoke with Kourt he did say that none of the schools he's visited, including the top four or five schools in his mind, have felt like home, just yet.
So, there is a window.
But either way, I'm glad to see Texas offer another linebacker. Based on the numbers they need to get in this class, more offers make sense.
---
Xavion Alford | The Latest
– Super K
I recently spoke in person with 2020 Texas DB target, Xavion Alford about his recruitment. My conversation with him took place just before he dropped his top ten…
As you can see, Texas made the top ten and by my read, Texas would make a top two or three if he were to drop that today.
***Alford's most recent visits include trips to Texas A&M, Alabama, LSU and he did attend the Texas Spring Game.
***In terms of the four schools that he recently visited, he tells me that Texas, LSU and TAMU are recruiting him the hardest.
***Something to keep an eye on is the fact that like Josh Eaton, Josh White and a lot of other Houston area players, Xavion has a lot of family in Louisiana. "I used to go there like every summer back to back to back". Alford says he's impressed by the fact that the LSU has such a strong recruiting class but said, "everything looks like it's going good but I'm just going to wait and see what they do this season".
***As far as Texas A&M goes, Alford said, "Coach Elko on the defensive side, he's turning it around but I want to see what they're going to do with the players. I want to see what they're going to do with Brian Williams and everyone else".
You'll recall, TAMU pulled in a highly rated safety class in the last cycle.
***In terms of Texas, "The Spring Game, the whole atmosphere it was loud, it was real hype. Texas looks good. They've got a whole bunch of new weapons offensively. Defensively, I want to see what they're going to do with this incoming 2019 class because they've got some guys who came in early like J Whitt, Bru and them. I just want to see what they're going to do on the defensive side with all the talented players they've been getting."
Alford said coach Naivar is his primary recruiter but he added, "I talk to coach Herman almost every other day".
Alford also said he speaks to coach Washington as well, noting that Texas has told him they can see him playing any spot in the secondary including the possibility of playing some corner.
***Xavion said he plans on taking his official visit to Texas for the LSU game. A win for Texas there and I think Texas with do themselves and a lot of other teams around the country a big favor.
***In terms of a decision timeline, Xavion says he will take his officials in the fall and then make a decision after that. So, not expecting anything to go down this summer.
***Based on some off the record conversation with Alford, I get the sense that Naivar is recruiting Alford harder than just about anyone.
---
Quick Hitter | No. 1 JUCO LB Offered, Set to Visit
– CJ Vogel
Texas has extended an offer to the nation's No. 1 JUCO inside linebacker Juwan Mitchell out of Butler C.C. in Kansas.
Mitchell committed to Minnesota in late March but has continued to hear from other programs. Texas offered Thursday afternoon and after exchanging messages with him following his offer post, Mitchell said he already a visit planned for Austin.
In fact, the 6-foot, 1-inch, 235 lb linebacker will be visiting the Texas Football program next weekend. (May 11)
Mitchell said he had been in contact with the Texas staff prior to the offer coming. As Charlie and K have highlighted this week, Texas has been exploring options at the linebacker position in all sorts of avenues this offseason.
Mitchell will have two years of eligibility remaining once he steps foot on a D1 campus. He is set to be a January enrollee.
We will have more on Mitchell following his visit, however, it goes without saying what type of interest he has in the program having a visit planned just hours after being offered.
---
Jahari Rogers | Preview Note
– Super K
I spoke with 2020 DB, Jahari Rogers (Arlington). Rogers attended the Texas Spring Game. I was able to spend a solid bit of a time with him over the phone. I'll have my quotes up from that conversation but wanted to pass on a preview.
***One of the most important notes is that it appears the Sooners are no longer in the mix for Rogers. The reason this is important is due to to the fact that Rogers grandfather was a starting defensive back for OU. In the past he's been open with me about his grandfather hoping to see him play at OU. Rogers spoke mostly off the record about what soured him on OU but the bottom line is that it no longer appears they'll be a factor.
***A team that does appear to be a real threat to Texas for Rogers is Florida. Again, I'll go into detail on that but I was a bit surprised at just how high Rogers seems to be on Florida.
***Rogers has set up his official visit to Texas for the June 22nd weekend. Same weekend the Horns are expected to host Bryson Washington.
***Don't expect this recruitment to drag out much longer. Rogers told me he wants to make a decision pretty quickly, lock in his spot at a school and then focus on his senior season.
***Rogers will take an official visit to Arkansas this weekend.
Again, more on the way…
---
Thirsty Thursday | 2020 Draft Talk, Trench Recruiting, & More
– Darius Terrell
Welcome back to another edition of Thirsty Thursdays! As always, I'm here to try to help quench your thirst for Longhorn Football in the drought of the offseason, along with other topics of interest in Longhorn sports this week.
With the 2019 NFL Draft coming and going over the weekend and all of that talk that comes from it, I felt like this week would be a great time for us to take a look at UT's top NFL prospects for the 2020 NFL Draft. Texas has a decent chance to improve upon the two players that they had drafted in 2019.
A quick scan of the 2019 Spring Football roster revealed a few things to me:
Unlike the past two years, I don't believe that Texas will have to worry about any draft-eligible underclassmen leaving early after this season. Regardless of how great of a year he has in 2019, I have an extremely difficult time seeing Sam Ehlinger declare early, he bleeds Burnt Orange and the 2020 QB class in the NFL Draft is expected to be a very strong one.
Redshirt Sophomore OL Samuel Cosmi may currently be the best NFL prospect on the roster, but he is unproven as a Left Tackle and is currently considered light (290lbs) by NFL standards. I believe that Cosmi has a chance to be a 1st-Round selection after his Junior season in 2021 if he stays on his current trajectory and continues to get stronger. You cannot teach his athleticism, feet, or mean streak. He compares favorably to Connor Williams, who went 50th overall in 2018, especially if he avoids any durability issues.
There is a gap between the rising seniors and rising sophomores. Tom Herman's transition class in 2017 had some gems (Ehlinger & Cosmi), but was low on numbers and is the reason that so many Freshmen were forced into action last season.
Next year's NFL Combine won't see a ton of Longhorns in it, but those that do get invited will have a better chance of hearing their names called during the draft than this year's group.
Texas has a chance to really be "back" and represented very well in the 2021 Draft. Texas has numerous potential early-round picks in the program for the first time in what seems like a long time.
Likely to be Drafted
(Collin Johnson photo via AP)
Collin Johnson – Johnson checks three major boxes immediately for NFL evaluators. Size, Productivity, and Bloodlines. Johnson is a legitimate 6'6, 220lbs. Over the course of three seasons, Johnson has totaled 150 receptions for 2,065 yards and 12 touchdowns. He is the youngest son of former UT All-American Safety and Los Angeles Rams 1st-round draft pick Johnnie Johnson. Johnson wisely returned to Texas for his Senior season after flirting with the idea of declaring early. For those wondering about his speed, I've heard from numerous people behind the scenes that Johnson has always timed well when tested in the 40-yard dash. He actually gets in and out of his breaks pretty well for a guy his size, but he could improve his stock by showing a more diverse route tree in 2019. With a fully healthy, productive season in his final year, Johnson, who is showing up on almost everyone's early 2020 first-round mock drafts, will be a lock to be drafted and has an outside shot of being Texas' first 1st-Rounder since the New England Patriots selected Malcom Brown with the 32nd pick in 2015.
(Brandon Jones photo via AP)
Brandon Jones – Jones made the wise decision to return to school after also contemplating making an early jump after last season. He was 4th on the team in tackles in 2018 despite missing four games due to injury. He was an "Honorable Mention" All-Big XII selection last season and is poised for a breakout year in his final campaign. Jones is an excellent athlete that should perform very well at the combine in Indianapolis next year spring. He is recognized as a solid tackler with good range, but NFL teams would like to see him make more plays on the football (2 career interceptions) in 2019 in order to solidify his status among the top Safeties in next year's draft class. Jones won't have the same type of scheme versatility as some of the other highly rated guys at his position and he will also need to prove that he can stay healthy for the duration of an entire season.
Have a Chance to be Drafted
Zach Shackelford – Shackelford, who was an AP 1st Team All-Big XII selection following his Junior season and has made 27 career starts, may belong in the group above. Shackelford's development has been impressive to watch since he was first thrown into the fire as a True Freshman at one of the toughest positions on the field. He will need to stay healthy in 2019, but when you look at the overall body of work, Shackelford appears to have a very good case for being viewed as a draftable prospect next spring.
Devin Duvernay – Duvernay has appeared in every game at Texas since he arrived in 2016, making 17 starts. Over the course of three seasons, Duvernay has averaged over 15.5 yards per catch (70 receptions, 1082 yards, 7 TDs). He lacks prototypical height for an Outside WR (5'11) and he doesn't have a skillset that is suited for the slot, which greatly limits his value at the next level. He also has the build of a RB, but has not shown RB qualities after the catch to this point. So, what makes Duvernay a realistic draft prospect? Two things. His hands (he is credited with not dropping a single pass that came his way during the 2018 season) and his speed (He won the Texas 6A State 100m Final with a time of 10.27 in High School). He currently only runs two routes (Fly and Curl) and will be forced to prove he can run others at some point, but I believe that he has a chance to be drafted late next season with a strong year in 2019 and we know he's going to test well.
Malcolm Roach – Roach made an announcement via Twitter that he would be returning for his Senior season. The fact that he was ever contemplating a jump was a surprise to many Texas fans. Roach had flashes of brilliance as a True Freshman playing Linebacker. He garnered honorable mention for the Big XII Defensive Freshman of the Year award after making 5 starts and accumulating 8 TFL's and 3 sacks during his debut season. Roach has made only 6 career starts since, while adjusting to a new system, as well as battling foot injuries and inconsistencies with his playing weight. Roach is a unique defender with plus athleticism and versatility for his size. This season will be a huge one for Roach and his draft stock with him committing to being a full-time Defensive End in his final season.
Dark Horses to be Drafted
Jeffrey McCulloch – This one also takes some projecting, but I don't think it's too far-fetched to see happening. Think about it, Texas lost its two leading tacklers from last season at Linebacker. Someone has to replace that production, even if by default. McCulloch has prototypical size (6'3 245) and long arms that scouts love. He's been a contributor on Special Teams for all three years so that checks another box. He has patiently waited his turn while he's been in Austin behind the likes of Malik Jefferson (Bengals 3rd Round Draft Pick) and Gary Johnson (signed with Chiefs as UDFA). He has shown an ability to be disruptive when given the opportunity to rush the passer (8 career TFLs, 3.5 sacks, 2 forced fumbles) and has an interception to his credit as well. We saw the interception of Sam Ehlinger during the spring game that he nearly returned for a score. If McCulloch can bottle his flashes up into one beautiful video in 2019, it could land him on the radar of NFL teams.
John Burt – Hear me out. Burt started every game and led the team in receiving as a True Freshman in 2015. While he has had inconsistencies catching the football during his career, his four career receiving touchdowns have come from distances of 90, 84, 72, and 69 yards, (78.7 ypc) respectively. Burt is a collegiate Track and Field All-American and he won the Big XII Outdoor Championships in the 110 Hurdles in 2018 (13.56). A true home-run hitter, I'd be willing to bet that if he chooses to seriously pursue football instead of track after college, more than a few NFL teams will be interested in taking a flier on a Height/Weight/Speed (6'3, 195, 4.3) guy late (they literally do it all the time) with the hopes that they hit on a lottery ticket and he is able to put it all together at the next level.
---
Checking in with Kelvontay Dixon …
When the news came out a few months ago that Texas had extended an offer to Carthage (TX) ATH Kelvontay Dixon, many assumed that Dixon may have been receiving an offer so early due to his older brother being on the team. After earning district MVP honors and leading Carthage to a state semifinal appearance, Dixon has been making believers of the doubters one-by-one during his Junior year, accumulating numerous P5 offers along the way.
With a busy weekend on the horizon, (Dixon will be competing in FOUR events at the UIL Championships next weekend in Austin) I felt like it would be a good time to get an update on where things stand with the talented playmaker.
"My mindset at practices this week and next are just to maintain the right attitude" Dixon said, "We are getting close."
When I asked about where things stood on the recruiting front, Dixon let me know that things are pretty much down to two schools.
"The schools that are recruiting me the hardest are Texas and Arkansas" Dixon told me. "Texas wants me to play Wide Receiver, while Arkansas is recruiting me to play Running Back."
Dixon told me that he didn't truly have a preference as to which position he lined up at and I believe him. I did find it interesting that Texas was recruiting him exclusively as a WR, and not in the hybrid role that they seem to be intent on finding in this class as well.
As for his thoughts on Texas:
"UT is a great school, everyone on the team is family. The coaches are great and it's a great environment. I'm looking for a school that I can get a great education and with a strong network."
Dixon tells me that if he has a choice, he would like to make his decision towards the end of the recruiting cycle. This one is a Texas/Arkansas battle (Texas fans need to get used to that) with Arkansas doing a great job on Dixon as well as having an advantage in proximity. From my experience though, you can never discount how important family ties are to most. I think Texas sits comfortably in this one.
Dixon will be competing in the 100m, 4×100, 4×400, and Triple Jump with a chance to win Gold in each event next weekend.
Junior Highlights:
---
Top 2021 OL Breaks Down Texas Visit
Katy Taylor 2021 OL Bryce Foster is no stranger to the city of Austin. He was on campus last fall to take in a UT home game and was back in town a few weeks ago for the Orange-White Spring Game.
Foster has been a name that recruiting junkies have known about for a while, as he and fellow 2021 teammate Hayden Conner have been starters for Katy Taylor's Varsity Football team since they were Freshmen. I asked Bryce what it was like to finally be reaching the point where he can start focusing on choosing the program that can best help him achieve his goals.
"It's crazy to think that it has become a reality. I always told people (growing up) that I have aspirations of playing football in college and in the NFL. I just want to make my family proud."
What is Foster looking for during this process?
"I want to be able to go to a place that will let me play football and let me throw (Foster is a standout in the Shot Put and Discus). I also want the school I choose to have great academics, because once you hang up the cleats, you have to rely on your education for your future career."
Foster named Oregon, Texas, and Texas A&M as teams that he grew up watching as a youth. As far as who is recruiting him the hardest, Foster informed me that Oklahoma, Texas A&M, and Texas are the schools that have been in contact the most with the 6'4, 318lb mauler.
Foster has now already visited Oklahoma, Arkansas, Texas A&M, and Texas unofficially. When I tried to see if I could get Foster to maybe tip his hand a bit and tell me what stands out the most about some of his favorites, he gave me a very seasoned response.
"They're all great. Just the relationship that they have with their players. They are all about making good relationships. Also, the food is great at all of them, (laughs)."
Foster told me that the only plans that he has this summer is to visit Oregon and that he "hadn't looked that far into (taking any other trips)." Foster plans to release a list of top schools at the end of his Junior season.
My Take: Foster is one of the best linemen available in a loaded in-state 2021 class. While he has offers from all over the country and is particularly fond of Oregon, I believe that Foster will be a Texas/OU/A&M battle in no particular order. It's still early in his recruitment, but he's visited College Station and Austin multiple times. He would have been present for Oklahoma's spring game instead of the Texas spring game had Oklahoma not moved their game at the last-minute due to concerns about inclement weather. This one is too tough for me to call this early and I think the 2019 seasons at all three of the aforementioned schools will play a big part in what he ultimately decides.
Foster will be participating in the Shot Put and Discus next weekend in Austin with a legitimate opportunity of taking home Gold in both events. Foster has the best shot-put mark in the state this year.
---
Texas Extends Offer to 2020 DT
The search for help in the trenches continues for Texas down in The Boot. Late Wednesday evening, Texas extended an offer to Live Oak (Watson, Louisiana) DT Jalen Lee, who is a 3-Star prospect across all of the major recruiting services with offers from the likes of LSU, Florida, Georgia, Ole Miss, Missouri, and Colorado. We will attempt to get in touch with Jalen soon.
---
State Championship Track & Field Participants of Interest
Next weekend, the UIL Track & Field State Championships will be held on the University of Texas campus at Mike A. Myers Stadium (May 10-11). Texas Head Coach Tom Herman has mentioned on multiple occasions how he and the Texas staff value track times when evaluating prospects and the emphasis that they put on prospective student-athletes participating in the sport. It can be a tremendous indicator of one's functional explosiveness.
For those unaware, many of the state's top football recruits actively compete on the track circuit and some are even talented enough to qualify for the state finals. Below is a list of names to watch and the event that they'll be participating in:
4x100M Relay
3A Rockdale (2021 RB Cam'Ron Valdez)
4A Melissa (Texas WR signee Kennedy Lewis and 2021 RB JaBray Young)
4A Carthage (2020 WR Kelvontay Dixon)
5A FB Marshall (2020 RB Devon Achane and 2020 QB Malik Hornsby)
5A Lancaster (2021 WR Ketron Jackson)
5A John Tyler (2020 CB Kitan Crawford)
5A Aledo (2020 RB Jase McClellan and 2021 WR JoJo Earle)
5A Denton Ryan (2021 ATH Billy Bowman)
6A Garland Lakeview Centennial (2021 RB Camar Wheaton)
6A Mansfield Summit (2021 CB Jalon Rock)
100M Dash
4A Carthage (Kelvontay Dixon 10.71)
6A Plano East (Texas DB signee Tyler Owens, 10.35)
200M Dash
5A FB Marshall (Devon Achane)
4x200M Relay
4A Melissa (Kennedy Lewis and 2021 RB JaBray Young)
5A FB Marshall (2020 RB Devon Achane)
5A Lancaster (2021 WR Ketron Jackson)
6A Mansfield Summit (2021 CB Jalon Rock)
6A Cibolo Steele (2020 CB Jaylon Jones)
4x400M Relay
4A Carthage (Kelvontay Dixon)
Discus
6A Katy Taylor (2021 OL Bryce Foster, 185-03')
Shot Put
6A Katy Taylor (2021 OL Bryce Foster, #1 mark in state 63-00.25')
High Jump
6A Denton Guyer (2021 QB Eli Stowers, 6'10)
Triple Jump
2A Gruver (2020 ATH Jalin Conyers)
4A Carthage (Kelvontay Dixon) (Has the top mark in 4A, 46'9)
**Also, he's not a football recruit, but if you haven't seen Strake Jesuit's Matthew Boling run you are doing yourself a huge disservice. I strongly encourage you to get out to the track if you live in the Austin area or have a passion for the sport. Mr. Boling may be representing our country as a teenager next year in the Olympics, he's that special of an athlete.
---
The Rich get Richer
The most successful program on the 40 Acres is Eddie Reese's Swimming Program. After falling to Cal-Berkley at the D1 Championships this past season, Texas took steps to make sure that that does not repeat itself in 2019. This week, Florida swimmer Maxime Rooney announced his intention to transfer to Texas for his final season in preparation for the Olympics in 2020. Rooney is a huge pickup for the Longhorns.
---
Evening Updates | Damieon George & Zach Evans
– Super K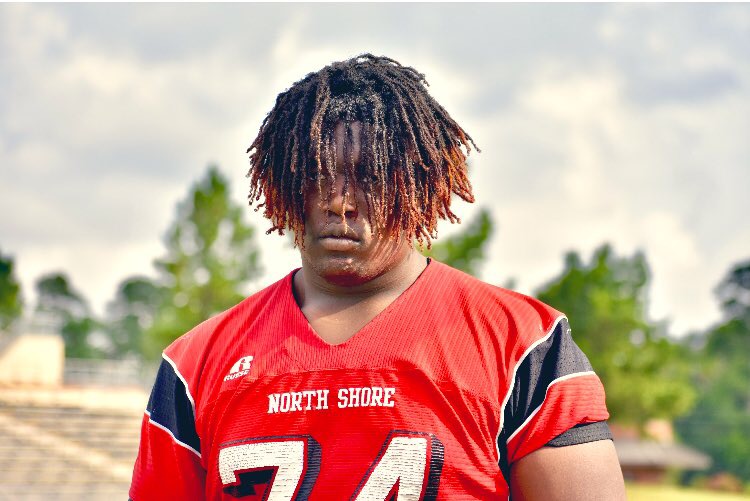 Stopped by North Shore to see 2020 OL, Damieon George and 2020 RB, Zach Evans.
Evans was out sick. So, I did not speak with him. But did speak with George and he confirmed what we reported yesterday – that he and Zach will indeed be in town this weekend.
A few notes of serious interest…
***As I noted in the tweet, Damieon says he is very near a decision and it sounds like the teams to beat are LSU, Texas and Alabama. He is a native of Louisiana and admitted that he grew up an LSU fan. But Texas is certainly in this fight.
***With the decision nearing, this weekend is going to be important for both he and Zach…
***To the point above, someone had asked in the comments section about Damieon and Zach playing together. I don't typically take the package deals too seriously but when I asked Damieon about it, he said the chances of him and Zach playing together is…
"100%".
***George even implied that they make announce their decision together. But that wasn't anything certain. Again, what did seem certain is that George is very close to a decision. If I was in Texas position, I'd immediately set up an official visit after this weekend's unofficial.
***Also, I think Herman needs to really turn up the heat in this one and recruit George himself. George told me that he has a very strong relationship with coach Orgeron over at LSU. Orgeron is heavily involved in George's recruitment. And the last reason you want to lose a kid (and in this case possibly Evans, as well) is by being outworked.