Open Post | Tuesday, June 11th
Posted on: June 11, 2019
Kitan Crawford | Top Three | Discussion
– Super K
2020 DB, Kitan Crawford released his top three and it was no surprise to see Texas make the cut.
What was a bit of a surprise was to see Baylor missing from that list. It appears they have been replaced by Oklahoma who recently offered and who he recently visited.
Crawford's aunt ran track at Baylor so he grew up a Baylor fan.
Crawford tells me that his current plan is to make a final decision by the end of this summer. Last I checked with him (earlier this week), he did not have a return trip to Texas set up. He said at the time he was still working on what possible summer visits he will take.
You will all recall that we here at TFB are big fans of Crawford's game. He's fast, quick and competitive. He possesses tremendous body control and both his technique and eye discipline are far beyond that of someone who has only been playing the position for a season or two.
---
Philip Blidi Continues to Intrigue Texas
– CJ Vogel
Like I mentioned last week, 2020 Portales DE Philip Blidi camped with the Longhorns after popping up on their radar a couple of weeks ago.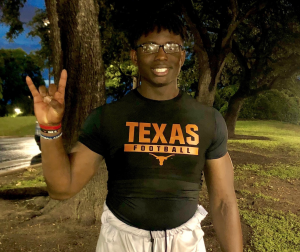 Off the bat, Blidi's measurables are intriguing at 6'3″ and 250 pounds with an 83-inch wingspan. On top of that, he has a good frame to continue to build muscle.
This is the first round of campus visits Blidi has made so far during his recruitment so the Longhorns were able to make a good first impression for college campuses to the rising defensive end. It sounds like the staff took full advantage of that.
"The hospitality," said Blidi when asked what stood out the most. "They showed me everything I wanted to know. I didn't leave with any questions."
"What I loved the most is the academics. The way they take care of the academics is great," Blidi added. "They really value academics and they really make sure all the kids here are taking care of their business and if they aren't taking care of their business, (the coaches) are on them. That really is showing me that they keep everyone accountable and that means they have a plan for life after football."
Blidi hopes to study business marketing in college and was blown away by the prestige of the McCombs school of business.
** As far a possible offer is concerned, Blidi said the talks between him and the coaches haven't gotten too deep so far, though he is expected to remain in heavy contact with the staff over the next week or so.
Jake Langi, one of the recruiting assistants on staff, has been doing a phenomenal job making an impression on Blidi.
"Coach Langi is a really good man. He's not just a recruiter, he's a family guy too and he cares about his family. He really cares about how every one does."
As I mentioned earlier, Blidi's body has room to add some good weight and he is well aware. Blidi's eyes brightened when talking about Texas' S&C coach Yancy McKnight and the plan presented to him for body transformation in the weight room.
Blidi was a big fan of the city of Austin itself. He said it reminded him of New Jersey where he is originally from.
"It feels like I am at home," said Blidi. "You can tell the everybody loves the Longhorns. Everyone is big fans around here and that shows me that everybody supports the Longhorns and the town itself is supportive.
** Overall, it was a very good camping experience for Blidi who will surely begin to see offers from power five schools in the area come in. Texas made a very good impression which was very important as Blidi and his coaches were set to visit Texas A&M Wednesday afternoon.
Blidi is very, very raw at the position but the measurables check out and his drive to improve his game are certainly working in his favor.
---
Bryson Washington | On Campus | Update
– Super K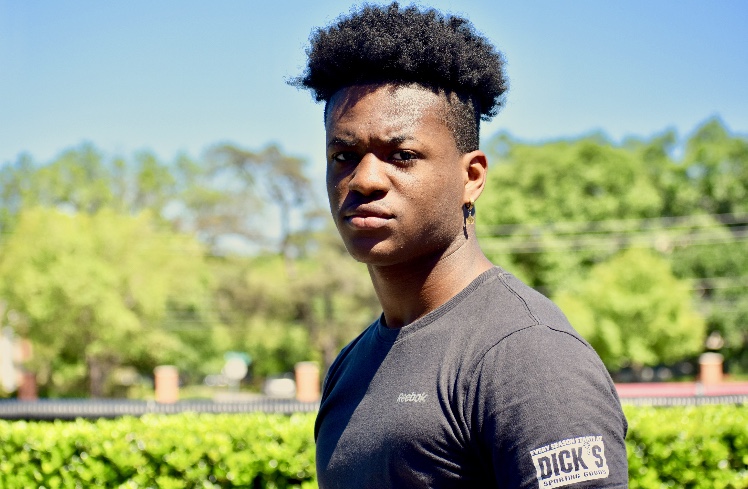 2020 DB, Bryson Washington is set to announce his decision on July 4th.
He's down to Texas and OU.
Washington made an unexpected unofficial visit to Texas this past weekend. In fact, he spent the weekend on campus.
Washington said the visit was going well and he is still expected to take his official visit to UT in a couple weeks.
The Texas staff is aware of the fact that the Sooners seem to have a pulled ahead in this race but there is little doubt that getting Washington on campus two times this month, could change things.
I can tell you that folks on the OU side are nervous and are, themselves, trying to get Washington back on campus before he announces his decision. If they are unable to, I could see this thing turning back in Texas' favor. But I should know more once I speak with Bryson, later this week.
---
Commit Analysis | 2021 WR Quaydarius Davis
– Darius Terrell
The Texas Longhorns took a return trip up I-35 to add more reinforcements on Sunday afternoon, this time adding the first piece to their 2021 class when Dallas (Skyline) Wide Receiver Quaydarius Davis made his commitment official.
What is Texas getting in Davis?
Ranking: 4-Star #91 Overall (247), #20 overall/#4 WR (TX Top 25)
Top Offers: Alabama, LSU, Florida, Oregon, Texas A&M, and Oklahoma State
Size: 6'0 193lbs
Projected College Position: Wide Receiver
Player Comparison: Jaxon Smith-Njigba (2020 Ohio St Commit)
Analysis: Texas is getting a big-time playmaker from another powerhouse program in the Dallas-area that has an abundance of young talent in the pipeline. Davis is explosive with the ball in his hands, amassing 702 receiving yards and 8 touchdowns on only 29 receptions (24.2 ypc) as a Sophomore.
After seeing him in person at The Opening earlier this spring, I came away from the event very impressed with his route-running ability and strong hands. Davis is a nightmare against press coverage because he is twitchy and has the ability to get up to full speed after three or four steps, which gives him a tremendous advantage when you factor in his natural feel for setting up his routes.
I think that he compares favorably to current Rockwall standout Jaxon Smith-Njigba, who is a national recruit in the 2020 class. This is Davis' 2nd commitment already (he was briefly committed to SMU before reopening his recruitment in December), but I don't think Longhorn fans have any reason to be concerned moving forward.
This is a very nice early pickup for Texas and the momentum in Dallas looks like it is only going to continue to increase.
Highlights: