Open Post | Weekend, June 21st – 23rd
Posted on: June 21, 2019
Weekend Visitors List
– CJ Vogel
It's a big weekend in Austin and there will be more than enough talent on the 40 Acres.
We will add recruits as we hear of them coming in!
2020 Recruits
ATH Jaden Hullaby – Bishop Dunne HS (Dallas, TX)**
OL Logan Parr – O'Connor HS (Helotes, TX)
RB Bijan Robinson – Salpointe HS (Tucson, AZ)**
DB Bryson Washington – King HS (Cypress, TX)**
CB Kitan Crawford – John Tyler HS (Tyler, TX)**
CB Jahari Rogers – Arlington HS (Arlington, TX)**
CB Kelee Ringo – Saguaro HS (Scottsdale, AZ)
WR Johnny Wilson – Calabasas HS (Calabasas, CA)
S Xavion Alford – Shadow Creek HS (Houston, TX)
CB Joshua Eaton – MacArthur HS (Houston, TX)
DL Alfred Collins – Bastrop HS (Bastrop, TX)
DT Octavious Oxendine – (Radcliffe, KY)
OL Courtland Ford – Cedar Hill HS (Cedar Hill, TX)
DL Vernon Broughton – Cy Ridge HS (Houston, TX) – Wednesday visit
RB Zachary Evans – North Shore HS – Thursday visit
2021 Recruits
OLB Clayton Smith – Texas HS (Texarkana, TX)
DE Tunmise Adeleye – Katy Thompkins (Katy, TX)
QB Jalen Milroe – Katy Thompkins (Katy, TX)
LB/ATH Reid Carrico – (Ironton, OH)
WR Latrell Neville – Willowridge HS (Missouri City, TX)
TE Lake McRee – Lake Travis HS (Austin, TX)
2022 Recruits
LB Jordan Crook – Bishop Dunne HS (Dallas, TX)
S Landon Hullaby – Bishop Dunne HS (Dallas, TX)
** indicates official visit
---
Thirsty Thursday | Westward Expansion, Proactive Horns & More
– Darius Terrell
Welcome back to another edition of Thirsty Thursdays! As always, I'm here to try to help quench your thirst for Longhorn Football in the drought of the offseason, along with other topics of interest in Longhorn sports this week.
Expansion/The Tim Beck Effect
I want to start off this week's piece focusing our attention outside of the Lone Star State. Much has been made of Texas' ability (or lack thereof, depending on who you ask) to secure the borders to the state over the last few recruiting cycles. The reason that Texas was able to secure an elite class in 2019, despite not signing their usual number of top Texas prospects, was their ability to find alternative options in new areas.
Texas was able to go to into the state of Arizona last cycle and cherry-pick two of the state's top three prospects in Wide Receiver Jake Smith and Tight End Brayden Liebrock. By now, most of you are well aware of both players and the accolades that they arrive to Austin with, but just in case you aren't, here are a few. Smith was selected as Gatorade's National Player of the Year, USA TODAY All-American team, Maxpreps All-American team, and was selected to compete in the Under Armour All-American Game. He is expected to contribute immediately next season on Special Teams and on offense. Liebrock was rated as the nation's #1 Tight End prospect by Rivals.com, rated as a consensus top-5 Tight End in the 2019 class, and was an Under Armour All-American. He's the highest rated Tight End that Texas has signed since they were able to get Blaine Irby out of Ventura, CA, in 2007.
Texas is no stranger at all to the state of Arizona and is well aware of the talent that it has produced annually for over a decade now. The aforementioned Irby originally hailed from Arizona before transferring for his Senior year. In 2011, Texas held a commitment from Chandler, AZ, 5-star Offensive Lineman Christian Westerman for several months before he ultimately signed with Auburn. In 2012, the Longhorns signed 4-star Quarterback Connor Brewer (who had an older sister that was a swimmer for UT at the same time) and were a finalist for 5-star Offensive Lineman Andrus Peat (I did my part to try to help seal that deal, ha) who ultimately signed with Stanford.
Since 2010, according to Rivals.com rankings, the state of Arizona has produced 6 5-Star prospects, including Kelee Ringo, who is in the 2020 class. Over that same timespan, the state of Arizona has produced 55 4-star prospects. That's a total of 61 football players that are considered "elite" football prospects from a place that doesn't get much recognition for their football at all.
In comparison to the enormous amount of terrain that you have to cover to properly scout the state of Texas, Arizona is an extremely easy place for recruiters to stop by and cover on their way out to California. When researching Arizona prospects over the past decade, I could not help but notice that they all seemed to be coming from the same five cities: Chandler, Scottsdale, Tucson, Gilbert, and Phoenix. Only 4 of the 61 players rated as 4-stars or better over the past decade in Arizona have come from any other city. Things don't get much clear-cut than that.
When you take into consideration the fact that Arizona and Arizona State aren't necessarily powerhouses and the University of Southern California has been enduring turmoil for multiple seasons now, it makes too much sense for this not to become a territory that the Longhorns can stake out and claim for themselves. West Coast prospects find a lot of similarities to home once they make it to Austin and the emphasis that is put on football in addition to that makes Texas a very attractive place for these types of recruits.
In 2020, the state of Arizona is experiencing a banner year for top prospects. The state has 12 players that are rated 4-star or better with Kelee Ringo being the lone 5-star currently. The Texas Longhorns are thought to be in excellent position with the top 3 prospects in the state, Ringo, Running Back Bijan Robinson (who could soon join Ringo with 5-Star status), and Safety Lathan Ransom.
Ransom took his official visit to Texas this past weekend and we here at TFB are cautiously optimistic about where Texas sits in his recruitment. Robinson will take his official to Texas this weekend and he has recently named the Longhorns as his current leader heading into the visit. Ringo, who has been a guest of the Longhorn team and staff on at least four different occasions now, will also be back on campus. Texas also still has Ringo's official visit to use.
Perhaps the biggest ace that the Longhorns have up their sleeve with this race to claim Arizona is a guy that has been on their staff from the very beginning of Tom Herman's tenure in Austin. Offensive Coordinator/QB Coach Tim Beck was the Head Coach at Saguaro High School in Scottsdale, AZ, from 1993-1995.
I can vouch for Beck's recruiting abilities, personally. During the spring of my Sophomore year of high school, I received my first offer from the University of Kansas. About a month later, I received an offer from the University of Nebraska. Tim Beck was the Running Backs Coach at Nebraska at the time. At the time, coaches were not allowed to contact or communicate with recruits until they became Juniors that following fall. So, in order to show you how interested they were in you early without breaking the rules, colleges would communicate with younger recruits through the player's high school coach.
Whereas most places used the generic mass mail method (and many still do), Coach Beck was the only coach that sent hand-written letters every time. He would always have some type of quote or meaningful message in his letters and he was thoughtful enough to find out info about me and how the quote would apply to something particular in my life or my game. I'll never forget, he would always end his letters with a "p.s. don't commit without visiting us first" or "p.s. don't commit early!!!! Take your time!"
Unbeknownst to Coach Beck at the time, after camping at UT for three days that summer before I became legal to be communicated with, I wasn't going to be signing anywhere but to the University of Texas. I, along with teammate Adrian White, had committed while on campus but were asked to keep it silent "out of respect for the 2009 class".
Needless to say, he didn't take it well once my commitment became public after the one of the legendary Mack Brown "Junior Days" in February of 2009. As a matter of fact, the man never spoke to me again (even when he made return visits to Desoto)! I imagine that things were pretty frustrating for opposing Big XII teams trying to recruit the state at the time.
The point that I am trying to make is that Tim Beck is an individual that invests himself fully in the recruiting process and he takes it personally. It matters to him and that is something that should make Texas fans feel very good about their chances in any recruitment that he is the lead on. A decade later, with his connections, the same Tim Beck that was recruiting so hard against Texas back then, is now possibly the person that is going to be the catalyst for the Longhorns' Westward expansion in recruiting.
---
Texas being proactive in 2021 & 2022
While Texas continues to work their way West, the efforts to improve the success rate among the elite in-state has also ramped up significantly. In case you've missed it, things have changed in a big way in the way that the Longhorns are approaching making early offers to younger prospects. Texas has hosted several camps over the past few weeks and they have resulted in multiple new 2021 offers going out, as well as two new 2022 offers.
The current date is June 20, 2019.
The class of 2021 won't be able to sign a letter of intent for another 18 months, yet Texas has already extended 36 in-state offers to players in the class.
The class of 2022 won't sign for another 30 or so months, yet Texas has already extended offers to the following 6 in-state Freshmen:
Lewisville WR Armani Winfield
Beamount (Westbrook) S Bryce Anderson
Humble (Atascocita) OL Kameron Dewberry
Dallas (Skyline) DT Keithian "Bear" Alexander
Fort Worth (Nolan Catholic) RB Emeka Megwa
Denison RB Jadarian Price
There was a time not too long ago (as recently as last year) that Texas would hold off on extending offers to Sophomores in high school and Freshmen weren't seriously considered at all. I couldn't help but notice over the past few months that when I would talk to some of the top prospects in the 2021 class, many of them would reveal to me that they were no stranger to the city of Austin and the UT campus.
Many of what become the state's top prospects years later attend UT camps early in their careers. Texas gets to look at A LOT of these guys before other places do, yet Texas has been beat out for many of the state's top prospects recently. Why?
Well, for starters, Texas has always subscribed to this weird idea that having the "fewest offers" out of any program is a good thing. That may have been fine and dandy in 2010, when Mack Brown was still Mr. February and Texas was still a perennial title contender. In 2019, it isn't. This is the Social Media era. Kids want to be shown that they are recognized and being made a priority. They want to let other people know about it as well, which is something that can't be underestimated.
Let's talk hypotheticals for a second.
Texas sees a kid at one of their host camps on campus while he's a Freshman and Sophomore. It is clear that he is a standout athlete and will be a player that will be coveted not just by them, but everyone else as well in the not-too-distant future, there is no reason to hold off on offering that kid. With all of the new competition that Texas A&M has brought into the state by making what they thought was a power move to the SEC, Texas can no longer afford to play by this strategy of their offer being more sacred than anyone else's.
We saw this play out very recently with 2021 Austin LBJ Cornerback Latrell McCutchin. McCutchin is just a Sophomore, but he grew up in the shadow of DKR-Memorial Stadium and surely attended plenty of UT football camps as a youth. He was on TV for crying out loud as a little league sensation and was recently rated as one of the nation's top Cornerback prospects.
A few weeks ago, McCutchin announced his commitment to the University of Alabama shortly after receiving an offer from Texas. One of his main reasons for the early commitment? Alabama offered him first. As trivial as that may sound to some, think about it for a second.
You have grown up watching and attending Texas Football games on Saturdays, and you now star on Friday nights right around the corner. You know the staff and they know you well, but for some reason, schools from hundreds of miles away are already offering you and telling you how much they want you. Big-time schools.
But Texas? The same Texas that hasn't won a Big XII title since 2009? The same Texas that has a 33-31 record since you've been old enough to really pay attention to what's going on? Nah, Texas is telling you to be patient while they continue to "evaluate" you.
I'll ask the question again. WHY?
There was a very similar type of situation with another top in-state recruit in the 2019 class. Luckily for Texas, they still have time to attempt to make up ground and change McCutchin's mind, although that didn't end up happening in the other situation that I'm referring to.
The best news for Texas fans is that the Longhorns appear to have gotten the message and are intent on making sure that this is something that ceases to happen in the future.
---
2021 Kansas move-in picks up Texas offer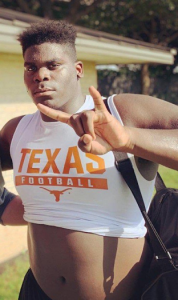 As if the defending 6A State Champion North Shore Mustangs needed any more help repeating with all of the talent that they have returning, the rich continued to get richer when standout 2021 Offensive Lineman Jaeden Roberts made the move down this Spring with his family from Lenexa, KS, to Houston, TX.
Roberts has seen his offer list explode since arriving in the Lone Star State, picking up offers from the likes of Alabama, Georgia, USC, Florida, LSU, and Texas A&M all in the past month. The 6'5 325 road grader made his way to Austin for a Texas camp and added to Longhorns to his latest pile of offers shortly afterward.
"I went to the camp that they were hosting today and got to show the coaches what I had to offer. That's when they threw the offer."
The camp was the first time that Roberts has been on campus and it was also the first time that he got to interact with the Texas staff.
"The camp was my first time getting to meet the staff and Head Coach. I've always seen UT as a very good school and now that I've moved and picked up and offer from them, it's a very good opportunity for my future."
So far for Roberts, the move to Texas from Kansas has been everything that he expected and more.
"We moved so that my parents could find better jobs and to help my brother and I get the best opportunity possible to further our futures in football."
Roberts plans to take visits this summer to LSU, Alabama, Georgia, and Texas A&M. He's already visited College Station a few weeks ago for a camo and will be making a return trip.
My Take: Texas felt like he was good enough to offer in a historic year for Offensive Linemen in the state so that should tell you a little bit about the big man. It's very early for Roberts, who has seen his stock explode over the past month or so. His family made the move to Texas knowing that he would face better competition, get better training, and greatly increase his exposure. Mission accomplished. Going strictly off of my brief conversation with him, I do feel like he is very attracted to the thought of playing in the SEC and that Texas may not have known much about him prior to him showing up at camp. We will see how things progress over the next few months between he and Texas.
---
2021 Rankings Comparison
Charlie mentioned it in a piece earlier this week, but Rivals.com released their initial rankings for the class of 2021, including their Texas Top 50. I thought that it would be interesting to see how their list compares to my own that I released a few months ago. (Which you can find here.)
Here's how the crew at Rivals ranks the top 25 players in Texas. My ranking is in parentheses.
Camar Wheaton (6)
Savion Byrd (4)
Tommy Brockermeyer (1)
Preston Stone (3)
Jatavion Sanders (2)
Donovan Jackson (NR)
Landon Jackson (5)
Tunmise Adeyele (11)
Latrell McCutchin (21)
Quaydarius Davis (20)
Shadrach Banks (9)
Marcus Burris (NR)
Billy Bowman, Jr. (22)
Bryce Foster (15)
Latrell Neville (NR)
Jaeden Roberts (NR)
Jalen Milroe (NR)
Ishmael Ibraheem (NR)
Eli Stowers (NR)
Hayden Conner (19)
Cam'Ron Valdez (NR)
JD Coffey (14)
Kendrick Blackshire (NR)
LJ Johnson (NR)
Dematrius Davis (17)
Quick Thoughts
***First things first, it is extremely early and their list, like my own, is going to change another half-dozen times before a final ranking comes out. The state of Texas could have almost 50 4-star prospects this year.
***On that same note, I find the omission of guys like Aledo WR JoJo Earle, New Caney LB Derrick Harris, Richmond Foster WR Cody Jackson, and Texas High LB Clayton Smith to be egregious, though. They are no-brainer top 25 guys for myself.
***Rivals rates Donovan Jackson much higher than I personally do. He currently falls into the 30-40 range for myself.
***I regretted not including Marcus Burris in my initial Top 25 immediately after I published it. He will be there on the next update before the season.
***Latrell Neville is a guy that I have heard about but want to gather more information on. The same goes for new OL offer Jaeden Roberts, who didn't play ball in Texas last year and Ishmael Ibraheem.
***I flat-out missed Jalen Milroe while doing my evals, but I would currently rate him behind Preston Stone and Dematrius Davis. Both he and Eli Stowers would fall in the 30-40 range.
***Kendrick Blackshire, LJ Johnson, and Cam'Ron Valdez are all guys that I've touched on and evaluated during Thirsty Thursdays and I find all three to be high-quality prospects that I would currently have in the high 30s- low 40s.
---
***I will be out of the country next week on my honeymoon, I hope that you guys enjoy this week's content and have a great weekend. Thirsty Thursday will return on the 4th of July! Hook'Em.
---
Updates | Kitan Crawford & Tony Grimes
– Super K
***2020 CB, Kitan Crawford tells me he will take his official visit to Texas this weekend.
Crawford recently dropped his top three which included Texas, OU and Tennessee.
Texas seems to be the current leader so this visit could go a long way in serving the knock out blow. But I know both OU and Tennessee are pushing hard and OU is hoping to get him back on campus in July.
***2021 CB, Tony Grimes (Virginia Beach, VA) tells me that he plans on being in TX and OK later this week to visit a few schools.
Grimes is a 4-star prospect who holds offers from just about everyone you can imagine – Clemson, Alabama, Texas, etc.
He's visited TAMU on multiple occasions. But it looks like he's now set to see other schools in the region.
The plan is for them to visit Texas on June 22nd and 23rd
---
Derrick Harris Jr. | Notes on Offer & Interest
– CJ Vogel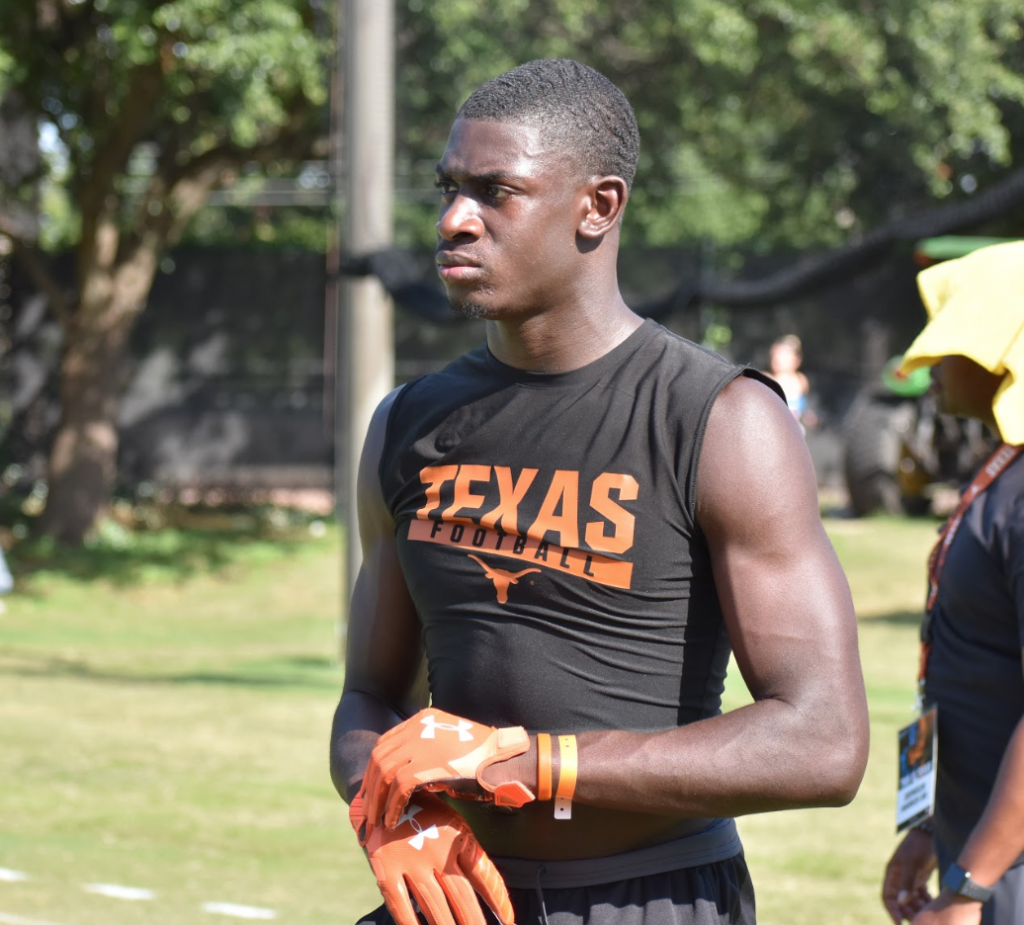 I mentioned Saturday night I would expand on New Caney High School linebacker Derrick Harris Jr.
During the camp Saturday afternoon, I was able to speak with Harris' father, Derrick Harris Sr.
** My main takeaway is Texas fans should be very happy with the staff's decision to extend an offer this weekend. Harris has been traveling across the state during the camp circuit and has picked up interest from all over. Texas throwing their hat in the ring will at this point will go a long way in the recruitment and puts them in a position to lead, rather than having to fight from behind as we've seen when offers are delayed.
Harris and his father have been to Texas three times in the past year, and according to Derrick Harris Sr., each time the family has enjoyed their stay.
Derrick Sr. added when the two came to Austin in the winter for a visit, the staff treated them to a Texas Basketball game at the Erwin Center which made a big impression on the two.
Back home, the ties to Texas run deep. The Harris family is real close with former Texas Softball player Nadia Taylor who received two All-Big 12 honors during her tenure on the 40 Acres. Taylor has been very vocal on Twitter in support of Derrick during his weekend in Austin.
Harris performed well in the minimal camp time I was able to see. The Texas camp was a great way to close out the camp circuit which consisted of Baylor, TCU, Texas A&M and Oklahoma State according to his father.
Taylor is a real intriguing prospect for several reasons. One, being that whether he's in a three-point stance or standing up, his presence off the edge is going to be felt regardless. And two, he's not done growing.
Harris Jr. played his sophomore season at New Caney at roughly 185-190 pounds. According to his father, he weighed in at the Texas camp at 217 pounds. He's currently at 6'3″, but there's still room to grow, which makes the idea of him putting his hand in the dirt on every down not so crazy after all.
The next step for Harris will be summer conditioning. On top of that, Harris is an avid swimmer which plays perfectly for someone looking to maximize endurance and being able to stay on the field for every down.
** I like where Texas stands early on and not waiting on extending an offer only helps their chances down the road. Harris will certainly be a name to remember for the 2021 class.
*** Harris' explosiveness off the ball was tremendous in his sophomore film. Add 25-30 pounds, and stopping that off the edge will be very difficult for any OT during the remainder of his high school career.
---
Quick-Hitters | Johnny Wilson, Flowe, Quentin Johnston & Rogers
– Super K
***As you know, 5-star WR Johnny Wilson is set to be in town for another unofficial visit this weekend.
I got word from someone close to Johnny Wilson that the early sense that UCLA was going to be a big threat isn't as likely right now.
Hearing Texas, Oregon and Washington. Have been told Wilson very much likes Texas but he's downplay it a bit to media folks.
***We have heard that 2020 WR, Quentin Johnston (Temple, TX) may take his official visit to Texas this weekend.
I've reached out to a coach over at Temple to confirm. Still waiting to hear back. I'll reach out to Quentin and his father to see if we can get that confirmed one way or another.
***Also, as we mentioned back on May 2nd (here), 2020 CB Jahari Rogers will take his official visit to Texas this weekend.
Last I spoke with Rogers, a summer decision was the plan and I wouldn't be surprised to see him announce something very soon after this official visit.
***Lastly, I was told that Justin Flowe had hoped to make it in this weekend however it appears that won't happen. The person who was set to accompany Flowe had another engagement. Still do expect Flowe to make it in at some point. Still believe USC is the team to beat though…
Which is probably a good thing in that things could go south for them in a hurry. Not good when Clemson or Alabama are the teams to beat.
---
Visit Note | Alford & Eaton
– Charlie S
The weekend Pool Party just got more interesting as a pair of elite 2020 defensive backs let us know they are planning on making it to town for the event.
Both Josh Eaton and Xavion Alford are planning on heading in and the visits come at a time when Eaton is mulling over pushing his timeline up to possibly take place in the summer as opposed to closer to signing day.
We will keep in touch with the pair and let you know if anything changes in regards to their plans.