Open Post | Weekend, June 28th – 30th
Posted on: June 28, 2019
Lathan Ransom | The Latest
– Super K
2020 DB Lathan Ransom took his final official visit this past weekend which was to Ohio State.
Going into the visit, my sense after speaking to him and his father was that Texas was the leader out of three schools that had emerged: Texas, Ohio State and Notre Dame.
It looks like, for the moment, that has changed.
I asked Ransom, yesterday, if Ohio State has overtaken Texas to which he replied, "yes sir".
He is coming off the emotional high of the trip. I think there is still time for the family to sit down and discuss things like weather, distance, etc.
We will see how this one plays out. Again, there is still time.
---
The Latest | Princely Umanmielen Talks Heat Wave
– CJ Vogel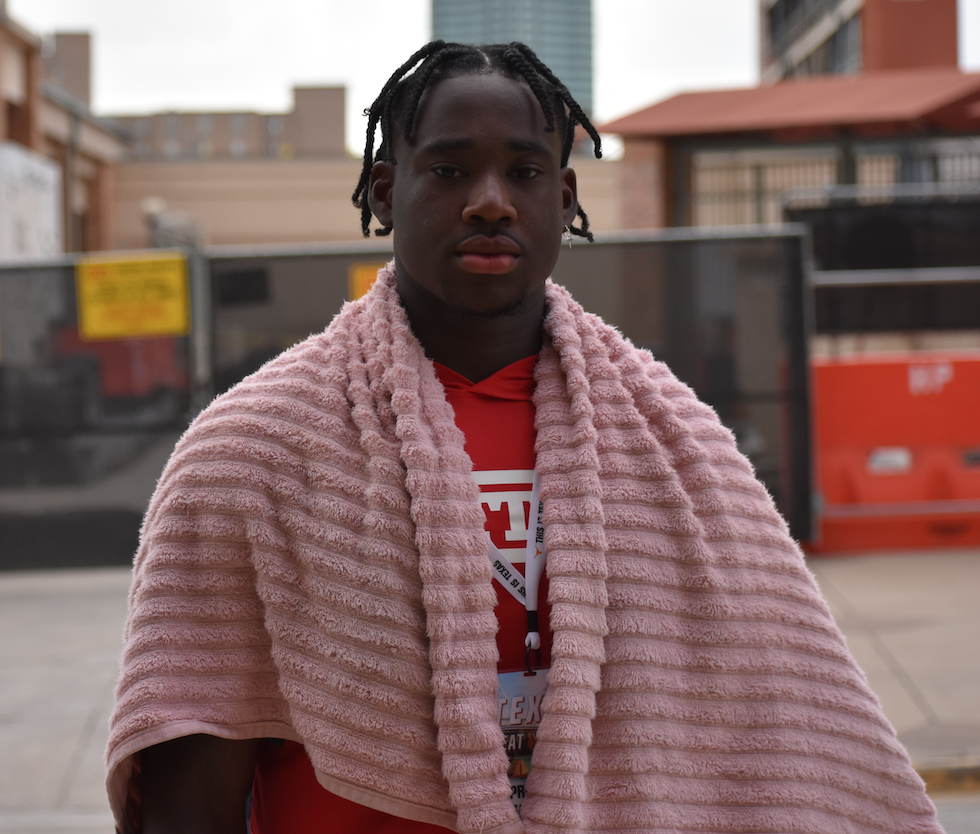 One of the bigger Texas targets at this weekend's Heat Wave was 2020 Manor DE Princely Umanmielen.
Umanmielen had said earlier this spring he would not be doing interviews until his commitment, but he did stop by for a little to share about his time with the team and staff.
The Heat Wave provided just one more opportunity for Umanmielen to see the campus that he has visited numerous times so far in his recruitment.
"It was just fun," said Umanmielen describing the overall experience during his visit. "Nothing was boring, the atmosphere was amazing and everybody positive."
Being a regular on campus in Austin has provided an opportunity for relationships to grow with potential teammates and coaches, something that has really stood out for Umanmielen.
"I know some of the players already, so I'm really just comfortable (when I'm on campus)."
Like with many of the other recruits on campus, pool basketball and the chicken wing eating competition were big hits.
"Mainly just playing basketball with the (current) players and some of the other recruits. It was fun playing with some of the other players, making me feel like family."
Princely said he spent most of his afternoon with Keondre Coburn and Peter Mpagi, two guys he would spend a lot of time with in practice and film room sessions if he were to pick the Longhorns. Funny note, Princely mentioned Coburn as the best pool basketball player due to his size and being able to force everyone out of his way.
Moving forward to the last couple weeks before fall camp starts up will consist of a lot of conditioning and weight training for the Manor DE.
"I'm really just working out a lot. We have summer workouts for school and after that I do personal workouts training."
Princely will have a lot of time to hit the weights with his summer visit circuit has come to a close. Umanmielen said he probably won't be taking anymore visits for the summer, so it's certainly a good thing the Longhorns were able to close out his summer on a good note.
** Princely also confirmed his commitment timetable is set for October.
---
Reuben Fatheree | Two-Sport Star?
– CJ Vogel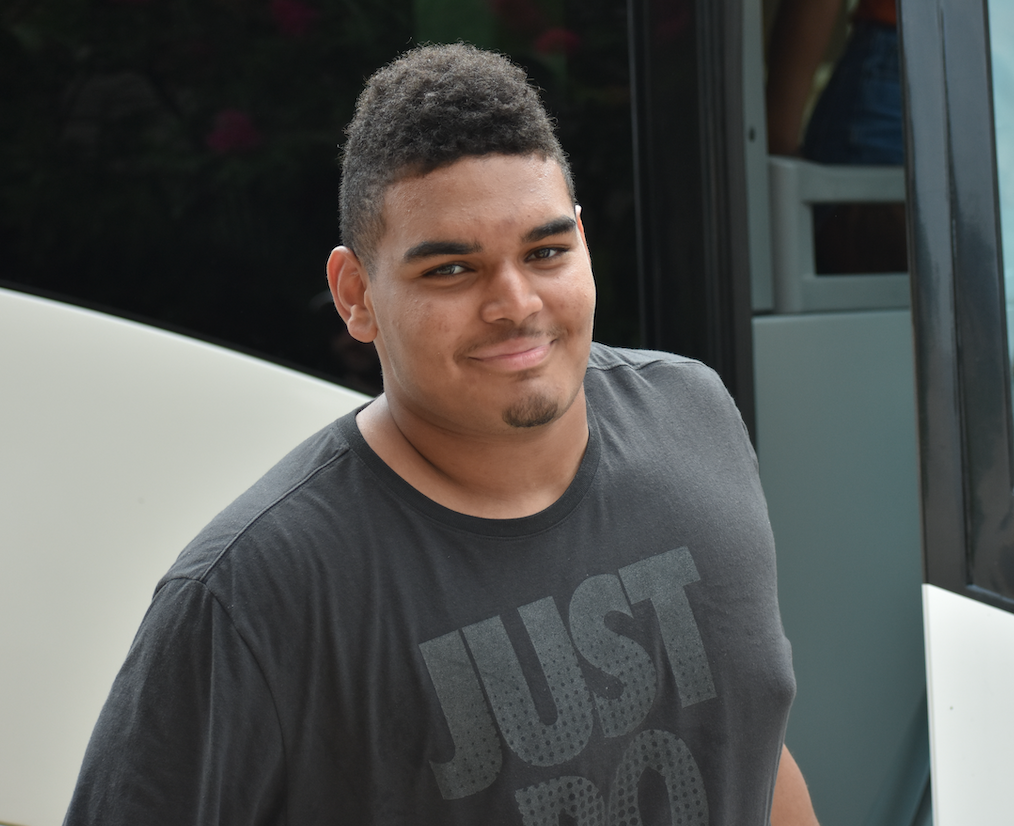 At 6-foot, 8-inches and 299 pounds, it's easy to see why 2021 Richmond Foster OL Reuben Foster is one of the most highly coveted prospects in the state.
Foster was on campus for the Heat Wave this past weekend and shared with us his top moments from his time on campus.
"It was pretty nice," said Fatheree following the Heat Wave. "I actually got to speak with Head Coach Tom Herman about some things, I got to explore the whole 40 Acres and everything. And the pool party was actually pretty fun, we got to play some basketball."
The basketball side of things is interesting. Fatheree has been taking visits for not only football recently, but basketball as well, making his recruiting process a bit different than your average offensive tackle.
"It's been a blessing first of all, but I mean it's been pretty awesome too. I've gotten to explore both sides and see what everything is like. I get to see what the coaching staff is like, how they treat their players and how they prepare their players."
Fatheree said he would love to play both football and basketball at the next level "if it is a possibility," though he added he had not yet heard from men's basketball head coach Shaka Smart. Though don't think Texas' chances are any less due to the basketball side of things not coming around yet.
"I would like for the possibility but if it's not going to happen, it's fine."
Most schools so far have been rather open to Fatheree being able to play both sports, so it will be interesting to see what the Longhorns decide to do with the two sport star.
Fatheree, like most, is big on the relationship built between him and his position coach, and so far, Coach Herb Hand is doing a great job at establishing that relationship.
"It's amazing because he treats his players like a father-like figure," said Fatheree. "He's an amazing person and he will coach you up to be the best player you can be."
The next step for Fatheree will be to release a top schools list, likely starting at 10 schools, before cutting it down to 3-5.
Texas is certainly expected to make the first cut.
What's interesting is Fatheree added he plans on taking all five official visits for football and has the option to add five more official visits for basketball as well. Which, if my math is correct, would allow him 10 OVs, something he is seriously considering doing.
---
Quick Hitter | Another Cali WR Coming to Texas
– Will Baizer
– Got word that 2020 WR LV Bunkley-Shelton (Gardena, CA) will be visiting Texas on July 26th through the 28th. For those unaware of him, he is a 5'11", 174-pound polished slot receiver with big-play ability. He is very good at locating the ball and making catches in tough situations. I expect the services will give him a bump after this season. Luckily for Texas, it appears this recruitment is up in the air, so they may be able to sneak into the race.
---
Johnny Wilson | Loving Austin
– Will Baizer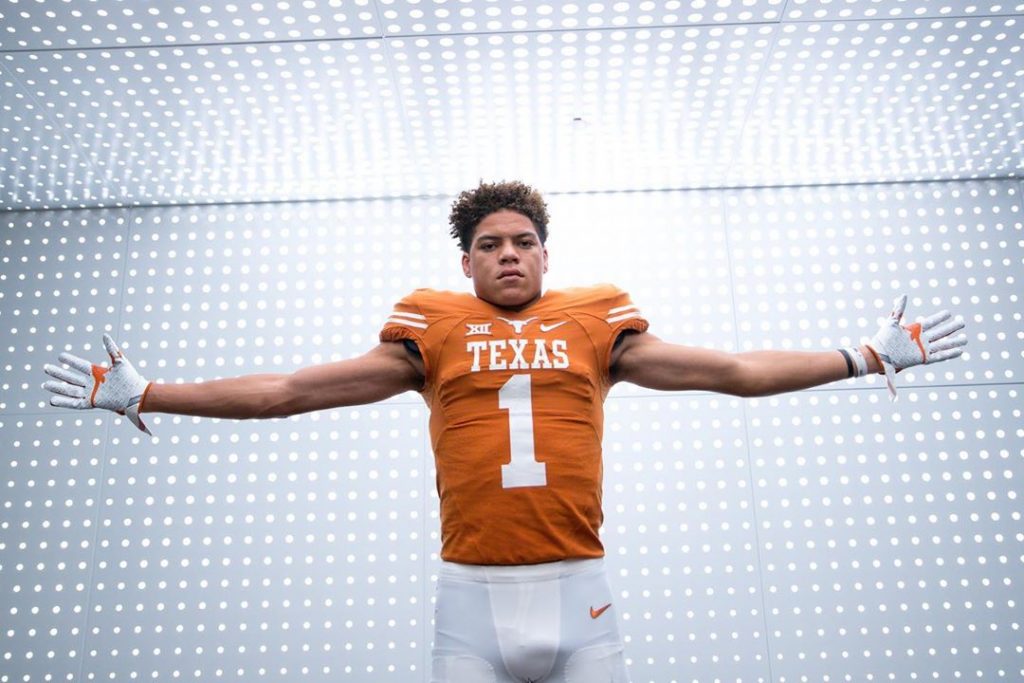 5-star wide receiver Johnny Wilson just left Austin and seemed to be getting pretty comfortable here. The California wide receiver extended his stay in Austin from his original departure date of Sunday until this last night.
This was his second trip to Austin in the past few weeks. Over the past three weeks, the five-star 2020 wide receiver out of Calabasas, California, has spent roughly ten or so days in the city of Austin.
This time Wilson was also able to bring his mother down to Austin for the weekend, which was a big success for the Longhorns because Wilson's mother will have a role in helping choose where her son goes to college. Right now, she is pregnant and set to give birth in September, so this was one of the few times she could make the trip.
While he was unavailable to the media after the Heat Wave pool party event, I was able to catch up with the elite prospect to get his thoughts on his time so far in Austin.
With a chuckle, Wilson told me that his favorite part was seeing the interactions between the players and the coaches, specifically when the players turned on the coaches as has become tradition, "The best part about the pool party was when the players started throwing the coaches in the water." It's fair to say that Wilson has had a pretty good time hanging out with the current players and staff over last week.
While I was told that Wilson has great relationships with the players, especially guys like fellow five-star Jordan Whittington, fellow Californian De'Gabriel Floyd, and a few others, the staff is very important in where he will end up. Luckily for Longhorn fans, the staff did a phenomenal job convincing Wilson that he belongs in Texas.
According to Wilson, "The Texas staff was very welcoming. They made me feel at home, and when it was time to talk football, they made it clear that no matter where I go I have to compete." The staff's ability to "keep it real" has been a key for them in gaining the trust of many recruits. Wilson is no exception, "They show how much they care by telling you the real. I appreciate them for that."
When it came to talking football, the path to success was obvious for the staff. Right now, Wilson sits at a well-built 6'6″ and 220-pounds. For comparison sake, Texas receiver, Collin Johnson, came out of high school at 6'6″ and 200-pounds. So it's fair to say that Johnny Wilson is a sizeable human.
While that may be great on paper, a lot of programs have had trouble turning big receivers into successful receivers. Luckily, Texas has Lil'Jordan Humphrey, Collin Johnson, Malcolm Epps, Brennan Eagles, and John Burt in their pocket. Using these guys as examples, the coaches were able to show Wilson how he would be used and that the formula is capable of success. This tactic seems to have struck a chord with the big pass-catcher, "Seeing the other receivers they have and their size really stood out to me… I know that if I decide to come to Texas, [my] size at the receiver position wouldn't be a problem."
While many say that Austin is like a slice of California in Texas, there are still significant differences between the two places. During his time here, Wilson has been taking his time traveling around Austin to get a feel for the city, and the thing that has stood out the most about his time in the city has been the good eating down in Texas, "My favorite part about the trip has to be the food. The BBQ out here in Texas is something different!"
So far, I'd say Texas is hitting on all the right notes for Wilson and the family. He was planning to leave on Sunday with his mother, but he loved his trip here and postponed leaving until Wednesday. All of this and he still hasn't even officially visited Texas. However, Wilson did inform me that he does plan on taking an official visit during the football season, likely after his mother has given birth to his younger sibling.
---
Defensive Back Updates | Alford, Ransom, Washington & Ringo
– Super K
***Xavion Alford – Am told that this one is trending hard to Bama. Not looking great for Texas at the moment now that Bama is pushing hard but we'll see how that holds up. Did want to prepare you all though.
***Lathan Ransom – As I mentioned, Lathan himself said earlier in the week to me that Ohio State had pulled ahead of Texas. Obviously, he was fresh off the trip so things can settle down.
They are looking at a July decision. So, an announcement is going to come fairly quickly.
***Bryson Washington – Immediately after the visit, I checked with Bryson and this one was trending back towards Texas. I spoke to him earlier today over the phone and he says that he is still going back and forth and plans to have his final decision made up this weekend just before he announces on July 4th.
***Kelee Ringo – Ringo did not make it in for the Texas Heat Wave this weekend. Wanted to note that because we did have him on our list and he was expected to attend.
Texas is in a fight with Georgia here. Just need the season to get here and need to smash LSU to solidify dominance over the SEC.
---
Texas Commits Enjoy Visit to Austin
– Andrew King
It was a huge recruiting weekend for Texas in terms of hosting uncommitted recruits. But it was another great opportunity for Texas to get some commits back on campus to keep strengthening relationships and have them recruiting other prospects.
Two guys I spoke to were SA O'Connor (TX) offensive guard Logan Parr and Bishop Dunne (TX) athlete Jaden Hullaby.
Parr told me "It was a lot of fun getting to see the coaches again and playing pool basketball with guys like [Texas commit] Ja'Quinden Jackson and Rueben Fatheree." While this was a great opportunity for Parr to recruit some other guys to Texas, he also enjoyed the low-key event the Texas staff put on. Telling me "All the guys know where I want them to go so at this point it's just trying to build a relationship with them that even if they don't pick Texas we'll share that bond for years to come."
Hullaby had a similar answer, telling me "It was a great visit, that's home no question about it. I'm always recruiting but I definitely had a good time with the guys." Hullaby was on his official visit this weekend, and one guy he was recruiting and had a great time with was Texas' newest commit cornerback Kitan Crawford.
One other note I'd pass along that is making a huge impact is the commitment of Duncanville (TX) athlete Ja'Quinden Jackson. While he's the opposite of most recruits in today's age, in terms of all the glitz and glam that can come with the recruitment process. One person told me "There's not a player in DFW that doesn't respect the hell out of him, and his commitment to Texas has a lot of people talking." Obviously, assistant Rashaad Samples is a big reason why Texas has a real chance to make a real impact in DFW this cycle, Jackson's commitment is only helping in that regard.