Open Post | Weekend, June 7th – 9th
Posted on: June 7, 2019
Update | Prince Dorbah Official Visit & Decision
– Super K
Yesterday, I checked in with 2020 OLB, Prince Dorbah (Highland Park).
Dorbah tells me that he is working on setting up his official visit to Texas for the weekend of June 14th to the 16th. He said he also plans on taking an official visit to LSU.
The past few times I've checked in with Dorbah, he's either said he was unsure about his decision timeline or has said he'd like to wait till fall or close to signing day.
I'm hearing that may be changing. Dorbah said himself that he will likely make a decision after his OVs and those could be done this summer.
I've heard through the grapevine a possible commitment coming in July.
Not set in stone yet but knowing how Texas operates, if they're going to set up his official visit for the summer, especially for a local player, you can bet they've received assurances that a decision is imminent.
This is one where Texas could garner some additional momentum.
What a difference a week makes.
---
The Latest | South Endzone Renovation
– CJ Vogel
Saw there were some questions on Twitter regarding when exactly the South Endzone renovation would be completed.
Those questions were probably sparked by the videos posted by Bryan Carrington, Chris del Conte and other notable Texas Football personnel.
After speaking with a source with direct knowledge on the construction for the South End Zone, here are some deadlines that can be expected moving forward.
2019 Season
No south end zone – aka the bleachers that previously housed the band and was later turned into a general admission/student section
Existing scoreboard will remain in place.
Phase 1 structure – mostly framework.
While it may look strange to have the wide open area in between the field and the Moncrief Complex, it also allows for some interesting opportunities to take advantage of. Especially during the LSU game, the opportunity to showcase the future south end zone to a national audience. Also, Bevo will likely have a much larger presence in the end zone, especially with the absence of Smokey the Cannon for the next six years.
Basically, DKR will truly look like a horseshoe in 2019.
---
2020 Season
Still no bleachers in the south end zone.
Existing scoreboard will be taken down.
Phase 2 structure – vertical building, basically the main infrastructure without the makeup that will make it look like the final version
Finally, DKR will have a look at what the final version will look like. The entire south bowl will be enclosed, yet the corner will still be unable to seat fans for the season.
---
2021 Season
Plan is for the South End Zone to be completely ready to go for the 2021 season opener.
And there we have it! Should be fun to watch it grow from the ground up!
---
Present Day
---
Lathan Ransom | Texas Makes the Cut
– Super K
2020 DB, Lathan Ransom dropped his top five and Texas did make the cut…
I spoke with Ransom this afternoon and I'll post some additional notes but the big thing I took away from the conversation was that going into that visit, I think Texas was just a visit he was taking because he had scheduled it.
It's clear after leaving, it surprised even him how much he liked it.
Don't want to get you all too excited yet but after speaking to Lathan, I like how this one is trending. Need to finish strong.
---
The Latest | Xavion Alford
– CJ Vogel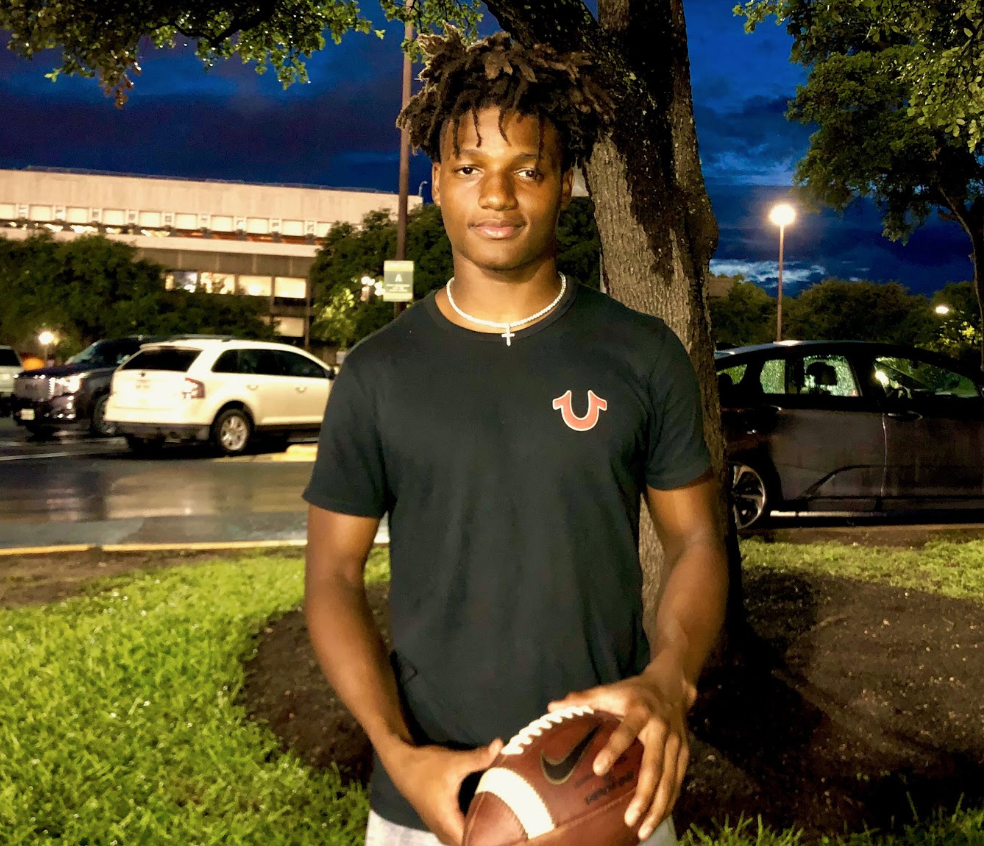 As I hinted on last night, Shadow Creek safety Xavion Alford made it to campus for an unofficial visit with members of his 7 on 7 team and younger teammates.
*** Perhaps the most important bit of information is that Alford will be taking his Official Visit to Austin on September 7th for the Texas and LSU game which will be a "big deciding factor to get to see two heavy teams in my recruitment go against each other."
The visit to Austin was nothing new for Alford who has been a visitor to campus multiple times throughout his recruitment.
"I've been to Texas multiple times," said Alford. "I'm really just kind of seen everything, but really just using it as an unofficial so some of the young guys can get the experience early. So I'm just up here to have a good time with them, but still helping my recruitment on this free unofficial."
Alford left the camp grounds with a group that consisted of 2020 CB Joshua Eaton, 2021 CB J.D. Coffey and ATH Kavian Gaither, and 2022 DB Jaylon Guibeau.
The free unofficial allowed for Alford to spend more time with the Texas staff that is trying to fend off the likes of LSU, Auburn, Florida and Alabama.
"Coach Naiver and Coach Washington, those are supposed to be my coaches (at the next level) really. Just getting a relationship with them who are going to coach me, that's who I'm going to be in the room with. I have good relationship with both of them."
Alford added the both coaches call him quite frequently throughout the week.
Moving forward, Alford will be checking out Auburn on Friday, Alabama on Saturday and Florida on June 16th. Quite an impressive slate of visits moving forward.
As for making a decision:
"I'll say sometime in the fall, like October or November. Sometime around then I don't know."
It's worth noting that Alford could push his official commitment to the first National Signing Day or even till some of the All American Games before making the announcement.
---
The Latest | Alfred Collins Top 5 & Visit Date
– Darius Terrell
*** Quick Update on 2020 Alfred Collins
I was able to catch up briefly with Bastrop Defensive End Alfred Collins, who released his top 5 on Monday night (Collins was helping his Grandmother, so he couldn't speak long). His top five consists of Texas, Texas A&M, Oklahoma, LSU, and Alabama. Collins told me that he is going to wait until the Fall to take his official visits, however, he will be taking a trip to Texas A&M next weekend for an unofficial visit.
No reason to fret for Longhorn fans.
I was able to confirm that Collins will be in Austin on the weekend of June 21st for the big recruiting weekend that Texas is hosting and he plans to take his official visit to Texas during the season so that he can take in a home game (likely September 7 vs. LSU).
Collins has yet to visit both Alabama and LSU, yet both schools made his final list of five schools. I take that to mean one of two things:
*** Collins really, really likes both Alabama and LSU and could potentially be blown away on his official visit to either school.
*** This is really a 3-team battle, with Texas and Texas A&M being the leaders for his services with Oklahoma slightly trailing being the furthest from home.
He reiterated to me that his mother's ties to UT won't have any impact on his decision and she doesn't try to influence him in any particular direction. He's going to go where he feels is the "best atmosphere and situation for (myself)."
Texas has as good a chance as anyone here, but they are by no means the favorite for the local product, in my opinion. I truly believe that he doesn't know where he wants to go at this point. This one is going to be a fight.
---
Thirsty Thursday | Jackson, Karic, Arizona & More
– Darius Terrell
Welcome back to another edition of Thirsty Thursdays! As always, I'm here to try to help quench your thirst for Longhorn Football in the drought of the offseason, along with other topics of interest in Longhorn sports this week.
I'd be doing Texas Longhorn fans a huge disservice if I did not start off this week's TT talking about the addition of Duncanville QB Ja'Quinden Jackson to the 2020 class and the impact that his commitment may have, not just on this class, but future classes to come for Texas football.
As you all know, Texas has finished with back-to-back top 5 recruiting classes in the past two cycles. In 2018, Texas signed the #3 class in the country (using the composite of the three major sites) and a whopping 11 of the state's top 15 rated players. In 2019, the Longhorns would again sign the #3 ranked class nationally. This time, however, Texas only signed 4 of the top 25 players that the state produced.
What changed so quickly? The 2018 class was a unique year in Texas. Usually, the top 25-30 players in the state are represented heavily by the Dallas-Fort Worth area and Houston Area with a few players from Central Texas and East Texas usually sprinkled in. However, in 2018, the vast majority of the top prospects in the state happened to hail from or near the city of Houston. Tom Herman and staff couldn't have been heading to Texas from Houston at a better time. They had already developed relationships with many of the top recruits in that particular class due to them coaching at the University of Houston. It was almost too easy, in a way.
In 2019, two things happened. First, normalcy returned to the disbursement of where the state's top talent was located and Texas got their clocks cleaned in-state. Texas A&M and Jimbo Fisher flexed some in-state muscle, beating Texas out for CenTex 5-Star DL DeMarvin Leal. Texas struck out on the top Wide Receivers in the class, including Austin natives in Garrett Wilson and Elijah Higgins.
What Texas did in response was extremely impressive, as the class received a substantial boost from highly rated players that came from eight different states (CA, AZ, GA, MO, FL, LA, NJ, WI). The past two classes have received nice boosts from players that hailed from outside of the lone star borders, but they have also already shown that it is not a strategy that Texas can continue to rely on. QB Cameron Rising is already gone from the 2018 class. He was expected to compete to be Texas' backup to Sam Ehlinger this season. The 2019 class has also already seen attrition from a West Coast native that the program was excited about and expecting to be a big contributor in the future. With the transfer portal rules that exist today, it will only continue to grow increasingly difficult for programs to keep players happy who may be going through some adversity on campus in addition to being a long way from home.
Here's the issue: Tom Herman hasn't recruited the DFW area well at all during his time as a Head Coach. He's overseen five recruiting classes (including both transition classes of 2015 and 2017) during his time:
2015 (Houston): 16 signees (3 from D-FW)
2016 (Houston): 20 signees (0 from D-FW)
2017 (Texas): 18 signees (1 from D-FW) (Max Cummins)
2018 (Texas): 27 signees (2 from D-FW) (Byron Hobbs, Rafiti Ghirmai)
2019 (Texas): 26 signees (1 from D-FW) (Tyler Owens)
If my math is correct (I'm not the Algebra Teacher at my school for a reason) Texas Head Coach Tom Herman has recruited and signed 107 Football players as a collegiate Head Coach. Only 7 (6.5%) of those players have been from the Dallas-Fort Worth area. That HAS to change if Texas is going to return to college football prominence, especially with the doors to the state being as open as ever to outside programs.
Which brings me back to Jackson.
His commitment could give Texas the jolt that it needs to reestablish their presence in an area of the state that has been dominated by Oklahoma and regularly raided by SEC powers in Texas' absence since Mack Brown resigned in December of 2013.
During his first varsity season playing Quarterback full-time, Jackson was a superstar for his high school team during the season and during the 6A Texas High School Playoffs. He was a Hail Mary away from winning a State Championship and likely MVP trophy as a Junior after rushing for 226 yards and a score while throwing for another 50 yards.
His commitment tweet just two days after he released it has received over 266,000 views and impressions on Twitter. He is a big deal in the Dallas-Fort Worth metroplex and North Texas region in general. Towards the end of that video, Jackson was on the phone with an unidentified player, stating that he would need some help from a few guys going from Dallas to Austin.
Hmmm.
Texas is in very good position with a few 2020 prospects from the area that appear to be trending towards making decisions this summer. Jackson's teammate, DB Chris Thompson Jr., Arlington ATH Jahari Rogers, and Highland Park LB/DE Prince Dorbah could all add their names to the #cloUT2020 commit list before Fall camp begins and Jackson's declaration certainly does nothing but increase those chances. He also happens to be the leader of a high school football program that is among the top programs in the entire country. Duncanville will have at least two nationally-rated players in the 2021 class (Texas has already offered OT Savion Byrd and LB Kendrick Blackshire) and a healthy pipeline of talent coming behind them as well. Texas Football Assistant Ra'Shaad Samples played a vital role in Jackson's recruitment and it doesn't hurt that his father, Reginald, is the Head Coach at Duncanville and considered an icon in the South Dallas and Southwest Dallas County community.
By the time that Jackson and fellow QB commit Hudson Card arrive on campus in 2020 with a Senior Sam Ehlinger at the helm, the Texas QB room will look like this barring any unforeseen attrition:
Senior Sam Ehlinger
RS Sophomore Casey Thompson
RS Freshman Roschon Johnson
Freshman Ja'Quinden Jackson
Freshman Hudson Card
That's about as talented of a QB room that I think I've seen at Texas. Jackson and Card would arrive with zero pressure or need at all to contribute immediately. They could both redshirt and soak up as much as they possibly could for a year before competing for the job once Ehlinger departs. I could even envision scenarios in the not-too-distant future where Jackson plays as a Freshman and even lines up in the backfield with Ehlinger inside of the 20-yard line. The possibilities are fun and endless. The bottom line is Jackson could be a guy that changes everything for Texas and he's coming from #DallasToAustin.
---
Who is Andrej Karic?
Last week, Texas made the move to extend an offer to Southlake Carroll 2020 Offensive Lineman Andrej Karic. I was able to catch up with one of Karic's coaches to get some background on him.
"He works super hard. Great kid with a second to none mean streak on the field. It's insane. He's an easy-going kid, good student, but when he turns it on, I wouldn't want to be someone that he is fighting (laughs).
Karic is listed at 6'5, 240 lbs on the ranking websites, but I'm told that he is closer to 255 lbs currently.
"Big frame, 6'5-6'6 with good feet. He has the type of frame that coaches are looking for in Offensive Tackle recruits at this level."
When I asked about the Texas offer and how big of an impact it may have, I was told that Karic is a bit of a unique situation. His family hails from Bosnia, so he may not have grown up with an attachment to any school as a youth.
Taking a look at his highlights, the mean streak is evident, as are some light feet and impressive hand placement. He obviously needs to get stronger at the point of attack, but that is what Yancy McKnight roams the 40 Acres for. This is no three-star prospect. I have faced Southlake Carroll as a coach twice now and I know two things: Their players are going to be disciplined and they're going to play extremely hard for 60 minutes. If Texas OL Coach Herb Hand felt like Karic was worthy of an offer at this stage considering what Texas already has and what they expect to add, then we would be wise to start paying closer attention to this kid. We hope to get more on Karic for you guys later.
Junior Highlights:
Clayton Smith picks up his Texas offer
Texarkana 2021 ATH/LB Clayton Smith is a guy that I featured a few months ago after he and a few family members made the trek down to Austin to take in the Longhorns' Orange-White Game. Yesterday, Smith received his official offer from the Longhorns (it's the pinned tweet on his twitter profile by the way). A man of few words, I was able to catch up with him to get his thoughts on the new offer.
"It felt like I reached a milestone. I had been waiting for that one for a while, but it was also expected."
When I spoke to Smith a few months ago, he seemed confident that the offer from Texas would come. There was little doubt in my mind as well. There has, however, been a question in the mind of some about what side of the ball Smith would ultimately land on (he is also a very good TE prospect). That question was answered once his high school coach told him who to call.
"My coach texted me and told me to call Coach Orlando. I love the idea of playing LB."
Smith becomes the second in-state LB in the class to be offered by the Longhorns staff. The staff's attention will be rewarded as Smith will be returning to campus for a second unofficial visit in a short amount of time. His interest is sincere,
"I'll be heading back down there (to Austin) on June 22nd for the recruiting weekend that they're having."
Smith also has visits this summer planned to Ole Miss, Texas A&M, and TCU. He said there's a possibility that he will be able to make it down to Baton Rouge to check out LSU before the summer is over.
I'm not ready to call the Longhorns the leader for Smith, but Texas and Arkansas are going to have as good of a chance as anyone in this recruitment as they've been on this kid harder than anyone else very early.
Smith debuted at #25 on my Texas Top 25 for 2021.
---
Big-Time 2021 Visitor
Katy (Tompkins) Defensive Lineman Tunmise Adeleye was planning to visit Texas on the weekend of May 4 but ended up not making it in. Adeleye intends to be on campus for Texas' big summer recruiting weekend and this will be a return visit to Austin for Adeleye. In a deep 2021 class for Defensive Linemen, Adeleye is one of the best available and it's a good thing anytime Texas can get him on campus and around the players and staff.
Adeleye debuted at #11 on my Texas Top 25 for 2021.
---
2021 In-State DL gets Texas offer
Continuing the 2021 Defensive Line news, Texas extended an offer to talented Wichita Falls (Rider) DL E'Maurion Banks on Wednesday evening. Banks is raw, but very athletic and is only scratching the surface of what he could possibly be.
I have it on good authority that Texas is going to be a major player for Banks and this is one to keep an eye on once that class comes more into focus next January.
Sophomore Highlights:
---
Super K and Charlie have been all over Tucson (Salpointe) Safety Lathan Ransom and his recruitment. All signs are pointing to Texas trending well in his recruitment and the same can be said of Texas and his teammate, Running Back Bijan Robinson.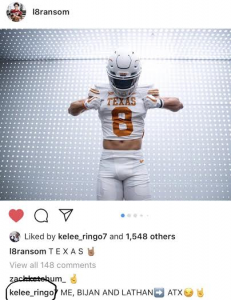 Texas is thought to have slipped a little bit as far as being the leader for Scottsdale (Saguaro) Cornerback Kelee Ringo, but as the tweet above indicates, he's still fully aware of everything that's going on with the Horns and other recruits from his area. Texas just has to keep chopping wood and doing what they're doing, the 2020 class still has a chance to be very special.
Instagram comment translation: (Kelee), Bijan, and Lathan to Austin, TX