Open Post | Tuesday, July 9th
Posted on: July 9, 2019
The Opening | Jake Majors & Vernon Broughton
– CJ Vogel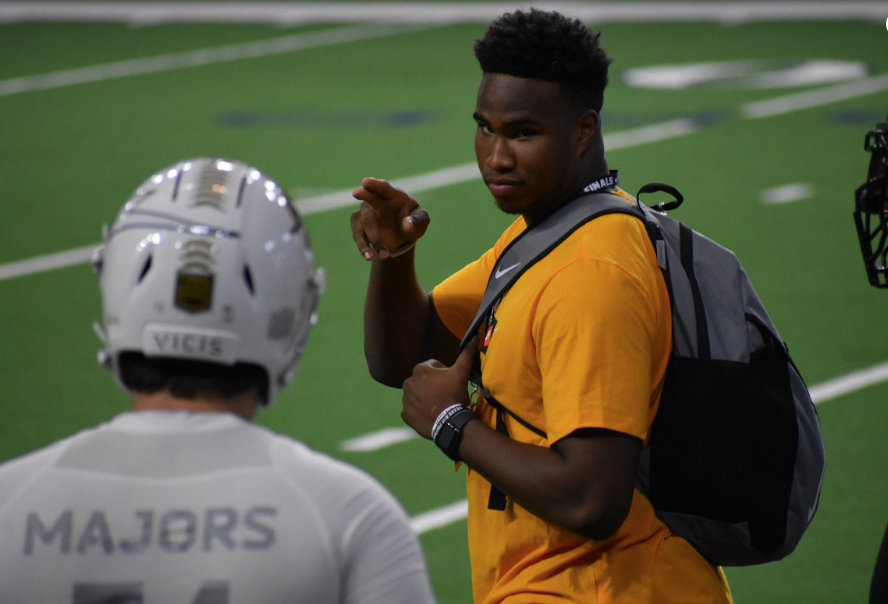 Jake Majors
Majors is one of several Texas commits participating this week at The Opening. As Will touched on it yesterday, Majors had a rough stretch during the one-on-one drills, but most of the struggles likely came as a result of being thrown at the center position, a spot he said he learned in two hours Monday afternoon.
Regardless, The Opening is going well for Majors and he's enjoying his time in Frisco.
"It's been fun," said Majors. "Being around all these guys from across the country, it's a learning experience also. I'm trying out center right now, I learned it in about two hours. Basically just sets and hand placements and stuff. It's been a fun learning experience and I couldn't thank God enough for it."
The center position is one that would probably benefit Majors in the long run as he projects as an interior lineman at the next level.
"(Coach Herb Hand) told me I'm going to be on the interior," said Majors. "He told me to keep working on my snaps because I'll probably be right there."
Majors said he "loved" the center position once he got acclimated a little better. The center spot could certainly become a full time move once he moves in to the 40 Acres.
As we've touched on, Texas is represented with Majors, Logan Parr and Hudson Card, and the group of Texas targets has been a main focus for commits, fans and reporters alike. Majors said he has been putting on his recruiting cap early on in the week and hopes to sway some of those Texas targets to put their Horns Up.
"I've been talking to Vern (Broughton) ever since he got here, I've been talking to him. I've talked to Mookie (Cooper), Princely (Umanmielen) for sure. And some of the other guys that I know that are in the Texas recruiting world. Just to go talk to them and let them if they do commit, that's good because we're going to build a relationship no matter what."
Majors said he's pretty stopped hearing from schools, except for USC. But the good news to follow is that the Prosper native has no plans to visit anywhere other than Austin.
---
Vernon Broughton
We touched on it on Monday, but Vernon Broughton did not partake in the first real day of The Opening after arriving late on the way up from a family reunion. Still, he expects to participate in the remaining days of the camp once he gets all the equipment needed.
Broughton is at a real interesting point in his recruitment with all of his official visits out of the way and decision looming in the near future. "About a week from now, me, my mom, and my grandmother are going to go to a nice restaurant, bring a notebook and pencil and see where I'm going."
The purpose of the meeting will be to hash out the pros and cons of each school in contention for the Cy Ridge prospect and come to a decision, one that is real close according to Broughton. A high emphasis will be placed on the living style at each school, how he will fit in the defensive scheme and which program his family really backs.
** Broughton said he is not leaning in one way or another before the sit down meeting with his mom and grandmother.
The Texas front still feels good about Broughton, as he had this to say about the Longhorns and his recruitment.
"I mean my family can come down, like 2 hours out. They have nice facilities and everything. I'm good with Coach Giles, Coach Herman – I'm really good with them."
Tom Herman has been very involved in Broughton's recruitment as well, Broughton said he texts him just about every other day to see how things are going on and off the field.
---
2021 QB Thought
– Andrew King
Earlier this week, Denton Guyer (TX) '21 quarterback Eli Stowers committed to Texas A&M.
My initial thought is that this is actually good news for Texas with their early 2021 QB targets.
Another note is that Oklahoma already has a QB commit in Prince Avenue Christian (GA) Brock Vandergriff. Both Stowers and Vandergriff are very talented, but Texas didn't offer them.
They have their sights on two of the top QB's from the state of Texas in Prestonwood Christian QB Preston Stone and Katy Tompkins QB Jalen Milroe. Both are duel threat guys, with Stone being the more polished passer and Milroe being the higher upside athlete of the two.
When you think of who Texas usually battles for their top targets the most often? Texas A&M and Oklahoma. The Longhorns are in a good spot for both QB's and could end up in a spot to be even more picky in choosing the QB they truly like the most in the 2021 class.
---
Jersey Numbers for Texas Newcomers
– Andrew King
We already knew the jersey numbers for several Longhorn newcomers who took part in fall camp. The rest of the list is out for the rest of the freshman and transfers who enrolled this summer.
LB DeGabriel Floyd- #1
DB Kenyatta Watson II- #2
QB Roschon Johnson- #2
LB Juwan Mitchell- #6
DB Chris Adimora- #11
WR Marcus Washington- #15
WR Jake Smith- 16
TE Jared Wiley- 18
RB Jordan Whittington- #21
RB Derrian Brown- #24
DB Marques Caldwell- #24
LB Caleb Johnson- #30
LB David Gbenda- #33
DL Jacoby Jones- #36
DB Tyler Owens- #44
DE Peter Mpagi- #46
OT Isaiah Hookfin- #65
OT Willie Tyler- #69
OT Tyler Johnson- #72
OG Parker Braun- #73
OT Javonne Shepherd- #77
WR Kennedy Lewis- #84
TE Brayden Liebrock- #89
DL Myron Warren- #92
DL T'Vondre Sweat- #93
---
Quick-Hitters | Prince, Mookie, Princely & Ringo
– Super K
***Prince Dorbah ready to roll. Most of you already know the deal and if not, it does seem he tipped his hand a bit here…
***Checked with a source very close to Mookie Cooper. Asked if he will still take his official visit to Texas. Was told…
"Doubt it. Think it's a wrap now".
While I do believe that is currently the sentiment, I won't call it dead until the season gets going. Season performances can always change things. But for now, at least, I think the Cooper story is on pause.
***Texas A&M continues to be the current favorite for Princely Umanmielen. This really is coming down to where Princely seems himself fitting in – SDE in a 4 man front vs. B gap in a 30 front.
My gut tells me that if Texas is winning, that will get thrown out the window. But this is where it is right now.
***Not a ton to say about Ringo other than I'm told he's very eager to get back to Texas for a visit.
I suppose this is more to remind people that despite the Georgia talk, Texas is still in this one. I plan on speaking to him in detail, likely next week.
---
Thirsty Thursday on a Monday | Momentum, Perception & 2021 QB
– Darius Terrell
Welcome back to another edition of Thirsty Thursdays! As always, I'm here to try to help quench your thirst for Longhorn Football in the drought of the offseason, along with other topics of interest in Longhorn sports this week.
Let's Talk About Momentum (Perception)
For the past week and a half, I've been out of the country and traveling to different states since I've been back, but I had been checking in to the board every opportunity that I could in order to stay as up to date on everything as possible.
CJ and Will did a fantastic job covering "The Opening" as well as the Heat Wave event and Charlie and Super K have kept the clutch updates rolling in, as always. While reading their content, I couldn't help but read the comments below and get the vibe that there seems to be a sense of doom and gloom on the site.
I think that sometimes it gets really easy to focus on the negative instead of the positive. The Texas Longhorns are one of, if not the, most highly-covered program in College Football. That spotlight and attention has only intensified over the past few years, with more eyeballs and attention than ever coming from a region (the Southeast) that previously didn't have a huge interest in what the state has.
What the schools in the SEC have learned is that the state of Texas is a gold mine. There are plentiful resources as far as talent goes and the prospects from the state are as receptive as ever to leaving. Texas is no longer just recruiting against the regional foes, most of these kids are taking visits to the same out-of-state campuses and they are hearing the same negative pitches everywhere that they go about Texas. From down in College Station, across the South to Athens, Georgia, all the way up to Columbus, Ohio, it doesn't stop. I'm not sure that any other program has to combat that quite like Texas does.
Today, I wanted to take some general comments that I've seen over the past week and a half and try to give a different perspective. I get frustrated by negativity when there really isn't much justification for it. I'm here to spread some positivity on this Independence Day weekend while you are hopefully enjoying time with loved ones. Let's go.
"Why haven't we heard more updates from the Heat Wave? That must mean the event went poorly."
Texas secured a commitment from Kitan Crawford (the top CB in-state for my money) and a silent commitment from another top 2020 player that should become public soon. That's two big wins coming out of that weekend.
Expectations play a big part in perceived momentum as well. Anyone that may have been hoping for guys like Bijan Robinson and Lathan Ransom to shut things down were setting themselves up for disappointment from the start.
Texas had the following 2020 uncommitted names make their way in to town during the week and leading up to the Heat Wave event prior to the dead period beginning:
5-star RB Bijan Robinson
5-star WR Johnny Wilson
5-star RB Zach Evans
4-star WR Quentin Johnston
4-star DL Vernon Broughton
4-star S Bryson Washington
4-star S Xavion Alford
4-star DL Alfred Collin
4-star DT Octavious Oxendine
4-star OL Courtland Ford
4-star CB Joshua Eaton
3-star DE Jalen Logan-Redding
3-star DL Van Fillinger
That's an awfully impressive list of guys to get on campus before the dead period began on July 1st and it doesn't even include guys like Jase McClellan, Lathan Ransom, and Prince Dorbah who officially visited the weekend prior. It also doesn't include some important 2021 recruits that made their way into town for the event. Again, not bad at all for a program with "no momentum."
"Why do we only have 7 commits? A&M and Oklahoma have twice as many. We're getting killed in recruiting!"
At this same point in the previous two recruiting classes, (back-to-back top 3 classes I might add) Texas had 10 commitments. In both years, Texas added multiple commitments in the month of July in both classes and the same is still expected to happen in this class.
Another thing to consider is that this is going to be a smaller class in 2020 than the previous two. That will also impact the final overall ranking that the class as a whole receives. Texas only has 11 Seniors on the roster by my count. There is no need or rush to take commitments that the staff isn't 100% sure about.
Looking at aforementioned Oklahoma and Texas A&M, I'd caution to remind readers that quantity doesn't necessarily always equal quality. If you fill up on too much bread, you don't leave yourself much room for the main course.
Of Texas A&M's 15 commits, Texas actively recruited 3 of them. Demond Demas, Jaylon Jones, and Troy Omeire. Everyone wants Demas, who is truly elite, but the Aggies did a great job on him early. Jaylon Jones sees a better opportunity to play early at A&M. Texas heavily recruited Omeire for months, but appeared to slow communication with him towards the end. The confidence that Texas feels in landing Quentin Johnston may or may not have played a role in that.
While we are on the topic of A&M, I would be completely out of line if I failed to mention the hypocrisy that I've been reading from a few different places when it comes to their class. When Texas went out of state to fill holes in their class for 2019, a common line that you heard from Aggie fans were "Texas got shut out on the top players in-state. They had to scramble to find guys from outside the borders."
Oh, Ok. Let's take a closer look, shall we?
Currently, 6 of their 15 commits (40%) hail from different states. A&M is having to go to North Carolina and Maryland to find WRs and DBs when they're located in a state that seems to churn them out in abundance like the wild hog population.
Interesting.
The Ags have 3 Defensive Line commits currently. You want to know how many of them are from Texas? The answer is zero. They have two commitments from New Jersey (1 4-star, 1 3-star) and a 3-star commitment from Tennessee.
Interesting.
We're talking about Texas striking out on Running Backs? A&M has a Running Back commitment from a composite 3-star from all the way in Georgia.
Who's really getting shut out here? At least when Texas went out of state in the last recruiting cycle, they were landing elite national guys (Jake Smith, Brayden Liebrock, Kenyatta Watson, De'Gabriel Floyd, etc.).
Some people would lead you to believe that "Texas A&M is the hottest team in the country right now for recruits." I'll say it multiple times in this piece today: Pay attention to who is doing the speculating (attempting to control the narrative) and who their target audience is.
If you're really looking for the hottest team in recruiting right now, take a look at Michigan and what Jim Harbaugh is doing. The Wolverines have picked up 11 commitments over a span of 12 days.
Again, I just find it all to be very interesting.
Turning our attention to the team up north …
Of Oklahoma's 14 commits, Texas actively pursued 3 of them. Michael Henderson was Texas' #1 target for the H-Back role that was eventually filled by Jaden Hullaby, who is also a versatile, quality prospect. Jase McClellan has been committed to Oklahoma for nearly 2 years, yet he has stayed in constant contact with the Texas staff and took an official visit to campus a few weeks ago. Bryson Washington was a head-to-head loss, with his primary reasoning being that he saw a much quicker path to playing time. Texas was interested in Ryan Watts early, but there appeared to be a mutual parting of ways there a few weeks prior to his commitment.
"Texas trails for Vernon Broughton. How can this happen? Oscar Giles needs to be replaced!"
There is a lot of hand-wringing going on from Texas fans when it comes to the recruitment of Broughton and rightfully so. Broughton made a last-minute visit to campus before he took his final official visit, to *drumroll* Texas A&M.
The biggest snag that Texas appears to be running into with Broughton is his scheme preference at the next level. Naturally, Broughton sees himself getting up the field and rushing the passer. A&M has done a very good job of trying to convince him that their 4-man front is the system that will give him the best opportunity to do that. Texas primarily runs a 3-man front which has the perception of limiting linemen from getting big statistical numbers.
Broughton, who has a prototypical 3-4 DE body, reminds me a lot of former Dallas Cowboys and NY Giants DE Chris Canty, who played at 6'7, 315lbs.
The facts are that Texas Defensive End Charles Omenihu had more sacks (9.5) and tackles for loss (18) than both the leading sack guy (7.5) and the TFL leader (14.5) on the Aggie Defense last season. It seems like that would be an easy answer to that, but there isn't much that you can do if the kid doesn't see it for himself yet.
Broughton is the top DL target on the Texas board and missing out on him would undoubtedly be a big blow. The good news is that Texas has been extremely proactive in recruiting multiple players along the D-Line in 2020 and appear to be in good position with other top targets if they do miss.
As far as Oscar Giles goes, I can't disagree that it wouldn't hurt to get him some type of assistance on the recruiting side, but his ability as a coach and developer of talent once they get to campus cannot be questioned. Just like with the DBs, once the first big domino (commitment) falls, I think we will see decisions from the others come fairly quickly.
"There are crystal balls coming in for Bijan Robinson to commit to Ohio State. We're doomed. Fire Stan Drayton!"
Robinson stated that Texas was his leader a few weeks ago prior to taking his official visits. Robinson visited USC and Ohio State prior to his trip to Austin. By all accounts, he had a great time on his official visit to Texas as well as the other schools. There hasn't really been much to report outside of that. Anything that you read or hear about him leaning anywhere at this point is speculation. With that in mind, try to pay attention to who is doing the speculating and who their target audience is.
Call it what you want, but Jase McClellan appears to be playing the long game and I wouldn't be surprised at all if we looked up next February and saw that the 2020 class of Running Backs played a game of musical chairs.
Zachary Evans seems to change his mind fairly often. While I'm a firm believer that he signs with Alabama, I'd be comfortable betting that he finds his way onto campus for an official visit at some point during the fall.
Stan Drayton signed the top Running Back in Texas in 2017 in Keaontay Ingram. Ingram rushed for over 700 yards as a True Freshman. In 2018, he signed Jordan Whittington, a composite 5-star. Whittington is playing Running Back at Texas. That's consecutive years of signing the best back available from the state of Texas. Texas has signed a quality back in every class that Drayton has been here, that is unlikely to change in 2020 with all of the talent available. Just try to relax a little bit.
"This lack of momentum is a clear sign that Texas isn't really "back" like Sam Ehlinger suggested after the Sugar Bowl."
Just because Texas didn't land a bunch of guys in June doesn't mean that the program doesn't have momentum. Again, I know it's hard, but trying to exercise some patience would really go a long way. If back-to-back top 3 recruiting classes isn't recruiting momentum, then I don't think I know what is. The 2020 class has a commitment from the best pound-for-pound player in the state, the top Corner, and three consensus 4-star Offensive Line recruits. Texas fans are seeing everyone else open their Christmas presents and forgetting about what they already have. There are more presents under the tree, you're just going to have to wait a little longer to see what else you got.
A 10-3 season that saw Texas make its first Big XII Championship appearance since 2009 and included primetime victories over USC, Oklahoma, and Georgia can't be seen as anything but positive momentum from a program that hadn't won double digit games in over a decade. Any counter argument is just someone trying to rile you up. Simply stand up, walk away, and go fix you a plate of July 4th leftovers as you ignore any and all weak troll attempts.
---
2021 Recruiting Board – Quarterbacks
The timetable for recruiting has changed significantly with the rule change allowing players to take official visits during the spring of their Junior years of high school. Over the course of the next two months, I am going to take a position-by-position look at the 2021 class as Texas has already received an early commitment and more offers than ever before have been extended at this stage to the younger group.
This week, we will begin with the signal-callers. Texas will likely be looking to only take one guy at the position after landing two big-time talents in Ja'Quinden Jackson and Hudson Card in 2020.
The Early Candidates:
Preston Stone (Dallas, TX) Parish Episcopal HS
Ranking: #20 Nationally, #1 D-T QB (Rivals), #23 Nationally, #1 D-T QB (247), #3 Overall (TX Top 25)
Where Texas stands: Texas was one of the first schools to offer Stone and is believed to be at or near the very top of his list.
Highlights:
Jalen Milroe (Houston, TX) Katy Tompkins HS
Ranking: #74 Nationally, #3 D-T QB (247), #98 Nationally, #2 D-T QB (Rivals), NR (TX Top 25)
Where Texas stands: Milroe was a recent Texas offer (June 16) and he has made his way to campus twice since picking up that offer, which would seem to signify some serious mutual interest on his part.
Highlights:
Jake Garcia (Harbor City, CA) Narbonne HS
Ranking: #21 Nationally, #6 PP-QB (Rivals), #24 Nationally, #3 PP-QB (247)
Where Texas stands: Garcia was offered by Texas back in May. He visited campus in November of 2018, signifying his serious interest in the program. Miami is the perceived front-runner for his services at this stage.
Highlights:
Other Names to Watch: Dematrius Davis Houston, TX (North Shore), Eli Stowers Denton, TX (Guyer) (Texas A&M commit)
Early Outlook: Texas made it clear extremely early that Stone was their guy, offering him more than a full year before recently extending offers to Milroe and Garcia. With Milroe making consecutive trips to campus after picking up his offer, I get the feeling that Tom Herman and Tim Beck want to have their signal-caller for the 2021 class locked in sometime relatively soon. I think the Longhorns only take one in this class and it may be on a "first-come, first-serve" basis between the two in-state prospects.