Open Post | Wednesday, July 3rd
Posted on: July 3, 2019
Jahari Rogers | Is Florida a Threat?
– Super K
In one of the recent threads, some of you mentioned some concerns about Jahari Rogers possibly trending towards Florida.
I will point you to a preview note I wrote back on May 2nd where I mentioned Florida being a real threat, specially saying:
A team that does appear to be a real threat to Texas for Rogers is Florida. Again, I'll go into detail on that but I was a bit surprised at just how high Rogers seems to be on Florida.
Since then, Rogers has taken both his Florida and Texas official visits and in speaking with sources on the Texas side, it seemed that Rogers was indicating to the staff he was ultimately headed for Texas.
I can tell you that in a lengthy conversation I had with Rogers back in May, the reason I came away thinking Florida was a real threat was directly tied to coach Torrian Gray. Gray is Florida's cornerbacks coach. Gray has an impressive resume and having met him on the recruiting trail, I can tell you he's also a very relatable person.
Rogers has emphasized that his mother's opinion will weigh heavily on his decision. Gray, it seems, took an extra initiative to really get to know his mother. In fact, Jahari told me that he loved the fact that Gray communicates with his mother even more than he communicates with Jahari, himself.
With Rogers transitioning at the next level from QB to CB, Rogers said that Gray's history of developing NFL guys at Virginia Tech and then Florida and then his coaching experience in the NFL was a big draw.
Having said that, Jason Washington has a strong resume of his own and Texas is much closer to home for Rogers; not to mention his mom could see him play.
CJ and Will are at The Opening and Rogers is there. So, we will see if we can find out the latest.
It was my understanding that Florida was a threat but that Texas ultimately would be able to defend against that threat. We'll see if we can find out if that continues to be accurate.
I will note that I exchanged a few texts with Jahari recently and in terms of decision timeline he said he has no idea when he wants to announce. However, I do believe it will be sometime this summer.
More as we get it…
---
The Opening | Xavion Alford and Chris Thompson
– The Football Brainiacs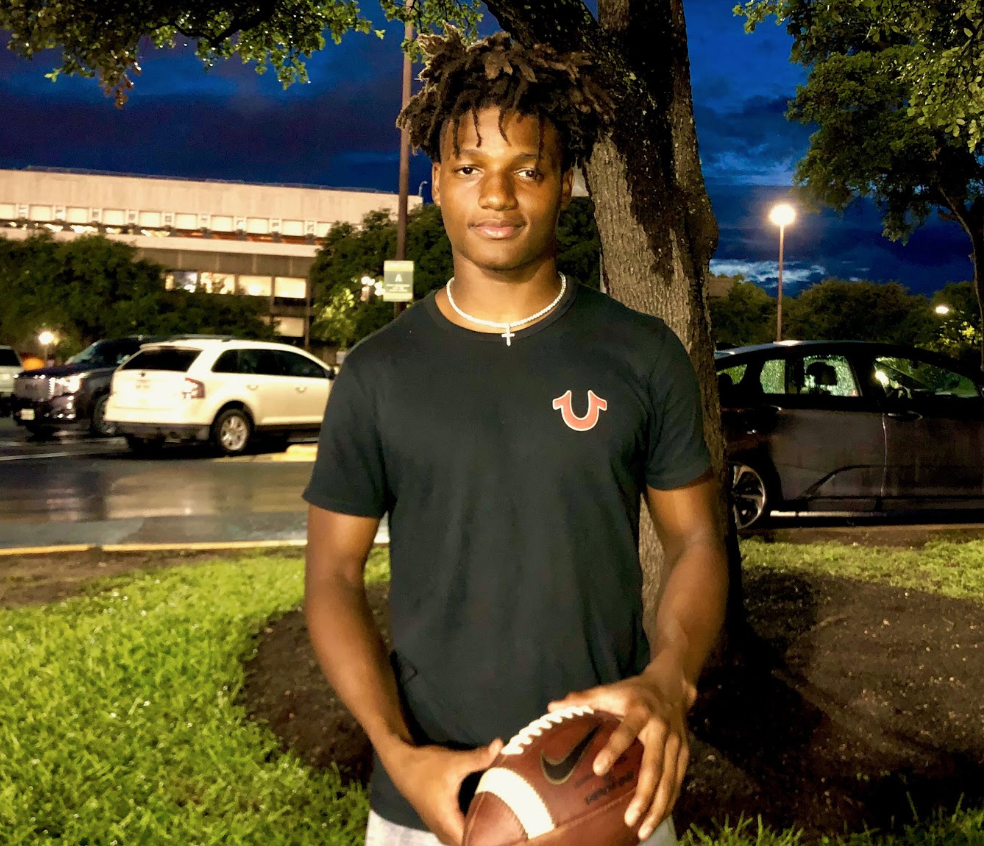 2020 Shadow Creek S Xavion Alford is out at The Opening and caught up with our Will Baizer to talk his current recruiting status.
We've hinted Alford's recruitment is tilting in favor of Alabama, but things are still fluid and there's still time for Texas, and other schools, to hop back in the mix.
"Coach Saban and (cornerbacks) Coach Scott have done a good job of recruiting me," said Alford. "I went up there multiple times and every time I just liked the campus more and more. After this last time I went, I camped also, it was a really big jump for me. I jumped up on their boards more and that really caught my eye too."
Outside of the Tide, Alford still mentioned Texas as a school that is catching his eye. He added Michigan, Texas A&M, Florida, and Auburn as other schools while surprisingly leaving out LSU.
Both Texas and Texas A&M are appealing to Alford off of proximity alone.
"I also have to watch the college football season this year to see the production they have. Texas had a great season last year so they kind of have to go up in the rankings, they can't go down. They won 10 games, and they signed a great 2019 class so they should be going to the Playoffs in my eyes. If they do that it would be an eye opener."
Texas safeties coach Craig Naiver is the man in charge of the Alford recruitment and so far the two have really grown in their relationship.
"Me and Coach Naiver have a great relationship. Actually, we talk almost every day," Alford said. "When we talk it's not always about football, sometimes we just talk about normal stuff just how everything is going. He's really just a good coach."
As we mentioned following Alford's unofficial visit to Austin during the camp season, Alford will be on his official visit to Texas on September 7th for the LSU game. He also plans to OV for the Alabama and LSU game in Tuscaloosa in November.
Getting to watch both Alabama and Texas play the same opponent in LSU will give Alford a great idea of how the coaching staffs at each school prepares, executes and adjusts in a big game setting, something he pointed out as something he will keep a close eye on.
When it all comes down to it, a big year on the field will do wonders for Texas' chances with Alford. Having gone to the State Championship last season, Alford said winning is one of his biggest priorities when choosing his destination for the next level.
"I've been a competitor my whole life, I want to win."
(CJ Vogel)
---
Another one of Texas' top safety prospects, Chris Thompson Jr. out of Duncanville, was a late addition to the Opening Finals roster. While some sites say he sits at 195-pounds, the eye test says he's weighing about 10-15 pounds more than that.
So far, Thompson has taken two official visits. He took his Texas official back on May 4th and his latest official was to USC on the 21st of June.
Texas came out of that visit as the heavy favorite to land the rangy and highly touted safety. It wasn't just the atmosphere and history of Texas that impressed him, but the interactions he had with the current players, "Just talking to the players. Really made it better. I talked to Josh Thompson, Caden Sterns, and BJ Foster on a more personal level."
Texas is still right at the top of his list with the pitch that he will be the next Caden Sterns, "They want me to be the next Caden Sterns. It shows that they are pretty interested in me that they want me to follow a guy of that caliber." On top of this, Thompson appreciates the loyalty that Texas has shown, "It's close to home and they have been with me since day one." Thompson specifically gushed about his relationship with safeties coach Craig Naivar, "He's pretty loyal. He's stuck with me since my sophomore year, and he's the only dude who has really stuck with me since day one."
However, since naming Texas the leader back in April, Thompson has walked his statement back a bit and started to explore other schools like Ohio State, Auburn, and USC. Each one of these trips has affected him, including the most recent trip to USC. When I asked him to tell me what he learned on his USC trip he immediately stated, "I loved USC… They have a big plan for me that can prepare me for the NFL so that is pretty attractive to me."
Thompson let me know to expect an announcement about his decision "…before the season, so around August."
(Will Baizer)
---
The Opening | Card & Cooper
– Will Baizer
Mookie Cooper
While he wasn't originally going to make it to Dallas for the Opening due to a groin injury, former Texas commit, Mookie Cooper, will compete in the Opening this week. The electric receiver out of St. Louis is also coming off a number of trips to schools like Ohio State, Illinois, and an official to USC.
Cooper was planning on making his way to Texas earlier this summer, but was unable to make the trip into town. However, he tells us that nothing has changed and that he's still high on Texas, "Coach Mehringer and I are still pretty close — all of the coaching staff – everything is still the same. It just rescheduling a visit. There is nothing holding us back. The relationship is still the same."
Well, if he's still high on Texas, why did he decommit? According to Cooper, it wasn't that his feelings for Texas didn't stick, it was that "…I just didn't want to rush a commitment."
While Cooper decides where he wants to sign his name, fellow St. Louis receiver Marcus Washington remains a constant voice in his ear. The current Longhorn receiver gave Cooper a call as soon as he landed in Texas to try and sell him.
Cooper tells me that his decision timeline is unknown as of now, but will definitely be before the signing period. Right now Cooper is trying to figure out when to take his official visit to Texas, but he has an idea, "LSU… that'll probably be a good one to go to."
Hudson Card
The potential future gunslinger at Texas, Hudson Card, has been having a nice few days out here in the Elite 11 competitions.
Today they competed in 7v7 (using local players, not Opening players) and each quarterback got eight minutes. Card ended his run completing six of ten with three touchdowns. While he did make one poor decision, the rest of the incompletions can't be pinned on Card. From what I saw, he is the same pin-point accurate quarterback that Longhorn fans will come to know.
One of Card's biggest jobs for the weekend will be making sure that some of the bigger names here get to know him as well, "I have Johnny Wilson, so obviously we're going to go after him. I haven't actually met him before… But putting Texas in their mind throughout the week. That's my plan. Just to have fun, play with them, and build that connection that will be easier to help them make a decision… guys like Lathan [Ransom], Bijan [Robinson], Kelee [Ringo], Chad Lindberg, and Bryson Washington."
---
The Opening Notes and Quotes | Umanmielen, McClellan, and Rogers
– Will Baizer
2020 DL Princely Umanmielen (Manor)
The defensive lineman who lives right outside of Aust has become one of Texas' most important targets. Luckily for the Longhorns, having a talent this close to home has its benefits like being among the favorites to land the talent. As we've reported in the past, Umanmielen told us that Texas is fighting Texas A&M, LSU, and Oklahoma for his signature.
At this point, he isn't looking for anything special in his trips to any school. Now it's about getting to know the staff and players more, "I've already seen what I need to see, so really it's just about the relationship building and depth charts."
Oscar Giles has laid out a solid foundation in this regard according to Umanmielen himself, "We've been talking since I was a freshman. Our relationship is good and we talk on the phone a lot." As for the players, they make Umanmielen feel like he's already part of the team, "I've met all the team. I know everybody. It feels like I'm one of them. They make me feel like I'm one of the teammates and one of the brothers." Being the first to the race is really helping Texas here.
However, A&M's Terry Price is a known recruiting guru having beat Texas out for Demarvin Leal (which still leaves me perplexed). With less time it appears Price has been able to build a strong relationship with Umanmielen as well, "Coach Price is a funny guy. I've been talking with him since this year… I can talk to him like he's a teammate."
Umanmielen told me that he plans to commit on October 15th and to take his official visit to Texas during the LSU game, adding that he's "…expecting [Texas] to do [LSU] like they did Georgia."
---
2020 RB Jace McClellan (Aledo) – OKLAHOMA
The 5-star Oklahoma running back commit, Jace McClellan, wasn't too eager to give too much away besides the fact that he maintains he is solid to Oklahoma but that he is also "…exploring my options."
Right now he doesn't have any visits to other schools planned but did say that he will take more visits during the season.
His last visit to Texas was for his official visit, which was kept under wraps until he was on campus. While the trip to Austin didn't pull him away from his pledge to the other side of the river, it was very educational, "It was just a great time. I got some time to spend with the coaches. It was a different environment… I learned where I stand with them and where I would fit in with them."
---
2020 CB Jahari Rogers (Arlington)
Rogers is fresh off his official visit to Texas for the heat wave, and the entire trip put the Longhorns in a better position than where they started:
"I've been up to Texas three times. The first time was eh. That was during a game and they lost. It was whatever. The second time they showed a little more love. The third time was the OV and of course, they're going to show more love, but it really wasn't about the coaches to me. It was about what the players had to say and that's really what you want to know. They are living it right now. I got to pick their brains about certain coaches and people. I got to really ask them the questions. I got a lot of good answers."
On top of the recent trip to Texas, he has another Longhorn in his ear while he is here in Caden Sterns who has been mentoring him on the field and Rogers is loving it, "Yeah, when we were doing one-on-one's he helped me a lot. Caden is a great dude to talk to because he knows what he's doing. You see him produce on Saturdays and he'll be a top pick. That's the players you want to be around. You want to be around players who know what they're doing and want to get to the league. You also see him doing things for his team off the field."
Right now he has taken three of his officials. The first one was to Arkansas, but it was the ones to Florida and Texas that rocked the boat, "I visited Florida — I like them a lot — and Texas. I have like a school left, but I'll keep it on the down low."
There have been many rumors floating around that Jahari is a Florida lean. By the way he talks about the program, it is not too hard to see why: "It's just different. Being there the vibe among a whole bunch of great players… It's just different. The DB coach, coach Gray, is second to none and Coach Samples is the best strength and conditioning coach. You have to put them in a different category."
His recruitment process seems to be coming to an end as well so we'll learn where he will sign "…it probably at the end of this month. I have some people to talk to like my mom and dad." The finalists? "Texas and Florida of course! There are a few other schools, but we'll see what happens."
---
Bryson Washington | The Latest
– Super K
As you know, Bryson Washington has his announcement set for July 4th.
Texas has gotten the last two visits, including an unexpected unofficial visit in early June and most recently, an official visit on the weekend of the Heat Wave event.
Going into the official, OU still had a slight lead. Coming out of the official Bryson said that Texas had retaken the lead.
As of yesterday, Oklahoma has again pulled ahead.
I know, as of late, it's been a rough go in recruiting. He has not informed us of his final decision (you'll understand why we will know first once you see the commitment). But, I want to prepare you all for the real possibility that it could be OU – though I suspect many of you already knew it was going to be a tight battle.
---
The Opening | Notes, and Quotes | Texas Strike A Chord With Johnny Wilson
– Will Baizer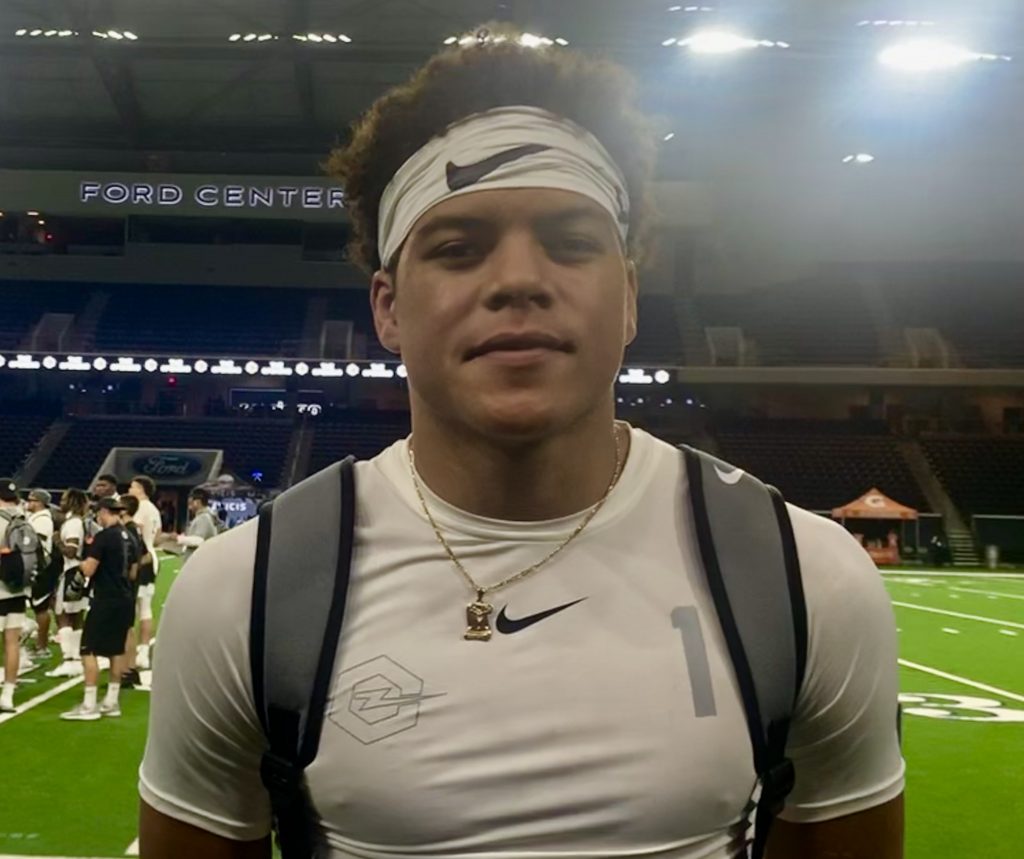 One of the biggest story-lines coming out of the Heat Wave last week was the success the staff had with the Calabasas (CA) 5-star wide receiver, Johnny Wilson. The 6'6", 220-pound pass catcher has been getting quite cozy in Texas as he has now spent fourteen days in that state over the past month (ten of those in Austin).
All it took was a trip to Austin to get the wave rolling as the coaching staff was able to strike an immediate chord with the prospect, "It was amazing. I felt like the first time I went up there it was a shock. I didn't know what to expect when I got up there. Then I got to sit in the meeting room… and I don't know if I've ever learned more in a twenty-minute meeting… I feel like they have a great coaching staff over there, and they can get me where I need to go if I go to Texas."
What Johnny learned about the program on his first trip made him feel as though he needed to get back as soon as possible to experience the culture and bond with the players – who he hung out with every single day he was in Austin. However, this trip he wanted to bring along his mother. While he spent time with the players, his mother got the chance to understand what exactly Texas holds in store for her son. As I reported in our last conversation, the ability to get his mother on campus was a huge win and Wilson was able to lay out exactly why that is the case:
"My mom came out here to Texas with me. She loved it. She thought it was going to be something totally different. Honestly, she thought it was going to be a desert… I really feel like the coaching staff and everyone around her made her feel really welcome and they explained to her that whether or not I played football for them I'm going to get my education. That was the main thing, knowing that I'm going to get my education for sure and seeing how they can develop me as a receiver. She got to see that first hand. For them to be able to explain that to her so that she could understand how it works was really impressive."
The trip and the Texas staff were able to completely change mom's opinion on the state and beyond. Again this is big because his mother and grandparents (who he lives with) will be following him wherever he goes out of state: "My grandma is about to retire this year, and they're really planning on getting out of [California] because they want to travel, and my mom has been trying to get out of California since I was young. So regardless of where I go, they want to get out of California."
The staff was also able to convince Wilson to save his official visit, so he'd be able to make another trip down to Austin on their dime for the LSU game, "I wanted to save my official. I wanted to take the official when it's season time, so I get to see the experience."
Here at the Opening Finals, Hudson Card and Johnny Wilson were placed on the same team. During their time here, Card has made an effort to befriend the big guy and influence him to wear the burnt orange: "[Card's] room is a couple doors down from mine, so we got to chop it up a bit about his experience out there and his thoughts on it. He's been pushing big on me to go to Texas. I feel like if I were to go to Texas and he was my quarterback I'd have a great time there and I feel like we could do something special together…"
While most coaches are talking to him as if he'll stay as an outside receiver, a lot of the national media believe his true NFL potential resides in the tight end position. From talking with Wilson, I think he wants to do everything he can to stay on the outside as a pure pass catcher telling me that he hopes to "…prove that I can stay on the outside."
His insistence on staying as a receiver is probably the primary reason why Texas and Oregon have become the two schools in this race.
Oregon's case to Wilson revolves around their use of their big man Juwan Johnson:
"They have a really big receiver there – 6'5" – Juwan Johnson I believe his name is. They have him move outside and inside, and they'd do the same thing with me. A lot of schools will say what they want to do or what they're going to do, but actually seeing them do that really stood out to me. That's why with Oregon I have always kept up with them."
As I reported earlier last week, Wilson confirmed that he will be headed up to Oregon for their Saturday Night Lights event on the 27th of July. This time it doesn't seem to be an information gathering tour, but more of a trip to try and gel with the culture, "I really got everything I need pretty much the first time I went there, so now I'm just planning on going up there to have fun and work on the stuff I need to work on."
On the other end, Texas' staff has been able to point to their depth chart and prior success with guys like Lil'Jordan Humphrey and Collin Johnson as well as growing a strong relationship built on trust:
"Coach Mehringer is a great dude. He's funny. Being around those guys, they know a lot about the game. Coach Herman is a cool dude off the field, but on the field, he flips that switch. I feel like having that discipline as a team is going to take them far in their game. Coach Mehringer, I feel like he's young and studies the game a lot. A lot of the stuff he was teaching me in there was stuff I had never seen before, but seeing it work with a lot of the bigger receivers on their roster it really stood out to me and showed me how I could fit in their offense."
On top of the coaches teaching him how they use the big-bodied receivers in their offense, he got to talk to the living example of it during his trip. Collin Johnson took Johnny Wilson under his wing during his time in Austin to explain to Wilson life at Texas and as a big receiver in general:
"He really just said that when you get here it is all work. As a big receiver, they are going to teach you how to get your feet under you… He was telling me as a big receiver you need to know how to be physical and use your body against the DB. He was telling me when I go home the things I need to work on like get physical, use your hands, and use your body."
So where will he end up? There is no hard date on the decision, "I need to take my officials first, and then I'll make a decision."
What will it take to get him off the west coast (a big pitch for Oregon)? The ability to demonstrate correctly using big receivers and Texas is crushing it:
"Really it is just wherever I feel fits me the best. Where I can see myself producing as a receiver. Really a school where I can see them using me the right way, and I feel like Texas will be a great school to use me in that position from seeing what they have done with the receivers they have now and the staff telling me how I could be in that position. And really, that's all I have been looking for. You know, you say you can play big receivers, you say you can get them the ball, and now I want to see it. I feel like they have done a great job of that so far and that's why they got my interest up there."