Open Post | Weekend, August 30th – September 1st
Posted on: August 30, 2019
Know Your Opponent | Week One – La Tech
– Darius Terrell

Head Coach – Skip Holtz (7th year)
Offensive Coordinator – Todd Fitch (4th year)
Defensive Coordinator – Bob Diaco (1st year)
Special Teams Coordinator – Dennis Smith (1st year)
The Louisiana Tech Bulldogs are coming off of an 8-5 (5-3) season, which saw them tie for 2nd place in the West Division of Conference USA. The Bulldogs have been bowl-eligible for five straight seasons now under seventh-year Head Coach Skip Holtz. They defeated the University of Hawaii in the Hawaii Bowl by a score of 31-14 to cap their 2018.
As I skimmed through three LA Tech games from last season (@LSU, @North Texas, Hawaii) I noticed a couple of things. First, when Louisiana Tech is hitting on all cylinders, they look like a team that should be a favorite to win their conference. They were within 3 points of LSU at the midpoint of the fourth quarter. The confidence that that game gave them carried over into the following week, when they upset the conference's preseason champion pick in Denton. At the end of the year they outclassed Hawaii on their home field as well.
On Offense …
The Bulldogs have been "down" a bit on the offensive side of the ball compared to previous years, but I expect that to change this season with Redshirt Senior #8 QB J'Mar Smith entering year number three as the starter. Smith has thrown for 6,546 yards, 33 touchdowns and 16 interceptions in his previous two seasons with 27 career starts. In my opinion, Smith can get happy feet if his first read isn't there. He isn't much of threat as a runner for explosive plays, but he is capable of moving the chains if Texas loses contain while rushing him.
The Bulldog's running game rests on the shoulders of Redshirt Senior #23 Jaqwis Dancy (5'11 193) and Redshirt Junior #22 Israel Tucker (5'8 199), who combined for 1,253 yards last season. Redshirt Junior #33 Justin Henderson (5'10 220) will be who the Bulldogs turn to for the tough yards. As of Monday (8/26), Dancy is questionable for the matchup with the Longhorns. If Dancy is unable to go, this could force LA Tech to resort to an air raid type of attack, which should play into Texas and DC Todd Orlando's plan.
Expect for LA Tech to attempt to sling it around on Saturday. Their best offensive player is their X-Receiver, Redshirt Junior #6 Adrian Hardy (6'2 200), who was a high school teammate of Texas WR Malcolm Epps. Hardy had 75 receptions for 1,145 yards, and 6 scores last season. Hardy ranked #22 in the nation in receiving yards per game in 2018, including five games of 100+ yards (including 10-181-1 vs. LSU). The Texas secondary is no stranger to facing talented WRs and Hardy will provide an early season test for Texas' new starters at Corner. They are excited about TCU transfer Redshirt Junior #13 Isaiah Graham (6'0 188), who will start opposite Hardy at the Z-Receiver for the Bulldogs. Redshirt Junior #81 Cee Jay Powell (5'7 173) will operate out of the slot while Redshirt Sophomore #80 Griffin Herbert (6'3 217) rounds out the expected starting pass-catchers.
Finally, we get to what LA Tech is working with up front. From everything that I've been able to gather, the Bulldogs went through an adventure with their Offensive Line last season. Ten different players ended up making starts last season for the Bulldogs. Gone is All-CUSA Tackle O'Shea Dugas, who was the one of three consistent pieces (Ethan Reed/Kody Russey) from last season. The good news for the Bulldogs is no one will be brand new excluding LSU transfer Willie Allen. They return six of the ten linemen that saw the field. How good are they? That's a different question.
LT: #73 Willie Allen (6'6 343) (0 career starts)
LG: #55 Drew Kirkpatrick (6'3 310) (5 career starts)
C: #65 Kody Russey (6'1 290) (26 career starts)
RG: #61 Ethan Reed* (6'4 300) (40 career starts)
RT: #77 Gewhite Stallworth (6'8 322) (3 career starts)
LT Willie Allen has yet to live up to his potential and will be making his first career start against the Longhorns. RT Gewhite Stallworth is inexperienced and Longhorn fans are familiar with the movement issues that tall guys like Stallworth (and Tristan Nickelson) can have playing on the perimeter of the line. Drew Kirkpatrick emerged as the starter at RG during the second half of last season, but he also lacks FBS experience as he arrived last season from Blinn Junior College.
The confidence and leadership upfront will come from C Kody Russey and RG Ethan Reed, who have a combined 66 starts between themselves. We will get to find out early about young Texas NT's Keondre Coburn and Moro Ojomo as the face two of the best interior linemen that CUSA has to offer in 2019.
On Defense …
Defensive Coordinator Bob Diaco is a well-traveled man. He was the DC for Notre Dame when they made their National Championship appearance against Alabama in 2013. From there he was the Head Coach at UCONN for three seasons (11-26). He would run the Nebraska defense in 2017 before ultimately working as an analyst and eventually Outside LBs coach in 2018 for Oklahoma.
Diaco wants to run a 3-man front, which is great for Texas because they see it every day in practice. LA Tech lost the NCAA's all-time leader in sacks, Jason Ferguson, to the NFL this offseason. They also lost the rest of that line, which means that they will be breaking in a brand-new group against the Longhorns this weekend which once again should be very well for Texas and OL Coach Herb Hand.
DE – #96 Ka'Derrion Mason (6'4 297) (2 career starts)
NT- #90 Courtney Wallace (6'2 305) (0 career starts)
DE- #97 Milton Williams (6'4 271) (0 career starts)
While growing pains are expected up front, the Bulldogs are expecting to be able to rely on their back seven until the big guys up front get up to speed.
OLB – #85 Willie Baker* (6'3 245)
MLB – #2 Connor Taylor (6'0 223)
OLB – #35 Collin Scott* (6'0 231)
#35 Collin Scott led the team in tackles last season and is the captain of the D. #85 Willie Baker will act as a bit of a "B-Backer" for the Bulldogs in their defense, moving from Defensive End to more of a stand-up role in Diaco's defense. #2 Connor Taylor is a former JUCO National Player of the Year that is expected to see a big jump in production during his Senior season.
The Defensive Backfield will feature five players (3 safeties, 2 corners) much like Texas does. Four of the five returners were starters last season.
CB – #21 Amik Robertson* (5'9 183) (26 career starts)
S – #1 L'Jarius Sneed (6'1 193) (20 career starts)
$ – #10 James Jackson (5'11 225) (13 career starts)
S – #4 Darryl Lewis (5'11 210) (26 career starts)
CB – #5 Michael Sam (6'1 194) (1 career start)
#21 Amik Robertson is the star in the secondary and possibly the best player on the entire team, despite his slight stature. Robertson was a Freshman All-American in 2017 and followed that up with a 1st Team All-CUSA selection during his Sophomore campaign. In his first two seasons, he has 9 interceptions, 10 tackles-for-loss, and 18 passes broken up. He's going to be at a tremendous size advantage against Collin Johnson, but I am very excited to see how Texas' WRs fare against this talented playmaker. Robertson will play in the NFL. #5 Michael Sam is projected to be the other starter at Corner after winning the position in fall camp. Sam missed almost all of last season due to injury.
#10 James Jackson plays a role similar to that of BJ Foster. He's solid against the run, but Texas can attack him through the air if they are able to get a favorable matchup. #1 L'Jarius Sneed transitioned from Corner to Safety in 2018 and handles the single-high duties for the Bulldogs. He was second-best on the team last season with 3 interceptions. Lastly, #4 Darryl Lewis enters his third season as a starter and primarily fills the Strong Safety role for LA Tech.
On Special Teams …
Special Teams Coordinator Dennis Smith was a new addition to the staff last spring. The hope for the Bulldogs is that Smith can help create an advantage for them in this crucial third phase of the game. Smith is a young coach on the rise and has an impressive track record at a glance. Smith spent the previous three seasons at (FCS) McNeese State University, where he was the Special Teams Coordinator, in addition to coaching Running Backs.
In 2018, McNeese State finished #1 nationally in ALL FOUR major phases (Kickoff, Kickoff Return, Punt, Punt Return) of special teams, which is an incredible feat and no doubt led to Smith's promotion to the FBS level. The Cowboys also ranked #1 in the Southland Conference in net punting, kickoff defense (where the offense starts their drives) and kick returns.
The Longhorns appear to be in for a bit of a test this Saturday in the kicking phase, which all coaches would tell you is a very welcome thing heading into the major showdown that the Longhorns have next weekend.
Louisiana Tech returns Redshirt Senior Kicker Bailey Hale, who was 15-of-22 last season with a long of 46 yards. LA Tech will need to essentially be at the Texas 30-yard line or closer to be within Hale's range. Redshirt Junior Brady Farlow is expected to handle the punting duties for the Bulldogs this season.
Overall Thoughts …
Louisiana Tech has consistently been one of the top programs in Conference USA during Head Coach Skip Holtz' tenure. They are to be respected, especially considering the atrocious starts that Texas has gotten off to in season openers recently. Unfortunately for the Bulldogs, many of their strengths play into the Longhorns' strengths.
While I don't believe that they have the horses to actually beat the Longhorns this weekend, this is a team that was within 3 of LSU late last season. If Texas struggles to find a rhythm early, this could end up being a very uncomfortable game for Longhorn players, staff, and fans alike.
On Offense, Texas has to take advantage of an inexperienced LA Tech defensive front. If they are able to establish a run game early (regardless of the source), despite the back seven being the strength of the LA Tech Defense, the Bulldogs will be at the mercy of what the Longhorns want to do offensively.
Defensively for the Longhorns, there are two keys to the game. Shut down the run (easier said than done with the questions at LB, but assisted by Dancy being banged up) and force J'Mar Smith and a WR not named Adrian Hardy to consistently make plays and beat you. I like Texas' odds against the LA Tech receiving core in a game where the Bulldogs have to abandon the run and play catch-up.
Predictions:
Darius (0-0) Texas 41- Louisiana Tech 17
Will (0-0) Texas 35 – Louisiana Tech 24
CJ (0-0) Texas 41 – Louisiana Tech 20
It's finally here! It's football season!
Leave your personal thoughts and predictions below.
Hook'em!
---
One on One's | Texas vs. Louisiana Tech
– CJ Vogel
The first week of the season is just about here. Now let's dive into some of the more intriguing matchups we'll see Saturday that will surely have a large impact on the outcome of the game.
---
One on One number one:
Texas wide receiver Collin Johnson vs. Louisiana Tech cornerback Amik Robertson.
Collin Johnson will be going against one of the best corners he will face all year in sophomore Amik Robertson on Saturday. While Louisiana Tech in itself is a non-power five school, Robertson can hang with just about any receiver in the country and has a very good shot at hearing his name called in the NFL Draft in the next couple of years.
Robertson led the Bulldogs in 2018 with 4 interceptions and 12 pass defenses. In his two seasons, Robertson has nine total INT. He can really play.
What has always stood out to me is the attention Johnson has drawn. In the most recent NBA playoffs, the term "gravity" bounced around regarding out teams defended Warriors point guard Steph Curry. In my opinion, that same sense works for Johnson and how opposing defensive coordinators will scheme to takeaway the 6-foot, 6-inch stud on the outside.
It's very much likely that La Tech DC Bob Diaco leaves a safety over the top of Johnson at most times throughout the game, however in the instances Robertson is left on an island, it's crucial for Johnson to make the most of those opportunities.
Also think back to how much Texas loves running a slant or 5-yard dig on 3rd & 4 situations last year. That's a situation Johnson must win against a very good corner in Robertson.
---
One on One number two:
Texas quarterback Sam Ehlinger vs. Louisiana Tech Defensive Coordinator Bob Diaco.
I think this is a fun one. And one that really plays in favor of Texas quarterback Sam Ehlinger.
Diaco has been around the block in his coaching career. The defensive minded coach has had stops all over the countries at several top programs. Diaco was the head coach at Cincinnati from 2014-2016 where he accumulated an 11-26 record but has made his money as a defensive coordinator with previous stops at Cincinnati, Notre Dame, Nebraska and now Louisiana Tech.
Now I will say, despite the experience and coaching clout, Diaco brings a very favorable defense with him for the Texas offense. The new 3-4 look that Diaco brought to La Tech is the same base look Ehlinger and the Texas offense have been running against since the beginning of fall camp.
Third year quarterback Sam Ehlinger will be tasked with making the correct reads on blitzes and a whole lot of zone coverage. While there are obviously a whole lot of other variables in play, Ehlinger must be able to react and be ready for anything Diaco throws at him for the duration of the season opener.
The veteran Texas gunslinger was basically picture perfect for seven straight games last year without an INT. A clean game with concise decision making would provide a great feeling for Texas fans ahead of the LSU game.
---
Position Breakdown | Defensive Backs
– CJ Vogel
Perhaps the toughest position in the Big 12 conference is one that Texas has historically been loaded at. Defensive Back.
Texas safeties coach Craig Naiver on if DB is the most difficult position to play in the Big 12 conference: "As far as matchups, balls in space, adjustments, is it the toughest? I don't know the answer. Is it tough? Yeah. It's a challenge and it's fun."
With the season in just a week and change, it's imperative Texas finds the right guys for the challenge after some noticeable departures.
Departures
CB Kris Boyd (45 career games)
CB Davante Davis (35 career games)
nCB PJ Locke (38 career games)
Additions
Freshman CB Kenyatta Watson
Freshman CB Marques Caldwell
Freshman S Tyler Owens
Freshman S Chris Adimora
First thing's first. Texas lost both starting cornerbacks and frequent starter at the nickel spot and safety spot from the past year. And in a league like the Big 12, that hurts. But, there is reason for optimism in what will be a very young group.
Though young, there is a ton of talent returning for the Longhorns at the back end of the secondary. Senior captain Brandon Jones will be joined with Jim Thorpe Award watch list member Caden Sterns to provide a very impressive last line of defense for the Longhorn defense.
I am expecting a big season from B.J. Foster this year as well. The former five-star safety will likely be out of the nickel spot a lot this season, which keeps him close to the box and allows Orlando to use him in a variety of ways he sees fit. Keep in mind, Foster had crooked numbers all over his stat sheet last year in limited play. Foster recorded 46 TKL, 9 TFL, 2.5 sacks, 1 INT, 5 passes defensed, 2 forced fumbles and one of the nastiest hits in all of college football last year.
Behind Foster is Josh Thompson who has always been in the cusp on taking over the nickel spot but never truly securing it. I don't see Thompson making a big leap this season as long as Foster stays healthy, though he will be a big contributor on special teams, as he is the best Punt-Downer I have seen in the college level.
Perhaps the most talented player on the team is Caden Sterns. If things continue in the trajectory they are currently in, Sterns likely ends up the first 1st round pick the Longhorns have put in the draft since Malcom Brown in 2015.
Back to the emptiness at the cornerback position after the departures of Kris Boyd and Davante Davis leave a lot of question marks at the position. For the time being, Jalen Green seems to be the only guy to have solidified a spot.
The man to play opposite of Green has yet to be etched in stone so far, however it appears Kobe Boyce has created some headway in the race that consists of D'Shawn Jamison and Anthony Cook. There's been a lot of skepticism over the reports of Boyce being the guy over both Jamison and Cook. While it's surprising to myself as well, I think it's certainly a good problem to have. All three guys will see amount of time this season and will surely have their fair share of help over the top with Sterns and the speedster Jones behind them.
As we have previously mentioned as well, the defensive line should be much improved with a much needed pass rush which should cut down the amount of times we see a WR get open late in a scramble.
Demarvion Overshown is a guy that will eventually find his way on the field, but in a position perhaps not fully carved out. Overshown has really grown in the fall, but with the talent on the field already, it's hard to plug him in at the moment. (Enter Orlando's eight DB package)
---
The Texas safeties in the secondary shouldn't be a concern in the slightest. Sterns, Jones, Foster, Overshown and even Chris Brown have proven to be one of the deepest position groups on the team.
Yet, the ongoing battle at CB will be one that lingers into the season. The Louisiana Tech game should feature multiple looks for each corner listed to get a good idea of who trots out for the first series against LSU.
---
Position Breakdown | Special Teams
– CJ Vogel
The third phase of the game of football is oft one that can win or lose you a ballgame (as Texas fans are all too well aware of).
Whether it's a Cameron Dicker game-winning field goal for the win against OU or a missed PAT from Nick Rose to lose to Cal 45-44, a good special teams unit is a must for an overall successful team.
Keys to Success
Consistent directional punting
Limited explosive returns
Punt/kick blocking
Key Players
P Ryan Bujcevski
K Cameron Dicker
CB Josh Thompson
LS Justin Mader
To expand on the points above, let's take a closer look at how Texas performed in the specific categories.
We all remember how important a reliable punting game can be. Though I'll never admit to a punter single handedly winning a game for a team, Michael Dickson was about as close as it comes against Missouri in the 2017 Texas Bowl.
Last year, first year player Ryan Bujcevski ranked 79th in the nation with 40.3 yards per punt. Not great by any means. Bujcevski has been rather inconsistent with his punting in the few practices we have attended, however a second year in real game situations should allow for some drastic improvements.
As for limiting explosive plays in coverage, Texas did a relatively good job in that category last year. With guys like Tyler Owens and Kenyatta Watson set to join the special teams unit this year, expect the same type of production to continue in 2019.
Texas ranked 99th in the NCAA last year in kickoff return yards allowed per kick. (22.26)
Texas ranked 72nd in the NCAA last year in punt return yards allowed per punt. (8.71)
Josh Thompson was mentioned in the key player group for his ability to track punts and down them near the goal line. Perhaps the best I have seen at doing this underrated skill, Thompson will surely be back out at the gunner position in 2019.
I know I'll catch some slack for bringing up the horrors of the 2016 meeting between Oklahoma State and Texas which resulted in the Cowboys blocking three kicks throughout the afternoon, but that's exactly where my next point brings me. Cameron Dicker is a good kicker and reliable protection is a must.
Long snapper Justin Mader, who was recently put on scholarship, is a guy a source told me has the skills to be a professional long snapper at the end of the day. Top end at the position without question.
---
Position Breakdown | Quarterbacks
– CJ Vogel
Texas fans can boast and brag and feel good about their quarterback for really the first time since Colt McCoy. There is a reason junior quarterback Sam Ehlinger continues to hear his name on preseason Heisman hopeful lists. The position is in great hands.
Departures
QB Shane Buechele (23 career games)
QB Cameron Rising (0 career games)
Additions
Freshman QB Roschon Johnson
Freshman QB Sam Saxton
Freshman QB Ben Ballard
First off, the health of starting quarterback Sam Ehlinger is imperative. While it's easy to say that about every contending team in the nation, Texas is in a particularly tough spot if Ehlinger goes down. For the past two years, the Longhorns had a luxury of having a proven backup at their disposal if anything were to happen to Ehlinger. And while things may not have always been pretty with Buechele, it's hard to imagine a win against Baylor at home last season had either of the true freshmen's names were called to come in when Ehlinger went down with a shoulder injury.
The QB room at the moment is talented, there is no denying that. Casey Thompson showed growth in the spring and arguably put together the best performance of any QB on roster. Speaking of talent, the athleticism alone of true freshman Roschon Johnson is so spectacular, the staff moved him to running back when the injury bug hit late in fall camp. But make no mistake, the true No. 2 guy on roster is Casey Thompson, and if things go the way they should against inferior opponents, he should see quite a bit of time this season.
Now let's talk about #11.
The growth of Ehlinger last year was truly the biggest factor for what resulted in the Longhorns' best season since Mack Brown. A look at his game log from Tulsa to Iowa State is something that undoubtedly puts him amongst the nation's best quarterbacks.
Tulsa – 21/27, 237 yards & 2 TD – 51 rushing yards, 1 TD
USC – 15/33, 223 yards & 2 TD – 33 rushing yards, 1 TD
TCU – 22/32, 255 yards & 2 TD – 11 rushing yards, 1 TD
KSU – 29/36, 207 yards & 1 TD – 26 rushing yards
OU – 24/35, 314 yards & 1 TD – 72 rushing yards, 3 TD
Baylor – Injured shoulder after 11 offensive snaps
OSU – 22/42, 283 yards & 2 TD – 47 rushing yards, 2 TD
WVU – 25/36, 354 yards & 3 TD – 52 rushing yards, 1 TD
TTU – 22/34, 312 yards & 4 TD – 14 rushing yards
ISU – 12/15, 137 yards & 1 TD – 32 rushing yards, 1 TD
In total during this 9 game stretch (Baylor not included), Ehlinger racked up 35 total touchdowns without throwing a single interception in the process. The Texas gunslinger during this run also put up an eye popping completion percentage of 67.2% (195/290).
Though the incredible run was cut short by Kansas nonetheless, it put the world of college football on notice and cemented Ehlinger's name as a guy to watch for the 2020 Heisman Trophy.
Areas of concern for Ehlinger start with the deep pass. It's been well documented across boards, Twitter and broadcasts about the lack of explosive plays for a talented Texas team last year. This year's squad will only provide more speed and opportunities for deep passes to be completed, but it's up to Ehlinger to hit the mark.
---
Position Breakdown | Running Backs
– CJ Vogel
Undoubtedly the thinnest group on the team is at a position, Texas has historically put out its most talented players. Running backs. Luckily, when healthy, Texas has two really, really talented ball carriers for the upcoming season which should be reason for optimism at the very least.
Departures
RB Tre Watson (45 career games / 14 at Texas)
RB Toniel Carter
Additions
Freshman RB Jordan Whittington
Freshman RB Derrian Brown (Out for the season)
Freshman QB Roschon Johnson (?)
Going off of additions and subtractions, Texas netted a -2 at the position in terms of scholarship backs. The most notable loss being California grad transfer Tre Watson who rushed for 786 yards and 3 touchdowns on 185 carries in his only season with the Longhorns. Toniel Carter's transfer to Sam Houston State results in another able-bodied running back leaving the 40 Acres without fulfilling what was looking like a promising career.
Now on to the positive notes. The two RBs expected to get essentially all of the touches out of the back field this season make for the most talented running back duo since Malcolm Brown and Johnathan Gray in 2013. The second year stud Keaontay Ingram rushed for 708 yards on 5.0 yards per carry, impressive numbers for a true freshman. Heading into his sophomore season, Ingram is playing behind an upgraded offensive line and will most certainly be on the field on more first and second downs as opposed to last year when it was Watson getting the early down work.
For the second straight year, a good chunk of Sam Ehlinger's handoffs will go to a true freshman. But that's not necessarily a bad thing.
RB Jordan Whittington has impressed the staff and his teammates from the get-go after arriving on campus in January as an early enrollee. The wide receiver turned tail back has been electric in fall camp, as he basically appeared in every one of our sourced notes saying he housed another 50+ yard run in a scrimmage.
While not underrated, a part of Whittington's game that has gone under-appreciated so far this fall is Whittington's pass catching ability. You know, the thing that originally got him recruited by Tom Herman and the Texas staff. Whittington's will surely be an upgrade in the passing game and can certainly turn checkdowns into touchdowns.
I would expect Ingram and Whittington to receive roughly 80-90% of touches by a running back this season, not including garbage time run-out-the-clock situations. However, that doesn't mean I'm out on Daniel Young. The bruising back has slimmed down just a tad and is one of the biggest "team-first" guys on roster. When given the chance this year, Young will make the most of it. I just hope for his sake and the sake of Texas fans alike, most of his carries stay within the tackles, especially on 3rd & short situations.
Lastly, how much stock should you put into Roschon Johnson as a RB? Well, according to his teammates, it shouldn't be taken lightly at all.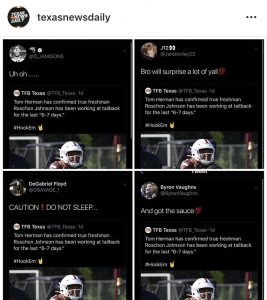 I don't expect Roschon to be receiving many carries, if any, this season. Though he is extremely athletic and dynamic with the ball in his hands. It's not a terrible option in the very least, just not a preferred one.