Open Post | Weekend, August 9th – 11th
Posted on: August 9, 2019
Trending | The Latest | Xavion Alford
– Super K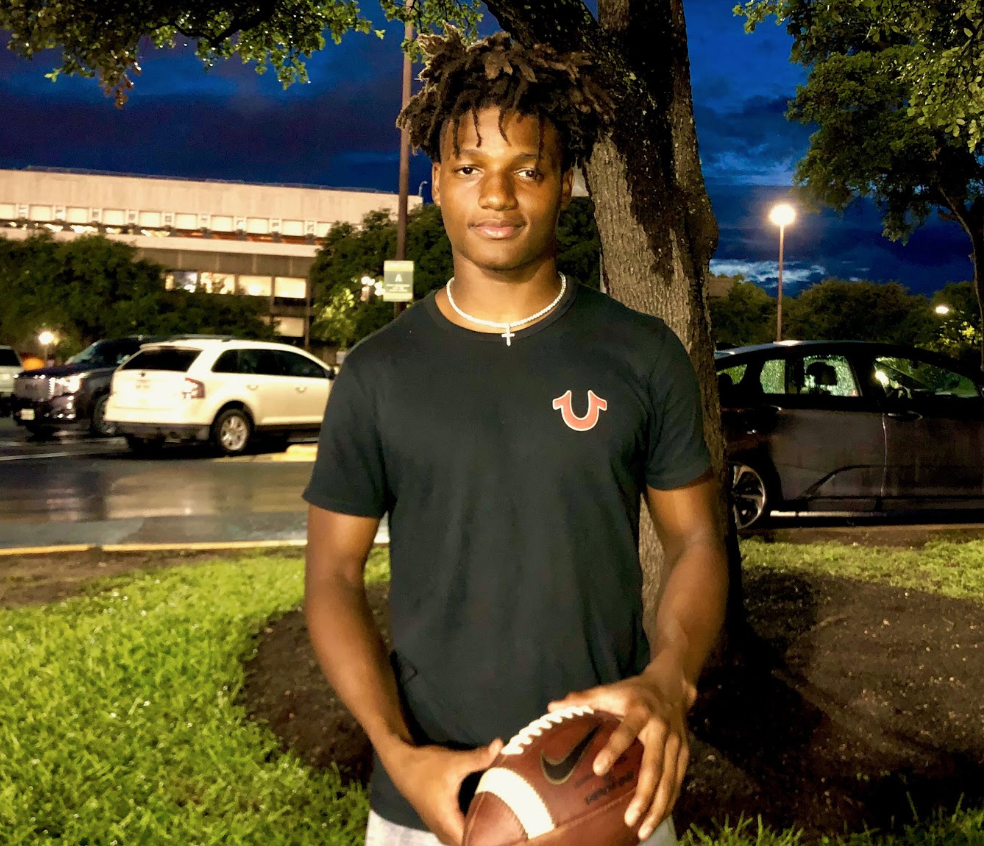 It's been a bit of a rough go in the safety recruiting department this cycle.
Really felt like both Bryson Washington and Chris Thompson were winnable targets. Still scratching my head about the Thompson decision. Again, it seemed so out of the realm of possibility, when you all asked me to check on it, I actually ignored my source who indicated Auburn was a real threat.
Also, earlier this summer, things were all but done on the Xavion Alford front as he was likely headed to Alabama.
However, that appears to have changed, significantly.
I am told that just before the dead period began, Alford actually made a quiet trip over to Austin for an unofficial visit. Things went well.
The latest I've heard is this is looking like a two-horse race at the moment with Alabama likely out and Texas and TAMU vying for the top spot.
Alford was originally planning on committing in the fall but I am told that this may change and he is seriously considering making a decision before the start of the season.
I don't have a sense which in-state program is currently holding the lead but I'm hoping to get a little clarity on that later this week and over the weekend.
If you know just how dead it looked earlier this summer, this is welcomed news.
---
Commitment Analysis | 2020 CB Ethan Pouncey
– Darius Terrell
I'm running out of "hot" superlatives to describe the roll that Texas is on right now on the recruiting trail. The 13th commitment in the #cloUT2020 class hails from the Sunshine State. Texas was able to secure their second Defensive Back in the class when Winter Park (Winter Park, Fla) Cornerback Ethan Pouncey made his intentions public late Tuesday night.
What is Texas getting in Pouncey?
Ranking: #90 Nationally, #7 CB, (247), #103 Nationally, #11 CB (ESPN), 3-Star, #38 CB (Rivals)
Top Offers: Clemson, Auburn, Florida, Georgia, Alabama, Florida St.
Size: 6'1 165lbs
Projected College Position: Cornerback
Player Comparison: Rashard Robinson (LSU 2013-15)
Analysis: Two things stand out immediately after watching just a few plays of Pouncey's. He is tall and he is fast, which checks two very big boxes at the Cornerback position. Pouncey is a plus athlete that is rangy, with long arms and a ton of room to fill out at the next level once he gets some time in a college weight program. Most importantly, Pouncey displays ball skills and the ability to track the ball in the air and make plays on it, which rounds out a very impressive overall profile as a football prospect.
He is a guy that we have talked about numerous times in the past, and Super K has long been a big fan of Pouncey after seeing him in person, touting him ever since as one of the top Cornerback prospects in the country. Now an Under Armour All American, his ranking continues to rise, which lends credence to that opinion from others in the industry. Pouncey has all of the tools and makings of a potentially elite prospect who can thrive as a defender in the offensively-charged Big XII.
Pouncey visited multiple times (once for a game and once in the spring) and was no stranger to campus or to how the Texas program is run under Tom Herman, with his older brother, Texas RS Sophomore WR Jordan Pouncey, entering his third season with the team. Texas now has commitments from Pouncey and Kitan Crawford, giving the Longhorns two electric athletes to add to an already extremely talented secondary.
Instant Impact Rating: 6
Highlights:
---
Fall Camp Practice Report | August 7th, 2019
– The Football Brainiacs
First day of full pads.
DEPTH CHART
Offense
QB: Sam Ehlinger / Casey Thompson / Roschon Johnson
RB: Keaontay Ingram / Jordan Whittington / Kirk Johnson / Daniel Young
XWR: Collin Johnson / Malcolm Epps / John Burt / Kennedy Lewis
Slot: Devin Duvernay / Jordan Pouncey / Jake Smith
ZWR: Brennan Eagles / Josh Moore / AlVonte Woodard / Marcus Washington
TE: Cade Brewer / Reese Leitao / Jared Wiley / Brayden Liebrock
OL:
Sam Cosmi – Junior Angilau – Zach Shackelford – Derek Kerstetter – Denzel Okafor
Reese Moore – Tope Imade – Rafiti Ghirmai – JP Urquidez – Christian Jones
Defense
DL1: Malcolm Roach – Keondre Coburn – Taquon Graham
DL2: Marquez Bimage – Gerald Wilson – Jamari Chisholm
BLB: Joseph Ossai / Byron Hobbs
RLB: Jeffrey McCulloch / Caleb Johnson / Juwan Mitchell
MLB: Ayodele Adeoye / Marcus Tillman
NB: BJ Foster / Josh Thompson
CB: Jalen Green / Anthony Cook / Donovan Duvernay
FS: Caden Sterns / Montrell Estelle
BS: Brandon Jones / Chris Brown
CB: Kobe Boyce / D'Shawn Jamison / Kenyatta Watson
NOTES
– Sophomore safety Demarvion Overshown was not on the field today. He was not out at practice either. I was told he has injured his foot and is sporting a boot.
UPDATE: Per Tom Herman, he sustained a mid-foot sprain and will be back in a few days.
– Freshman TE Brayden Liebrock was in a green jersey today meaning he was non-contact. Will get update on this.
– One of the biggest surprises today was the movement in the WR room. RS Freshman Josh Moore was moved to Z and Senior John Burt to X. I'm not reading too much into this yet, but it seems the staff is testing out different things to figure out who will be their guys.
– Also there was a little movement in the offensive line. Not in the immediate depth, but we saw an offensive line formation that looked like:
Sam Cosmi – Parker Braun – Derek Kerstetter – Junior Angilau – Reese Moore (I think it was Moore)
– One thing I noticed was the leadership displayed by Caden Sterns who was going around the safety unit and coaching up freshmen Chris Adimora and Tyler Owens on how to shed blocks and more.
– Speaking of Tyler Owens, that dude looks huge! He already has the build for this level and is impressing with his athleticism. Seems he just needs to polish his game. Special teams fiend.
– Get ready for BLB Joseph Ossai's name to be said quite a bit. That dude is bigger and stronger this year. He's impressive to watch, and his burst is even more impressive.
– QB Sam Ehlinger continues to look good. His throws are effortless, on time, and accurate.
– QB Casey Thompson is a little more erratic than Ehlinger. His throws sail on him at times.
– QB Roschon Johnson is very much not ready. He was having trouble throwing an accurate ball today. No need to panic, he's a freshman.
– Freshman WR Jake Smith is just so smooth in his cuts. He ran over the middle and took some hits, so he's not afraid of getting the ball over the middle. That's impressive.
(Will Baizer)
---
– Adding to Will's notes on Casey Thompson, in a three throw stretch (on a deep corner route), he had two right on the money and the third bounced about five yards short. Inconsistency is still an issue.
I touched on the leadership of some vets last week and it was very apparent again today.
– Collin Johnson was teaching up freshman Jake Smith on a rip & run drill the WR were doing early on in practice. The little attention to detail is setting a good standard for the incoming class.
– In that same drill, freshman WR Marcus Washington received great praise while Kennedy Lewis was slow to adopting the concept of the drill and was asked to re-d0 it several times.
– Freshman LB David Gbenda struggled during a one-on-one fit tackling drill with the linebackers.
– In that same drill, Joseph Ossai and Jeffrey McCulloch asserted their dominance as the veterans of the group.
– As expected, ball security is the main point of emphasis by Stan Drayton, who led the RB through a series of drills working on keeping the ball tucked.
(CJ)
---
Thirsty Thursday | Momentum, Parker Braun, & Importance of Duvernay
– CJ Vogel
It's Thirsty Thursday! Darius is unavailable for this week's edition of one of the most renowned weekly posts on the board, which leaves me with the tall task of quenching y'all's thirst for Texas football and recruiting information. With that said, let's dive into this week!
---
Momentum is Real
Let's think back to April-May-June, where it appeared the 2020 class had a great foundation to become something great, yet lacked the results.
At the time, the most talked about news on the board was the Bru McCoy saga and Zach Evans' top five which left Texas on the sideline. Which, to put things bluntly, wasn't looking great for Tom Herman's staff on the trail. But that all changed once the calendar flipped to July.
Since July 4th:
2020 DE Prince Dorbah – July 9, 2019
2021 TE Lake McRee – July 9, 2019
2020 DE Vernon Broughton – July 17, 2019
2020 DE Van Fillinger – July 18, 2019
2021 QB Jalen Milroe – July 21, 2019
2021 OL Hayden Conner – July 23, 2019
2020 OL Andrej Kurac – July 24, 2019
2021 TE Juan Davis – July 26, 2019
2021 ATH Billy Bowman – July 31, 2019
2020 RB Bijan Robinson – August 2, 2019
2021 LB Derrick Harris Jr. – August 3, 2019
2020 CB Ethan Pouncey – August 6, 2019
That's 12 commitments in just under a 30 day time period, or one every 2.5 days, making a very strong case that Texas has been the hottest recruiting team in the country.
Momentum is a real thing, especially in recruiting. While Texas has already landed some big fish along the way (Bijan, Vernon, etc.), the stage is set for the remainder of the class to be very special. A strong season on the field to build upon the current momentum built by this last month of recruiting, and man — it's going to be a special finish to the 2020 class.
The ball is rolling, and it's rolling fast!
---
My Take on Parker Braun
There's been a lot of talk about the depth charts since fall practice kicked off and perhaps the most talked about name is Georgia Tech grad transfer Parker Braun. Now, I've answered this in comments on a select number of posts, but I feel like it's worth adding to Thirsty Thursday just to give it its own section and recognition.
Listen, I'd put all my chips on Braun being the guy at left guard to start the season. At the moment, Braun is working with the third team and it appears many guys on the board and on Twitter aren't thrilled with the transfer not immediately cracking the starting lineup.
But, let's think back to Calvin Anderson. The Rice transfer took until August 20th to be named the starting left tackle so there is plenty of time for Braun to grow into the offensive scheme and adjust to Texas Football before we should panic.
Allowing Herman, Hand and the rest of the offensive staff the time to do their due diligence at the guard position is wonderful problem to have. With Braun, Junior Angilau, Derek Kerstetter and Tope Imade competing for two spots, this only allows the staff more time to find the top two guys and ensuring they are making the correct choice.
For the time being, I would expect Braun to stick with the third team until we get about 10-14 days out to gameday. In the meantime, enjoy the clips of him mauling opposing third teamers and scout guys similar to that of Josh Thompson on Wednesday,
---
Just How Important is Devin Duvernay?
Perhaps the most underrated player on this Texas team if you ask me.
While you may ask how a soon-to-be three year starter could be underrated. I'll concede the game-to-game boxscores likely won't scream out an elite level guy in terms of production, but there's no denying that the combination of his sure-handedness and speed makes Duvernay's stock incredibly high heading into a year where he is slated to be the No. 2 guy for Sam Ehlinger.
Zero. Drops.
Duvernay is statistically the most sure-handed wide receiver in the country with the aforementioned zero drops to go along with his 41 receptions and 546 yards in 2018. Not only are his hands among the best in the conference, but he's also among the fastest in the country.
"He is a really, really strong guy too so he's tough to tackle," said Tom Herman following the first practice in pads on Wednesday. "Obviously, he's extremely fast. I think he ran 22.5 mph the other day at practice."
Think about that for a second. Duvernay topped out at 22.5 mph according to Herman and to put that in perspective, Chiefs WR Tyreek Hill currently holds the two fastest speeds according to NFL NextGen Stats at 23.24 mph and 22.77 mph.
That's insane speed.
With the attention Collin Johnson will garnering already, in addition with the position change for Duvernay to H WR, and it's likely Duvernay sees his best year as a Longhorn.
H WR under Herman:
2015: Demarcus Ayers – 97 rec. 1221 yards, 6 TD
2016: Linell Bonner – 98 rec. 1118 yards, 3 TD
2017: Reggie Hemphill-Mapps/Lil'Jordan Humphrey – 84 rec. 834 yards, 1 TD
2018: Lil'Jordan Humphrey – 86 rec. 1176 yards, 9 TD
Now you may argue that Duvernay isn't the same style of player as Ayers, Bonner, LJH or even RHM, which is fair. There likely won't be many jet sweeps to Duvernay, with him being more of a straight-line speed guy.
Regardless if those numbers will be duplicated by Duvernay or not, his ability to stretch the field, block on the edge and serve as a safety net for Ehlinger makes him indispensable.
---
Current Rankings Update
I touched earlier on the status of Texas recruiting trail and wanted to expand to see how they compare on a national level.
(per 247Sports composite)
2020 Class
Commits: 13 (least amount of commits of any school in the top 25)
National rank: 14th
Conference rank: 1st
Recruit ranking;
Clemson – 94.08
Texas – 93.27
Alabama – 93.26
Georgia – 93.20
LSU – 92.53
Ohio State – 92.08
Oklahoma – 91.22
Notre Dame – 90.66
Auburn – 90.43
Texas A&M – 90.43
2021 Class
Commits: 7
National rank: 2nd
Conference rank: 1st
With so many classes having just one or two commits, the recruit ranking would be rather skewed. Though with that said, Texas currently ranks 12th in average recruit ranking.