Open Post | Tuesday, September 24th
Posted on: September 24, 2019
Post-Game Reaction | Texas vs. Oklahoma State
– D.T.
*** The 12th-ranked Longhorns (2-1, 0-0) were coming off of an easy victory over Rice last week and were looking to start off Big XII play the right way against an Oklahoma St. program that has had their number for the past decade.
*** I'm close to the point where if Kirk Herbstreit is calling a Texas game, I'm going to turn the sound off and just listen to 1080AM on the radio instead. We get it. Enough, man.
*** Texas had an opportunity to force a 3-and-out on Oklahoma State's opening drive. Instead, on a 3rd-and-11, Malcolm Roach got dominated by the Right Tackle and Spencer Sanders escaped to the right and found *drumroll* Tylan Wallace wide open in the middle of the field. SMH.
*** On the same drive, 3rd-and-6 in Texas territory, the Longhorn 3-man front might as well not even have been out there. Another conversion across the middle of the field, this time inside the Texas 5-yard line.
*** Credit the Texas defense for bowing up and keeping the Cowboys out of the end zone on three consecutive plays on an opening drive that was less than encouraging.
*** Power Offense is not Oklahoma State's game and I was surprised to see them attempt three straight runs right at the teeth of the Longhorn D. Physicality has been the Longhorn's strong suit under Todd Orlando.
*** I thought that the holding call on Parker Braun on the opening drive that negated a big run by Keaontay Ingram was tough.
*** What was up with the empty spots in the stadium early on? They were very noticeable on TV.
*** Texas elected to punt on 4th-and-5 from the Cowboy 40-yard line. Ryan Bujcevski executed an excellent kick that hit at the 5 and the Longhorns allowed it to roll into the end zone for a touchback. What was a promising drive ended up as a colossal fail.
*** Oklahoma State dropped 8 guys on every pass attempt that Sam Ehlinger had on Texas' opening drive. The game plan early appears to be crystal clear: Keep Ehlinger in the pocket, keep everything in front, and make Texas slowly put a drive together.
*** Texas caught a huge break when Dillon Stoner dropped a wide-open pass on 3rd down that would have resulted in a huge play on the Cowboys' second drive. Texas had T'vondre Sweat and Moro Ojomo at Defensive Tackle on an obvious passing down to try to get some pressure. I like that they were trying to find answers without leaving their DBs exposed.
*** What a ball by Sam Ehlinger to Devin Duvernay on the Corner route in the endzone. That may be the best ball that I've ever seen Ehlinger throw and Duvernay got two feet down on the play as well. NFL play by both guys.
*** The Texas Offensive Line won at the point of attack on every single play on Texas' first two drives.
*** Spencer Sanders made his first freshman mistake of the night and who have have guessed that Montrell Estell would come up with the first interception of the season for a Texas DB? Love it.
*** Another week, another touchdown for Jake Smith (Shipley).
*** Am I crazy for thinking that Devin Duvernay this season is every bit the player that Quan Cosby was for Texas?
*** The Texas Defensive Ends continued to allow Oklahoma State to seal them during the first half. That was the only type of play that Oklahoma State was having success with as far as the running game goes.
*** I was yelling at the TV prior to the snap and I will never agree with Tom Herman's decision to go for it on 4th-and-3 early in the 2nd quarter instead of kicking the field goal. Texas had all of the momentum and an opportunity to go up 2 scores at home against a team with a Freshman QB. Instead, they get stuffed on 4th down and give the momentum back to the Cowboys. Poor, poor, poor decision.
*** Brandon Jones came to play tonight.
*** Taqoun Graham had two TFL's in the first half. I haven't been a fan of his play the first few games of this season, but he made some plays tonight.
*** The missed tackle by Caden Sterns on Spencer Sanders on 3rd and goal touchdown run is a perfect example of the problem that I've always had with him as a player. There is zero reason or excuse to be diving at the ankles of a 195lb Quarterback. He hasn't been very good this season.
*** Predictably, the poor decision to not kick and take the points led to the Cowboys marching right back down the field and making it a one-point game at 14-13. I put the blame squarely at the feet of the Head Coach.
*** All. Brennan. Eagles. Does. Is. Catch. Touchdown. Passes. Another tremendous throw by Ehlinger. 73 yards.
*** If it hasn't been claimed yet, I would like to be nominated as the President of the Juwan Mitchell fan club.
*** Jake Smith is still a true Freshman and his youth showed with a crucial muffed punt before the end of the half. That was a critical turnover.
*** Malcolm Epps was a complete non-factor in place of Collin Johnson in the first half.
*** Texas took a 21-20 lead into halftime that should have been much bigger. At the break, Sam Ehlinger was 10/14 (71%) for 155 yards and 3 touchdowns. Texas rushed for 104 yards in the first half.
*** Spencer Sanders was 11/14 (78%) for 180 yards with an interception. Chuba Hubbard was held to 2.7 ypc, with 52 yards and 19 carries. Tylan Wallace had 3 catches for 66 yards and no scores.
*** Texas with their second punt of the game coming in Oklahoma State territory, Ryan Bujcevski again does his job, with the ball hitting directly on the 5-yard line. This time Texas allows the ball to bounce backwards and roll all the way back to the 17-yard line. Two Special Teams gaffes by the home team against a team that doesn't need any help on offense.
*** Texas finally started to throw the bubble in the 2nd half and it paid dividends as Oklahoma St. kept both LBs in the box to slow down Keaontay Ingram and the Texas run game after a strong first half on the ground.
*** Tim Beck has been calling some good games this season and his double-reverse pass to Cade Brewer for a 25-yard score to put the Horns back up 28-23 was impressive.
*** Am I tripping or was Jeffrey McCulloch not on the field much tonight?
*** Josh Thompson blew a lineman ALL THE WAY UP on his way to a TFL late in the 3rd. What a play by the Junior from Nacogdoches. Texas has a bunch of physical guys in the secondary. The issue is when they are going backwards and tackling in space.
*** What a huge 4th down stop by Texas late in the 3rd. Malcolm Roach, who hadn't been having his best game, showed up in a big way by driving two linemen backwards and disrupting Chuba Hubbard's path, causing him to stumbled and fall short of the line to gain.
*** What a time for Sam Ehlinger's first turnover of the season. Texas is extremely predictable on 3rd and medium and they went back to the same play that Duvernay converted a curl route on in the first half. This time he was covered, so Ehlinger went backside to Malcolm Epps who was completely locked up by the Cowboy DB.
*** I'm not going to lie, Texas appeared to be doing their own version of "cramping" tonight to slow down Oklahoma State's momentum when they were going up-tempo. I don't have a problem with it since it appears to be a tactic that is being deployed across the country. The NCAA is going to have to come up with a way to combat that, otherwise teams are going to keep doing it. It is what it is at this point.
*** Mike Gundy's fake field goal attempt was worse than Tom Herman's decision not to take the points in the first half.
*** Keaontay Ingram without the knee brace looked like a different guy tonight. He made guys miss, he broke tackles, and he had some juice.
*** Texas did what they needed to do after that failed fake kick. 6 plays for 73 yards, resulting in a touchdown AND Texas converted the 2-point conversion. The defense got a well-needed and much-deserved breather.
*** Keondre Coburn made his biggest play as a Longhorn, using a heck of an arm-over move to get to Spencer Sanders and hit his arm, which resulted in a Chris Brown interception.
*** I couldn't help but notice that Anthony Cook didn't see the field tonight until late in the fourth quarter, unless I missed him earlier. He got away with a pass interference on his first play in and his effort on Chuba Hubbard's late touchdown was pretty embarrassing.
*** I thought that D'Shawn Jamison had himself a nice game tonight. He had multiple TFL's coming up and filling in the run game and I didn't see him trailing any WRs after the catch tonight.
*** I sure wouldn't want to be a player in that Special Teams meeting tomorrow.
*** Chris Adimora is going to be a player for Texas.
*** Great call by Tim Beck on the bootleg to ice this one for Texas. The Longhorns had to work for this one tonight and they didn't make it any easier on themselves.
*** Sam Ehlinger finished the game 20/28 (71%) for 281 yards, 4 touchdowns, and 1 interception. Spencer Sanders was 19/32 (59%) for 268 yards and 2 interceptions.
*** Keaontay Ingram looked the best that he has this season, finishing with 114 yards and 21 carries (5.4). All-American candidate Chuba Hubbard was held to 121 yards on 37 carries (3.2) and 2 scores.
*** Tylan Wallace was held to 2 catches for 17 yards in the second half. That's a tremendous job against a guy that has been the best WR in college football through the first three games. Devin Duvernay had himself another night, with 12 receptions for 108 yards and a score.
*** Texas lost the turnover battle in the box score, but 2 stops on 4th down are basically turnovers.
*** There were plenty of times where Texas looked like they were on their heels but the defense stood tall in the redzone all night.
*** Jalen Green, Caden Sterns, DeMarvion Overshown, and BJ Foster are all banged up and the great news for Texas is the have 13 days between now and their next game. They have time to get some guys healed up before heading to Morgantown for what is expected to be another tough battle.
*** This game tonight wasn't pretty by any means and I have plenty of bones to pick with some of the decisions that were made, but at the end of the day, Texas defeated a program and coach that have pretty much owned them for the past decade. The Longhorns are 1-0 in Big XII play and all of their pre-season goals are still intact.
*** Get healthy, get the issues fixed on special teams, and get ready to get on a plane in a few weeks ready for another team that's going to give you their best shot. Just win, baby.
---
Three Signs of Growth
– Super K
It's still early but there continues to be more evidence that Herman has taken Texas to another level in his third year as head coach.
***Depth – When Herman came in, the Horns seemed paper thin. Now, guys are dropping like flies and there's a new guy ready to go in and perform well.
We actually discover new talent as players go down.
It's not where it needs to be but it's certainly getting there.
***Destroying who you should destroy – the past couple years we've seen Texas struggle with teams that traditional powerhouse teams destroy. Last year's Tulsa game comes to mind.
Now? Texas steam rolled LA Tech and Rice. It's worth mentioning that Baylor had a close game with Rice.
***Winning when you're not at your best – Coach Herman has previously noted that they weren't in a place to not be at their and still win.
This past weekend showed that they are well on their way to being there.
Texas dominated the line of scrimmage but made a number of errors both on the field and from the sideline. Despite that, they beat (and led for most of the game) a good Oklahoma State team.
---
'22 DB Jacobe Chester Recaps Texas Visit
– CJ Vogel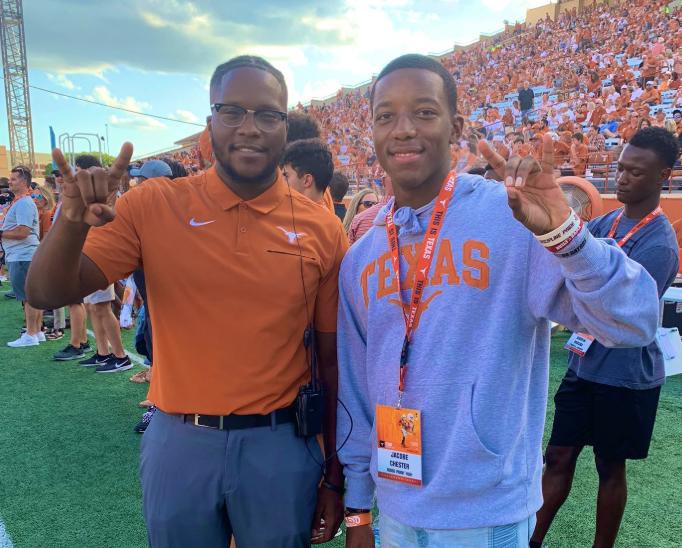 It's a good time to start taking note of some names for the 2022 class, and one that will certainly find its way floating around the message boards in the future is DB Jacobe Chester out of Missouri City, Texas (Ridge Point).
Chester made his way in with his family on Saturday afternoon and stayed for the ensuing game against Oklahoma State that night. From the sounds of things, Chester really enjoyed his time on The 40 Acres.
"I really enjoyed the atmosphere and really love the culture of the program," said Chester following the game. "I also appreciated all of the coaches who spent time with me. Todd Orlando, Jason Washington, Craig Naiver, Venric Mark, and Brian Carrington."
Texas was able to shine under the lights once again which played in favor of yet another impressive home field atmosphere, something that stood out to several visitors, including Chester.
"Stadium atmosphere was amazing probably the best one I've seen so far, and the game was great I really like how Texas players always had each others backs every down and play and how their defense really always their players to get to the ball," said Chester. "It was just an amazing experience all together most definitely a school I highly look forward to going back and visiting."
Chester, who is currently listed at 6-foot, 175 pounds as a sophomore in HS, currently holds offers from Rutgers and Illinois State, but will certainly garner higher interest as he continues his high school career. Expect some bigger names to roll through during in the eval period this spring.
"Texas has always been my dream school sense I was a really little kid so besides, so really besides them it would really just have to be any other school I could see being really good for me and my future down the line."
Chester's spring highlights were quite impressive.
---
Injury Bug Takes a Big Bite Out of Texas
– Charlie S
On the Big 12 media call, Tom Herman updated the status of several injured Longhorns…and the damage was substantial…
*** Sophomore DB Caden Sterns will be out several weeks with a tibia injury
*** Junior DB Josh Thompson has a broken foot and will miss significant time
*** Freshman LB Marcus Tillman will miss the remainder of the season with an MCL sprain
*** Sophomore DB Jalen Green will be out for at least four weeks with a dislocated shoulder