Open Post | Tuesday, September 3rd
Posted on: September 3, 2019
Quick Hitters | #DentonToAustin Movement?
– CJ Vogel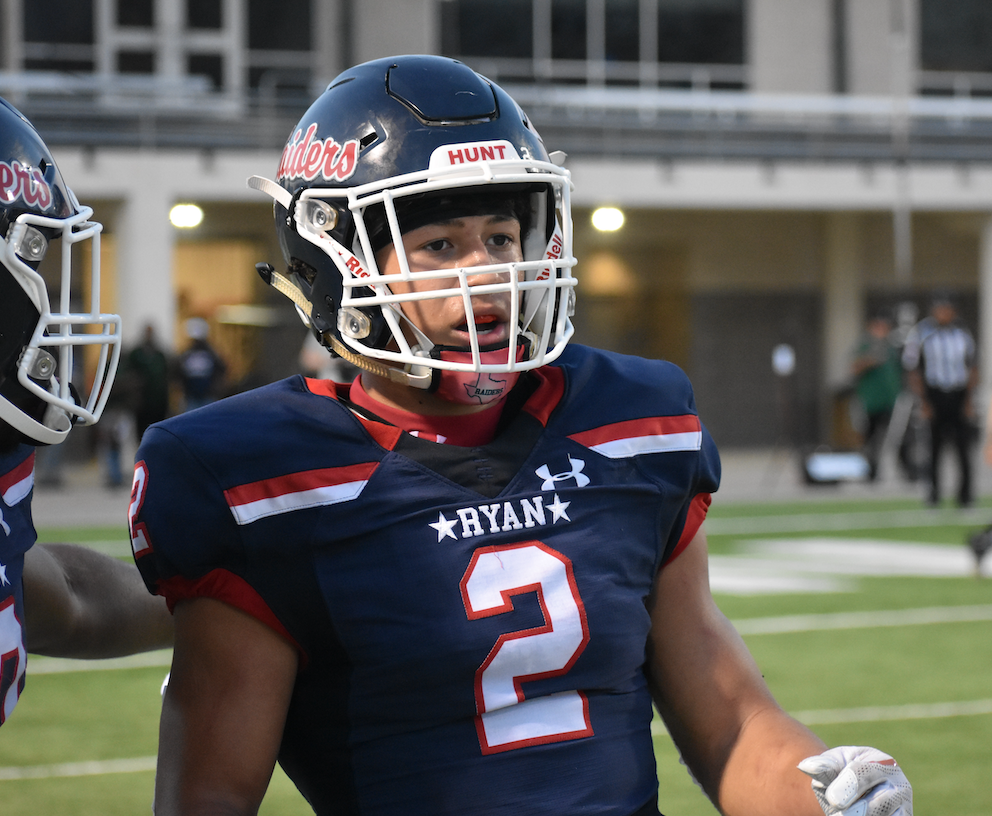 "We got something coming!"
That's what 2021 Texas commit Billy Bowman Jr. told me with a huge smile whenever I asked him if he had been in the ear of his 4-star teammate DE Ja'Tavi0n Sanders.
The two of them will be making the trip down to Austin for the LSU game on Sept. 7th. Sanders and Bowman will be accompanied by former Texas player and current Denton Ryan assistant coach Alex De La Torre for the trip as well.
** My take: I have a real good feeling about where Texas currently stands with Sanders. If I had a to put a "crystal ball" on him at the moment, I would not hesitate to put it on Texas.
---
Also, 2022 Denton Ryan CB Austin Jordan is a name to know. It's very likely he ends up being one of the top corners in the state and if Texas tosses their hat in the ring with him early, I could very easily see him joining Billy Bowman Jr. as a member of the #DentonToAustin movement.
---
Instant Reaction | Texas vs. Louisiana Tech
– Darius Terrell
It's baaaaccccckkkkk!!!!!!!! The 10th-ranked Longhorns kicked off their 2019 season against perennial C-USA contender Louisiana Tech, who brings an experienced offense and secondary to Austin to challenge Tom Herman's group.
*** On the opening drive of the game, the Texas Offensive Line set the tone. They were blowing LA Tech's inexperienced 3-man off of the ball on every snap. Keaontay Ingram and Sam Ehlinger had all day to pick their lanes on that drive.
*** Surprise, surprise! Georgia Tech transfer Parker Braun started the game for Texas at Left Guard. Color me shocked (not really) that Texas played some possum with the media about Braun's potential role this season. Texas looked like this upfront:
LT – Sam Cosmi
LG – Parker Braun
C – Zach Shackelford
RG – Junior Angilau
RT – Derek Kerstetter
*** Devin Duvernay was the star of the drive. He touched the ball four times on the opening drive (not including the opening kickoff that he returned out to the 43-yard line) and finished it off with 4-yard catch and run for the touchdown. I personally had some reservations about Duvernay's move to the slot, but if the plan is to feature him in space as much as they did tonight, you won't hear another complaint from me about it for the rest of the season. Get that man the football.
*** Speaking of getting the ball out in space, that is something that requires your Wide Receivers to be unselfish and execute. The Texas Wide Receivers were blocking their butts off on the perimeter. That is a credit to Coach Drew Mehringer and the offensive staff.
*** Sam Ehlinger committed a cardinal sin by throwing back across his body while rolling out, but the DB was too slow to close and Collin Johnson was able to haul in his first TD catch of what should be many this season. I don't think he will be able to get away with a throw like that next week.
*** Hello Tyler Owens!!!!!!! The freakiest athlete on the team announced his presence to Longhorn fans with that big-time tackle inside of the 20-yard line on the kickoff following Collin Johnson's score.
*** I absolutely love the tempo and crispness in which Texas ran their offense in the first quarter. It was beautiful. This is what an offense looks like with continuity on the coaching staff, a veteran QB, and veteran linemen. It's been far too long since we've seen a Texas offense look like this. It's a thing of beauty.
*** After four drives, how about this stat line for Sam Ehlinger: 15-of-18 (83%) for 127 yards and 3 touchdowns. Sam E was cooking out there and he's already gotten the ball to eight different Receivers.
*** Brennan Eagles reminds me so much of Darius White physically it isn't even funny. The big 6'3 pass-catcher blew by his defender and Ehlinger (shout out to the O-Line again) put the post route on the money for a 28-yard score. Texas has depth at WR and can afford to keep guys fresh and make sure everyone is attacking the defense at 100%.
*** DeMarvion Overshown was flashing all over my television screen. I love how Todd Orlando is using Overshown basically as a Linebacker and allowing him to be aggressive and playing around the line of scrimmage. Overshown is an asset as a blitzer.
*** The play that Jalen Green made while coming on the Corner blitz was one of a much more experienced player. LA Tech QB J'Mar Smith recognized it pre-snap and checked to a hot route. Green realized he wasn't going to get there in time and got his hands up, which resulted in a tipped pass and Joseph Ossai's first career interception.
*** I noticed a few guys wearing visors tonight for Texas. Maybe I'm misremembering, but I feel like I have seen very few Texas players wearing them over the past few years, especially compared to other teams.
*** Collin Johnson's sideline catch late in the 1st half should make the Sportscenter Top 10.
*** Texas held Louisiana Tech scoreless in the first half, but the Bulldogs seemed to move the ball well. They missed two field goals and also missed a wide-open touchdown pass. While it certainly wasn't a perfect half, you have to give the Texas defense credit for bowing up in their own territory.
*** Cameron Dicker was good on his first kick of the year from 43, but he pushed a 49-yarder right prior to the end of the first half.
*** I don't like how Texas finished the first half. Similar to last season, Texas seemed to lose a little bit of intensity once they built a lead. A killer instinct will have to be developed in order to take the next step as a program.
*** Jalen Green has all of the talent in the world, but his tackling is going to have to improve in a hurry.
*** How about some Devin Duvernay taking a handoff out of a 2-back set? I love it!
*** Jake Smith looks like a Running Back. I didn't realize how put together he already is.
*** Apparently, all Brennan Eagles does is catch touchdown passes.
*** Did I mention that the Texas O-Line consistently won at the initial point of attack tonight? Denzel Okafor came in for Derek Kerstetter in the 2nd Half and the offense didn't miss a beat. Okafor looked good.
*** Keaontay Ingram is noticeably bigger and the LA Tech defenders were getting tired of bodying him up as the game went along. More and more arm tackles began getting attempted and Ingram continued to patiently pick up yardage and pick his way through the defense.
*** I feel like the Texas CBs have been shaky at best all night long. The Bulldogs have missed some opportunities and the tackling has been suspect. I have concerns about this next week against a team with athletes that can and will make Texas pay.
*** Texas' talent and depth at the Safety position is insane. Chris Brown was all over the field tonight. He would be a starter for any other program in the Big XII.
*** For the first time in the Tom Herman era, Texas was able to voluntarily play their back-up Quarterback to gain some experience. That is a sign of a Texas program getting back to health.
*** I didn't think that Roschon Johnson looked out of place at all playing Running Back tonight. He had an impressive blitz pick-up on his first play and showed some burst once he got the ball on a few carries.
*** Jordan Whittington didn't look quite right and I'm concerned about how effective he will be not just next week, but this season. He has been dealing with a hernia issue since his high school days at Cuero. He may continue to play, but we may not see him at 100% this season.
*** Newcomer Jacoby Jones flashed a few times tonight. His forced fumble was a big play at a big moment in tonight's game.
*** I thought that Caden Sterns looked good tonight. He had some impressive open-field tackles and had multiple PBU's.
*** The penalty that wiped out Joseph Ossai's second interception was a really tough call. I understand the rule and why it exists. It's unfortunate that Brandon Jones and Caden Sterns ran into each other causing the incidental contact to the Quarterback's lower body.
*** T'Vondre Sweat is a physical specimen and watching him run around and chase the ball has me dreaming about what the Texas Defensive Line can and will look like in the near future. More monsters are on the way.
*** I thought that the Linebackers were quiet outside of Joseph Ossai, who looked like an All-Conference level player today.
*** Sam Ehlinger finished the game 28-38 (73%) for 276 yards and 4 touchdowns.
*** Keaontay Ingram rushed for 78 yards and 11 carries (7.1 ypc) and added 43 yards through the air.
*** Texas was 8-of-15 of 3rd downs (53%). They did a good job staying ahead of the sticks all night, but when the time came to convert, the Longhorns were effective.
*** Montrell Estell did some good things tonight.
*** True Freshmen that played tonight by my count:
T'Vondre Sweat
Kenyatta Watson
Chris Adimora
Jake Smith
Jordan Whittington
Marcus Washington
Roschon Johnson
Tyler Owens
Marcus Tillman
Javonne Shepherd
*** Overall, I thought that Texas started the game like gangbusters on Offense. Defensively, the statistics suggest that LA Tech was very effectively offensively moving the ball. The Longhorns were without a doubt holding back some things defensively, but LA Tech Senior QB J'Mar Smith seemed to pick up on the tendencies and what Texas wanted to do fairly quickly. I have concerns about the Secondary and I know for a fact the Offensive Line will be facing a totally different animal up front. Will Texas answer the bell? We will find out. But for tonight, a 45-14 victory over a quality G5 team in a season opener is a great place to start. Hook'Em.
---
2021 Top Target Ja'Tavion Sanders Talks Texas Interest
– CJ Vogel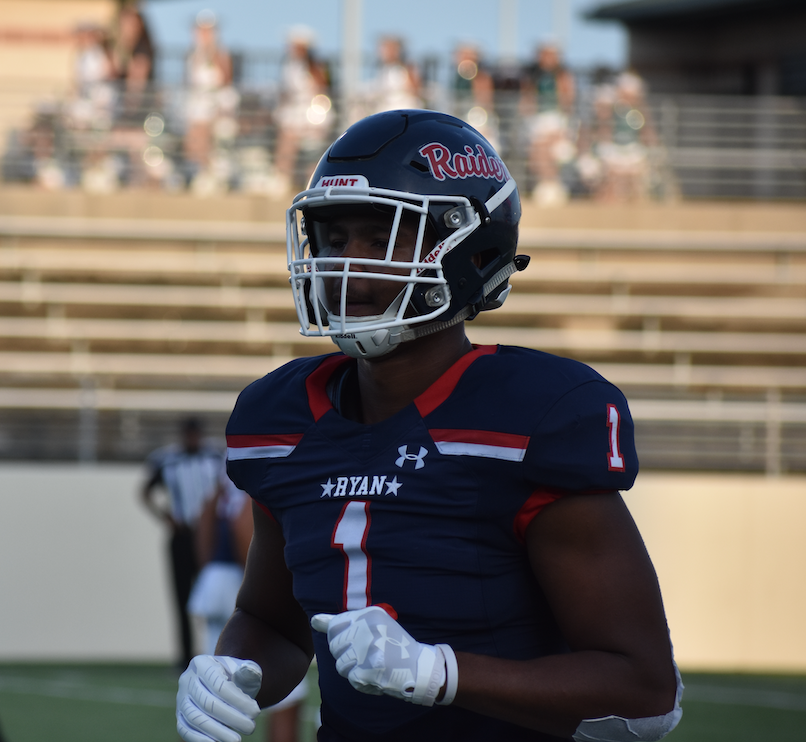 Off just one watch of 2021 prospect Ja'Tavion Sanders, it's very easy to see why top schools in the area are all over his recruitment. Sanders shined all night at both defensive end and wide receiver and makes a case for being a top five player in the state.
The 6-foot, 4-inch and 220 pound prospect is easily one of the most athletic players in the state and playing opposite of Alabama commit Drew Sanders on both sides of the ball allows him to showcase his whole repertoire of skills.
Getting into recruiting, Sanders is very intrigued with the Texas Longhorns early on, in large part thanks to teammate Billy Bowman Jr. who announced his commitment to Texas on July 31st.
"When I went down there the last two times, they've been amazing," said Sanders following a 52-6 victory over Mesquite Poteet. "I loved it. I'm waiting for the LSU game next weekend."
As we've mentioned in the past, both Sanders and Bowman will be in Austin for a visit when the Longhorns take on the LSU Tigers for College Gameday.
Other than Bowman Jr., former Texas player and current Denton Ryan assistant coach Alex De La Torre has been putting in good words of his alma mater and it's striking a chord with Sanders.
"(Coach De La Torre) has been the one taking me down (to Austin) all the time," said Sanders.
With the season just now kicking off, Sanders will certainly be keeping his eye on the Longhorns and the defense especially.
"I want to see what they can do and how that defense will show up this year," said Sanders. "I'm really trying to see if they are about the hype."
Defensive line coach Oscar Giles has been all over this recruitment early on and is creating a strong relationship with Sanders.
"I love that defense," Sanders said. "(Texas) has the second best recruiting class in the nation right now and I love that and I'm thinking about going there too."
---
Injury Update | Post LaTech Game, RB Depth
– CJ Vogel
To the naked eye, it appeared Texas had escaped Louisiana Tech without any significant injuries. Well, that may not have been the case according to Head Coach Tom Herman in his Monday conference call.
— RB Jordan Whittington will undergo surgery on a sports hernia and will miss six weeks. Whittington has had issues with the injury since aggravating it in HS.
— WR Collin Johnson is day to day.
— C Zach Shackelford is uncertain.
— TE Jared Wiley is doubtful.
— RB Kirk Johnson is out 6 weeks.
— RB Daniel Young is out.
At the moment, the Longhorn depth chart at RB is razor thin. To combat the lack of depth, freshman LB David Gbenda will be moved over to the tailback position for the upcoming week.
The RB spot currently consists of Keaontay Ingram, Roschon Johnson and David Gbenda.