Open Post | Weekend, September 6th – 8th
Posted on: September 6, 2019
2022 CB Austin Jordan High on Texas Early On
– CJ Vogel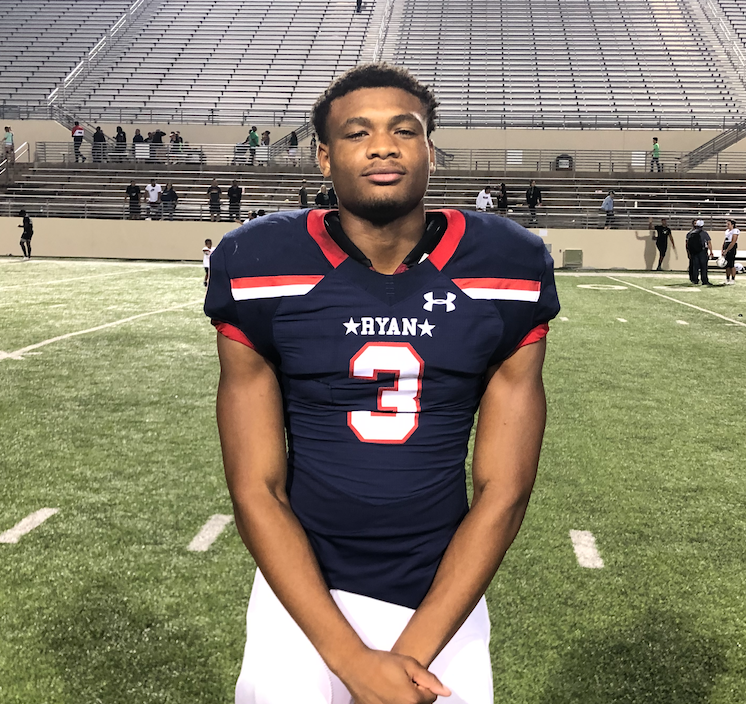 The class of 2022 still has some time before many top players become well known by those that following recruiting religiously, but when the time comes, 2022 Denton Ryan CB Austin Jordan is a name that Longhorn fans should become very fond of.
Jordan was a member of Denton Ryan's 4×200 team that went to state last year and is one of the most athletic players on a stacked Denton Ryan squad.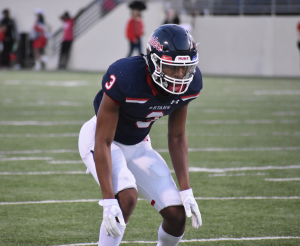 It's about that time in Jordan's high school career for his recruitment to truly take off.
"I was supposed to go to an Ohio State camp, but (expenses) got in the way and I'm only a sophomore," said Jordan following his week one win.
Jordan accompanied Billy Bowman Jr. and Ja'Tavion Sanders on a visit to Texas earlier this summer and has the Longhorns high on his mind early on.
"Texas is really nice, and if I get an offer…" and he left it at that.
"I always liked Texas, I would read stories about Vince Young and USC and all of that."
Coming off of the Sugar Bowl win and a growing sense of confidence around the program, Jordan really wants to see "progression" in the upcoming season. "They have more recruits coming in, want to see how they do and hopefully they make it to the playoffs."
Jordan mentioned Oregon as another school he grew up being a fan of.
** Right now, I have no reason to believe that Texas would not be his leader if they extend an offer in the near future. With Coach De La Torre, Billy Bowman Jr., and potentially Ja'Tavion Sanders all pushing for the burnt orange, it's hard to think Texas won't be atop his mind for the next year or so.
---
One on One's | Texas vs. LSU
– CJ Vogel
Here we go. The most anticipated game at Darrell K. Royal-Texas Memorial Stadium in years. It's time to dive in on some of the most important one-on-one matchups ahead of the big game.
---
One on One number one: Texas' No. 2 CB vs. Terrace Marshall
Following the win against Louisiana Tech, it appeared the general consensus for concern revolved around the cornerback position. While the Texas corners did not necessarily get beat deep or embarrassed on a national level, their play left the door open for hesitancy moving forward. Especially against a group like LSU.
I would assume Jalen Green would take the challenge of guarding Justin Jefferson who was LSU's leading receiver with five receptions for 87 yards and a score. But the bigger question comes with who will take on the task of guarding the former five star receiver from Bossier City, Louisiana.
Three of Marshall's four catches resulted in the fight song being played, which just goes to show who Joe Burrow looks for first in the redzone. Which of Kobe Boyce, Anthony Cook or D'Shawn Jamison will step up and take on the challenge of subduing Marshall.
One on One number two: Parker Braun vs. Jacob Phillips
Braun cracked the starting lineup at left guard in his Longhorn debut and did quite well, but he'll be tested in the running game and on stunts by LSU LB Jacob Phillips.
Phillips was LSU's leading tackler against Georgia Southern with 10 tackles. He was also credited with a QB hurry and PD. Phillips is always around the ball.
Texas will be facing their toughest group of defensive linemen of the year this week and second straight strong performance, win or lose, will be a great indicator for the remainder of the season.
Texas has favored running the ball to the left side behind Sam Cosmi, Parker Braun and Zach Shackelford, but it's really Braun who is the catalyst. Being able to limit Phillips would be HUGE for the Texas run game that is already up in the air.
One on One number three: Chris Brown vs. Texas Staff
This isn't a negative in the slightest. I'm a big Chris Brown fan, especially after his performance in week one against Louisiana Tech. The boxscore did Brown dirty last week, he had six total tackles, one for loss and a pass batted down at the line of scrimmage. He was also an instrumental component on Joseph Ossai's fumble recovery that technically went to Jacoby Jones but was not credited.
Where my one-on-one comes into play is how the staff will utilize Brown in the all important matchup against LSU. Brown brings a level of energy that is near unrivaled on the defense by any defensive back. Obviously, he was used closer to the line of scrimmage, which leads to the question of what the staff will do BJ Foster at joker or Josh Thompson at nickel.
Though not technically a pass rusher, Brown did his best work when working on offensive linemen in blitzes. Maximizing his talent while finding the correct personnel grouping is certainly a tough task for the staff, and is something I will be closely keeping my eye on for the duration of the game Saturday.
---
Film Room | Louisiana Tech
– Will Baizer
The "Run" Game Shift
Texas started off the game with a pretty obvious game plan. Short easy passes to the perimeter. They served a three-fold purpose: unload the box, protect the running backs, and protect Sam Ehlinger.
Of Ehlinger's first 24 throws, eighteen targets were to receivers who were five yards or less down the field and to the perimeter. What this did was get the running back, Devin Duvernay, or Jake Smith to the perimeter so they could run the ball in zone concepts on the outside.
The play above and every play before that, the receivers block a zone and the ball carrier makes a decision on which hole to hit. Longhorn fans will likely see this again next week due to the loss of Jordan Whittington and LSU's likely game plan of stacking the box and playing man on the outside.
Mobile Left
Although, the offense extended and diversified the "run game," when it came to actually running the ball, there wasn't much of a change from the year before besides who is blocking upfront. As you can see in the film below, the inside zone play is still very similar to last year, using half-man block techniques and emphasis on second level mobility:
This inside zone concept of running away from the tight end was very popular in this game. You can perfectly visualize the dominance of the Cosmi-Braun-Shackelford side. While Sam Cosmi may not be as polished a pass blocker as Connor Williams, he is more physical at the point of attack. Zach Shackelford easily took care of that nose tackle all game long, and Parker Braun has motor bigger than an F250.
Both Braun and Cosmi's athleticism on the outside allows for the offense to play around with the perimeter, often sending either Cosmi, Braun, or both downfield to block a poor 220-pounder:
While Braun did not get much action in the above play, he certainly found some later in the game:
Sam's Next Step
This offensive line also gave Sam Ehlinger on average over three seconds to throw the ball all game long, even though he did not need it most of the time. This resulted in a solid game from Ehlinger as he went 28 of 38 for 276 yards with four touchdowns and no turnovers. Most of the accuracy was due to him throwing so many high percentage balls.
Where he needs to work is the game beyond the easy throws. It's not that he cannot do it. He was inconsistent in his ability to deliver a good ball with misses to a streaking Collin Johnson or this play that would have finally given Texas a play over fifty yards:
You just cannot miss this pass. Still, there were some pretty nice plays where he put the ball in the correct place through a lot of traffic. The first touchdown to Collin Johnson was a threaded needle, and the placement on the first touchdown to Brennan Eagles was also a great throw:
Credit to the play call on this one with the recognition of the two-high defense and a perfect call against it with the scissors concept. Texas took advantage of the two-high again later in the game and caught a safety flat-footed as they stranded him between Devin Duvernay and Brennan Eagles.
It is obvious that the potential for Sam is there for him to have a truly elite game. LSU will push this issue on Saturday by making sure Sam cannot escape the pocket and have to throw against close man coverage. If Sam can start to hit these throws that are wide open, Texas' chance of winning increase exponentially.
Trouble vs Press?
For the wide receivers, the talent is there as well, but they often left Sam Ehlinger hanging out in a pocket trying to make something happen because they were unable to get separation given ample time and space.
As far as the difficulty against the press, the LaTech safety was partially correct, but not very. Here is a how-to and how-not-to deal with a pressing cornerback:
Do not refer to this video as a how-to on ball security.
Collin Johnson was difficult to press all game. He always anticipated the pressure from the corner and threw the first punch. With him having fifty pounds on the corner, it often sent the defensive back flying. Malcolm Epps also showed up well against the same press later in the game:
So Much Depth
On the defensive side, the Longhorns have some legit depth and skill along the line that overpowered the LaTech offensive line. While the starters of Graham-Coburn-Roach were pretty dominate, but the play from guys like Ojomo, Sweat, Bimage, and Jones made it seem like the Longhorns never really lost a step.
For example, in this play, the second string line does a phenomenal job. Ojomo occupies two blockers by himself allowing for Ossai to make a clean gap fill and Sweat to clean up down the line:
This is textbook run defense. The emergence of Chris Brown to help set the edge was a really understated part of his contribution to the game.
It seems that this year, Texas' best defensive package will be Dime with the emergence of Ossai being able to reliably play the Rover.
Cowboy Works (so far)
Eight defensive backs is something that I don't think I've ever seen. Not even on video games. However, even though in the chaos of the game it looked like guys were running into each other and past the quarterback, it was surprisingly effective. Stunts actually opened up holes. Deep blitzing defensive backs grabbed the attention of the offensive line, allowing for defensive linemen to sneak into holes. Texas used the Cowboy package ten times throughout the game and eight times on third or fourth down.
Of those eight key downs, Louisiana Tech only converted twice. Once on Kobe Boyce premature celebration blunder, and the second on this:
Tackling
Honestly tackling was an issue throughout the game. There were way too many missed tackles on the perimeter which is what allowed Louisiana Tech to take the two to five-yard passes and turn them into eight to eighteen yard plays. It was the little things like bad angles to the tackle, not using the sideline as an extra defender, or just simply not wrapping up.
Even on seemingly great plays, there was room for improvement. On the fumble recovery that set Texas up to get a 21 point lead, there was room for improvement. While Chris Brown and Jacoby Jones did a wonderful job rallying to finish the play, Ayodele Adeoye should have been the one holding up the running back:
As I displayed in the above film, Adeoye does a wonderful job crashing down on the ball carrier. The next step is sticking the tackle.
Cornerback Pickle
The other more obvious issue was the cornerback play on the side opposite Jalen Green. Simple things such as knowing what their assignment is or where they should line up almost cost Texas early in the game:
While Kobe Boyce's errors were very apparent, both D'Shawn Jamison and Anthony Cook did not really do much better in fundamental aspects of the game or recognition of plays.
Texas is in a bit of a pickle on the opposite side of Jalen Green. LSU will assuredly take note and Joe Burrow will attack it. Todd Orlando and Jason Washington will need to get this figured out in a hurry.
---
Alfred Collins and Princely Umanmielen | Quotes from Austin's Defensive Line Duo
– Will Baizer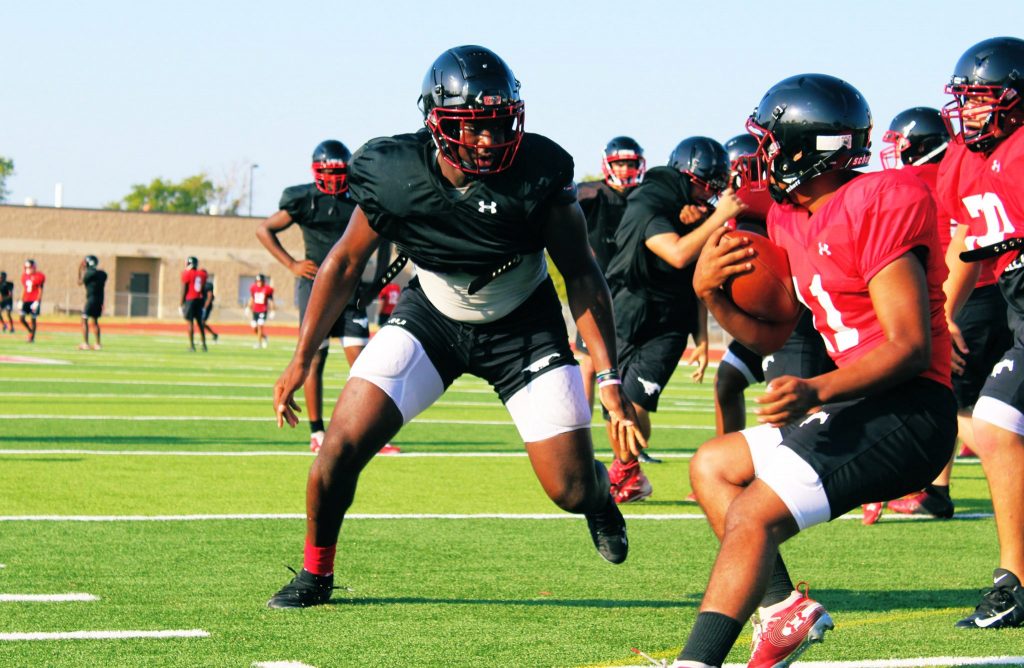 The last defensive line target on Oscar Giles wish list in the guy out of Cedar Creek High School in 2020 defensive lineman Alfred Collins.
The time last year, Collins seemed like a guy whos frame projected well, but people were unsure how he would put on the weight. That is a question no longer as Alfred Collins says he put on "…at least like twenty pounds," and that is not bad weight. He now stands at 6'6″ and 277-pounds.
As he has grown so has the interest from other programs as Texas is in the hunt with Oklahoma, A&M, LSU, and Alabama.
The plan for Alfred Collins is pretty simple, "In two weeks I have OU. The following week I have Bama. Then LSU and A&M."
The Longhorns main competition in this battle is probably the Sooners whose staff feels confident in their ability to pull Collins. Collins is very open to the Sooners, telling TFB "I just like that family vibe they have, they're genuine, and they're good at football."
Where is Texas? That is still up in the air. Collins admitted, "I'm not even sure. They are talking about having it in December, and that's too late. I'd rather have it during the season."
He was at the Longhorns game against Louisiana Tech and told our Darius Terrell that his trip went well.
One of the biggest card in the Longhorns pocket is Alfred's friendship with a current Texas commit, "Princely Umanmielen [is who I'm closest with]. Just going to camps together, I see him a lot." The pitch is simple, "They just keep telling me, 'Let's make history today. Let's go to UT.'"
While he told us that he plans on seeing all of his top five before making a decision, we feel good about where Texas stands at this point.
---
Before the beginning of their season, I got to catch up with the Longhorns 2020 defensive line commit Princely Umanmielen.
When it came time to make his decision, Umanmielen went with where his heart was, "What really drew me was that I can stay in Austin and play down here in front of my friends and family." The last hurdle the Longhorns had to overcome was Umanmielen's hesitancy to play in a 3-4 base defense. However, the success Texas has had so far finally swayed him, "Also, I think I was a little too into the scheme at first. Then I realized if Charles Omenihu can get ten sacks then why can't I do that and more. I've also been building a relationship with Coach Giles and Tom Herman ever since I was a freshman, even before they offered me."
While his commitment was not a surprise to some, it was a huge surprise to the A&M staff who had the Longhorns' number in the last cycle. The fight between Price and Giles is feisty, so I asked Umanmielen to describe how the two approach recruiting:
"I still love Coach Price. He was real goofy and funny. With Coach Giles I can goof around with him sometimes, but it was always a player-coach relationship."
Beyond the coaches, the Longhorns current players played a large role in him feeling comfortable with the team. Specifically, the vocal leader of the 2019 class, "De'Gabriel Floyd has been the guy I've been closest to on the team. Ever since last year at the Under the Lights camp he's been in my ear about how great they will be in the future and how I need to help them out."
Now that Umanmielen has hopped on board, his sites have been set on being the recruiter. His first target: fellow Austin area defensive lineman Alfred Collins. His pitch:
"He needs to make the move. We could have one of the best defensive lines in the nation if he joins. Kind of like the Clemson defensive line last year."
The last question I had for Umanmielen was simple. How hard can you spike a volleyball?
His answer, "Enough to break a nose."
---
LSU Weekend Visitors List
– CJ Vogel
It's time for the biggest non-conference game since the 2009 National Championship and man, the visitors on campus this weekend is impressive.
The game is such a hot commodity for recruits, that Texas capped the guest list and won't be taking any more RSVP's for the weekend.
2020 Recruits
QB Hudson Card (Lake Travis)
RB Ty Jordan (West Mesquite)
WR Quentin Johnston (Temple)
OL Jaylen Garth (Port Neches Grove)
OL Andrej Karic (Southlake Carroll)
OL Jake Majors (Prosper)
DL Princely Umanmielen (Manor)
OLB Prince Dorbah (Highland Park)
CB Joshua Eaton (Aldine MacArthur)
CB Ethan Pouncey (Winter Park, FL)
S Xavion Alford (Shadow Creek)
S Jerrin Thompson (Lufkin)
ATH Ja'Quinden Jackson (Duncanville)
All 2020 visitors are currently committed to the Longhorns with the exception of West Mesquite APB Ty Jordan. Great bonding experience for all members.
2021 Recruits
QB Jalen Milroe (Katy Thompkins)
WR Quay Davis (Skyline)
WR Latrell Neville (Hightower)
WR Jojo Earle (Aledo)
TE Juan Davis (Everman)
TE Lake McRee (Lake Travis)
TE Var'Keyes Gumms (Dekaney)
OL Donovan Jackson (Episcopal)
OL Savion Byrd (Duncanville)
OL Hayden Conner (Katy Taylor)
OL Tommy Brockermeyer (All Saints)
OL James Brockermeyer (All Saints)
DT Tunmise Adeleye (Katy Tompkins)
DT Shemar Turner (DeSoto) *NEW*
DE Ja'Tavion Sanders (Denton Ryan)
DE Marcus Burris (Texarkana Pleasant Grove) *NEW*
DE Landon Jackson (Texarkana Pleasant Grove)
LB Clayton Smith (Texas High)
LB Derrick Harris Jr. (New Caney)
ATH Billy Bowman Jr. (Denton Ryan)
We also have a gut feeling that CB Latrell McCutchin may show up. He's just across the street.
2022 Recruits
RB Emeka Megwa (Nolan Catholic)
WR Caleb Burton III (Del Valle)
TE Donovan Green (Dickinson)
TE Trent McGaughey (Shadow Creek)
OL Kameron Dewberry (Atascocita)
OLB Martrell Harris (The Woodlands)
DT Bear Alexander (Skyline)
S Jaidan Scott (Shadow Creek)
CB Austin Jordan (Denton Ryan)
CB Jaylon Guilbeau (Port Arthur Memorial)
CB Denver Harris (North Shore)
2023 Recruits
RB Rueben Owens II (El Campo)