Open Post | Tuesday, December 17th
Posted on: December 17, 2019
Recruiting | Quick-Hitter | Burns
– Super K
***In a bit of a surprise move, 2020 LB, Jaqwondis Burns (IMG Academy by way of TX) has committed to Minnesota. The Texas staff met with Burns earlier this week and word was that Burns gave them the indication he would be signing with the Horns.
But it looks like PJ Fleck and company made a bigger impression than we anticipated. I know this doesn't feel great right now but it's tough sledding when you don't have a DC and no one is quite certain which position coaches will remain.
In the case of Burns, he is a mid-year guy so he had to make a quick decision. He didn't have the luxury of waiting to see who Texas would be bringing in.
---
Chris Ash | Defensive Identity
– The Football Brainiacs
In an effort to provide our readers with as much insight into what Chris Ash will bring to the table as the Longhorns new Defensive Coordinator, we have brought in Cody Alexander to provide us with an in-depth look.
Cody Alexander is currently the Secondary Coach at Midlothian HS (5A DII – TX) and author of MatchQuarters.com. He has written two books on defending modern offenses, Cautious Aggression: Defending Modern Football (2017) and Hybrids: The Making of a Modern Defense (2018).
Coach Alexander was the Defensive Graduate Assistant at Baylor University under former Arizona St. and Baylor Defensive Coordinator, Phil Bennett. During Coach's tenure at Baylor, he assisted with the development of the corners and was placed in charge of opponent breakdowns.
---
Something just wasn't right in 2019. Blame it on the injuries, the league itself, or Orlando grasping for answers as the wheels fell off. Regardless, the Texas defense took another step back in 2019 and Tom Herman had to stop the bleeding. In 2017 Orlando was seen as a rising defensive coach in the mold of LSU's Dave Aranda. Kirby Smart, Georgia's Head Coach, even sought Orlando out to clinic on the encouragement of Herman.
Over the past three years, the Texas defense has steadily fallen in efficiency from #7 overall in DFEI (represent the per possession scoring advantage a team's defense would be expected to have on a neutral field against an average offense) following the 2017 campaign to a pedestrian #60 in 2019. Texas finished #74 in points surrendered a game with just below 30 a game. Points Per Drive, or PPD, were stagnant as well at #68 (the Longhorns were #67 in '18). PPD is a great indicator of how good a defense really is in a league with were offenses reign and points are scored.
Orlando's lack of production and development from high caliber players were too much in the end. Add injuries and the 2019 season had a mediocre written all over it. Herman would fire Orlando after the season conclude. Looking at the 2019 season and you could argue Texas needed to just calm down and play defense. Enter Chris Ash.
First, who exactly is Chris Ash. Though not familiar to Big 12 country, Ash is a well-known commodity in the Big 10 with Coordinator stops at Wisconsin and lastly at Ohio State. Ash is also familiar with Herman who was the OC alongside Ash for the Buckeyes 2014 National Championship campaign. Herman would leave for Houston and Ash the next year for the Head Coaching job at Rutgers (2016).
If looking on the surface, Ash's record at Rutgers is lacking, but if you dig deeper, he did have some production on defense. In 2015, the year before Ash left Columbus, the Scarlet Knights had one of the worst defenses of any Power 5 unit. In Ash's first year he was able to bring that play up to middle of the road, where it would stay until his eventual firing earlier this September.
What exactly does Ash bring to the table? A calming of the waters. Ash is in the same mold as Pat Narduzzi of Pitt or Mike Dantonio of Michigan State. Watch a Rutgers game (I know…) and you will see that there are not many exotic pressures, multiple packages, or dangerous alignments. Ash is a Quarters purest and will play different types of Quarters. As a change-up, Ash will bring Fire Zone pressures with Cover 3 behind them (we will discuss these later). Versus Ohio State, Ash used multiple looks, one being the 4-down Over Front (3 tech. set to the RB) below. This looks very similar if not the same as any Michigan St. or Pitt defense.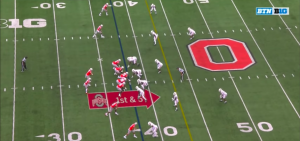 Herman needs a familiar face that is a proven Power 5 coordinator and can bring a stillness to the defense. Structurally, Ash will look like many of the top defensive minds in football. Look for the Longhorns to bounce from 4- to 3-down fronts and incorporate the Tite/Mint Front that is used almost universally across college football. Below is a typical alignment Longhorns fans can expect:

The Mint Front (shown above) is a run-stopping "3-Down" front. The walked up OLB (Jack) at the bottom is not considered a defensive lineman because he can either insert as contain or cut the flat. The front is built to stop the run, especially the Zone heavy schemes seen in the Big 12 and most Spread offenses today. The Tite Front pairs well with a traditional 4-down Over Front that most football traditionalists are used to seeing. Later in the same drive as the picture shown prior, Ash jumped into the Mint alignment (below). This fluid nature is where most defenses are heading.

Like Alex Grinch at Oklahoma, Ash will stem (move) from one to the other depending on game plan or tendencies. If teams get "big" on the Longhorns Ash will go to a modernized version of the Bear Front that utilizes the Tite or a 404 alignment with two walked up OLB hybrids. To defend Spread heavy teams a Nickel will be on the field, but versus "bigger" opponents another OLB will come on field, add a 3rd Down Dime package and that is really all you will see. Here is a look at what a "Base" alignment entails from a 3-4: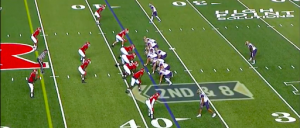 Where the most drastic change will happen is in the secondary. Though Orlando ran Quarters, he mixed it up quite a bit, not only moving players around but running different schemes week to week. As stated earlier, Ash will bring consistency week to week. Quarters in and of itself is man-like in nature. This will bode well for the talented Texas secondary. Most Longhorn fans can dig a defense that aesthetically will look similar to the LSU Tigers.
If looking for a Big 12 contemporary, Phil Bennett is the first that comes to mind. Bennett was able to resurrect a terrible defense at Baylor to be one of the better units in the Big 12. All while being behind an explosive offense. Simple safe pressures combined with Quarters coverage was able to hold it down enough for the Bears to win back-to-back Big 12 Championships. Add the talent at Texas and Ash might be able to manufacture instant success.
Ash is not a Cover 2 coordinator, meaning the CBs will most likely be playing tight to the #1 WRs and the Safeties will work with the OLBs to bracket the slots. MOD (Man Outside or Deep) or loose Quarters can easily be paired with the "country" Cover 3 that Ash has used prior. Country refers to simple Cover 3 which is ran behind 5- to 6-man pressures. 4-Lock or MEG (Man Everywhere he Goes) Quarters is used when coordinators want to play the outside WR's tight or in press coverage. The main difference between the two is highlighted below: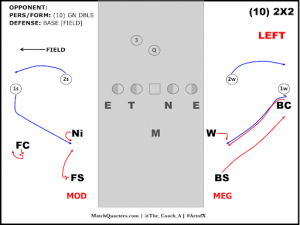 Pressure wise, Ash will look to implement typical Fire Zones or blitzes that require 5 to 6 players and Cover 3 is ran behind it. These "safe" pressures are used universally in football and allow a coordinator to attack the offense without sacrificing coverage. Even if sending 6 defenders, someone there are enough in the field to combat most routes. If looking for a visual explanation of a typical Fire Zone, see this tweet:
One of Ash's favorite Fire Zones is a boundary CB blitz that uses Cover 3 principles. The CB will play contain to the boundary while the DE to the field does the same. Pressure in the interior will come from the other three D-linemen. The use of a non-traditional rusher (CB) combined with line movement post-snap has become the in-vogue way to attack the Spread. Ash has shown this blitz versus some of the higher-level offenses he has defended running this multiple times versus Ohio State (shown) and Oregon in the 2015 National Championship.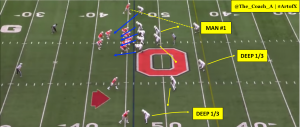 Ash will bring a much-needed calmness to the Longhorns defense. In each of his stops as a coordinator, Ash has been very successful. He is not unfamiliar with the high-pressure stacks of "blue-blood" football. At Wisconsin and Ohio State, Ash was part of championships and is well versed in defending the Spread systems in the B1G. That being said, there is always an indoctrination period in the Big 12, but Ash has had success and is known as a "DB guy."
This should bode well for the future of the Longhorns. Don't take Ash's record at Rutgers for face value. Though the wheels came off in 2019, Ash was able to keep the Scarlet Knights as a middle of the pack defense. That is saying a lot for a program with limited success. Only time will tell if Ash can get the Texas defense back to championship form. As many around the program agree, all that is needed is some development of their top-tier talent and a simpler plan of action. 
---
Commitment Analysis | 2020 DL Sawyer Goram-Welch
– D.T.
Texas has suffered a string of de-commitments over the past few weeks. They inflicted some damage to a conference foe when they went to East Texas in search of recapturing some positive momentum. Longview (Longview, TX) Defensive Lineman Sawyer Goram-Welch added his name to the Texas commitment list and will be signing in the early signing period and enrolling in January.
What is Texas getting in Goram-Welch?
Ranking: Consensus 3-Star recruit
Top Offers: Oklahoma State, Texas Tech, SMU, Illinois, Memphis, Oregon State
Size: 6'4 280lbs
Projected College Position: Defensive Line (D-Tackle)
Player Comparison: Daniel Carson (Texas 2018-)
Analysis: A former Oklahoma State commit, Goram-Welch was the best player on a defense that ranked as one of the best in the state of Texas. He was a Senior captain for one of the 6A powerhouse programs in East Texas, which shouldn't be ignored.
On tape, he has a powerful, thickly-built lower body and he has the ability to plug gaps while anchoring against the run. He looks like he will likely play at 300lbs or more during his time in Austin. I think that he has some positional versatility and can play in an odd or even front. He doesn't have a great burst or first step, but he is able to generate a powerful pass rush when he is able to get a head of steam. He definitely improved on tape as a pass rusher from his Junior to Senior year. He flashes the ability to be disruptive when he uses his hands to disengage would-be blockers and appears to have a motor that always runs hot, which is important for him as he won't be the most physically gifted Defensive Lineman on anyone's roster. Overall, I like the pick-up and expect Goram-Welch to emerge as a contributor later in his career for the Longhorns.
Instant Impact Rating: 4
Highlights:
---
Graham Harrell Staying at USC
– Charlie S
As Super K mentioned earlier this week it appears that offensive coordinator candidate Graham Harrell has chosen to stay at USC:
"***I know there have been some reports that Harrell is still in play. All I can tell you is that I've reached out to multiple people on the USC and they've simply said that if Harrell is planning on leaving, he's doing a heck of an acting job. Behind the scenes, he seems to be assuring them that he is staying. Take that for what it's worth.
***I can also confirm that Harrell is telling recruits that he's staying. Again, take that for what it's worth.
***USC folks say that Harrell does not believe Herman will fully give him the reigns to the offense.
***Either way, we should know something after the early signing period ends.
***Should Herman strike out on Harrell, a name that might be worth watching is that of Kansas State OC, Courtney Messingham. I did not hear his name mentioned as a candidate but he's coached multiple positions, he's coached with Herman, he could help with the Texas run game and he sure did a number on Oklahoma this past season"
Super K was on top of this search as he also brought up Kansas State OC Courtney Messingham as a potential fit for Tom Herman and that train of thought seems to be picking up more steam as well.
We will bring you more updates when we get them.
---
Quentin Johnston to Flip, Sign with TCU
– CJ Vogel
The hits keep on coming. A massive blow to the 2020 class comes as a result of Temple WR Quentin Johnston announcing via Snapchat his intentions to sign with TCU on Wednesday, the first National Signing Day.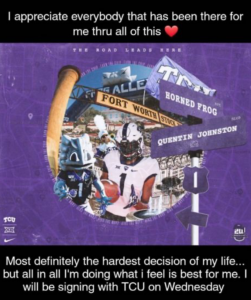 Super K has mentioned Johnston as a guy to watch as a result of the vacancy at the WR coaching spots and lack of movement in the offensive coordinator search.
***Also, I'm told Quentin Johnston will take his official visit to Texas this weekend.
This is not a small thing as behind the scenes other schools have been trying to flip Johnston. Without a WR coach, other schools see an opening to go after the ultra athletic Texas commit.
The flip hurts for a number of reasons. One being that Johnston was at the top of the list in terms of most talented recruits in the 2020 class, another meaning the Longhorns now have just two WR commits in the current class and three being Texas now has to face Johnston once a year for the next 3-4 seasons.
With the news of Johnston's flip coming just hours after Graham Harrell's decision to stick with USC, it's more likely than not to think the decision was correlated.
Texas has now lost seven commitments in the 2020 class.
Joshua Eaton
Princely Umanmielen
Ty Jordan
Van Fillinger
Ethan Pouncey
Mookie Cooper
Quentin Johnston
---