Open Post | Tuesday, January 7th
Posted on: January 7, 2020
Texas All American Bowl Commits React to Bowl Victory
– CJ Vogel
I was able to catch up with the Texas commits participating in the All American Bowl practices this week with to get their reactions following the Longhorns' 38-10 blowout victory over Utah in the 2019 Alamo Bowl.
RB Bijan Robinson
"It was awesome, especially for the running backs. They got to really use them with the outside zone and got them in space in the passing game. It was really cool to see what they could do all around as a group."
S Xavion Alford
"Coach (Craig) Naivar called a great game on the defensive side really. Coach Herman called a great game on the offensive side. It was really just a good little taste of what the season should be like next year. I really think this season should have been much better than what it was but it is what it is and that's what the offseason is for. I'm excited to get in there and work and everything and contribute."
OLB Prince Dorbah
"Us (the commits) watching it, we already knew we were going to win, that's just who we are. Watching the game, I already knew once the game kept going on, and I was like our defense just needs to keep it up and they kept it up. That was all she wrote."
OT Andrej Karic
"The D-Line caught my eye. They were rushing the quarterback and getting after him, getting a lot of sacks. We just played hard and came out there and do what we had to do. We did that last year in our bowl too, I wasn't expecting anything else."
DE Target Alfred Collins
"I think they were on point everywhere, on offense, defense, special teams."
---
Takeaways From All American Bowl/Combine
– CJ Vogel
I wanted to start by saying Texas has sent two consecutive exemplary groups of kids to the All American Bowl and it's been a pleasure getting to know the future Longhorns at the camp. The 2020 class in San Antonio consisted of four signees, Prince Dorbah, Bijan Robinson, Xavion Alford and Andrej Karic.
Off the bat, the outside linebacker from Highland Park surprised me immediately with his seamless transition from coming off the edge each down in high school to dropping into coverage and defending the pass. Prince Dorbah has real smooth hips and is fluid enough to change direction with eventual slot receivers. Though he likely won't be able to keep up speed wise with the typical slot WR, he can certainly hold his own. The play of the week for Dorbah came in the All American Bowl Game itself when Dorbah exploded towards the line of scrimmage after dropping into coverage to turn a dump-off pass into a two-yard loss.
Bijan Robinson, the highest rated runningback recruit since 2012, did not disappoint and has turned me into a believer that he should the day one starter in the fall. Robinson looks the part; he's got the size, speed, frame and most importantly necessary mentality to be great. I had not seen Robinson in person but had heard the reports of him being one of the nicest recruits in the cycle, after this week that might be an understatement. Robinson is undoubtedly one of the more special talents I have covered in my time, his running style seems so effortless and he showed a willingness to pass protect, which most five-star RBs aren't always quick to do.
Unfortunately, due to a knee injury, I wasn't able to see much of Xavion Alford in action this week, but that didn't stop me from learning just how much knowledge he has for the game. When I watched Alford's film from his junior year I was skeptical about his game, while he had a wild amount of interceptions, it always felt like they were the result of a tipped ball or errant throw. After this week, I can confirm I was wrong, and the "lucky" interceptions that may appear to happen so often are more a result of Alford knowing formations, coverage's and schemes better than the average 4-star safety. Alford told me his first conversation with new defensive coordinator Chris Ash ended with Ash complimenting him on "the way I talked ball."
Lastly, Andrej Karic will be real, real good for the Longhorns. The footwork is there, the hands are there and the technique is improving. The most obvious thing lacking is size. Karic was probably the lightest offensive lineman at the camp and he was humbled a couple times by the likes of Clemson commit Myles Murphy and Texas A&M commit Donnell Harris, but a summer or two in the Texas weight program should have him sitting right around 305 and the sky is the limit for the uber-athletic LT. One thing I really appreciated about Karic is he has a bully mentality on the football field. He plays mean and he plays violent.
On to the All American Bowl Combine:
2021 QB commit Jalen Milroe was everything he was advertised to be. Milroe threw some of the best passes of the day in the one-on-one portion of the day. One critique for the Katy native is a need to develop touch and finesse passes. Without question, Milroe was the most consistent quarterback at the combine. On top of that, Milroe's personality was contagious. I can see why his commitment to Texas turned heads throughout the rest of the 2021 class, Milroe has an electric personality and he uses it well as a future quarterback.
Other names that stood out at the camp:
2022 CB Julian Humphrey (Clear Lake, TX) – Humphrey was the best corner at the camp. The offers are beginning to roll in for him as well, however he has his eyes on a couple schools early on: LSU, TCU and Texas.
2021 CB Ayden Garnes (PA) – Garnes is small. He's listed at 6'0" and 160, though he may be shorter. But I don't remember him losing a single rep all day while also picking off 4 passes in the process. Garnes plays safety in high school but I love his anticipation and technique in man coverage, which makes me believe he may be suited better as a corner at the next level.
2022 S Braelon Allen (WI) – I couldn't believe this kid was a sophomore. Allen is listed at 6'2" and 200 pounds, which is 100% believable. He will be a top ranked recruit for the 2022 class and has already narrowed down his decision to Notre Dame and Wisconsin. Though he said he'd love to visit some schools down south.
2022 RB Jaydon Blue (TX) – Blue was unguardable against linebackers in a 1v1 setting. Several times, he and Jalen Milroe teamed up to absolutely bully the opposing linebacker.
2022 CB Jaylon Guillbeau (Port Arthur, TX) – Guilbeau was impressive for his age. He moved well but relied too much on grabbing opposing wide receivers. I imagine that comes from a lack of technique, which he is sure to polish up as he is just a sophomore.
---
Prince Dorbah Excels at All American Bowl
– CJ Vogel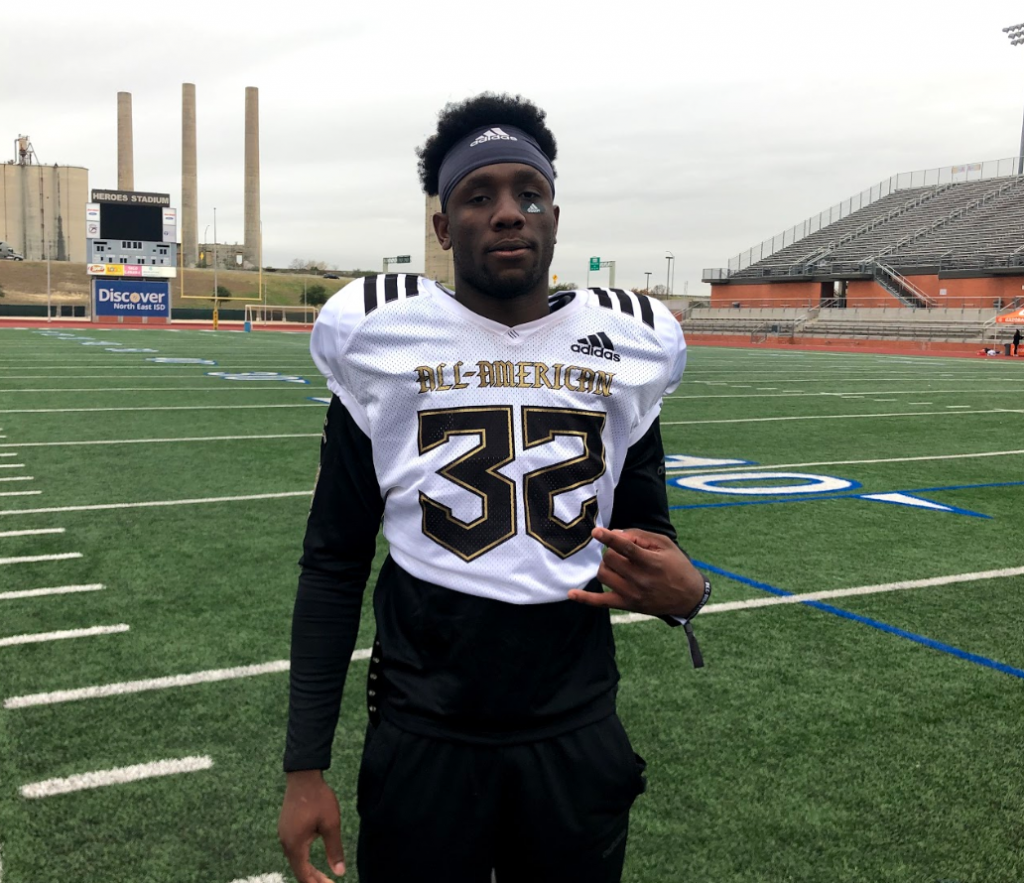 There is a lot to like when watching 2020 OLB Prince Dorbah participate in drills at the All American Bowl. From his ability to change direction to overall quickness and reactions, Dorbah will be a force for the Longhorns when he enrolls in the summer.
For now, he is showing off in San Antonio with several of he fellow future Longhorns.
"The week's been fun," said Dorbah. "Competing out here with these great players, getting better and playing linebacker in some space."
Dorbah said he's talked to Ash twice since he's been hired. He added that he had been familiar with his name from his time at Rutgers, though never fully communicated with him until he joined Tom Herman and his staff.
"He's a great dude," Dorbah said of Ash. "He's coming in ready to go to work and just have fun. He's changing the defense around and bring Texas back to where it needs to be, me and him are on the same page. I'm ready to get to work."
Dorbah has adapted to very nicely to dropping in coverage with several impressive plays in practice this week. His instincts are quite sharp for someone who was not asked to drop back much in high school. There is more than enough reason to be excited for Dorbah once he arrives June 1st.