Open Post | Weekend, January 10th – 12th
Posted on: January 10, 2020
Xavion Alford Ready to Get to Work as an EE
– CJ Vogel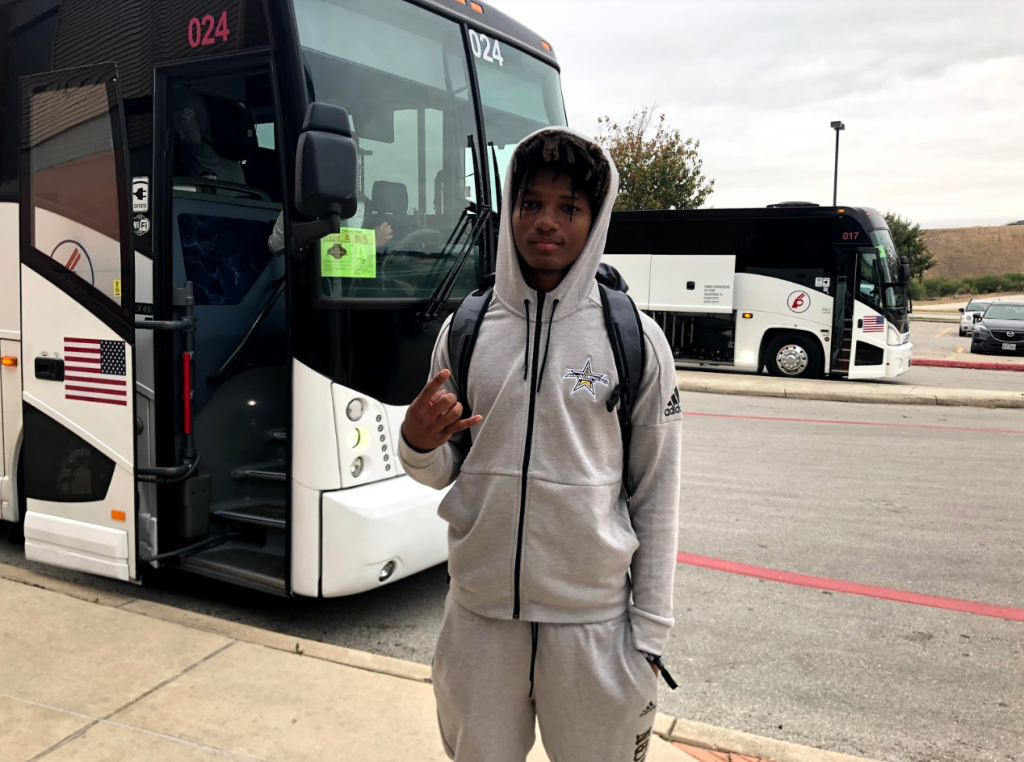 Unfortunately a knee injury kept Shadow Creek S Xavion Alford out of the 2020 All American Bowl game but that hasn't hindered Alford's spirits this week. Alford is participating in several non-contact drills this week and shared his excitement for getting down to Austin as an early enrollee.
Being an early enrollee will certainly help Alford get up to the speed of the college game, but he is far and away more knowledgable about the game than your average high schooler. And luckily for him, new DC Chris Ash is well aware.
"I talked to (Coach Ash) as soon as he got hired," Alford told me following a practice this week. "I think I was the first guy (he talked to) actually."
"He watched my film and stuff, he was excited I was a nasty player."
Alford told me he is excited to join the defense having run something similar in high school. It's a defense that clearly works for Alford as he was able to help Shadow Creek make the State Championship game two years in a row.
"I had researched some stuff on (Coach Ash) and he was really impressive. He really liked the way I talked ball, he's glad I'm coming early and ready to get to work."
I'll add to that last bit about Ash being a fan of Alford 'talking ball.' It's very hard to find players that understand schemes as well as Alford coming out of high school. I watched a portion of the 7-on-7 period on Wednesday with Alford who shared his knowledge of the game in real time, he would predict route concepts based on alignment before the snap.
Enrolling early will allow his body to catch up with his brain as well.
"The weight room, spring practices," Alford answered in regards to what he's most looking forward to. "The weight room is going to be big for me. I'm going to go in and take it serious as soon as I get there so when I get into the spring my body can be ready to go."
---
Bijan Robinson Puts on Display at All American Bowl
– CJ Vogel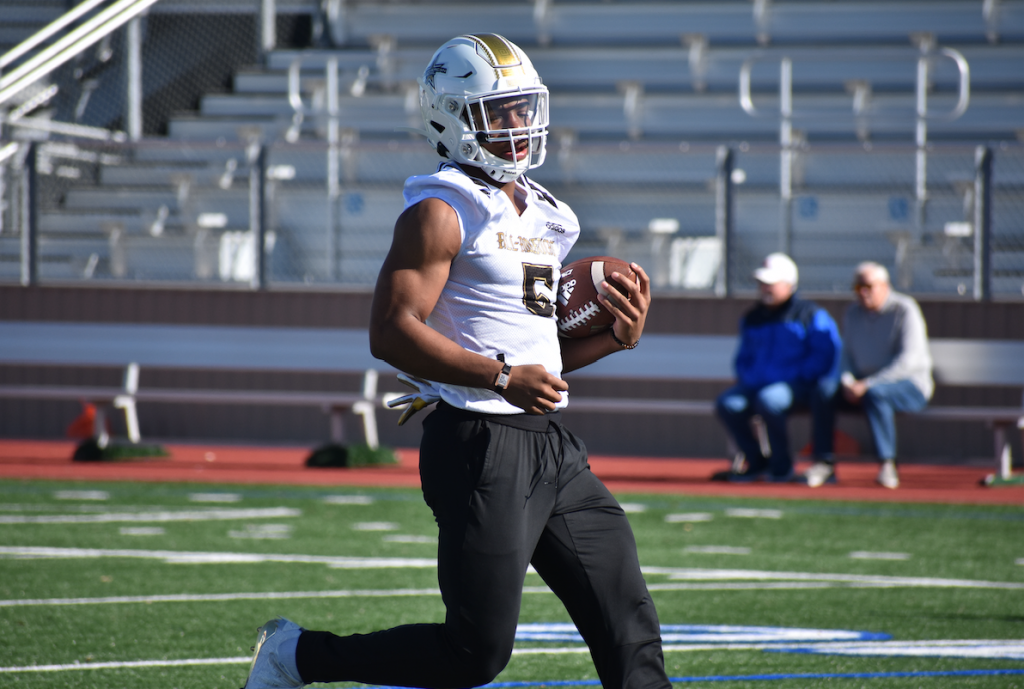 I was only able to spend four days with 5-star RB Bijan Robinson during the All American Bowl, but what I was able to take away from that time is there may not be a more special recruit in this cycle.
Bijan is one of the most genuine people I have come across since I started covering recruiting, oh and not to mention he's really good at the game of football. The Longhorns are getting an absolute stud on and off the field and one that should be a great role model for the next generation.
Robinson will move in on June 1st, and join the Longhorns for their summer program before the fall season, however he has already began a relationship with new offensive coordinator Mike Yurcich.
"(Coach Yurich and I) talked all the time this summer, obviously with him trying to get me to go to Ohio State," said Robinson. "It worked out perfectly how he got (the Texas) job. I texted right after he got it, so we had instant communication right as he got the job."
The RB room for next season consists of some already talented backs that have proven to be able to carry the workload in the Texas offense. Though, expect a lot of Bijan Robinson next season.
"They want me to go right away," Robinson said. "When I do get there I just want to work hard and compete and earn my spot."
As I have noted in previous posts, the All American Bowl week allowed for the four Texas signees to really create a bond amongst themselves that won't go unnoticed when everyone officially moves on campus.
"It was awesome. Of course we compete hard with each other but we all love each other. It's like we have been with each other since we were freshman in high school. We are all just trying to make our mark and represent for Texas."
I like I previously said, Bijan is a special person. I would be shocked if we didn't see a lot of him in the fall. He shined all week in the practices, though only received a couple of carries in the game itself. After the game, Robinson told me how awesome it was to partake in a game like the AAB, and joked he wished he got the ball 10 more times.
Get ready.
---
Thirsty Thursday | Final Look at 2020 Rankings
– D.T.
Welcome back to another edition of Thirsty Thursdays! It's been a while, but I'm glad to be back to doing our weekly column. As always, I'm here to try to help quench your thirst for Longhorn Football in the drought of the offseason, along with other topics of interest in Longhorn sports this week.
With the conclusion of the Texas High School Playoffs, the Early Signing Period (which saw 90% of top prospects sign), and the All-Star circuit, my rankings for the class of 2020 were due for a final update. I was able to expand this final edition to 50 players, with over 100 prospects receiving consideration.
*** The more that I looked at this year's Senior crop, the less excited I felt about the top-end talent in the class. Seemingly every prospect has some type of question mark around them, whether it be an on-field or off-field concern.
1-2 = 5 Star Prospects
2-11 = High 4 Star Prospect
12-28 = Mid 4 Star Prospect
29-43 = Low 4 Star Prospect
43-50 High 3 Star Prospect
*** Drew Sanders is the top prospect in the 2020 in-state class for my money. He's a kid that has always played all over the field. I believe he has a chance to make major strides during his time in Tuscaloosa after focusing on one position. You can't teach his physical gifts.
*** Jaxon Smith-Njigba, Demond Demas, and Quentin Johnston headline the WR class as top-10 prospects. They all have the talent and physical tools to play on Sundays. There is a ceiling drop-off after them, as the next WR doesn't appear inside of the top-25.
*** The Offensive Line crop is a similar story. I believe that Ty'kieast Crawford is the most talented Offensive Lineman in the class. I know that there are some questions surrounding him qualifying, but you don't see guys his size move as well as he does. There isn't an assignment that you can give him on the field that he can't execute. Crawford, Nate Anderson, and Garrett Hayes represent the only linemen in the top-25 and are a cut above the rest in my opinion.
*** Alfred Collins is my top Defensive Line prospect. He's followed by Vernon Broughton and Princely Umanmielen, who took major strides from his Junior to Senior season. James Sylvester could end up being the best pass rusher in the class.
*** This class was very balanced from a Positional standpoint. There were just about an equal number of every position represented in the top-25 and top-50.
*** My sleepers in the class are Aledo WR Money Parks, Pflugerville Connally CB Jahdae Barron, and Marshall ATH Savion Williams.
*** How about TCU signing two of the top-10 players in the class after a 5-7 season? Very impressive.
*** Outsiders continue to raid the state for some of its top talent. Alabama signed two of the top-5 players in the class. Ohio State took the top Wide Receiver out of Texas for the second consecutive year.
*** If Zach Evans winds up at Texas A&M, the Aggies will have landed 3 of the top 11 players in the state, but only 4 players in the top 35. The signed 6 in the top-50. Similar to Texas last year, the bulk of the Aggie class has had to come from quality out-of-state prospects.
*** Oklahoma signed 4 top-20 prospects, while losing the commitments of two top-5 guys (Sanders, McClellan).
*** Texas has the potential to sign 8 of the top-24 prospects (12 of the top-50) in the class if Alfred Collins and Princely Umanmielen bounce their way. It was a very nice job
*This list reflects my opinion only*
Texas Top 50 (2020)
1. Drew Sanders LB 6'4 230 Denton (Ryan)
Analysis: Over the course of his high school career, Sanders has played Quarterback, Wide Receiver, and Tight End on offense. He can excel at any of those positions at without a doubt for his team (he literally does it all in his highlights). However, the defensive side of the ball is where I feel Sanders has a chance to truly be special. Outside of the Arizona Cardinals' Jordan Hicks and Baltimore Ravens former All-Pro Zach Orr, both of whom I was fortunate enough to play with/against, he is the best linebacker that I have seen in coverage at any level. Sanders switching his commitment to Alabama to focus on playing Linebacker was the best business decision that he and his family could have made. I think he's a future 1st Round draft pick if he stays healthy, he's that talented.
Recruitment Status: Signed with Alabama
Highlights:
2. Jaxon Smith-Njigba WR 6'1 195 Rockwall (Rockwall)
Analysis: Smith-Njigba is an ultra-productive player that gets the absolute most out of his natural abilities. He is a very skilled, technical route runner that understands what he is doing better than some collegiate guys that I see. He is terrific at high-pointing the football and has the ability to make plays with his feet after the catch. Smith-Njigba isn't the biggest, fastest, or flashiest, yet he doesn't have a real weakness in his game and is the most consistent WR in the class. I'm a huge fan of his game.
Recruitment Status: Signed with Ohio State
Highlights: (vs. Harker Heights)
3. Demond Demas WR 6'3 205 Tomball (Tomball)
Analysis: Demas is a name that has been talked about since his Freshman year, when he was making plays on North Forest's varsity. Demas is a tall and rangy Receiver with an enormous catch radius. He also has the loose hips, quick feet and top-end speed to turn first downs into touchdowns after the catch, which is rare for a player with his size. Demas was ruled ineligible by the UIL and was forced to sit out his Senior season.
Recruitment Status: Signed with Texas A&M
Highlights: (Junior Tape)
4. Ja'Quinden Jackson QB/ATH 6'2 225 Duncanville (Duncanville)
Analysis: Jackson is a man amongst boys at the High School level. I view Jackson as a bigger, stronger version of Jerrod Heard when he was a highly-touted Quarterback recruit coming out of Denton Guyer. He has the strongest arm in the class, is the best runner of the football in the class, and commands the respect of all of his peers. Jackson suffered a knee injury that will likely force him to redshirt during his Freshman season. If he recovers, Jackson has a chance to be a star at the collegiate level.
Recruitment Status: Signed with Texas
Highlights: (vs. Southlake Carroll)
5. Jase McClellan RB 5'10 200 Aledo (Aledo)
Analysis: McClellan is yet another player in this top ten that has been a star since his Freshman year. I've been impressed with how he's added weight over the years without losing anything in the way of his quickness. He has terrific feet, balance, and vision. McClellan is also more than capable as an option catching the ball out of the backfield. One of the more prolific rushers in Texas High School history, I do worry a little bit about the workload that he will have already taken on before he sets foot on a college campus.
Recruitment Status: Signed with Alabama
Highlights: (Junior Season)
6. Zach Evans RB 6'0 200 Houston (North Shore)
Analysis: I no longer quite view Evans as a can't-miss, generational back, but I do believe that he still has a chance to be a star at the college level, with a chance to be an early round draft pick if everything goes right. There haven't been many players over the last few years to come out of the state with his combination of size, speed, hips, and balance. You can't deny his talent, hopefully it all comes together for him in the future.
Recruitment Status: Supposedly, he signed with Georgia but will be released from his LOI. Texas A&M is now considered the favorite.
Highlights:
7. Ty'kieast Crawford OT 6'6 325 Carthage (Carthage)
Analysis: Crawford is a mountain of a young man, but he moves as if he were a Tight End or Linebacker. He is extremely impressive as a tandem blocker, keeping his eyes up for defenders on the next level and he has explosive hips and movement skills which allow him to explode into defenders to drive them backwards. Once Crawford gets his hands on someone, it is over. Crawford would have challenged for the top OL spot in the 2019 class as well. Please take a look at some of his clips below.
Recruitment Status: Considering LSU, Arkansas, and Texas A&M
Highlights: (Junior Season)
8. Quentin Johnston WR 6'4 180 Temple (Temple)
Analysis: I am in love with Johnston's ability on tape. He was initially rated as a 3-star recruit on all of the recruiting publications, which has since changed drastically. I first noticed him last November, when I was taking a look a Jared Wiley's Senior highlights and a #1 was on the end of every pass making everyone look silly. An elite athlete, Johnston was a medalist last year as a Sophomore at the UIL State Championships in the High Jump. He blows by defenders effortlessly on tape and shows impressive top-end speed to boot. He has a frame that is going to easily gain weight the next level.
Recruitment Status: Signed with TCU
Highlights: (vs. Longview)
9. Alfred Collins DL 6'6 280 Bastrop (Cedar Creek)
Analysis: Collins is a monster. He has the ability to both play the run and rush the passer at a high level. Like Vernon Broughton, he is a standout on the basketball court with impressive length and athleticism. Collins has elite quickness for a player that will play at over 300lbs+ in college and has all of the physical tools to be a guy that plays on Sundays. When the motor is running hot, he is the best Defensive Lineman in the state. His best football is still way in front of him.
Recruitment Status: Considering Texas, Oklahoma, Alabama, and Baylor
Highlights:
10. Garrett Hayes OL 6'4 290 Athens (Athens)
Analysis: Hayes flew under the radar for a while out in East Texas, but once his film got out his ranking and the amount of attention that he received skyrocketed. Hayes has the feet and athleticism to remain at Tackle, the nasty demeanor to play through the whistle, and the frame to still get bigger and stronger at the next level. He's a heck of an athlete for a kid his size. There's no reason to project him as anything less than a future All-Conference type player.
Recruitment Status: Signed with TCU
Highlights:
11. Jaylon Jones DB 6'2 195 San Antonio (Steele)
Analysis: Jones didn't make my initial installment of this list, mainly due to the fact that I felt like he was still more prospect than player. While I still believe that to a degree, Jones has started to put it together during his Senior season. He's got good hands and is a solid tackler. He boasts size that no other Cornerback in the state can match outside of Ryan Watts, whom Jones is a superior athlete to. I do have some slight concerns over him sticking at Corner over the long haul once he starts to add weight. Regardless, he is a very intriguing prospect with a lot of talent and upside.
Recruitment Status: Signed with Texas A&M
Highlights:
12. Nathan Anderson OT 6'5 265 Frisco (Reedy)
Analysis: Anderson is a former Tight End (sound familiar?) who has experienced quite a growth spurt in the past calendar year. His lateral quickness is elite, as are his feet, and motor. He likely isn't a walk-in contributor, but Anderson has a body that will allow for a S&C Coach to add weight to his frame the right way. Anderson is a high-character kid who has a very low chance of not being successful at the next level.
Recruitment Status: Signed with Oklahoma
Highlights:
13. Bryson Washington DB 6'2 195 Houston (C.E. King)
Analysis: Long and rangy, Washington roams the secondary with an imposing presence. He doubles as a Wide Receiver for his team and his ball skills stand out on tape. Washington is a playmaker in coverage and a solid tackler. He has the ability to impact the game in all three phases as he's also shown some return ability. In my opinion he's the most complete Safety prospect in the class.
Recruitment Status: Signed with Oklahoma
Highlights: (vs. Magnolia West)
14. Vernon Broughton DL 6'6 285 Houston (Cy Ridge)
Analysis: Broughton's Junior tape showed a player that is a disruptive presence along the defensive front, something that the state of Texas hasn't been producing often enough in recent years. I wasn't as impressed with what he put on film as a Senior. He showed impressive burst and used his hands well to disengage from blocks during the Under Armour All-American Game. Broughton is a kid that has been playing Basketball for most of his life and he is still in the infancy stage of learning the proper technique and details that go into the position. I do believe that he has a chance to be special with proper coaching and development of his lower body.
Recruitment Status: Signed with Texas
Highlights: (vs. Cy Creek)
15. E.J. Smith ATH 6'0 185 Dallas (Jesuit)
Analysis: Smith is the son of the NFL's All-Time Leading Rusher, Emmitt Smith, and he inherited his father's patience and vision as a runner. He has a taller and longer build than you would expect, but he does a great job of keeping his pad level low and avoiding big hits. He is a good enough route-runner to line up at Wide Receiver and he has natural hands. He could play the position solely if needed at the collegiate level. Smith is the total package as a football player and one of the more versatile weapons in the state.
Recruitment Status: Signed with Stanford
Highlights: (vs. Allen)
16. Seth McGowan RB 5'11 205 Mesquite (Poteet)
Analysis: McGowan is a north-south runner that racks up yardage with little wasted motion and he's got some twitch to his game. Arm tackles will never bring him down because he runs with a purpose. I've heard nothing but glowing reviews about his makeup and competitive character. He brings some intangibles to the table that are rare to see in a HS kid.
Recruitment Status: Signed with Oklahoma
Highlights: (vs. Texas High)
17. Hudson Card QB 6'2 180 Austin (Lake Travis)
Analysis: Card is a very good athlete with almost every tool that coaches look for when evaluating Quarterbacks, physically. In fact, Card is so athletic, that he started at WR for Lake Travis as a Sophomore. As a Junior, Card moved back to QB and put up great statistics on the season, but struggled in a couple of games against his team's toughest competition. When he has protection, Card can spin it with the best of them and has a lightning-quick release. He's going to need time to get his body prepared to take hits at the college level, but there are a lot of things to like about him.
Recruitment Status: Signed with Texas
Highlights: (vs. North Shore)
18. Princely Umanmielen DL 6'4 260 Manor (Manor)
Analysis: What a difference a year makes. I was very much unimpressed with Princely's Junior film, which is the reason that his debut on this list comes in the final edition. He was a disruptive force on tape that was a shutdown presence in the run game, while showing much-improved coordination and movement skills in pursuit. He has explosive ability from a static position and heavy hands. Umanmielen is young for his class, which adds to his intrigue and ultimate upside as a prospect.
Recruitment Status: Considering Auburn, Florida, Baylor, and Texas
Highlights:
19. Jalin Conyers ATH/TE 6'5 215 Gruver (Gruver)
Analysis: Conyers is a small-school product that will likely need some time to adjust at the next level, but he is very skilled. Conyers is a terrific athlete for his size and is a fluid mover that projects as a Wide Receiver or very athletic Tight End in college. He is also a standout on the basketball court and state qualifier in the Triple Jump. He's going to be a nightmare in Oklahoma's offense.
Recruitment Status: Signed with Oklahoma
Highlights: (Junior Tape)
20. Jalen Kimber CB 6'0 170 Mansfield (Timberview)
Analysis: Kimber is a smooth athlete with solid size and good length. He has swivel hips that coaches desire when looking for prospects at his position. He does a solid job of looking back to find the ball and has ball skills that are still developing. Kimber is a very nice piece of clay for a college DB coach to hone, with some premium physical tools.
Recruitment Status: Signed with Georgia
Highlights:
21. Andrej Karic OT 6'5 270 Southlake (Carroll)
Analysis: Karic is a bit of a late-bloomer, similar to Nate Anderson, that boasts terrific quickness for his size that will allow him to one day excel in pass protection in the future. He does an excellent job of kicking back in his pass sets, as well as covering ground and getting his head in position while zone-blocking. Karic is a high-ceiling, high-floor prospect that I may end up looking back and realized I rated him too low a few years from now.
Recruitment Status: Signed with Texas
Highlights:
22. Kitan Crawford CB 5'10 180 Tyler (John Tyler)
Analysis: We love Crawford here at TFB. For my money, he's the top slot Cornerback prospect in the state for 2020, although his HS team uses him on offense out of necessity. Crawford has the hips, feet, and competitive nature to be able to thrive in the nickel or possibly outside on an island, despite a lack of length. He also happens to have legitimate 10.6 FAT 100m speed. Stud.
Recruitment Status: Signed with Texas
Highlights:
23. Haynes King QB 6'2 180 Longview (Longview)
Analysis: King is a three-sport athlete that led his Longview team to a 6A Division II Championship on the football field as a Junior. He wasn't quite as good during his Senior campaign, perhaps struggling with the added pressure and attention of becoming considered a big-time recruit. King is an excellent athlete that runs in the laser 4.5 range and is a coaches' son. He's grown up around the game and eats, sleeps, and breathes football. He has a chance to have a lot of success if he can be surrounded with talent.
Recruitment Status: Signed with Texas A&M
Highlights: (vs. Temple)
24. Prince Dorbah LB 6'2 215 Dallas (Highland Park)
Analysis: Dorbah is an elite athlete at a premium position who has an innate feel for rushing the passer. He was one of the most productive players in the entire state for one of the powerhouse programs in Texas. He's twitchy and has some natural bend/ankle flexibility around the edge that can't be taught. I was very impressed with how fluid and comfortable he looked in coverage during the Adidas All-American Game.
Recruitment Status: Signed with Texas
Highlights: (Junior Season)
25. Josh White LB 6'0 210 Houston (Cypress Creek)
Analysis: White strikes me as a player that will have the ability/versatility to play every Linebacker position on the field if necessary. He doesn't have great size or length (he will need to add weight), but he is extremely productive due to some impressive closing speed and diagnostic skills. He plays with an excellent motor and is aggressive coming downhill. He doesn't have much on tape playing in coverage, but with his athleticism I don't have too much concern there.
Recruitment Status: Signed with LSU
Highlights: (vs. Klein Oak)
Kevontre Bradford RB 6'0 205 Lancaster HS (Uncommitted)
Marvin Mims 6'0 175 WR Lone Star HS (Oklahoma)
James Sylvester 6'4 235 DE Newton HS (Baylor)
Chad Lindberg 6'6 325 OG Clear Creek HS (Georgia)
RJ Mickens 6'0 200 DB Southlake Carroll HS (Clemson)
Xavion Alford 6'0 185 DB Shadow Creek HS (Texas)
Jahari Rogers 6'0 180 CB Arlington HS (Florida)
Dwight McGlothern 6'1 180 DB Klein Oak HS (LSU)
Troy Omeire 6'3 210 WR Fort Bend Austin (Texas)
Akinola Ogunbiyi 6'4 330 OG Kempner HS (A&M)
Devon Achane 5'9 175 RB/WR Fort Bend Marshall HS (A&M)
Caleb Medford 6'2 190 WR Henderson HS (TCU)
Jake Majors 6'3 285 C Prosper HS (Texas)
Alec Bryant 6'3 240 DE Shadow Creek HS (Virginia Tech)
Money Parks 5'10 170 WR Aledo HS (Utah)
Jahdae Barron 5'10 175 CB Connally HS (Baylor)
Jerrin Thompson 6'0 180 DB Lufkin HS (Texas)
Lorando Johnson 6'0 185 DB Lancaster HS (LSU)
Savion Williams 6'4 200 ATH Marshall HS (Uncommitted)
Chris Thompson Jr. 6'2 195 DB Duncanville HS (Auburn)
Kelvontay Dixon 6'0 175 WR Carthage HS (Uncommitted)
Ryan Watts 6'3 190 DB Little Elm HS (Ohio St.)
Ty Jordan 5'7 185 RB West Mesquite HS (Utah)
Corey Flagg Jr. 5'11 210 LB North Shore HS (Miami)
Lawrence Arnold 6'3 180 WR DeSoto HS (Kansas)
*********************************************************
Kelvontay Dixon Update
Texas is still looking to round out their 2020 class with a few more talented student-athletes. One of their positions of need is Wide Receiver, and a guy that they've been involved with for a while now is Carthage HS Star Kelvontay Dixon.
Dixon is fresh off of winning his third-straight 5A State Championship at Carthage and he was named the MVP of the Championship Game after hauling in 3 touchdowns and going over 100 yards.
I was able to get in touch with Dixon earlier this week to get the latest. He informed me that he has two visits set up prior to the second Signing Day. The talented playmaker will visit Arkansas on the weekend January 17th and he will visit Texas on January 31st.
This is significant because while Dixon was once an Arkansas commit, his scheduling makes it to where the Longhorns (and big bro Keaontay Ingram) will get the final say. I asked Kelvontay if he was planning on waiting until Signing Day and he told me he would "announce everything once I know for sure."
We continue to like where the Longhorns stand in this one.
*********************************************************
Get to Know: Jadarian Price
In this new age of college recruiting, colleges are taking commitments from players earlier than ever, so you can almost never go wrong by getting familiar with elite talents early.
With that being said, Denison HS (Denison, TX) 2022 RB Jadarian "JD" Price is already one of the most nationally sought-after players in his class. Over his first two varsity seasons, the Sophomore has rushed for nearly 2,100 yards and 19 touchdowns while battling injuries for most of this past season. The talented rusher already holds numerous FBS offers, eleven to be exact, with offers coming in from Ohio State, USC, Texas, Baylor, Minnesota, Arkansas, TCU, SMU, Oklahoma State, Tulsa, and UTSA prior to his Sophomore season being completed.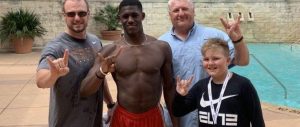 In speaking to one of his coaches in the Denison program, Price isn't your typical star football player.
"His drive to be the best is just different, he's a different breed. He couldn't care less about getting attention. He really only has a twitter account because he was asked to create one. He doesn't like attention, he just wants to win, at everything. He's competitive in practice, he's competitive in the weight room, and he's competitive for his teammates."
Price is a heck of a talent running the ball, with some terrific vision and patience to set up his blocks. However, I was very interested to hear that Price's early success has just as much to do with the mental side of the game as his physical prowess does.
"As far as in-game stuff goes, his football IQ is off the charts. He understands the game. He understands how to attack half of the defender, plays with great awareness. Honestly, without warning him, we could tell him to move to any position on offense and he would know exactly what to do."
That is extremely rare to hear about a high school football player in general (excluding QBs), let alone a kid that's just 15 years old. In today's age of social media and coddling kids in order to assemble as much talent as possible, this kid is an anomaly.
On the recruiting front, Price is in no hurry, but he is getting an early start on doing his homework on programs that are interested in him. Price has already been to multiple campuses (Texas, Baylor, and SMU) and called all three "amazing." A self-proclaimed Adrian Peterson fan, he was present for Oklahoma's 34-27 victory in this year's Red River Rivalry game and gave me his thoughts on what he saw.
"The Red River Rivalry game I attended was a life-changing experience. Cee Dee Lamb's explosiveness … wow, and Jalen Hurts' ESPN-highlight escape were highlights from the game for me. Followed by (Roschon) Johnson's ability to run the ball and create big plays for Texas."
Price plans to check out a few of the other programs that have offered him next summer.
My take: It's obviously early and many things will undoubtedly change between now and when it's time for Price to sign, but Texas is in a good position early for a kid that will likely be the top back in the 2022 in-state class. Price is a unique young man that is going to do his due diligence as well as take in the opinions of those that are close to him, including his coaching staff at Denison. He's going to be a kid that I follow closely over these next few years and I think everyone else would be wise to do the same. 
---
If you would like to read out notes on the ongoing coaching searches, please check the Donor Board!