Open Post | Weekend, January 3rd – 5th
Posted on: January 3, 2020
Post Game | Instant Analysis | Utah – Alamo Bowl
– D.T.
The Texas Longhorns (7-5) drew the 11th-ranked Utah Utes (11-2) after the Utes were defeated by Oregon in the Pac-12 Championship Game, ending their CFB Playoff hopes.
It didn't take long for Collin Johnson at all to make his presence felt. The Senior picked up 34 yards on the first play from scrimmage. Needless to say, he could have a big impact tonight and the Longhorns have missed him dearly.
Texas had to settle for a field goal on the opening drive but I was very pleased by every phase there. Receivers, Line, and RBs looked ready to go.
No David Gbenda and Byron Vaughns apparently means that rarely-used Sophomore Linebacker Court Jaquess is the default starter at ILB for Texas instead of Juwan Mitchell. That should not go unnoticed by fans.
I thought that the Texas Defensive Line looked awesome on the first drive of the game. Let's see if they can sustain that.
Utah All-American DT Loki Fotu put his fellow Utah native Junior Angilau on absolute skates on a 3rd and 11 that forced a Texas punt. That's happened a few times to Junior this year.
Brandon Jones played his final game as a Longhorn against Texas Tech. The staff did a nice job of keeping that under wraps.
Texas caught a huge break when Utah dropped what would have been a 50+ yard touchdown on a Wheel Route that Caden Sterns failed to identify on a 3rd down.
There's no reason D'Shawn Jamison shouldn't have been returning punts all season. You have to let your playmakers do what they do without having to fear not getting another opportunity if they make a mistake.
Collin Johnson puts the Horns up 10-0 and a part of me wonders if his absence for a large chunk of this year cost his team at least 2 wins this season.
Texas currently has from L-R on their DL: Moro Ojomo, Keondre Coburn, T'Vondre Sweat, and TaQuon Graham. It results in a Joseph Ossai sack after first contact was made by a blitzing Caden Sterns. I love it.
The Longhorns have seemingly had the Utes behind the sticks on every 3rd down midway through the first half.
A Slot Fade to Devin Duvernay (who received man coverage thanks to Collin Johnson playing his butt off so far) and the Longhorns are threatening to score again.
I personally would have taken the points (been saying this all year, man), but I understand going for it late in the 2nd half. I don't understand not giving Collin Johnson a jump ball opportunity there while he was matched up with Utah's Tareke Lewis, who is listed at 5'11. The result in going elsewhere was an interception by Javelin Guidry.
I'm going to avoid going into a prolonged complaint about giving Utah an opportunity to get some momentum going after the Longhorns seemingly dominated that first half of play.
Let me mention that Court Jaquess played some pretty damn good football in the first half. Happy for that man.
Utah only crossed midfield once in the first half. Can't say I saw that coming.
Chris Adimora made a hell of a play breaking up a deep ball late in the first half where he was left 1-on-1 deep downfield. The Freshman showed some impressive poise there not panicking and committing a penalty.
Texas held Utah to 134 yards of Total Offense in the first half. Texas had 185 themselves.
Texas went unpenalized in the first half. I believe that is the first time that that has happened all season.
Sam Ehlinger finished the half 7/12 for 113 yards with 1 touchdown and 1 interception. He accounted for 136 yards of Total Offense himself, outpacing the Utes as a team.
Texas gets the opening drive of the second half started by forcing a turnover-on-downs, setting the Offense up with terrific field position.
Texas has been the more physical team to this point in the ball game (early 3rd Quarter).
Texas comes out aggressive on the change of possession and suddenly the Longhorns hold a 17-0 lead over 11th-ranked Utah in the 3rd Quarter of this ball game.
I like SEC referees because they consistently don't call Pass Interference and they let those guys be physical.
I haven't noticed the Texas Corners much at all tonight. That is a huge positive.
Texas' open-field tackling has been noticeably improved tonight and it has made a difference in this ball game.
Utah has been out-physicaled this evening and the Utes appear to be starting to lose their cool a bit.
The opening shot to Johnson set the tone for this game in my opinion.
Sam Ehlinger holds on to what was supposed to be a shovel-pass and then scampers in from 6 yards out. 24-3 Texas.
The Longhorns are defending their home turf and frankly, putting an ass-whipping on a Utah team that many, including myself, expected to be a bit tougher.
Tyler Huntley broke off an explosive 26-yard run and attempted to send a message by finishing it off by lowering his helmet and shoulder. Unfortunately for him, it was BJ Foster that he tried and that didn't work out too well.
Joseph Ossai's last season as a Texas Longhorn will be next season, if you all hadn't realized it yet. Enjoy his next 13-14 contests in Burnt Orange.
Ossai's stat line with essentially a quarter left to play: 8 tackles, 5.5 TFLs, 3 sacks
I like the KD cleats. About time Texas started utilizing a unique asset to the University.
Another slot fade, to Devin Duvernay, this one for 40 yards on a fantastic throw and catch.
Sam Cosmi got called for a Holding penalty that negated a Sam Ehlinger touchdown run. That must mean Cosmi needs to return for his Junior season to work on that .
A terrific route from Duvernay where his work could be put on a teaching tape and a throw where Ehlinger stood in the pocket with a blitzer coming with 10 yards of steam results in a 15-yard score. 31-10 Texas.
Devin Duvernay has 92 yards on 3 receptions and a touchdown. Collin Johnson has 3 receptions for 62 yards and a touchdown.
Keaontay Ingram tiptoes the sideline and shows some speed finishing a 49-yard touchdown run. It's the cleats!!!!
On a semi-serious note, Ingram must have heard that Bijan Robinson signed. Ha.
I can't find the stats anywhere right now, but if I had to guess, Texas had somewhere close to 15 TFLs in this ball game.
For four quarters Texas dominated this ball game and this is film that the team can build off of heading into the spring.
This was an awesome finale for some Seniors that played pivotal roles in bridging the gap from Charlie Strong to Tom Herman. I'm personally going to miss Collin Johnson, Devin Duvernay, and Malcolm Roach.
Maybe this game impresses a guy like Alfred Collins?
My opinion, Offensive MVP: Devin Duvernay and Defensive MVP: Joseph Ossai
Ehlinger only attempted 6 passes in the 2nd Half. He finished the game 12/18 for 201 yards and 3 touchdowns with an interception.
Keaontay Ingram rushed for 108 yards on 13 carries and a score. The Longhorns as a team rushed for 231 yards.
Great job, Tom Herman. Great job, Craig Naivar.
I'm looking forward to seeing what this team looks like this spring. Enjoy, this one Texas fans.
---
Quick Hitter | Texas Gaining Ground With Alfred Collins
– CJ Vogel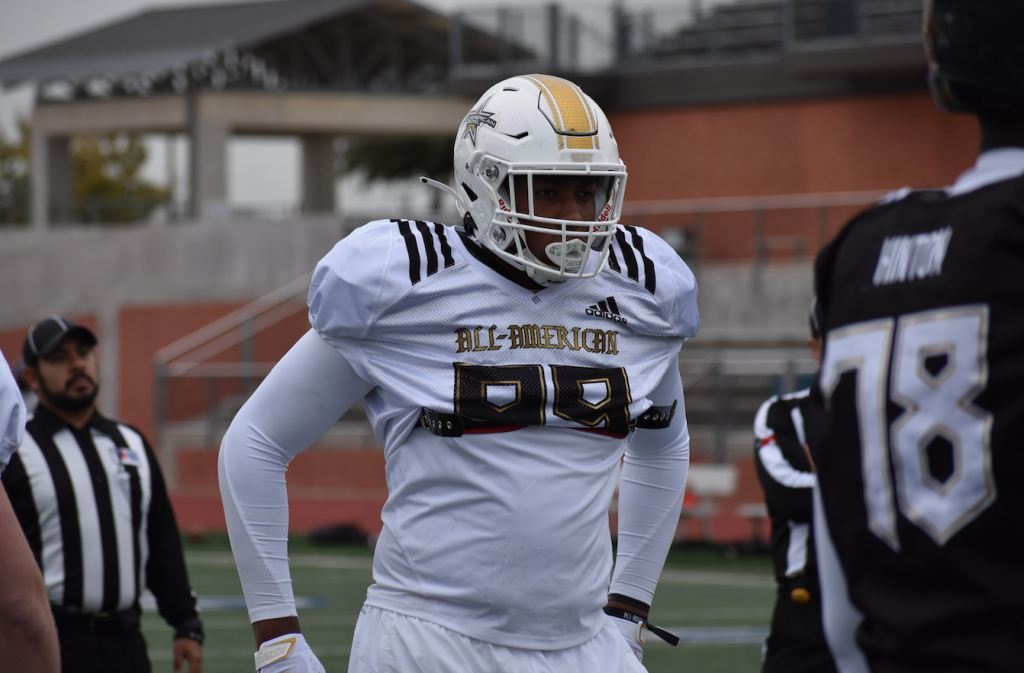 The players participating in the 2020 All American Bowl spent last night at Dave and Busters, however, the group of Texas commits consisting of Bijan Robinson, Xavion Alford, Prince Dorbah and Andrej Karic opted to stay back a the hotel and watch the game as a group.
** Joining the four committed players in the room was DE Alfred Collins who is down to Texas, Oklahoma, Baylor and Alabama and will be deciding in January.
From what I've seen in the only practice session I've attended is the group of commits has created solid relationships with Collins through the camp, especially Andrej Karic, who spends the most time of anyone with him when the OL and DL practice together each day.
** I talked with Collins a little following practice Wednesday where he said he was impressed by the performance.
Having talked to Alfred throughout the fall, it appeared that Oklahoma was right atop of the list with Baylor surging in. However, at the moment, I have no reason to believe Texas would be behind either school.
I am quite confident in the Longhorns' chances as a result.
---
Quick Hitters | McGlothern, CJ Stroud on Yurcich
– CJ Vogel
Texas is in need of a cornerback to close out the 2020 class, so could the void possibly be filled with Klein Oak CB Dwight McGlothern?
McGlothern told me at the All American Bowl practice Thursday morning that he has hopes to visit Austin sometime in January.
While interest may be there from McGlothern's side, the Texas staff has yet to fully reciprocate that.
"I like Texas," said McGlothern. "But it's like the communication, they just don't know yet with the new defensive coordinator."
McGlothern added he hasn't been in contact with Chris Ash yet, but said he feels like the line of communication may open back up once everything gets settled down.
Right now, McGlothern has taken two official visits though he said he only plans to take two more. He said Oregon will receive one for sure which leaves another slot open for the taking. USC and Arkansas received OVs in the fall, and McGlothern added Ole Miss may be jumping into the mix.
If Ash and his staff deem McGlothern to be a take, interest would be there, the wheels just need to get rolling.
I also caught up with current Ohio State QB commit CJ Stroud to get his thoughts on new Texas offensive coordinator Mike Yurcich.
"(Coach Yurcich) is definitely somebody that I think helped me get recruited by Ohio State. I think he was rooting for me and he knew a lot about me. He's a great man of God and will do great things at Texas."
Stroud is currently ranked as the #2 Pro-style passer according to the 247 composite. Despite being from California, Yurcich and Ohio State head coach Ryan Day were able to convince him to leave the state and join the Buckeyes.
"I think Texas should expect a lot of points and not a lot of mental mistakes. I think everybody will touch the ball a lot. I think he'll put some of Coach Day's concepts into the Texas offense which should be good. They should definitely expect a lot of points."
As for Yurcich's ability to develop quarterbacks, Stroud added that played into one to the many factors for why he chose the Buckeyes.
---
Position Coaching Search | Sourced | Quick-Hitters
– Super K
***In terms of wide receiver names to watch, we've previously mentioned both Andre Coleman who is currently the interim WR coach and Houston's Tyrone Carrier.
***A name that began floating around earlier this week on twitter and via other sites was that of Kansas WR coach, Emmett Jones.
***I was able to confirm that Jones is indeed a candidate.
***It does appear that the three names to watch are indeed Coleman, Carrier and Jones.
***However, from what I'm told it's not likely that Texas will not go the route of splitting the wide receiver coaches as they had with Mehringer and Meekins. In other words, based on what I'm hearing, only one of those guys is likely to be the guy.
***That would likely indicate that either Warehime will remain or they'll find a new TE/H-backs coach to pair with a wide receiver's coach.
***In terms of who is likely to get the job between Coleman, Carrier and Jones – I really don't know. However, it's probably worth noting that I'm hearing rave reviews about the work Coleman did with the players during bowl prep. Coleman is also seasoned and has some skins on the wall. But Carrier and Jones are going to perhaps be seen as the more dynamic recruiters, whether that's actually the case or not.
***Defensively, I continue to hear that the only person whose job is safe is that of Oscar Giles. If Naivar was to stay (and I don't know how likely that is) he would have to spin down to linebackers.
***Also it does sound as though they will split the defensive line duties into DEs and DTs. Don't have any names yet but I imagine they'll find a young coach to pair with Giles. I think that could be a great move. Pair a veteran coach like Giles with a young dynamic player's coach who can help recruit.
---
If you would like to read all of our additional updates on the coaching searches, please check the Donor Board.