Open Post | Weekend, February 7th – 9th
Posted on: February 7, 2020
Team Notes | Position Moves
– Super K
As you know, coach Ash is bringing in his 4-man front, press quarters defense. It's a simple defense but they will be looking to get more speed and cover ability on the field, especially because Texas will be in man coverage more than we are used to seeing from the previous regime.
As such you'll see some tinkering with where players end up on the field. There will be a little movement on the offensive side, as well.
***Roschon started his time at Texas at quarterback. He moved to running back. Then, after the season, was moved back to quarterback. Roschon is now back at running back which is where we expect him to remain.
***This keeps Jordan Whittington going into spring ball at slot WR
***On the defensive side, one of the obvious changes you'll see is the outside backers (Ossai and Byron Hobbs) moving to WDE.
***You'll see moves from safeties to linebacker. Again, in looking for cover safeties, they'll have to go the way of Gary Patterson and roll a safety or two down to LB – potentially strengthening both positions.
***Then, you'll also see moves from cornerback to safety or guys who can play multiple positions depending on down and distance. Guys like Josh Thompson and Kenyatta Watson are examples of guys with speed to play outside and size to play inside. I still believe Thompson will start spring ball as the top cornerback.
***The pieces for a good defense are almost certainly there. They just need to get the players to buy in to the system and to some positional moves. I'm told, so far, the players are buying in and are very excited about the new defensive staff.
---
Thirsty Thursday | Looking at #cloUT2020, The Cupboard, & Hiring Hagen
– D.T.
Welcome back to another edition of Thirsty Thursdays! As always, I'm here to try to help quench your thirst for Longhorn Football in the drought of the offseason, along with other topics of interest in Longhorn sports this week.
Taking a look at the #cloUT2020 Haul
Texas wrapped up their top-10 nationally rated 2020 recruiting class by adding late commitments from Carthage WR Kelvontay Dixon and Cedar Creek DL Alfred Collins on the final two days of the cycle. The 2020 in-state crop in Texas pales in comparison to the upcoming 2021 class and I suspect that Tom Herman and co. strategically kept a few scholarships open with taking a large group next year in mind. The class is small, consisting of only 19 members, but it met multiple needs and is packed with quality talent.
Quarterback (A+)
(Hudson Card)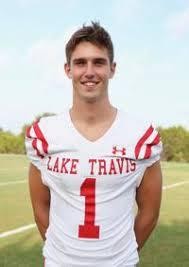 Needs: One or Two
Signed: Two. (Hudson Card and Ja'Quinden Jackson)
Analysis: Texas needed to add a talented signal-caller with Sam Ehlinger entering his Senior season in 2020 and they not only accomplished that, they signed the top two Quarterback prospects in the state. Card and Jackson both rank among the top-75 players overall nationally, which means that they are both borderline elite prospects.
Card is the more efficient passer at this stage, while the physically imposing Jackson was arguably pound-for-pound the best player in the state week-in and week-out before suffering a knee injury that will likely cause him to miss his Freshman season.
Bottom line is Texas hit it out of the park at this position. The odds that the successor to Ehlinger in 2021 comes from this pair of dual-threat talents.
Running Back (A)
(Bijan Robinson)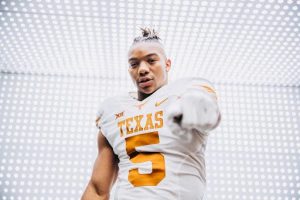 Needs: One or Two
Signed: One. (Bijan Robinson)
Analysis: The Longhorns were in need of adding some depth and talent to their RB room following a 2019 season that forced them to move a Quarterback out of necessity.
They may not have added depth by way of numbers, but they most certainly added depth by increasing the quality of player in that room heading into 2020. Bijan Robinson is the crown jewel of the class and the #1 Running Back prospect in the nation. Tremendous job by Stan Drayton and co. pulling Robinson away from Ohio State, who at one point held his commitment privately.
Wide Receiver (C)
Needs: Two or Three
Signed: Three. (Troy Omeire, Kelvontay Dixon, Dajon Harrison)
Analysis: This is a position where Texas could have been more successful in 2020. Texas held the commitment of the state's top WR in Temple's Quentin Johnston, but lost Johnston to TCU once WR Coach Drew Mehringer was relieved of his duties. Texas also heavily recruited and missed on Calabasas, CA, WR Johnny Wilson, who eventually signed with Arizona State.
Texas was able to flip 4-star Troy Omeire away from Texas A&M in a surprising move that caught everyone in the recruiting world by surprise. Omeire profiles as the big X-WR that Texas likes.
Kelvontay Dixon, similar to current Texas WR Al'Vonte Woodard, has the versatility to play both inside and outside. Dajon Harrison profiles almost strictly as an inside WR. Both players provide some run-after-catch ability that will fit in very nicely in the Big XII.
Offensive Line (B-)
(Andrej Karic)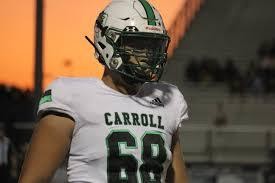 Needs: Three or Four
Signed: Four. (Andrej Karic, Jake Majors, Jaylen Garth, Logan Parr)
Analysis: Texas wrapped up the majority of their OL class extremely early in the process, which allowed them to court Chad Lindberg (Georgia) before eventually discovering and targeting Karic, who I believe has the most upside in the group.
Jake Majors (Center) and Logan Parr (Guard) both profile as interior guys, while Jaylen Garth, who missed his Senior season due to an ACL injury, projects as a Tackle.
All four players were rated as 4-star prospects by the composite. I thought that this was a solid haul by OL Coach Herb Hand.
Defensive Line (B)
(Alfred Collins)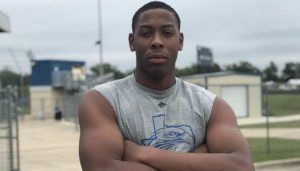 Needs: Three or Four
Signed: Three. (Alfred Collins, Vernon Broughton, Sawyer Goram-Welch)
Analysis: I want to give this group a higher grade so badly, but I'd be lying if I didn't admit to wishing that there was one more quality piece in this class. Collins and Broughton were All-Americans that were absolute must-haves for Texas and once again DL Coach Oscar Giles proved that he shouldn't be doubted on the recruiting trail. I'm very interested to see how he does without the handcuffs of a 3-man front being used against him. Both players are huge (6'5-6'6 280+) with the functional strength and mobility that College and NFL coaches desire endlessly at the next level. They are potentially championship-caliber pieces if they develop according to plan. I expect both to see snaps and contribute next season as true Freshmen.
Sawyer Goram-Welch, a former Oklahoma State commit, comes from a quality program at Longview HS and has the size and motor to surprise during his time on campus. Texas lacks a true pass-rusher in this group and all three guys possibly profile best as interior players in the future.
Linebacker (C+)
Needs: Two or Three
Signed: Three. (Prince Dorbah, Jaden Hullaby, Jaylan Ford)
Analysis: I admit to being a bit down on this group until I got a chance to see Prince Dorbah compete in the postseason All-Star Games (Adidas & Polynesian). Dorbah is a guy that was used almost exclusively with his hand in the dirt for his High School team, but he transitioned to a traditional Linebacker role very smoothly and looked like a natural in space. I think he contributes next season on Special Teams and eventually finds himself on the field on obvious passing downs as the year wears on.
Jaden Hullaby is a guy that played Offense exclusively in High School. I'm interested to hear and see what he looks like on the Defensive side of the ball. He has the size and athleticism.
Jaylan Ford was a late flip from Utah and he's my personal sleeper in the class to become a contributor. Ford is violent and guys that like to hit seem to always find their way onto the field in some capacity.
Defensive Back (B)
(Kitan Crawford)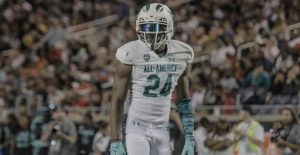 Needs: Three or Four
Signed: Three. (Kitan Crawford, Xavion Alford, and Jerrin Thompson)
Analysis: Kitan Crawford has been a personal favorite of Super K and I or over a year now. In a weaker in-state DB class than usual, I felt like he was the top Corner prospect available. Crawford has the talent and versatility to play both in the Nickel and Outside Corner. He also doesn't mind getting involved in run support. He was a huge pick up for Texas, especially now that we know he was the only Cornerback signee in the class.
Xavion Alford and Jerrin Thompson were two of the top four Safeties available in the in-state class and both guys are early enrollees and will be getting a jump on the 2020 season. It'll be interesting to see if either can make an impact next year with the depth that Texas has in the Secondary, but both players are talented and will be expected to be key contributors sooner than later.
Overall, Texas filled some big needs (QB, RB, OL, DL) and missed on some top-end talent that would have rounded out the class nicely. Considering the coaching overhaul, I think that this was an impressive puzzle that Tom Herman was able to put together in full cycle number three. This is now the third-consecutive #1-ranked Big XII class during his tenure.
****************************************************
2019 & 2020 Rolling Look
Quarterback
Hudson Card, Ja'Quinden Jackson
Lost: N/A
Rundown: The expectations are sky-high for the two incoming True Freshmen. Hudson Card will essentially have the room to himself to grow without pressure with Jackson being injured.
Running Back
Roschon Johnson, Jordan Whittington, Bijan Robinson
Lost: Derrian Brown
Rundown: Roschon Johnson was a pleasant surprise, while the hope is that Whittington can get healthy and stay on the field in 2020. Losing Derrian Brown was a big loss. Robinson is best back that Texas has signed in a long time.
Wide Receiver/Tight End
Jake Smith, Marcus Washington, Kennedy Lewis, Troy Omeire, Kelvontay Dixon, Dajon Harrison, Jared Wiley, Brayden Liebrock
Lost: Bru McCoy
Rundown: The jury is still out on the 2019 group, with Jake Smith and Marcus Washington being expected to be major contributors in 2020. Jared Wiley came on strong to end 2019 and the position appears to be in good hands for the future with he and Brayden Liebrock.
Offensive Line
Tyler Johnson, Isaiah Hookfin, Willie Tyler, Andrej Karic, Jaylen Garth, Jake Majors, Logan Parr
Lost: Javonne Shepherd
Rundown: Javonne Shepherd didn't last long. Only having 7 bodies at Offensive Line over a two year span is not acceptable at a place like Texas if you want to have the success that is expected.
Defensive Line
T'Vondre Sweat, Jacoby Jones, Myron Warren, Alfred Collins, Vernon Broughton, Sawyer Goram-Welch
Lost: Peter Mpagi
Rundown: Sweat was vastly underrated coming out of high school and contributed immediately this past season. Jacoby Jones and Myron Warren provide depth at DE. Alfred Collins and Vernon Broughton are home-run signings. The group is void of an explosive pass-rusher.
Linebacker
Juwan Mitchell, David Gbenda, Marcus Tillman, Prince Dorbah, Jaylan Ford, Jaden Hullaby
Lost: De'Gabriel Floyd, Caleb Johnson
Rundown: Texas is hurting here. Losing De'Gabriel Floyd to a career-ending diagnosis before he could ever suit up was devastating as he was expected to be the guy for multiple years. Juwan Mitchell was a pleasant surprise but has had his own issues off of the field. Tom Herman was high on Marcus Tillman before he got injured, but Texas is searching for answers here in a major way.
Defensive Back
Tyler Owens, Kenyatta Watson, Chris Adimora, Marques Caldwell, Kitan Crawford, Xavion Alford, Jerrin Thompson
Lost: N/A
Rundown: Kenyatta Watson and Chris Adimora both had nice flashes last season. Tyler Owens saw time primarily on special teams. The jury is out on Marques Caldwell, but Texas signed three quality guys in 2020.
****************************************************
Thoughts on the Mark Hagen hire
Not to be lost in the shuffle of all of the NSD2 headlines, Texas officially made the move to add Indiana Co-DC/DL Coach Mark Hagen to their coaching staff. Hagen will join current DL Coach Oscar Giles and likely coach the Defensive Tackles. This is a move that completes Tom Herman's staff makeover from the 2019 season.
For those keeping track at home:
Mike Yurcich replaced Tim Beck (as OC)
Andre Coleman replaced Drew Mehringer (as WR Coach)
Jay Boulware replaced Derek Warehime (as TE Coach)
Chris Ash replaced Craig Naivar (and Todd Orlando as DC)
Coleman Hutzler replaced Todd Orlando (as LB Coach)
Jay Valai replaced Jason Washington
Mark Hagen isn't replacing anyone, but he's essentially taking up the position that Corby Meekins held as a 10th assistant while helping coach Wide Receivers.
Like most of you all, I had to do some research on Mark Hagen as I wasn't familiar with him prior to the hire. For anyone that says this is a reach or a comfort hire, you couldn't be any further from the truth. While Texas went young and somewhat unproven at a couple of coaching spots, that isn't the case here.
Hagen is an Indiana University lifer with 27 years of coaching experience under his belt. He's from Carmel, Indiana, and played Linebacker for the Hoosiers from 1988-1991, leading the team in tackles for three straight years from 1989-91. He's the fifth-leading tackler in school history and was a G.A. while earning his Master's degree from the University before starting his career as Defensive Tackles Coach at Northern Illinois.
Hagen has spent the majority of his time coaching in the Big Ten, with stints at Purdue and Indiana as the Recruiting Coordinator, Linebackers Coach, and Defensive Line Coach. He left his comfort zone in 2013 and joined the staff at Texas A&M, where he coached Linebackers for two seasons before transitioning back to Defensive Line. That means he's not entering new territory by returning back to the Lone Star State and he is familiar with the coaching staffs that he'll be visiting. Hagen has twice been recognized by Rivals.com as one of the top recruiters in the country.
Oscar Giles landed two studs in Alfred Collins and Vernon Broughton. I am of the opinion that giving him some added assistance on the recruiting trail, in addition to the change in scheme could prove to be a heck of a combination for the Longhorns. Games are won in the trenches and things are heading in the right direction with the addition of Hagen. I think having a guy like him would have possibly made a difference with a guy like Princely Umanmielen, who ultimately signed with Florida.