Open Post | Weekend, March 20th – 22nd
Posted on: March 20, 2020
2022 WR Isaiah King Talks Texas Visit
– CJ Vogel
Among the final unofficial visitors allowed on campus before the Corona Virus-forced closure of visits was 2022 Manvel wide receiver Isaiah King.
"I enjoyed my time at UT," King said, who made his way to campus with several 7-on-7 teammates. "I met with (WR) Coach Andre Coleman and the assistant wide receiver coach."
"The (staff) really made it feel like home and this where they would like to see me play."
King was only able to compete in four games last year as a result of transfer rules, however that hasn't stopped schools like Tennessee and Ole Miss from extending offers to the Manvel product. Luckily for Texas, there already is some interest on King's side.
"I've watched a lot of Texas," King said. "I remember Vince Young playing here and what he did. I'm very interested in one of the top programs in the country."
The interest will only continue to build as the talented wide-out heads into the summer before his junior season. King said "it's like the first part of my dreams are coming true" in regards to schools extending offers and showing interest.
"It's early for me being in 10th grade, so that's difficult fo me right now," King said when I asked about schools standing out early on. "Texas was very nice though. Any school that will help promote my skills, that I can work hard for and be a contributor to the team – I'm all about that."
Get to know the name, King will be around in the 2022 cycle.
---
2021 WR Eying a Texas OV but Longhorns Recruiting Efforts Still lag
– Super K
Yesterday, 2021 4-star WR, Dekel Crowdus (Lexington, KY) released his top 10 which included Texas among others…
I spoke with Crowdus over the phone yesterday. First, based on my conversation with him, I think he has things narrowed down far more than 10. It sounds like he's got his eye on a few schools which include Kentucky, Louisville, Michigan, Oklahoma and Texas. Baylor perhaps has a chance given that his teammate is committed to the Bears.
But after speaking to him about some of his top schools, I'm again a little underwhelmed by Texas recruiting efforts here.
Essentially what Crowdus told me is that while at Rutgers, Jay Valai had seen Crowdus play (at the time Crowdus was at IMG Academy). Valai got Texas involved and has been in communication with Crowdus.
Crowdus told me that he wants to take an official visit to Texas. In fact, he's mentioned that to me on multiple occasions but reiterated yesterday when we spoke on the phone.
But as I dug into how Texas is recruiting him, I was shocked to find out that Andre Coleman and the offensive staff has yet to even speak with him.
I was baffled by why he'd want to take an OV in that case and he said, "because it's Texas. I've been wanting to take an official visit there to see what it's like".
I want you to think about that. "It's Texas", he said.
Sometimes I just scratch my head trying to understand why there are times when the staff seems to have a lower opinion of the status of the University of Texas as a national brand than some kids.
I understand you can't chase ghosts but you've got a great product. Do your work.
Either way, Dekel wants to take an official visit to Texas. He is set to commit in May but added that he will still take official visits after he commits. If I had to guess, he will end up committing to a school close to him, like Kentucky. If he picks a school farther away I'd guess Oklahoma (Lincoln Riley and the WR coach are actually talking to him regularly). But he hasn't seen a lot of schools yet so I'm not sure if his first decision will stick once he gets out to other schools.
So, if Texas wants to make something happen here in terms of an official visit, the door seems to be open.
---
Elite 2022 LB Talks Texas visit | Justin Medlock
– D.T.
Although he just finished his sophomore season in high school, Manvel (TX) Linebacker Justin Medlock is a known name around the nation to college coaches and scouts. He already holds offers from the likes of Texas, Oklahoma, Baylor, Nebraska, SMU, Houston, Illinois, and Vanderbilt.
The Texas Longhorns were the latest program to deem Medlock worthy of an early invitation to join their program and Medlock wasted no time getting to campus, along with a few teammates, prior to the guidelines that have gone into place over the past few days.
"I had been up there before for camps but this was my first time visiting as a recruit."
The state of Texas has not been a hotbed for Linebacker talent over recent years, so when a standout at the position comes around they instantly become a major priority for any program in the region that recruits the state.
"My biggest takeaway from the weekend was just how invested the coaches are in me."
It's safe to say that Medlock and everyone on the trip felt the love from the Texas staff. Part of that love being shown was one-on-one time and Medlock got a great opportunity to meet with Linebackers Coach Coleman Hutzler to start building their relationship.
"Coach Hutzler is a great coach. He's going to talk to you real and he has great expectations for his Linebackers. The Defense that he coaches has always played very fast and physical. That starts with the Linebackers."
Medlock was just getting started on making his rounds of visits to schools that he wanted to see before the COVID-19 pandemic put everything in a holding pattern. His only other visit had been to SMU a day before making the trip down to Austin.
It's way too early to start naming favorites, but the groundwork is being laid here to set up for a potential positive return in the future. Medlock is going to be among the top players at his position nationally and Texas is doing the right things early.
Highlights:
---
Jalen Milroe | Sourced | Quick-Hitter
– Super K
I know there has been some talk about the possibility of Jalen Milroe looking elsewhere, due to some of the offers extended by the new Texas offensive staff.
I spoke with a source who told me that while Milroe may still be entertaining scenarios, as of now he is solid and the talk of Alabama and Auburn is overblown.
The big takeaway from my conversation with said source is that it's going to depend on how the QB pieces move around. In other words, if Texas doesn't land another QB, then Milroe stays.
If Texas does land another QB, that doesn't necessarily mean he leaves but he would likely look at other possibilities.
But until something changes, I don't think there is really much to worry about.
---
5-Star RB TreVeyon Henderson | Cancellations Could Effect Timeline
– Super K
As you know 5-star RB, Tre Veyon Henderson was set to take an official visit to Texas for either the Spring Game at the end of April or for a weekend in May that would coincide with JMBLYA (I haven't checked but I'm assuming that's been canceled or will be). The Spring Game has not yet been canceled but it's very possible that it will be.
With that, there has been a lot of speculation that Henderson could shut things down much much earlier than anticipated. And, if he did do so, the likely winner in all this would be Ohio State.
I spoke with a source close to Henderson and was told the following…
***With the commitment of Evan Pryor to Ohio State, Tre does have some concerns about the possibility of the second and final spot at Ohio State being taken.
***I know that may seem strange for the most highly coveted back in the country to be concerned about but after speaking with him at the school a couple of weeks ago, I got a very clear sense that he wanted to go through the process quickly and make a decision so that schools did not fill up.
***The interesting part of this is that Tre really hasn't taken many visits yet. He's obviously taken none of his official visits. And, what's even more noteworthy is he has never actually visited Ohio State. In other words, if he committed there, it would be sight unseen.
***Source I spoke to said that the folks around him would really prefer he hold off and be patient so that he can take his visits.
***Obviously, that's also what Boulware and Drayton want. Boulware came to Texas and set this thing up for Drayton and by Tre's own admission, the conversation he had with Drayton was one of the "realest" he's had with any coach. Drayton knocked it out of the park and despite not recruiting Tre for very long and not even having visited him in the open period, he secured an OV.
***Last time Texas secured an OV from the top back in the country and went head to head to Ohio State…what happened? Yeah.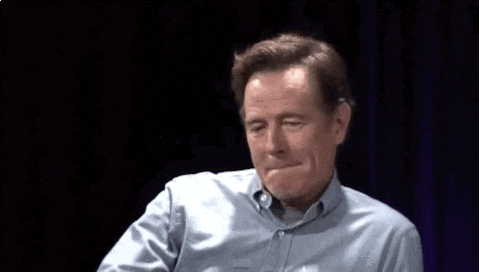 ***Bottom line here is that Texas needs the voices around Tre to win out and ensure that he takes his visits. However, I will say that even if he made a hasty commitment, one would think he might decide to go ahead and take his official visits, anyway. Sometimes a player overestimates their value in the recruiting world. In this case, I think Henderson is underestimating his value. He's probably the fastest running back in the country and he has the vision, lateral quickness and violence to make you feel every bit of that speed.
---
Look Ahead | 2022 WRs & TEs
– D.T.
Glancing Ahead (2022 WRs/TEs)
With the entire sports world on pause, I figured now would be a good time to get a jump on the competition. Last year, I released multiple "watch lists" for 2021 in-state prospects weekly as a part of my Thirsty Thursday columns. You guys seemed to really enjoy it and we love to keep the people happy here at TFB. This time around we'll give the younger guys a little bit more of their own shine. We'll start this series off with my personal favorite, the Pass Catchers.
Lewisville WR Armani Winfield (6'2 180)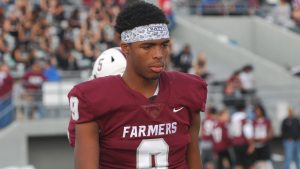 (Photo Cred: Texags)
On the hoof: Winfield has been recognized as one of the top receivers in the class for over a year now, as evidenced by his very impressive offer list. He's rangy, which gives him the illusion of being even bigger than his listed size. Winfield has the best blend of size, speed, and route running ability in a WR class that is shaping up to be one of the deepest in recent years. He's a future 5-star in my eyes.
Offers: Ohio St., LSU, Alabama, Oklahoma, Texas, Florida, Auburn, USC
Shadow Creek ATH Randy Masters (6'1 170)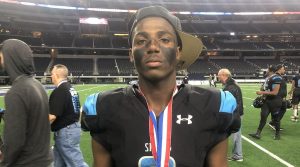 (Photo Cred: Texags)
On the hoof: Masters is a bad, bad man. He was the most explosive player for the offense of a team that went 16-0 on the way to a state championship at the highest classification in Texas. Masters is fluid in and out of his breaks and possesses the ability to make guys miss with ease once he has the ball in his hands. Masters is a two-way threat that could also wind up in the Defensive Backfield. I see Masters as a borderline 5-star talent.
Offers: LSU, Florida, South Carolina, Ole Miss, Tennessee, SMU
Highlights:
Del Valle WR Caleb Burton (5'11 165)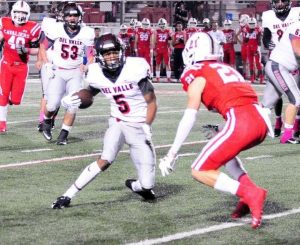 (Photo Cred: MSN)
On the hoof: Burton is electric. His size and frame suggest that he'll likely spend most of his time in the slot at the next level, but he's got the athleticism and versatility to play both inside and outside at the next level. Despite being a local prospect, Burton is fond of Oklahoma early on in the process.
Offers: LSU, Oklahoma, Texas, Georgia, Arizona St., Oklahoma St.
Highlights:
Garland ATH Jordan Hudson (6'0 175)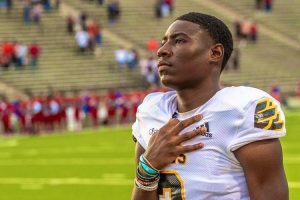 (Photo Cred: Max Preps)
On the hoof: Hudson is one of a few guys on this list that has the ability to be an impact player at the next level on either side of the ball. As a Wide Receiver, Hudson is a playmaker that shows natural hands and the ability to snap off sharp cuts unlike most human beings. He's a threat to take it to the house every time he touches it. He reminds me of Oklahoma State's Tylan Wallace.
Offers: Oklahoma, Texas, Oklahoma St., Arizona, SMU, Kansas, North Texas
Highlights: (vs. Sachse HS)
Grand Prairie WR Savion Red (6'0 195)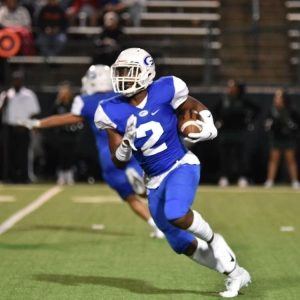 On the hoof: Red has a unique build in comparison to the other players at his position. He's built like a Running Back or even a Linebacker, but Red has the speed to win foot races and plays with an aggressive demeanor on the offensive side of the ball. I think that he has the potential to make an impact in a number of ways and could be a swiss-army knife type of weapon for a creative offensive mind. His offer list will look very different a few months from now. If Baylor is offering a Wide Receiver early, you know he's a baller.
Offers: Baylor
Highlights:
Atascocita WR Keith Wheeler (5'11 170)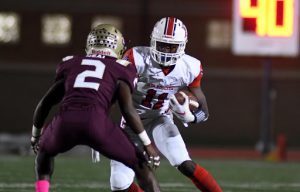 (Photo Cred: Houston Chronicle)
On the hoof: I really like Wheeler on tape. He's one of those guys with some inside/outside versatility and he's a YAC guy. Wheeler can be seen on tape giving effort in the run game and making unselfish, winning plays. It'll be interesting to see what his body does over the next two years but he's got a fan in me.
Offers: Arkansas and Kansas
Highlights:
Lancaster WR Stephon Johnson (5'10 165)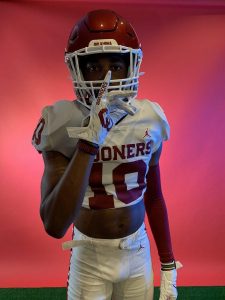 On the hoof: Johnson played this past season at Houston Heights before making the move to North Texas and enrolling at Lancaster. Johnson is not big, but he has long arms and does a good job of setting up defenders with subtle moves before blowing past them. Johnson is a playmaker that excelled on the outside this past year. I think he's poised to take off statistically in Lancaster's potent offense after moving inside.
Offers: Kansas
Highlights:
Dallas Skyline WR/TE Ma'leeyon Winfield (6'4 200)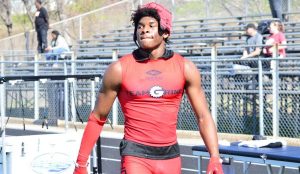 (Photo Cred: 247)
On the hoof: The two Winfields on this list are of no relation. While Armani is a smooth, do-it-all type, Ma'leeyon is an Outside WR all the way. He's every bit of the listed 6'4 and he shows the ability to get in and out of cuts better than you'd expect. Winfield has some top-end speed too. With all of that being said, it may not matter too much because his frame suggests that he's going to only get bigger and could eventually be a spin-down candidate. He's definitely more prospect than player at this stage, but the potential is there for a big-time player if he's able to put it all together.
Offers: Missouri, Kansas, Illinois St.
Highlights:
Dallas Kimball TE/WR Kyron Henderson (6'6 200)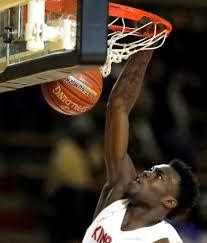 (Photo Cred: Dallas News)
On the hoof: There's a strong chance that Henderson doesn't play college football, despite the early interest. He's a talented basketball player and will have the option to choose what he wants to do at the next level. On the football field, Henderson moves exceptionally well in space despite his height and long limbs. While his school uses him as a Quarterback and Safety, his next level upside would be either as a Tight End or Defensive End/Outside Linebacker Hybrid in my opinion. Very interesting prospect that reminds me a little bit of Derrick Griffin.
Offers: Baylor, Kansas, Georgia Tech
Highlights:
Lancaster WR Phaizon Wilson (6'4 200)
On the hoof: Wilson is the only guy here that I couldn't find any sharable footage on, but he's an interesting prospect. His size is legitimate, yet he possesses some short-area foot quickness that is usually reserved for smaller guys. He's originally from New York, so he's not likely to feel any loyalty to any of the in-state programs. Wilson visited Texas recently.
Offers: Florida, Missouri, Texas Tech, Illinois, Colorado, Arkansas, Kansas
Up Next: Quarterbacks
---
Thirsty Thursday | On Field Affect of Pandemic, Defense Preview, Recruiting Note
– D.T.
Welcome back to another edition of Thirsty Thursdays! As always, I'm here to try to help quench your thirst for Longhorn Football in the drought of the offseason, along with other topics of interest in Longhorn sports this week.
How does this pandemic affect the UT Football program?
Alright.
So, it's been about a week now since all hell broke loose and all of our lives changed drastically.
Colleges are finishing the semester with all online courses. Spring Football is essentially canceled. As a guy that was fortunate enough to be able to play FBS football, I can't stress to you guys how important the springtime is to the sport.
Spring Football is the time where guys that didn't play as much as they wanted to the year before get an opportunity to show their improvements to their coaches. Some proven guys use the spring as more of an opportunity to recover from the past season, which allows for crucial developmental time for the usually younger crop behind them. This is the final opportunity for some guys to stay above water and carve out a role before the rest of the new, shiny toys for the staff arrive in the Summer (True Freshmen).
Spring Football is a time where coaches can experiment with moving guys around. Coaches can test out new plays and schemes to see how they translate from the whiteboard to the turf. Coaches get an opportunity to get a final look at what they're working with before heading into Summer Conditioning where guys do their final body preparation before the season. Huge, potentially season-defining decisions are made in coming out of Spring Football and that's a part of the process that everyone is going to have to deal with not having the luxury of.
You would think that's fine and it's a level playing field with everyone having to deal with the same issues.
But it really isn't.
Especially in the case of this Texas program heading into this upcoming season. Texas Head Coach Tom Herman overhauled what was essentially his entire staff from his first three seasons. The only holdovers from when he first arrived are Running Backs Coach Stan Drayton and Defensive Ends Coach Oscar Giles. Offensive Line Coach Herb Hand joined the Texas staff prior to Herman's second season.
That's it.
Fortunately, Texas has continuity in the Strength & Conditioning facet as well, with Yancy McKnight remaining in place. The communication there hasn't changed for the players. They know what is expected of them and they know what to expect from McKnight. I don't worry about guys working out during this time. We are also in the day and age where guys have personal trainers back home that they work out with as well.
I am very, very concerned about Texas being behind other programs when the season starts, despite everyone having the same restrictions. Texas didn't get any spring practices in. They are one of only two teams in the conference that this happened to if I'm not mistaken. How the heck are these coaches going to really know what they have?
The main concern for me is how everyone will learn how each other communicates. Offensive Coordinator/QB Coach Mike Yurcich is a new voice to Senior QB Sam Ehlinger. All that he's known since he's been in college is the voice and philosophies of Tim Beck. The QB and QB Coach relationship is different from those on the rest of the team. The QB Coach really only has to worry about two or three guys. It's rare for folks in that room to not be on the same page with each other.
The same can't be said for a Wide Receiver room that has double-digit bodies in it, but only one position coach responsible for connecting with them all. As you all should know by now, universally, the Wide Receiver position group usually consists of the more dramatic personalities on a roster.
With guys like Brennan Eagles stepping into a major role for the first time, the extended reps and time in the film room around Andre Coleman for 15 practices would have been invaluable. Guys like Jake Smith and Marcus Washington are expected to play major roles in the Offense this season. Both guys are from out-of-state. They are far, far away from Austin and Coach Coleman right now and while I'm sure they talk regularly, it isn't the same as being face-to-face and being in the room or on the field Receiver instruction. This potentially sets up to be a big timing issue, at least early in the season. A half-step left or right, or one-yard too short or too deep, could be the difference in six points for either team when it comes to the passing game at this level. It matters and Texas is very likely going to be playing from behind more than most.
From a positive outlook Offensively, I believe that the most important part of any Offense (outside of the QB of course) are the guys up front. Texas has continuity there and no new faces are expected to enter the mix there from a player standpoint. Sam Ehlinger is likely going to have to be sensational early on in the year until everyone is able to gain that rhythm and familiarity that is needed to make things hum through the air.
While Andre Coleman is undoubtedly an upgrade from a technical football standpoint for every player in that room, he isn't currently able to utilize his most valuable trait and it isn't anyone's fault.
But I'm concerned.
Same type of issue for the Defensive Backs. Jay Valai and Chris Ash have inherited a talented group, but it's painfully obvious that they are tinkering and trying to figure out where guys best fit. Not being able to practice is a killer here. Josh Thompson and Chris Adimora needed the reps with moves to new positions. Jalen Green, Anthony Cook, D'Shawn Jamison, Kobe Boyce, and Kenyatta Watson needed the reps to see where they all stack up.
I'm worried that Texas is going to spend the first few games of next season figuring out where guys best fit and should really be playing. This isn't a formula for success with a visit to the house of the reigning National Champions the second week in the season and a road trip to Manhattan, Kansas, followed by the Red River Rivalry that early in the year. The hope is that the experience and raw talent override any issues of putting guys in the proper position but that is usually a losing proposition.
Brand-new terminology and schemes on both sides of the ball and Texas isn't getting the reps in the Spring to prepare for the Fall.
Unbelievable.
Defensive Coordinator Chris Ash is new to his role, but he's not new to those players. Ash was with Texas for the majority of the 2019 season when he joined the program in October after he was relieved of his Head Coaching duties at Rutgers. He saw all of the practices during the season. He was present at every game and undoubtedly poured over all of the tape countless times. He's made moves based on what he learned from what the guys put on film.
One solution that could be used is one that Texas fans saw have great success to close out 2019. Interim DC Craig Naivar simplified everything that Texas did in the weeks leading up to the Texas Bowl and the results were very encouraging.
Is it possible that Ash had a hand in that? I think it's probable.
Could we see a similar approach, at least early on next season from the Defense? I think it makes a ton of sense. Keep it simple and let guys play fast. Let the Offensive guys do all of the thinking.
This staff already had a tall task ahead of them heading in to this season, but their jobs became immeasurably more difficult when this pandemic took place. If the season begins on time, we're going to see just what these guys are made of.
**********************************************************
Spring 2020 Preview (Defense)
This is a spring depth chart look only. I know we just talked about the likelihood of there being no spring football, so for exercise sake we can think of this as the Summer Depth Chart heading into Fall when hopefully entertainment has resumed.
Defensive Line
Strongside DE
Marquez Bimage
Jacoby Jones
Reese Leitao OR Myron Warren
3-Tech (DT)
TaQuon Graham OR Moro Ojomo
Vernon Broughton
Nose Tackle
Keondre Coburn
T'Vondre Sweat
Daniel Carson
Weakside DE
Joseph Ossai
Byron Vaughns
Peter Mpagi (?) OR Malcolm Epps
Outlook: On paper, this is the strongest unit on the Defense heading into next season. Joseph Ossai enters the season with All-American aspirations after moving to a full-time Weakside DE position in this scheme and could be the first Longhorn to be drafted in the 1st Round since 2015. Texas figures to be stout up the middle and against the run with their interior foursome of Keondre Coburn, TaQuon Graham, Moro Ojomo, and T'Vondre Sweat.
Spring Storyline: The battle to watch at this position likely centers around that Strongside DE position. Marquez Bimage looked terrific in the final two games of last season after adjustments were made to the Texas defensive alignment. Can Bimage be trusted to hold the position down and sustain a level of play like that for a full season? Can Jacoby Jones make some noise in his final season? Could guys like Moro Ojomo or TaQuon Graham still play some DE? Can Malcolm Epps or Reese Leitao provide anything on this side of the ball?
Linebacker
MIKE
Juwan Mitchell
Marcus Tillman Jr.
Cort Jacquess
WILL
DeMarvion Overshown
David Gbenda
Luke Brockermeyer
Outlook: Juwan Mitchell was Texas' most consistent presence at the Linebacker spot last season in his debut. Mitchell figures to be a multi-year starter and will be looking to take the next step in year two. DeMarvion Overshown is a guy that flashed brilliance at times last year and finally made the move that most have been clamoring to see made by moving to Linebacker from Safety. Overshown and Mitchell give Texas arguably the most athletic pair of Backers in the Big XII next season.
Spring Storyline: Ayodele Adeoye is a question mark to be available at all in 2020 after suffering a Lisfranc injury to his foot that will require extended recovery time. Marcus Tillman missed basically all of last season and David Gbenda wasn't much of a factor in 2019. Both guys retained their redshirts. Cort Jacquees filled in admirably in the Texas Bowl and is the type of character guy that you build winning programs with. Texas can't afford any injuries here. Who are the guys that step up to provide quality depth?
Defensive Back
Corner
Josh Thompson
Jalen Green OR Kenyatta Watson
Marques Caldwell
Corner
D'Shawn Jamison
Jalen Green OR Kenyatta Watson
Marques Caldwell
Nickel Corner (Slot)
Chris Adimora
Anthony Cook
Free Safety
Caden Sterns
Tyler Owens
Xavion Alford
Strong Safety
Chris Brown
Montrell Estell
Jerrin Thompson
Outlook: The talent is there. The size is there. The athleticism is there. All of the pieces are there for this unit to be the best in the Big XII. Texas has depth and they have experience on the back end heading into 2020. They need better production and better play. Texas is solid at Safety with the potential to be elite. BJ Foster is out for the spring but you have to figure that he slides back into the Safety spot opposite Sterns, which means that Chris Brown goes back to being a swiss-army knife.
Chris Adimora enters his Sophomore season with an opportunity to carve out a bigger role for himself. He was impressive when given opportunies last season and has the versatility to possibly excel in a role that has him near the action. The main question marks lie at the Cornerback spot.
Spring Storyline: The big surprise here is to see the Texas coaches come out and state that Josh Thompson and D'Shawn Jamison are the First-Team Corners whenever football resumes. Jalen Green and Anthony Cook find themselves in year three in the program and neither guy has established himself to this point. I would not have guessed that I would be writing that when they signed as part of the "best DB class ever" in 2018. Can either guy earn a starting position before the season begins? Can Josh Thompson really hold up on an island outside?
**********************************************************
Quick Hitter on 2021 LB target Morice Blackwell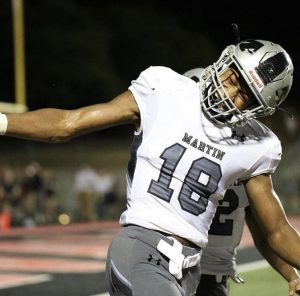 Texas made the move to offer Arlington Martin LB Morice Blackwell Jr. back on February 1st. He's a guy that a wrote a little bit about a few weeks ago when looking at the 2021 Defensive Recruiting Board. Blackwell remains rated as a 3-star recruit across the major services, but all it takes is you watching about 3 plays from his HUDL account to realize that that is an incorrect label.
Tulsa was the first program to offer Blackwell and they did so last spring. Kudos to that staff. Baylor was the first in-state school to notice him, moving to offer towards the end of last football season. Once his Junior tape got out following a season that saw him earn 4-6A MVP and Defensive Newcomer of the Year honors, Blackwell Jr. (who isn't overly active on social media) saw offers come in from Alabama, Notre Dame, Oklahoma St., SMU, and Texas Tech in addition to the Longhorns. Blackwell was planning to make some stops this spring, but obviously those plans have been put on delay for now.
One of his coaches (Ryan Pollard) claims that Blackwell, who participates in the High Jump for Martin's Varsity Track & Field team, set a new personal record during winter testing with a 4.47 40-yard dash and 37-inch vertical jump. I wouldn't have guessed that when looking at his tape, but it certainly gets your attention when you hear numbers like that. I do think that the young man has a lot of raw physical talent that is yet to be molded. The best is certainly yet to come.
Blackwell is currently measuring in at a shade over 6'2 and right at 200lbs. He's got the frame to add plenty of weight in the future, although he already packs quite a punch when he arrives at the football. Blackwell is the total package on and off the field, sporting a 3.0 gpa in addition to his athletic gifts. I think he's continued to rise up the board of the Texas staff as a priority, with good reason. Once things get back to normal, it'll be interesting to see where he shows up for visits.
My Take: One thing to consider, while doing some research I came across a social media page that belongs to Blackwell's father. In his background header was a flag of the University of Arkansas. As you all know, Texas and Arkansas have a rivalry that runs deep and dates back to the SWC Conference days. The Razorbacks could be a sleeper here while many of the nation's elite are vying for the signature of the currently criminally-underrated LB prospect.
While I initially thought that this would be a slam-dunk for Texas when I first heard of the offer, the more I learned about the prospect and his background has me singing a different tune. The Longhorns are going to have a heck of a fight on their hands here, but they figure to factor towards the top of the list for the duration of this recruitment.
Highlights: