Open Post | Weekend, April 8th – 10th
Posted on: May 8, 2020
Updates | Numbers, New 2021 Prospects & one out
– Super K
***Going into this 2021 recruiting we had heard Texas was looking to take one safety. The three guys who were identified right away were Isaiah Nwokobia, Andrew Mukuba, and JD Coffey.
We more recently heard that Texas would like to take two safeties. That was just before Jahdae Barron was added to the 2020 class. However, I get the sense that while Texas sees Barron as someone who can play anywhere in the secondary, they'll start him at CB or NB.
So, we are are sticking with two safeties for now. With Nwokobia committed to SMU, they may need to start looking at an additional offer or two.
***To that point, 2021 DB and former TCU commit, Devin Lemear (Manor) tells me has recently begun communicating with Texas.
***Also, 2021 DB/WR, Caleb Johnson (Greenville, TX) recently exploded on the scene from relatively unknown to an offer from both LSU and OU. Johnson is being recruited by both LSU and OU as a CB and he tells me that he is beginning to hear from coach Jay Valai.
***A DB that Texas was targeting is now out of the mix. 2021 FL DB, Phillip Riley was offered by the Horns back in March and in April included Texas in his top seven along with Penn State, Miss. State, Minnesota, Notre Dame, Virginia Tech and Washington.
I checked with Phillip earlier this week and tells me that Texas is no longer in the mix for his recruitment. I don't know who initiated that.
***However, I will say that I think with the Corona situation, more and more coaches are realizing, for this cycle, it's best to get as many local prospects as possible. Visit time for out of state kids is going to be very limited.
---
Commitment Analysis | 2021 DL Jordon Thomas
– D.T.
Texas continued their scorching-hot week, adding a commitment from Port Arthur (Memorial) Defensive End Jordon Thomas on Saturday afternoon. Thomas chose the Longhorns over Texas A&M.
What is Texas getting in Thomas?
Ranking: 4-Star (247), 4-Star (ESPN), 3-Star (Rivals)
Offers: Baylor, LSU, Texas, Texas A&M, TCU, Houston, SMU
Size: 6'3 240lbs
Projected College Position: Weakside or Strongside DE
Player Comparison: Reggie Wilson (Texas 2010-2013) or taller Marquez Bimage
Analysis: Thomas missed pretty much all of his Junior season due to a knee injury, but he put enough on tape as a Sophomore and during the camp circuit to earn offers from many of the best programs in the region. Thomas is a chiseled 6'3 240lbs already and he will likely max out around the 260-270 range in college. He has heavy hands that he uses to shock and discard blockers regularly on his highlights. Thomas is a better straight-line athlete than he is laterally, although he is athletic enough to bring pressure in pursuit and break down to make plays in close quarters and occasionally in space.
As far as areas to improve, he doesn't show much variety as far as pass rush moves go and I'm not sure that he will ever be a guy that will contend to be your team-leader in sacks. His first step is average and some hip stiffness is apparent on film. These are all things that he can improve upon during his time on campus if he puts the work in.
Thomas is another piece to the 2021 Defensive Front puzzle and he represents an undeniable head-to-head win over the folks in College Station that love to talk about their conference. Thomas is a rock-solid pick up for Texas and represents a player that has a chance to be rotation piece early and starter later in his career.
Instant Impact Rating: 4
Highlights:
---
Andrew Mukuba | Trending
– Super K
With Nwokobia off the board, we turn our attention to Andrew Mukuba and JD Coffey.
Mukuba is a guy the staff liked early on but held off a bit on offering. They were hoping to be able to see him in the spring, which was understandable given how little you see him in coverage on film. Mukuba was set to take some reps at CB this spring and schools would have had a chance to see him cover.
But what is clear he is extremely athletic and extremely violent on the field.
Texas did end up offering and has worked to build a strong relationship with Mukuba and they may have some help now that Jahdae Barron has joined the Texas 2020 class. Both Mukuba and Barron are friends and they train together.
However, I do believe Texas has some work to do. Their biggest threat is indeed Clemson and right now, I do get the sense Clemson is going to be a tough out.
I don't expect a commitment to come anytime soon as Mukuba has yet to visit Clemson but again, they are going to be hard to beat. This one isn't done but based on what I've heard, I've got this one at the very least trending Clemson.
---
Team Note | Sourced | Working out Through Corona
– Super K
With teams unable to meet, the obvious concern going into this upcoming season is a team's preparation both in terms of scheme and physical development.
Typically players are supervised by the strength staff, they go through spring ball, summer work outs, etc. But now, you really are at the mercy of how many self motivated players you have.
I Spoke to a source yesterday who told me that there are a huge number of Texas players actually back in Austin who are using private facilities and training. In fact one source said that something like 60% of the team is back in Austin working out.
And, I'm told much of this is being led by Sam Ehlinger.
If that number is indeed accurate (60%), that is no small thing and I'd be very surprised (though I am checking) to see any other programs near that.
---
Thirsty Thursday | The Future & Reviewing Commit Analysis of Juwan Mitchell
– D.T.
Welcome back to another edition of Thirsty Thursdays! As always, I'm here to try to help quench your thirst for Longhorn Football in the drought of the offseason, along with other topics of interest in Longhorn sports this week.
Thinking out loud on the future of Texas Football
As you all know by now, Tom Herman has been the Head Coach at the University of Texas for three seasons now. He has amassed a record of 25-15 (17-10 in Big XII play) in those three seasons including an appearance in the Big XII Championship Game in his second season and a Sugar Bowl victory in that same season. Herman has led Texas to a winning record and bowl game victory (Texas, Sugar, Alamo) in each of his seasons at Texas.
He has reeled in a top-10 recruiting class nationally for each full cycle that he has had as Head Coach at Texas. It would seem as if all of the arrows were pointing up for the Texas Football program, especially coming off of the worst three-year stretch in school history under previous Head Coach Charlie Strong.
There's one problem.
Herman was forced to fire both of the Coordinators that he hired initially as well as the majority of the staff that he brought with him to Austin from the University of Houston.
The following names are from the initial staff in 2017:
Tim Beck (OC) (Now at NC State)
Drew Mehringer (WRs) (Now at FAU)
Corby Meekins (WRs) (Now at Houston)
Derek Warehime (OL/TEs) (Now at New Mexico)
Todd Orlando (DC) (Now at USC)
Jason Washington (CBs) (Now at Mississippi St)
Craig Naivar (Safeties) (Now at USC)
The only holdovers or "Day Ones" that are still left standing are Running Backs Coach Stan Drayton and Defensive Ends Coach Oscar Giles who I think we can agree have both been standouts. I found it interesting that the position coaches that he brought in to replace the ones that were dismissed were minorities, excluding new Defensive Tackles Coach Mark Hagen. Especially in lieu of reports about there being some chemistry issues and struggles connecting with the different personalities last season.
Heading into year four, Herman is facing a bit of a make-or-break year, especially when you consider that the Longhorns will be starting over at Quarterback after next season. Athletic Director Chris Del Conte has proven that he will not hesitate to make changes when the opportunity presents itself (although Herman's contract was extended through the 2023 season following the 2019 year.)
I think that this season will be the most fascinating to watch to date during the Herman tenure for a variety of reasons and they could lead to either his prolonged successs at Texas or his future demise. Here they are:
1. Sam Ehlinger is a Senior. Texas will not have had a more battle-tested and experienced leader under center than Ehlinger will be heading into his final season in Austin (36 career games, 33 starts) since Colt McCoy played his final year in 2009. They should have the advantage under center week in and week out next season.
2. I know the focus is on 2020, but the Texas Quarterback room is as stocked with talent as I can ever remember it being. We never saw the Texas QB room with multiple viable options behind the starter during the Mack Brown or Charlie Strong eras. After Ehlinger graduates, Texas will have a three-way competition the following spring between a 4th-year Casey Thompson and Redshirt Freshmen Ja'Quinden Jackson and Hudson Card. That goes without mentioning Jalen Milroe, who will be on campus as an early enrollee. The cream will rise to the top. This goes without including Cam Rising, who was once thought by some to be the future of the program, factoring in at all. Herman has attacked the most important position on the field not just with numbers, but high-quality numbers. A method he likely got from his time at Ohio State (anyone remember Braxton Miller/Cardale Jones/JT Barrett? BTW, Joe Burrow was redshirting at the same time.)
3. It's taken a few years now, but I think we've seen enough of Tom Herman to determine what type of coach that he is. While he likes to wear all of the hats, doing it at a place like Texas simply isn't possible. I think that it's taken three years for Herman to figure out what type of coach he has to be in order to succeed at Texas.
He's tried having to handle the majority of play-calling duties while still maintaining a good pulse of his overall program and seen that one man can't do it. He has to have guys that he can delegate things to so that he can be the best Head Coach version of himself that he can be.
If he wanted to be an Offensive Wonderboy like Oklahoma Head Coach Lincoln Riley, I don't think that he would have hired (or been able to hire) Mike Yurcich away from Ohio State. This is going to be Yurcich's Offense with Herman having the ability to override if he deems it necessary (which he tried with Tim Beck.)
If he wanted to be Sergeant Hard Ass all of the time, which seemed like the route he was heading down, he didn't have the pieces in place elsewhere to entrust his players to run to after he was done administering "tough love." I think he realizes this approach requires many more skins on the wall than he currently owns.
Finally, the final Head Coaching style is the CEO style of Head Coach that makes sure the program is running at a high level beyond the Xs and Os. This is the type of coach that Mack Brown was able to be at Texas because he had the ability to go find the talent and he had coaches on his staff that were good at developing it for a while. He could focus on the everyday hoopla that comes with being the HC at Texas while his coaches handled the dirty work.
If Chris Ash and Mike Yurcich are the guys that their track records suggest they should be, then we are possibly on the verge of seeing our best version of Texas Football under Tom Herman yet. If not, the cupboard will truly be far from barren for the next guy, and going by the track record of the Athletic Director, we can expect the next guy to be someone that will bring immediate results.
*********
Commitment Analysis Review
An idea was presented on the board this past week for me to do a review of the "Commitment Analysis" pieces that I write when Texas lands a commit. The plan is to take a look back at what I thought of the player when Texas landed them and the "instant impact" that they had compared to my projection.
I thought it was an awesome idea, unfortunately, after going back through the archives, the 2020 class was the first class that I really started doing these on the regular, which means that we'll have to wait a year before I can roll out a full, finished product for you. Juwan Mitchell was the very first guy that I wrote one of these on as the final member of the 2019 class and I thought it would be fun to let him be the first guy we tested this out on as well.
Juwan Mitchell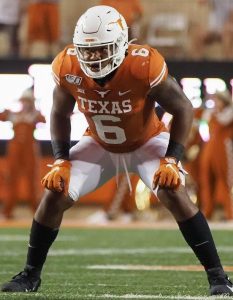 Ranking: #1 JUCO LB (ESPN), 3-Star (247), 3-Star (Rivals)
Projected College Position: Inside Linebacker
Comparison: Anthony Wheeler (Texas 2015-2018)
Analysis: "The first thing that I notice about Mitchell in his clips is the result of the impact that his collisions cause on his targets. When Mitchell finds the correct gap, he fills it violently. Much like recently departed Longhorn LB Anthony Wheeler, Mitchell is a guy that is clearly at his best and most comfortable moving forward and attacking the LOS. It is difficult to tell how well he reads from highlight clips, but he does a nice job of sniffing out several counters on tape. I think that he moves pretty well, he's just not nearly the twitched-up athlete that fans may have gotten used to recently, such as Malik Jefferson and Gary Johnson. Mitchell provides Texas with some immediate insurance for the loss of De'Gabriel Floyd and adds some much-needed depth in the LB room. At the absolute worst, Mitchell is candidate to be an immediate contributor on Special Teams and will have four years to play three seasons at Texas. He will be a true Sophomore next season."
2019 Stats: 39 tackles (3.5 TFL), 3 sacks, 4 PBUs in 11 games (5 starts).
2019 Analysis: Mitchell was a late pick up for Texas in the class after the De'Gabriel Floyd news broke, but he wasted no time at all establishing himself as one of the better LBs on the team despite not enrolling until the summer. He was an All-Conference selection in his lone JUCO season at Butler C.C. and was rated as the #1 JUCO LB prospect in the nation by ESPN.
On a defense that is full of guys that like to bring the wood, Mitchell is arguably the most physical presence on the Texas roster and he sets the tone in the middle of their Defense at 245lbs. He's the type of guy that eats with his hands at the dinner table instead of using silverware, which is different than what Texas has had in recent years. He managed to gain weight over the course of the season, which is really rare for a player that isn't redshirting and speaks to his work ethic in the weight room. Mitchell excels as a blitzer and does an excellent job in the run game of taking on blockers and filling gaps with violence. He was a heck of a find for Texas that late in the process and he enters his Junior season with an opportunity to improve upon what was an impressive debut.
With all things equal, I'd say I was pretty close to nailing that one. If "Instant Impact Rating" had been a thing I was doing at the time I would have likely given him a score of 6 or 6.5 based on need alone. Mitchell is a better player than Anthony Wheeler was and will be a multi-year starter with a chance of playing in the NFL once his time is up at Texas.