Open Post | Weekend, May 15th – 17th
Posted on: May 15, 2020
Good News on the Way (UPDATED)
– Super K
Keep an eye out tomorrow for some good news. Still awaiting final confirmation but it looks like Texas could be getting a little surprise commitment from out of state prospect.
Probably not one you're very familiar with but still a talented player.
UPDATE: Also, just to be clear, we've already addressed the news on the Jonathon Brooks announcement. This news is not related to Brooks' announcement. This is an additional potential commitment.
---
Commitment Analysis | 2021 LB Morice Blackwell Jr.
– D.T.
Texas started picking up some momentum on the recruiting trail last week when they saw Jahdae Barron and Tarik Black add their names to the incoming 2020 class in addition to Jordan Thomas becoming the 8th addition to the 2021 class. 2021 is starting to roll now, as Arlington Martin LB Morice Blackwell Jr., announced his commitment to Texas.
What is Texas getting in Blackwell Jr.?
Ranking: Consensus 3-Star
Offers: Alabama, Georgia, Notre Dame, Baylor, Arkansas, Utah, Oklahoma St., Georgia Tech, Texas Tech, SMU
Size: 6'2 205
Projected College Position: WILL or MIKE
Player Comparison: Shades of Mack Wilson (Alabama 2016-2018)
Analysis: This one is exciting because it came as a bit of a surprise, but we had done our homework on Blackwell Jr., so we were prepared when the unexpected happened.
Back on March 19th's Thirsty Thursday there was a piece on Blackwell Jr. In it I wrote the following:
"Once his Junior tape got out following a season that saw him earn unanimous 4-6A MVP and Defensive Newcomer of the Year honors, Blackwell Jr. (who isn't overly active on social media) saw offers come in from Alabama, Notre Dame, Oklahoma St., SMU, and Texas Tech in addition to the Longhorns.
One of his coaches claims that Blackwell, who also participates in the High Jump and 100M for Martin's Varsity Track & Field team, set a new personal record during winter testing with a 4.47 40-yard dash and 37-inch vertical jump in February. I wouldn't have guessed that when looking at his tape, but it certainly gets your attention when you hear numbers like that. I do think that the young man has a lot of raw physical talent that is yet to be molded. The best is certainly yet to come."
After earning 4-6A Defensive Sophomore of the Year honors in his first season as a Varsity member, he racked up 128 tackles (13 TFL), 2 sacks, 2 INT, and 4 Forced Fumbles during his Junior season.
Looking at Blackwell Jr. on tape you see a long, rangy Linebacker that packs much more power than you would assume going just by the eyeball test. He's comfortable in space and shows some impressive ability in pursuit. He has straight-line speed, but he isn't just a run-and-hit guy, he shows the awareness to attempt (often successfully) to take the football away as well. I was particularly impressed to see Kickoff coverage on his highlights as it shows both an unselfish and fearless attitude. He's a candidate to be a Special Teams standout early in his career.
As far as areas he still needs to improve, I think we have to start with him in coverage. He's solid in Zone when he can keep his eyes on the QB, but he looks like he could be a bit of a work in progress when it comes to his man-to-man skills. Blackwell is over 200lbs now and will likely be in the 210-215 range by the time he arrives to campus. He has broad shoulders and a frame that will easily hold 230lbs while he is in Austin.
Baylor and new HC Dave Aranda were the first "big school" to offer Blackwell Jr. and they made him a huge priority. This was a heck of a pickup for new Texas LB Coach Coleman Hutzler and the Longhorns have a legitimate chance to ink one of the better Front Seven units in a good while in 2021.
Instant Impact Rating: 6. Should carve out an early role on Special Teams and become a multi-year starter later.
Highlights:
---
Deuce Harmon | The Latest | Trending
– Super K
Spoke with a source regarding 2021 DB, Deuce Harmon (one of my absolute favorites in this class) and was told that Harmon is nearing a decision. I do not know if that means he will announce soon but it sounds like he's narrowed it down.
It does, unfortunately, sound like it's trending away from Texas right now.
The longer the decision takes the better for Texas primarily because with their offer coming later than most, they haven't had the same time to build the relationships that schools like Notre Dame, Texas A&M and others have.
---
The Latest | Clayton Smith Decision + Impact on Marcus Burris
– CJ Vogel
2021 Texas High OLB Clayton Smith tweeted that he intends on making an announcement Friday at 2:10 p.m. Smith confirmed with me that it will be a commitment.
The final six contenders for the 6-foot-4-inch four star are Oregon, Florida State, Texas, Oklahoma, LSU and Kentucky.
However, as Super K has noted this week, this recruitment appears to be trending towards the Sooners:
While I know most people have Clayton trending towards Texas, our source seems to believe this one has actually shifted in OU's favor.

I haven't spoken to Clayton over the phone in a bit so I can really give you my personal read but we have at least one source who believes the Sooners have taken the lead, currently.
A flood of crystal balls have corroborated K's report as the week has progressed. At the moment, it's safe to say Oklahoma has a lead here.
Smith's decision could have an impact on the direction of 2021 Pleasant Grove DL Marcus Burris.
K will likely have more on Burris but there have been rumblings of the two wanting to play together at the next level.
---
Thirsty Thursday | Blackwell, Cooper, Front 7 & More
– D.T.
Texas got a steal in Morice Blackwell Jr.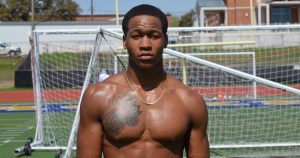 "The kid works. When he gets to Texas he's going to turn into a monster."
Those were the first words that came out of the mouth of a coach that has known Morice Blackwell Jr. since he was in middle school. The superlatives start flying the moment you start asking about his mental makeup:
"Morice is the type of kid that is always asking questions. He's a standout in the classroom and puts in the time outside of the required practice time to work on his game. He is always watching film and trying to find ways to improve."
There isn't a single standout Linebacker that we watch or read about that plays on Sundays that isn't deeply obsessed with the game of football. Linebackers have to be some of the most cerebral players you have on the team on the defensive side of the ball.
There isn't a single standout Linebacker that we watch or read about that isn't obsessed with getting improving their bodies. I mentioned in Blackwell's Commitment Analysis that he consistently rattles the skulls of ballcarriers and forward momentum stops when he arrives at the football, despite the currently slim frame.
How?
"That's all Weight Room." Coach states. "In our winter conditioning program, Morice posted the following numbers before we were all sent home: 550lbs on Back Squat, 320lbs on the Bench Press, and 575lbs on the Deadlift. He busts his behind every single day and he gets results."
Those are ELITE numbers for a kid that is a Junior in high school and it's a testament both to his work ethic and to some freakish strength. They would be near the top of most FBS programs, especially at 205lbs. For those that missed it, Blackwell Jr. also posted personal bests of 4.47 seconds in the 40-Yard Dash and 37" in the Vertical Jump during testing. He's an elite athlete.
He consistently earned the teams' "Big Hit Award" during the season on the way to racking up 128 tackles and 4-6A MVP honors despite being a defender.
"He's definitely a guy that can captain a Defense. He's smart, he's a student of the game and will put in the time."
My Take: I've got a ton of respect for the Arlington Martin Football program. Year in and year out, they are one of the most disciplined and hard-nosed teams that we see. They have a strong record of former players having success at the next level and the preparation that they get as teenagers plays a big part in that.
Texas is in the midst of putting together a very impressive Defensive class in 2021 and Blackwell could very well end up being the crown jewel of this thing when we look back on it in a few years. I'm willing to bet on him.
Highlights:
****************************************************************************
Quick Hitter on 2022 Star DE RJ Cooper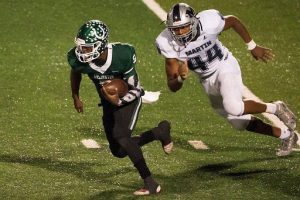 Switching gears, Blackwell and standout 2022 Defensive End R.J. Cooper have been friends and teammates since middle school. Is this something that could help the Longhorns when it comes to earning Cooper's signature next year?
"RJ is a different kind of kid. Academics are going to be the number one priority for himself and his family. While getting Morice certainly doesn't hurt, RJ is going to make the best decision for himself and he plans to wait until the second Signing Day in Feb. 2022 in order to help get his teammates looks."
Texas will be in the mix and they offered Cooper early on during his Sophomore season, beating others to the punch for once. There's always plenty of competition for the top players in the state these days, but I'd keep an extra close eye on places like Stanford and Notre Dame when his recruitment really starts to come into focus.
Highlights:
****************************************************************************************************
Quick Hitter – Front Seven Recruiting
This is won't be an update that you all are fond of, but I felt like it was worth touching on here in a place where we can have honest conversations with one another.
The heat has indeed been turned up on guys like Texas High LB/DE Clayton Smith, DeSoto High DT Shemar Turner, and to a lesser extent Pleasant Grove High DT Marcus Burris by opposing schools.
I'm sure many of you all have heard the chatter this week about Clayton Smith and Oklahoma. I spoke to Clayton on a regular basis last year. Although the communication has waned in recent months, it's hard to forget his thoughts and where his focus was when the recruiting process all began for him. Texas has been a mainstay near the top for Smith. I think that some ground was lost in the transition from Todd Orlando to Chris Ash, as the new Texas staff seemed to be trying to figure out where they thought he best fit in their scheme. This opened the door back up for others, because he told me himself that Texas was his leader last summer. Regardless of if you see Smith commit elsewhere in the next few weeks or months, he has always maintained that he wanted to announce a final decision in January of 2021. I would expect for Texas to continue to stay involved here behind the scenes because Smith's recruitment is starting to shape up like one that could be quite entertaining.
Turner is a guy that I have regular contact with since he plays on our Varsity here at DeSoto. He's another guy that has started to grow a bit weary with the process, but his is a case where he truly still doesn't know yet where he wants to go. He's done virtual visits with "all of the SEC schools" (Bama, Georgia, A&M, LSU) and I'm sure he'll be doing the same with Texas, Oklahoma, and Baylor soon.
I'm not sure that the virtual visits are overly exciting for Turner. There is chatter that he has a new leader, but I'm not sure that any of this matters until he can physically set foot on campus for official visits, whenever that becomes possible again. I could realistically see him winding up at any of one of the seven schools mentioned in the previous paragraph. Buckle up and get ready for a heck of a fight in this one as well, but I'm of the opinion that nothing you hear right this moment will matter much in the long run.
Marcus Burris is another guy that I was able to get in contact with pretty regularly when the process really began for him about a year ago. Ever since the Landon Jackson commitment to LSU, Burris has seemed to go silent on everyone. As is the case with Smith and Turner, Burris is being talked about right now as a guy that could possibly be leaning to the Sooners.
One thing to keep in mind is that the schools these guys are considering have all landed numerous high-quality front seven HS recruits in the past two recruiting cycles. That hasn't been the case in Norman. Remember the quotes from Bryson Washington in the 2020 class about what Oklahoma DC Alex Grinch told him.
"He told me what it is straight-up. Oklahoma is hurting at Defensive Back. They're hurting on Defense. Basically, he told me there was not one person from the Defense that could play in the NFL right now."
A wide-open depth chart is being presented to these guys along the Defensive front in 2021. Whereas, these guys may have to wait their turn at play at the other places that they are considering that have recruited better. With Texas in particular having landed Alfred Collins and Vernon Broughton in 2020, in addition to Ja'Tavion Sanders, Jordon Thomas, and Derrick Harris Jr., in 2021 already. An interesting tactic for sure, but it appears to be having an effect, at least right now.
Stay tuned.
*******************************************************************************
Thoughts on Zach Evans landing in the Big XII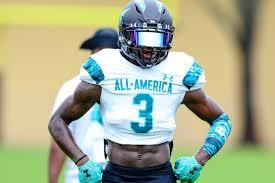 We finally reached the end of the saga that was the Zach Evans recruitment. To recap for those that may not be familiar, things kind of went something like this.
-February 2017 Zach Evans receives his first offer before he has played a single Varsity snap from LSU.
-Texas offers Zach in June of 2017 a few days after Texas A&M.
-Zach visits only Alabama in July of 2017.
– In the midst of a Sophomore season that sees him earn 21-6A Newcomer of the Year and Houston Chronicle Newcomer of the Year awards, he visits A&M and then Alabama again on his own dime.
– Zach visits both Texas and Texas A&M for Junior Days in Feb of 2018. In an interview with Eric Nahlin, Evans says the following after visiting Texas, "Texas has definitely separated itself."
– North Shore goes on to win the 6A State Championship in December of 2018.
– January 2019, Evans visits Georgia unofficially for the first time as well as Tennessee.
– March 2019, he's back on the A&M campus for a visit and visits Ole Miss for the first time.
– May 2019, he tells 247s Chris Hummer that he will be "playing the recruiting game," and no Texas school would be present on the list of finalists that he released later that month on May 28th (Georgia, Alabama, Ohio St., LSU, Oklahoma) despite the fact that none of Ohio St, Oklahoma, or LSU were actively recruiting him at the time.
– June 2019, he returns for another unofficial visit to Alabama. This would also be the first time that he shows up on the UT campus in over a year and it was apparently only after being told to apologize to the staff (by those close to him) for his public comments about them "barely beating Georgia."
– July 2019, Zach visits A&M, LSU, and Georgia again. All unofficially.
– September 2019, another A&M visit.
– October 2019, yet another unofficial Alabama visit. An official visit to LSU also takes place.
– November 2019, official visit to A&M finally happens.
– December 2019, signs a LOI with Georgia. North Shore wins their second-straight state title, but without Evans, who was suspended for the second time that season after refusing to turn in his cellphone the night before the game.
– January 2020, instead of announcing his commitment to Georgia, Evans issues a public apology to "his college coaches that are recruiting him." Georgia grants his release from his LOI.
– Evans would visit Tennessee officially later in January of 2020.
– Evans has an official visit planned to Florida in April of 2020 but it gets cancelled due to COVID-19.
– April 21, 2020, Evans and his camp contact Texas to gauge the Longhorns interest. Texas tells Evans they will "do their due diligence." Texas never reestablishes contact with Evans.
– May 11, 2020 Evans announces that he has signed financial paperwork with TCU.
After all of that, Evans is staying home in the state of Texas, but it won't be for the Longhorns or the Aggies, who both believed that they led in his recruitment at one point or another. He's going to join a Running Back room in Fort Worth that needs a lead back following the graduation of Darius Anderson and Sewo Olonilua. He's joining a program that has consistently overachieved under Head Coach Gary Patterson relative to their talent on paper, but it remains to be seen how their personalities mesh once the pressure gets turned up.
I wrote the following about Evans in my Final Top 50 for 2020 back in January:
"I no longer quite view Evans as a can't-miss, generational back, but I do believe that he still has a chance to be a star at the college level, with a chance to be an early round draft pick if everything goes right. There haven't been many players over the last few years to come out of the state with his combination of size, speed, hips, and balance. You can't deny his talent, hopefully it all comes together for him in the future."
There's no denying his immense talent. I hope that Evans works out at TCU just so that we can all see what he really has. The two times that I saw him play (Duncanville 18' and Katy 19') I didn't think that he looked like a 5-star. I want to find out if Evans really is the guy that we thought he was when he set the recruiting world on fire as a Sophomore.
Don't forget about this: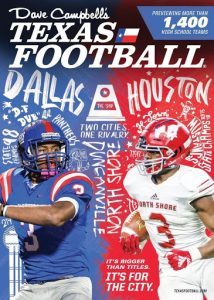 It's never been outright confirmed anywhere on the record, but the whole Duncanville vs. North Shore, Dallas vs. Houston deal didn't do the Longhorns any favors here either. Texas has never seriously pursued Dematrius Davis. If you'll remember, Evans released his top 5 without Texas a few weeks before Ja'Quinden Jackson made his announcement public. Jackson was a well-known Texas lean for months prior to the commitment and I can't help but wonder how much of this had an impact in a negative way on Evans and the North Shore recruits in the same class and immediate class after. It's water under the bridge now, but I'm of the opinion that Texas and Zach Evans was dead as soon as it looked like Texas decided to side with Dallas (remember Ra'Shaad Samples was on the Texas staff at the time).
Y'all have a great weekend, looking forward to the discussion that ensues after!