Open Post | Weekend, May 22nd – 24th
Posted on: May 22, 2020
2021 WR Jaden Alexis Talks Texas Interest
– CJ Vogel
Texas earned its first WR commitment last Friday from New Orleans native Casey Cain, so is there a chance they add another out of state receiver this cycle?
2021 WR Jaden Alexis out of Pompano Beach, Florida has been hearing from the Longhorns and has legit interest ever since being offered on March 5.
"I got in contact with (the staff) at the end of February," Alexis said. "I've been talking to a combination of (WR coach Andre) Coleman, (OC Mike) Yurcich and (head coach Tom) Herman, but mostly Coach Coleman. WE have built an amazing relationship in the past few months."
Speed is certainly not an issue for Alexis who has a verified 4.41 40-yard dash and a 10.75 100m dash time according to his page on 247sports. Though, the most important thing for him at the next level is the opportunity to get the ball at the next level.
"I want to be able to get the ball and have opportunities to help my team win," Alexis said. "Being used to my ability is what will shine."
Although Alexis has yet to make it down to Austin before, he said he recently had a virtual visit with the staff. Alexis told me the visit "gave me and my family a great chance to see everything."
So far, Alexis has virtually visited with Georgia Tech, Rutgers and Virginia, though says he may have some others in the near future.
As for a commitment date, there is great uncertainty with what the future brings at the moment. That can be said about a lot of things right now, and Alexis' recruitment is no different.
"I have a mental top list," Alexis said. "It could be in a month or in five months. It just depends."
---
Decision for top DL Target May be Sooner Than Later
– Super K
2021 4-star DL, Shemar Turner (Desoto) is one of the most highly coveted defensive linemen in the country.
While Turner did release a top 11, we believe the schools to really watch in his recruitment are local schools like OU and Texas along with schools outside the region like Alabama.
We've recently heard that while Turner has been quiet about his recruitment, a decision may indeed already be made.
No word yet on an exact timeline but whereas we previously thought this one would go into the spring, we would no longer be surprised to see something happen much much sooner.
Best bets here are probably between Texas and Oklahoma but we're not ready to be too definitive just yet. Still waiting to hear more.
Just wanted to make sure to pass along that we aren't discounted the fact that this one could still be going in the SEC direction. A month or so back we noted that Alabama would be the team to watch out there, saying…
The out of area school we've felt probably is the biggest threat is Alabama.
Just want to make sure everyone is reminded of that possibility.
---
Moving Forward With 2021 Offensive Lineman
– CJ Vogel
So far, the 2021 cycle has been far from kind for the offensive line. Texas currently has one pledge in the class on the offensive side of the trenches with Hayden Conner being firm since August.
In what is a very deep offensive line class, the Longhorns have yet to make a huge dent in the crop of talent.
Here is a look at the current top ten in-state prospects according to the 247Sports Composite rankings.
Tommy Brockermeyer – uncommitted
Donovan Jackson – Committed to Ohio State
Savion Byrd – 100% to SMU
Bryce Foster – 67% to OU
Reuben Fatheree – 100% to A&M
Jaedon Robetrs – 100% to LSU
James Brockermeyer – uncommitted
Hayden Conner – Committed to Texas
Matthew Wycoff – Committed to Texas A&M
Cullen Montgomery – Committed to Oklahoma
Out of the top ten, Texas has one commitment and for the most part is out of every recruitment outside of the Brockermeyer brothers and Bryce Foster, though a tough fight will be needed to make up ground for Foster.
On Monday, Matthew Wycoff and out of state target Jonah Miller announced verbal commitments as well.
The out-of-state targets have yet to turn heads with interest in Texas as well, leaving Texas to dig deep for the remaining OL class.
Obviously, Texas will do everything they can to reel in Tommy and James Brockermeyer, however if their efforts fall short, what happens then? It could very well turn into one of those situations where the Longhorns get burnt by putting all their eggs in the Brockermeyer basket.
Of course, outrage should only be contingent on the Texas not being the team to land the Brockermeyers, but for now there should be some creative thinking going on by Herb Hand and his crew for emergency plans. Otherwise, this cycle will be massively disappointing on the offensive line front.
Texas has yet to offer, but Highland Park OL Jack Leyrer and Fort Bend Remington Strickland could be options down the road.
Perhaps things will change once Texas is able to host recruits on campus once again, but now the outlook is rather bleak.
---
Commitment Analysis | 2021 Wide Receiver Casey Cain
– D.T.
Texas dipped into "The Boot" to pick up their first non-Texan in 2021, as well as their first Wide Receiver in the class. Warren Easton HS Wide Receiver Casey Cain (New Orleans, LA) provided Longhorn fans with some good news over the weekend.
What is Texas getting in Cain?
Ranking: Consensus 3-Star
Offers: Virginia, Vanderbilt, Houston, Memphis, Arkansas St., Louisiana Tech
Size: 6'3 175
Projected College Position: Wide Receiver (X)
Player Comparison: Chris Lacy (Oklahoma State 2014-2017)
Analysis: I was initially underwhelmed when I heard the news that this one was trending Texas' way. Then I looked up his HUDL and did some other online researching and my tune changed. A three-sport athlete (Football, Basketball, Track), Cain plays in an area of the country that puts out more NFL prospects per capita than any location in Texas, so you don't have to wonder if his moves would work on the type of athletes that he'll see playing Defensive Back in the Big XII.
For a guy that is a taller WR (listed at 6'3, probably more like 6'2) Cain is surprisingly efficient at getting in and out of his breaks. At the :23 mark of his HUDL, the way that he stems the CB (who is in Off Coverage) and attacks his leverage impressed the heck out of me, not to mention he finished the play over two defenders in the back of the endzone and got a foot down. I was also pleasantly surprised at a few of the plays he made after-the-catch, he has the ability to be a threat beyond just deep-ball situations. There are numerous times on tape where Cain has his man beat and has to adjust to an errant pass, which could be detrimental to his evaluation from others.
I love that his school used him both in the Slot and Outside this past season and he can be seen finding ways to get off of Press Coverage at the LOS in both situations. That's not common at this level. He appears to have natural hands and makes numerous snatches away from his body on tape. Cain is a high-point winner. He appears to have an above-average catch radius, he's not as rangy as a few others in the class his size. He has some twitch to his game. I would have loved to see Cain get some updated testing numbers this Spring because the film is better than the numbers from March 2019 (4.71 40, 4.46 Shuttle, 33" Vertical) indicate, although those aren't bad electronic numbers at all for a 15-year old.
My only concern is that Warren Easton HS is no stranger to having college recruiters on campus. The school annually puts out 4-6 FBS prospects, so Cain has undoubtedly been seen numerous times by other P5 coaches in the region. Could this be a case of a guy making a big jump from his Sophomore to Junior year? That'd be pretty standard, although the social media era has led to even more prospects being written off before their Senior seasons begin due to the rush to not be "late" on the next wave of prospects by coaches and individuals in the recruiting industry.
I think that Casey Cain is a rock-solid pickup. In one of the weaker years at the Wide Receiver position in Texas, I think that he compares favorably to in-state prospects that Texas had offered previously in the 2021 cycle such as Hal Presley, Latrell Neville, and Bryson Green. Texas OC Mike Yurcich made the call here and his track record at Oklahoma State is very strong with guys that had similar profiles to Cain, such as Chris Lacy, James Washington, Marcell Ateman, and Jalen McClesky. Take a look at the attached videos below, I've got footage of Cain in numerous different settings.
Instant Impact Rating: 4. Likely Redshirt/Long-Term Developmental prospect. Texas isn't projected to lose anyone from the WR room after the 2020 season.
Highlights: (Junior Season)
---
Morning Notes | Byrd, Turner & Davies
– Super K
***We have heard via sources that 2021 OT, Savion Byrd seems to be trending away from Texas.
We get the sense that he may be closer to a decision than originally expected and it sounds like Texas may be running 3rd or 4th at the moment.
***We continue to check on things with Shemar Turner. Texas sources indicate that the Zoom call went well yesterday but didn't seem to definitive in terms of where they see this one going. I do believe there are people close to Turner that would like to see him at Texas.
There does seem to be more smoke around a possible move to the SEC (Bama or LSU) from folks Darius has been in touch with.
I've also checked on the OU side and I just got the sort of standard, "we feel good about him", which doesn't tell me a ton.
So still not sure on the move here but I'm not quite as confident as I once was that he will stay local.
***Also, we may have noted recently that 2021 CA DB, Jaylin Davies (Mater Dei) would be doing a virtual visit. I checked with Davies father earlier this week to confirm the date on that. He let me know that they have decided to not to do the visit and it looks like they've given Texas the indication that they are moving in another direction.
I still believe Texas is looking for three DBs in this class, assuming Jahdae Barron took the fourth spot. Because they are unsure where Jahdae will end up, we don't know yet whether that will look like two CBs and safety/nickel or one CB and two safeties.
Obviously the two big in-state safety targets are now Mukuba and Coffey. I've mentioned that I believe Mukuba is trending Clemson with Texas trying to catch up. I'll have more on Coffey later. In general though, I feel better about Texas' chances there. In-state DB and former TCU commit, Devin Lemear (Manor) also tells me he's beginning to hear from coach Ash and the Texas staff. So, he's another one to watch.
Also, we will work through the cornerback list and report back.
---
Thirsty Thursday | We're Getting Baaaack…to Football, Glancing Ahead '22 DBs
– D.T.
Welcome back to another edition of Thirsty Thursdays! As always, I'm here to try to help quench your thirst for Longhorn Football in the drought of the offseason, along with other topics of interest in Longhorn sports this week.
It Looks Like Football Is Going to Return
It's happening, folks!
With the Governor of Texas allowing businesses to reopen in phases, it appears that this is also going to extend to athletics.
The University Interscholastic League (UIL), which is the governing body over Public-School Athletics in the state of Texas, has given school districts that are interested the option of opening up their facilities and beginning Summer Workouts on June 8th.
Personally, I'm excited to be able to get back to work our kids. Social Media has been full of kids posting workouts with each other, personal trainers, etc. We will get to see who actually has been able to self-motivate during this time. I think this will also serve as a huge teaching opportunity for a lot of young athletes.
"We all had the same amount of time. What did you do with yours?"
And the best part is it isn't just Football or the Fall Sports. Everyone is being allowed to try to get back in the groove of things during the Summer.
With the lower levels making decisions to move forward, you knew that the NCAA wouldn't be far behind.
The significance of these moves is that it will now put the ball in the court of every individual institution to make their own decisions about how they want to handle this. Voluntary Workouts have never truly been voluntary in the past and I get the feeling that that won't change. We could be seeing College Athletic programs across the country, not just Football, try to get back to some type of normalcy in the next few weeks and personally I'm really excited about it.
What gives me some pause is the thought of liability if something were to happen or someone were to contract the virus. What is to stop that person (or in our case the parents) from pursuing legal action? That could potentially shut everything back down at the lower levels. I wouldn't be surprised to see a waiver of some sort get introduced across all athletic departments for the next calendar year.
I'd love to hear/see some other thoughts on the issue. In the meantime, the arrows are pointing up on there being a Football season this Fall.
**********************************************************
Glancing Ahead (2022 DBs)
With the vast majority of the sports world on pause, I figured now would be a good time to get a jump on the competition. Last year, I released multiple "watch lists" for 2021 prospects weekly as a part of my Thirsty Thursday columns. This year, they've been getting released individually but I thought I'd throw a little surprise in for this group.
Today we will focus on the Defensive Backs. The Cornerback position has been down in Texas the past few years. It is shaping up to make a major comeback in the 2022 class. If you can recall my excitement about the OL and DL prospects in the 2021 class a year ago, I feel that same type of excitement for this group.
Unfortunately, LSU already has pledges from what I consider the top two Safety prospects in the class that we've evaluated so far. The good news is that this will easily be the best DB class that the state has produced since 2018. Every top school in the region should be able to get some pieces that they are excited about.
Enjoy.
North Shore CB Denver Harris (6'1 185)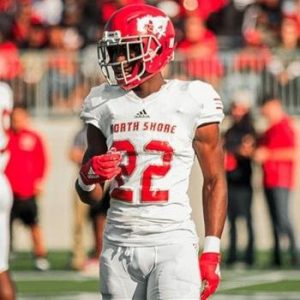 On the hoof: Harris looks like an NFL Cornerback already. He's the prototype from a Height/Weight/Speed standpoint at 15/16 years old. This one is pretty simple, he has the ability to be left on an island and profiles as one of the top overall players in the class. Elite prospect.
Offers: Alabama, LSU, Oklahoma, Texas, Georgia, Florida, Miami, Tennessee
Highlights:
Aledo S Bryan Allen Jr. (6'0 185)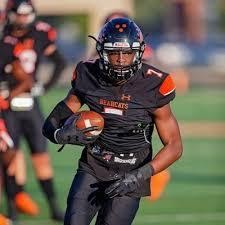 On the hoof: Allen is a versatile playmaker that has the ability to play both in the box in run support and as a single-high Safety roaming the deep thirds, which is rare. He's a sure tackler and can roll down to cover Slot Receivers. Very impressive young prospect. Allen versus Bryce Anderson for the top Safety position in the class will be a heated battle for the next two seasons.
Offers: Committed to LSU
Highlights:
PA Memorial CB Jaylon Guilbeau (6'0 175)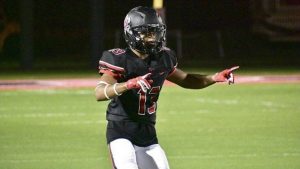 On the hoof: Guilbeau has jackhammer feet with the ability to explode out of his backpedal and drive on the football. He is one of the premier cover guys in the class and will have his choice from any school across the country. He comes from an area that has traditionally been good to the Longhorns.
Offers: Alabama, Oregon, LSU, Texas, Texas A&M, USC, Utah, Oklahoma St.
Highlights:
Beaumont Westbrook S Bryce Anderson (5'11 180)
On the hoof: Pound-for-pound, Anderson is one of the best players in the state regardless of class. He stars at Quarterback for his school and plays on the defensive side of the ball in crunch time. Anderson has tremendous instincts and ball skills. He's most comfortable playing Center Field, but projects to have the ability to play in the Nickel as well. Reminds me of 2019 Arkansas signee Jalen Catalon.
Offers: Committed to LSU
Highlights:
Argyle Liberty Christian S Christian Driver (6'0 180)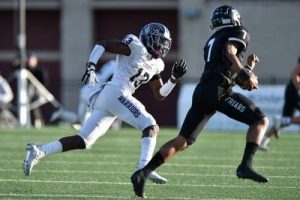 On the hoof: Driver is the son of former Green Bay Packers Pro Bowl Wide Receiver Donald Driver. The younger Driver is extremely athletic, with lightning-quick feet. He diagnoses plays quickly and he arrives at the football in a hurry. He's a stud and will be a national recruit. I would keep an eye out for Notre Dame.
Offers: Notre Dame, Oklahoma, Ohio State, Michigan, Oregon, Texas, Wisconsin, Colorado, Arizona St
Highlights:
Garland S Chace Biddle (6'0 175)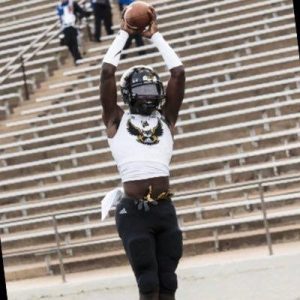 On the hoof: Biddle plays both ways for his high school team but he almost assuredly will be spending his time on the defensive side of the ball in college. Biddle appears to be moving at a different speed than every else once he diagnoses what's going on. One of the better tacklers I've seen in the class, regardless of position. Biddle has picked up early offers from both Texas and Oklahoma. He and teammate WR Jordan Hudson could end up being a package deal.
Offers: Texas, Oklahoma, USC, Baylor, Kansas, SMU
Highlights:
Houston Clear Creek CB Julian Humphrey (6'0 180)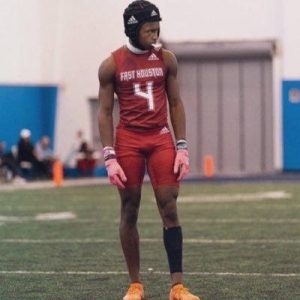 On the hoof: I'm a big Humphrey fan. He does a terrific job of playing the ball in the air and defending passes without drawing penalties. Humphrey shows comfortability in press coverage and zone coverage. He has good length and has the speed to stay with anyone downfield. He's got some nice offers early and I expect them to continue to pile up. Humphrey could be a guy that steadily rises on this list.
Offers: Missouri, Tennessee, Baylor, Indiana, Houston, Kansas
Highlights:
Katy CB Bobby Taylor Jr. (6'0 180)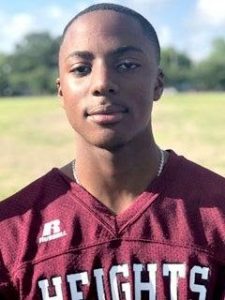 On the hoof: Taylor's Father, Bobby Taylor, played 10 seasons in the NFL (Philadelphia Eagles, Seattle Seahawks) and was an All-Pro selection in 2002 after earning All-American honors at Notre Dame in the 90s. His grandfather, Robert Taylor, won Gold and Silver in the 1972 Olympics while still a student-athlete at Texas Southern. Needless to say, the bloodlines are there in abundance. The younger Taylor spent his Freshman season at Houston Heights before making the switch over to Katy for year two and starting every game for the Tigers. In an extremely deep year at the position, Taylor has one of the higher long-term ceilings in the class.
Offers: Alabama, Texas, Oklahoma, Texas A&M, Baylor, Ole Miss, Illinois
Highlights:
Denton Ryan CB Austin Jordan (5'11 185)
On the hoof: Jordan already has the body of a collegiate athlete. He competes on Denton Ryan's track team and is a member of a 4×100 relay that was a State Finalist last year. Jordan took some lumps this year in his debut season, but he also put plenty of things on tape to get coaches and recruiting analysts excited. His offer list speaks for itself.
Offers: Oklahoma, Texas, Ohio St., USC, Penn St., Oklahoma St., Georgia Tech
Highlights:
Spearman ATH/CB Brenen Thompson (5'10 165)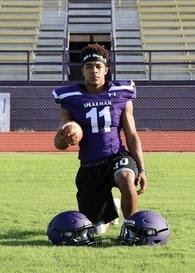 On the hoof: Thompson is from a small town located in the Texas Panhandle, not too far from Gruver, TX, where 2020 Adidas All-American and Oklahoma signee Jalin Conyers was discovered last cycle. This pandemic may have been a blessing in disguise for Thompson, as it allowed coaches to look in places that they normally would not. Thompson is a speed demon, with FAT-verified 10.32 speed at 15/16 years old. He plays QB for his school, but profiles as an electric Nickel Corner and Special Teams weapon in college.
Offers: Alabama, Michigan, Nebraska, Texas, Oklahoma, Texas A&M, Baylor, TCU, Ole Miss
Highlights:
Shadow Creek CB/S Jaidan Scott (6'0 180)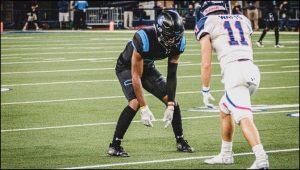 On the hoof: Scott began his career at North Shore and found himself at Shadow Creek this past season. He started every game at Cornerback all the way to a 5A State Championship. Scott plays with his eyes and shows impressive awareness in coverage. He always seems to be around the ball and I'm a big fan of his game.
Offers: Kansas, Kansas St., UTSA, Illinois St.
Highlights:
DeSoto S Devyn Bobby (6'0 180)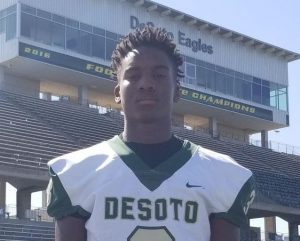 On the hoof: Bobby has fluid hips and shows the ability to close on the ball in coverage at an elite level. His fluidity allows him to be utilized at in every position in the Secondary if need be. He shows no reservations in run support and has a frame that will carry 200 lbs. in the future. Under-the-radar prospect that will be a steal for someone. Take a look at the HUDL below.
Offers: Illinois St.
Highlights:
Cedar Hill CB Jalon Peoples (6'0 175)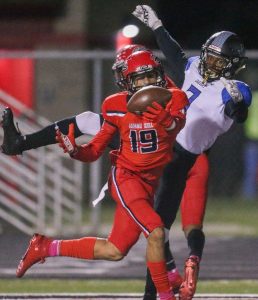 On the hoof: Peoples has legitimate size with long limbs and the ability to match up with all big-bodied Wide Receivers, which is a skill set that is at a premium. He is competitive and shows an ability to make plays on the ball when he is able to play off coverage. I do question his top-end speed a bit and wonder what he would look like as a 1-High Safety. Peoples is a rock-solid prospect.
Offers: Baylor, Texas Tech, Oklahoma St., Nebraska, Kansas St., SMU, Kansas
Highlights:
Lake Travis S Derrick Johnson Jr. (5'11 185)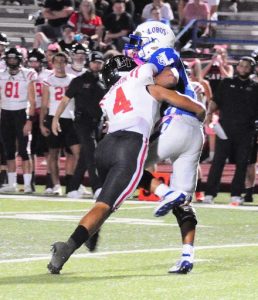 On the hoof: Johnson Jr. hits everything that moves on his HUDL highlight. He' not particularly tall or long, but he has good enough game speed to keep up in coverage and has ball skills to make something happen. I think he profiles best as a box Safety at the next level. He reminds me a bit of current Texas DB Chris Brown.
Offers: Illinois St.
Highlights:
Mansfield Timberview CB/S Landon Hullaby (6'0 175)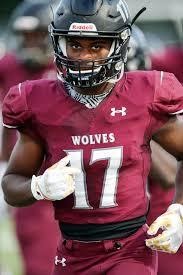 On the hoof: Hullaby is the younger brother of 2020 Texas signee Jaden Hullaby. Landon has a different body type than his older brother, but he has good length for the position. He has Cornerback/Safety versatility which enhances his value significantly. In a deep year at the position, Hullaby will be a very nice non-flashy pick up for someone.
Offers: TCU, Baylor, Utah, USC, Nebraska, Oklahoma St., Kansas, SMU
Highlights: