Open Post | Tuesday, July 21st
Posted on: July 21, 2020
Thirsty Thursday (On Friday) | About the Brockermeyers, Kelvin Banks, 2022 Elites
– D.T.
Welcome back to another edition of Thirsty Thursdays! As always, I'm here to try to help quench your thirst for Longhorn Football in the drought of the offseason, along with other topics of interest in Longhorn sports this week.
About the Brockermeyers …
The time has finally come.
Later today, Fort Worth, TX (All Saints HS) 2021 5-Star Offensive Tackle Tommy Brockermeyer and his twin brother, James, will announce their college decisions. As is the case with most sets of twins, the brothers are a package deal. The duo announced a group of finalists in May that consisted of Texas, Alabama, LSU, and Auburn.
Texas versus nothing but the SEC was already a bad sign. The brothers not showing up for the Junior Day in January (maybe February? Been a long week …) was an even more ominous sign to those that pay attention to those types of things.
You all know the background by now. The twins' father, Blake, was an All-American Offensive Tackle at Texas in the 90s and their older brother, Luke, is currently a Sophomore Linebacker in the program. There have been countless visits to Austin throughout their lifetimes for the twins. The prevailing thought by many for years was that there was no way in a million years that they would ever end up anywhere but the alma mater of both of their parents, especially with a sibling currently in the program.
After all, what type of indictment would that be on the current state of the Texas program?
Be prepared for the fans of any program that competes against Texas in any way in the sport of Football to claim absolute doom and gloom for Texas Football and Tom Herman's tenure. An in-state duo of a big-time Burnt Orange legacy player didn't buy what Tom Herman and to a lesser degree, Herb Hand are selling.
This is ultimate "OMG, not even legacies want to go to that dumpster fire," fuel for detractors (detractors that will likely be dealing with legacy losses of their own this cycle, by the way) and Texas fans are going to have to deal with this being called "the biggest recruiting loss in school history" for a while.
It is what it is.
I tend to look at this looming decision from a different point of view and it's only because they kind of laid the groundwork for this thing to happen a long time ago. All of the signs have always been there.
From the very beginning of their recruitment, the Brockermeyer brothers consistently talked about how they wanted to "be their own people" and didn't necessarily feel any type of pressure or obligation at all to follow their family ties and tradition. The #1 focus for the twins was on player development.
Strike one.
Texas has had 1 (ONE!!!!!!) Offensive Lineman drafted since 2008. If I'm not mistaken, the twins were born in the year 2003. It's likely that the first Offensive Lineman that they ever remember seeing drafted from Texas didn't happen until they reached high school (Connor Williams) and he has been considered a bust so far for "America's Team." Meanwhile, Alabama has had 15 Offensive Linemen drafted since 2008, with 6 going in the First Round from all three OL positions (C, OG, OT).
Focus #2 for the twins was being able to compete for a National Championship.
Strike two.
The boys were either in Kindergarten or First Grade the last time they saw Texas win a Conference Championship or play for a National title. Nick Saban has won 5 National Championships at Alabama since 2009.
Not to mention ….
Do you guys remember Luke Brockermeyer's recruitment? The kid had scholarship offers to play at Oregon State, Rice and Air Force. He chose to walk-on for the Longhorns instead. Texas did put him on scholarship the following year, and while I can't prove it, I can't imagine that Papa Brockermeyer was too pleased that he had to foot any type of bill for his oldest son to continue the tradition. I think that that was a very big early mistake by Tom Herman. I don't care what the numbers were, you make it work out of principle.
While I don't think they were steered away from Texas at all, I don't think dad felt quite as obligated as most fathers in the same situation otherwise would have been to nudge his boys Herman's way.
The truth is, Texas wasn't even the second choice here. Had Dabo Swinney and Clemson decided to extend an offer to James (Clemson has held a commitment since September 2019 from Center prospect Ryan Linthicum) this recruitment likely would have been over a few months ago.
This decision has been along time in the making. My only hope is that this motivates the Texas staff to offer and strongly pursue a few other in-state prospects like Lakeview Centennial OL Ezra Oyetade, for example. We absolutely will see new names pop up at Offensive Tackle for the Longhorns in 2021, such as Denton Braswell OL Erick Cade.
By the slim to null chance that the twins shock the world and choose Texas, completely disregard this piece. 😊
***********************************************************************
Kelvin Banks Jr. quick update
2022 Humble, TX (Summer Creek HS) Offensive Tackle Kelvin Banks Jr. is currently one of the hottest names in recruiting and he recently made the move to reopen his recruitment after being committed to Mike Gundy's staff and Oklahoma State since September of 2019.
Banks recently debuted at #13 on my Texas Top 50 for 2022 and I was able to catch up with the talented big man to get a quick update on his recruitment following the news of his decision.
"As far as deciding to open things back up, it was just me and my parents sitting down and talking to each other about why I should slow things down. We are just making sure that (Oklahoma St.) is the right place for me and there's nothing wrong with exploring my other options."
Who are some of the main schools that he is now looking at?
"Texas, Baylor, Texas A&M, LSU, Oregon, USC, Houston, and Oklahoma State are the main schools right now."
Banks is hitting reset on everything and I don't expect for him to announce another commitment for a while. He says that he communicates regularly with Texas OL Coach Herb Hand and Banks actually took a visit to Texas along with Kameron Dewberry and Denver Harris for the LSU game last year.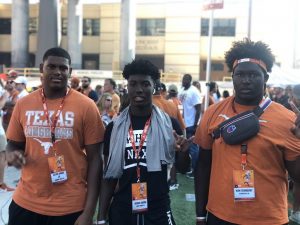 We will continue to keep tabs on Banks and his recruitment moving forward.
Here are a few clips from the camp that really got everyone's attention.
**********************************************************************
2022 is another Elite Year in Texas
247 released its national top 100 list for the 2022 class yesterday. I was interested to see what their team thoughts were on the class and how their views aligned with my own (which you can find here).
Some glaring omissions from their initial Top 100 list are Lewisville WR Armani Winfield, Dallas Skyline DT Bear Alexander, Humble Atascocita OL Kameron Dewberry, Duncanville OLs Cameron Williams and Jaylen Early, and Cypress Park LB Harold Perkins.
While I strongly disagree with a few of their placements, we can pretty much all agree that the 2022 in-state crop in Texas is every bit as strong as the 2021 in-state crop. We will also take a quick glance at where Texas currently stands with these young prospects.
247 has 19 players from the state of Texas in their initial top 100 players.
My ranking in parentheses. *
1. QB Quinn Ewers (1)
The Skinny: OU thought to be early leader but just picked up a commit from #1 QB in 2021. Texas has a shot, but will have to fend off powers like Ohio St., LSU, Michigan, and Alabama.
2. WR Caleb Burton (20)
The Skinny: OU, Alabama, Georgia, Ohio St., and Stanford are the players here. No Texas.
3. OT/OG Devon Campbell (3)
The Skinny: Texas has a good shot here. Oklahoma and the SEC big dawgs will be the main competition here.
4. DE Malick Sylla (8)
The Skinny: Thought by some to be an early Texas A&M lean. I haven't heard much chatter about he and Texas at this point.
5. DE Omari Abor (7)
The Skinny: His dad loves the idea of his son playing in the SEC and Omari himself grew up an OU fan. Texas will have a puncher's chance, but they are going to have to knock this one out of the park early in order to be a real factor later on.
6. CB Denver Harris (2)
The Skinny: Texas fans have reasons for early optimism here, in my opinion. If Texas can take care of business, Harris can be had.
7. OT Kelvin Banks (13)
The Skinny: Banks recently decommitted from Oklahoma St. and he now has his choice of programs around the country. The early belief is that Texas A&M has done the best job so far on him.
8. S B.J. Allen (9)
The Skinny: Committed to LSU. He's very familiar with Texas and he will be a guy that still takes his visits. Long way to go here in my opinion.
9. CB Jaylon Guilbeau (15)
The Skinny: Guilbeau comes from a program that has been very good to Texas and I have no reason to believe that Texas isn't among his top handful of choices right now. He's a guy that should be in the class at some point.
10. LB Kobie McKinzie (4)
The Skinny: Committed to Oklahoma. McKinzie was committed to Texas Tech as a Freshman, I don't think it's unreasonable to think that his recruitment could have a few twists and turns. I'm not sure how much of a player Texas is here, though.
11. WR Evan Stewart (45)
The Skinny: Stewart has a bunch of early offers. I'm not too familiar with his recruitment right now.
12. RB Jaydon Blue (11)
The Skinny: Texas was one of his first offers and LSU followed shortly thereafter. I think that it's safe to consider those two as his top two right now.
13. RB Tavorus Jones (17)
The Skinny: Texas was his very first offer, which doesn't happen very often. He's since seen his stock explode and he is a priority of the staffs at both Texas and Alabama. Have to feel good about the Horns' chances here early.
14. DE Ernest Cooper (5)
The Skinny: Cooper is a guy that is big on academics and it isn't just talk. He already has his pick of schools across the country, but places like Stanford and Notre Dame are going to be really tough to beat. Texas does have a chance here and were one of his first offers. He has been on campus.
15. CB Austin Jordan (49)
The Skinny: Jordan picked up early offers from Ohio State, Texas, and Oklahoma. I'd consider those three the main players in his recruitment right now. He does attend a very Texas-friendly high school.
16. S Bryce Anderson (16)
The Skinny: Committed early to LSU and I don't see him wavering.
17. TE Donovan Green (27)
The Skinny: A&M is thought to be the leader here, especially with Dickinson product Jalen Wydermyer doing well for the Aggies.
18. OT PJ Williams (NR)
The Skinny: See Donovan Green.
19. S Chace Biddle (21)
The Skinny: Biddle is likely going to be a Red River battle and I think that he and teammate Jordon Hudson could be a true package deal.
P.S. My rankings are better. 😉
---
What's Next For Offensive Line Recruiting?
– Andrew King
Tommy and James Brockermeyer are off the board after their commitment to Alabama. Huge miss for Texas, but I think DT put it best. This isn't a shocker for anyone around the recruitment, and the writing has been on the wall for a while. The 2021 offensive line class in Texas is much stronger than it's been in the past, but Texas has missed their chance. With the Brockermeyer's (Alabama) snd Donovan Jackson (Ohio State) off the board and with Bryce Foster and Savion Byrd trending elsewhere as of today.
The question is, what's next for Texas?
The Longhorns have one offensive lineman committed in offensive tackle Hayden Conner. The lone uncommitted offensive line recruit that Texas is in a solid position is Michael Myslinski from Florida. I think the TFB staff can agree that the next move that needs to be made is an offer to center Ezra Dotson-Oyetade. I think he's the best center in the nation from the guys I've watched. The fact that two of his high school teammates in 5-star running back Camar Wheaton and defensive tackle Ike Iwunnah hold Texas offers makes me even more confused as to why Oyetade hasn't received one yet.
There are a few others that I could see Texas moving in on. And with the odds of high school football starting on time, and the very slim odds that college coaches will be able to evaluate in person in 2020, there's no reason offers should have to wait very long. Some of those guys are
Highland Park (TX) offensive tackle Jack Leyrer. 6'6 280 pounds with offers from Stanford, Baylor, and most recently USC. Leyrer has over 30 offers and has quite a few Ivy league offers to go along with Stanford.
Rockwall Heath (TX) offensive tackle Hunter Smith. 6'5 300 pound offensive tackle that was a first-team All-State selection in 6A. Yet he only has two offers from Hawaii and New Mexico State. I'm not sure if Smith ends up on Texas' radar but I'm expecting him to blow up at some point.
Argyle (TX) athlete Jasper Lott. I listed Lott as an athlete as he has played tight end so far in high school. But is 6'5 250+ pounds and has the frame to grow into a really athletic 285+ offensive tackle in a few years and college coaches see the same thing. He holds offers from LSU, Auburn, Arkansas, and about 15 others. Lott played in a sophomore season in California as his father, John Lott, is the head of strength and conditioning for the LA Chargers and is a former NFL offensive lineman.
Georgetown (TX) offensive guard Connor Heffernan. Currently committed to Baylor, and I haven't ever spoken with Heffernan so I have no info in regards to what his interest in Texas would be. But with Georgetown being less than an hour from Austin, I'd think the Longhorns would have a solid shot.
---
Team | Quick-Hitters | July 20th
– Super K
***On the second and third level of the Texas defense there will be plenty of speed.
***I'm told that the two starting LBs (as of now) are Demarvion Overshown and Juwan Mitchell. What Mitchell lacks in height and length, Overshown makes up for and both have plenty of speed.
***Cornerback is a bit of a battle but I get the sense that the nod is going to go to Jamison and Thompson. Jalen Green rotates with the 1s and is certainly in the mix but it feels like the staff loves the flat out speed of Jamison.
***I do think that's also why the staff likes both freshmen, Barron and Crawford. Barron sounds like he may have been the steal of the class. Am told he beat the other freshmen in almost every testing metric.
***Freshman DL that seems to be standing out so far? I've heard Alfred Collins and I for one am not surprised. NFL talent.
***I asked about the young offensive linemen and didn't exactly get a rave review. Although I was told that Andrej Karic is going to be the one to watch.
---
2022 LB Sebastian Cheeks Recaps Virtual Visit
– CJ Vogel
2022 four-star linebacker Sebastian Cheeks out of Evanston, Illinois made a virtual visit to Austin this past Thursday. I caught up with him to get his thoughts on the visit, the staff and Texas in general.
"The coaching staff and everyone I met with was very welcoming and down to earth," Cheeks said. "Coach (Coleman) Hutzler gave me a great look on the program and how they can not only help me get to that next level but achieve success outside of football and that really stuck with me."
Cheeks told me he and the Texas staff had been in communications for a little over a month prior to the virtual visit, so there is a pretty solid relationship beginning to form.
On the visit, Cheeks said the staff expressed admiration to his versatility with the thought "they could move me all around" the defense.
Being from Illinois has allowed Cheeks the opportunity to see some of the regional schools before the quarantine. The 4-star LB has made trips to Wisconsin, Illinois and Notre Dame, who offered shortly after the Texas visit concluded. Though he hopes to eventually make a trip to Austin, Ohio State, Michigan and Oregon are also on the board for future visits.