Open Post | Weekend, July 24th – 26th
Posted on: July 24, 2020
Quick Hitter | Jaylon Guilbeau
– Andrew King
I have three 2022 cornerbacks that stack above the rest right now in the state of Texas. They are North Shore's Denver Harris, Denton Ryan's Austin Jordan, and Port Arthur Memorial's Jaylon Guilbeau.
I recently caught up with Guilbeau to see where things stand in his recruitment. COVID-19 has put a halt to Guilbeau's recruitment due to visits being cancelled. He has already visited Texas, Auburn, LSU, and Texas A&M prior to the pandemic so he's been able to see a few schools. But he told me the process is moving "very slow due to the pandemic". So I don't expect this recruitment to be over anytime soon.
The main schools Guilbeau is staying in contact with is Texas, Texas A&M, USC, LSU, Penn State, and some from Georgia. As of right now I wouldn't be surprised to see it become a UT-TAMU battle, but I expect LSU to be in this one as well.
Texas cornerbacks coach Jay Valai has been working in this recruitment. As Guilbeau told me he hears from Valai more than any other coach. And something I want to know here. A lot of people are impressed with what Valai has been able to do with this 2020 DB class. Wait until he has years to build relationships with recruits in the class of 2022, 2023, etc. I expect big things.
Defensive end Jordan Thomas, Guilbeau's high school teammate is currently committed to Texas. Guilbeau told me "We've talked about playing together a couple times. That's my boy, I wouldn't mind playing with him but I'm going to make my own decision."
I love Guilbeau's game, and I think Texas is in a really good spot right now. But like I said earlier, this recruitment isn't going to move too much until visits open back up.
---
Terrence Cooks | Quick-Update | Decision Timeline
– Super K
As you know, 2020 Texas LB target, Terrence Cooks dropped his top list, earlier this summer. Not surprisingly, Texas made the cut.
He will further cut things down to a top five, later this month. Texas should have no problem making that cut, as well.
Checked in with Terrence earlier this week and he says that after the top five he will make his commitment this summer. So, we're looking for a decision to come next month. Says he doesn't have a firm date just yet but wants it done before the season (when the season would normally start).
I very much like where Texas sits.
---
Quick Hitter | 2021 OL Remington Strickland
– D.T.
As Texas fans that follow recruiting know by now, the Longhorns have missed on/trail on most of their top targets along the Offensive Line position in the 2021 class. Katy (Taylor HS) OL Hayden Conner remains the only Offensive Line commit and he announced his intentions to attend Texas nearly a year ago to this date.
Our own Andrew King had an article published last week that mentioned a few names that could be on the Texas radar following the misses on the Brockermeyer twins. He mentioned Highland Park OT Jack Leyrer, Rockwall-Heath OT Hunter Smith, Argyle ATH Jasper Lott, and Georgetown OG and Baylor commit Connor Heffernan.
Another name that should be added to the list of guys to keep an eye on is Fort Bend Christian OL Remington Strickland. At 6'4, 290lbs, Strickland is a bit of a man amongst boys at the private school level that his team competes at. He stars at Right Tackle for his school but could play any of the five Offensive Line spots at the next level, which makes him quite a commodity.
"I currently have 28 offers and I speak most often with SMU, Arkansas, UCF, Houston, Boise State, and San Diego State the most right now."
Where does Texas fit in?
"I've been in contact with Texas for a few weeks now. I've talked with Coach Hand on the phone a few times and also the OL Assistant (Coach Limon)."
Strickland isn't in any hurry to commit, which bodes well for Texas, but what are some of the main factors that will go into his decision?
"I'm looking for a team that has a family environment, a winning culture, and a solid coaching staff to play for."
My Take: Texas still has time here, as do they with a guy like Lakeview Centennial OC Ezra Oyetade, but you have to wonder how much longer other in-state prospects are going to be. We've seen Texas take their time in the past with guys and it backfire in the end.
Strickland looks really good on his HUDL (he's listed as a Center on 247, I personally like him at Guard) and Coach Sam Pittman at Arkansas and the staff at SMU are both making him a priority right now. If Texas decides to throw their hat in the ring soon, I believe that they would instantly enter the top grouping here and the sky is the limit from there.
Junior Highlights:
---
Team Note | Wide Receivers
– Super K
Spoke to a source about who we might expect to be breakout stars at the wide receiver position.
***If the season started today, I'm told starters would be Eagles, Marcus Washington, and Jake Smith.
***Not surprisingly, I'm told all three have made big strides.
***Asked how Eagles compared to Collin Johnson and was told simply that Brennan is better. It's an opinion at this point but it's at least an informed one. Source also said not to be surprised if Brennan has the kind of season that makes this his final season. It appears the hopes for the kind of production he will have this season are quite high.
***But interestingly, it sounds like a guy to watch who has perhaps emerged as a favorite of Coleman's is young Marcus Washington. It seems there are quite a few people inside the program who believe Washington could end up being the best of the bunch.
***Overall the vibe is that despite the fact that there isn't a ton of experience in the wide receiver room, there is a feeling that the kind of players currently at wide receiver are just better athletes and players than have been there in the past three or four years.
***Lack of a trigger man certainly won't be an excuse. Ehlinger is poised to really take center stage in the Big 12 this year.
---
Update | The Latest on Gunnar Helm
– Charlie S
Earlier today Super K posted the latest information he had in regards to 2021 TE Gunnar Helm:
'It does sound like Helm is nearing a decision and it appears a number of folks believe he is headed to Texas.
I had been given the impression previously that Texas was not ready to take a commitment from Helm. I plan on rechecking but that was the latest word I had received. I'll update once I receive new information or confirm the information in this post.'
As K stated at the end of the post, he would update once he received any new information…
I'm here to let you know K has relayed to me that he has received some new information and by the sounds of things you should be getting some good news here in the near future as K is now hearing Helm is in fact a take.
---
Thirsty Thursday | Who Steps Up at WR, Big 12 Preseason Talk, & OL Options
– D.T.
Welcome back to another edition of Thirsty Thursdays! As always, I'm here to try to help quench your thirst for Longhorn Football in the drought of the offseason, along with other topics of interest in Longhorn sports this week.
Who steps up at WR?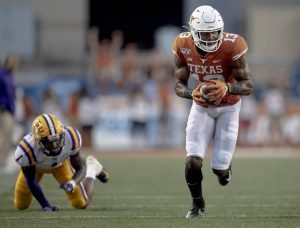 Super K's quick-hitter yesterday about the top three Receivers on the Texas roster heading into 2020 season really got the wheels turning in my head.
According to his source within the program, the starting Wide Receivers for your Texas Longhorns if the season started tomorrow would be Brennan Eagles, Marcus Washington, and Jake Smith. Of those three, Eagles is your X, Washington is your Z, and Smith is the Slot Receiver.
Yes, Texas should have the biggest advantage in the Big XII at Quarterback with a Senior version of Sam Ehlinger, but I'm not sure that folks are considering just how much production Texas is having to replace from last year's team.
In losing Devin Duvernay and Collin Johnson to graduation/the NFL, Texas will have to replace 151 receptions, 2,024 receiving yards, and 13 receiving touchdowns from last year's team.
I'd caution everyone about assuming that there won't be a bit of a transition period here.
This will only be Brennan Eagles' second season as a starter and truthfully, he wasn't a full-time starter last season (started 7 out of 12 games). Jake Smith will be a first-time starter. Marcus Washington will be a first-time starter.
K was told that Brennan Eagles is "simply better" than Collin Johnson. His source also shares the sentiment with numerous individuals that I've spoken to about the topic that believe that there is a real, legitimate chance that this could be Eagles' final season in burnt orange.
In the video posted above, you can see Eagles exclusively in what many saw as a breakout game against a very talented LSU Secondary. He had a career-high 116 yards in the ballgame and a touchdown on 5 receptions. While the numbers look great, if you watch the video you'll see that every single grab that Eagles made was contested. He struggled to get much if any separation (which I thought was a common theme for him last season) and if Kristian Fulton doesn't grossly misjudge the ball, Eagles doesn't have that 55-yard touchdown to his credit. Compare the amount of space that guys like LSU's Jamarr Chase, Alabama's Jaylen Waddle, Louisville's Tutu Atwell, and even a guy like Georgia's young star George Pickens create when you watch them play.
Eagles was a consensus top-100 recruit and has verified track speed from his high school days. He's a physical freak to be as fast as he is at 6'3, 230lbs, but I've personally always seen him as more of a very talented developmental piece than a guy that would be WR1 by his third year in college. While physically superior to his competitions, I thought that he was strictly a "Go" route or "Hitch" route and break a tackle and run guy at Alief Taylor HS.
Fast forward a couple of years and I feel like his route tree is still almost as limited as it was as a prep. To this point, Eagles still only really runs two routes, the "Go" route and the "Curl" route. His success next level will depend on how much he has improved as a route runner and understanding the nuance of the position, which is something that new Wide Receivers Coach Andre Coleman is supposed to really thrive at as a developer.
I think he's capable of making some jaw-dropping catches and there's no doubting his physical talent. Consistency is the question. For me personally, the jury is still out on Eagles as WR1.
Which brings me to our next guy ….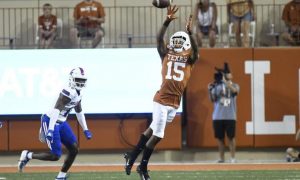 Marcus Washington was called a personal favorite of Coach Coleman according to K's source, which really doesn't surprise me if you recall a few tweets from Washington's father following the Alamo Bowl win over Utah and during the spring:
Mr. Washington is fully bought in, which judging from the very little that I know about Marcus personally, was really big in him buying in and trusting his new coach. Washington had a few flashes last season and the expectation by many is that we will be seeing him make plays on the regular in 2020. I vividly remember him shining in the Under Armour All-American Game in 2018. Remember, this is a guy who at one point was priority #1 for Ohio State at Wide Receiver before Texas eventually earned his signature.
By all accounts, Marcus Washington is a tireless worker. We saw improvement from him as the season went on and we also saw his snaps increase. He is a better route-runner than Eagles and has shown the ability to work the sideline and I suspect that he will be a regular at making plays in the middle of the field as well. I don't think that a 40/550/6 season from him would be a disappointment or asking too much.
I'm cautiously optimistic about Washington next season and I'm excited about his future, but I'm even less confident in him as a WR1 than I am Brennan Eagles. I'm not sure it's realistic to expect that from a guy with 3 career receptions heading into his second season.
Which brings me to ….
I'm a big Jake Smith believer.
Despite the talented Freshman from Arizona getting benched midway through the season, Smith still appeared in all 13 games for Texas and was the starting Punt Returner for most of the year. His 6 receiving touchdowns last season were the second-most in school for a true Freshman, behind only Longhorn legend Roy Williams.
Jake Smith was the National Player of the Year and a consensus top-75 recruit. I think that he lived up to his billing as a rookie despite going through the usual growing pains that come with the adjustment from private school ball in Arizona to Power 5 Football in the best offensive conference in college football.
Jake Smith has inside-outside versatility, but I think what gives him a chance to be a breakout star next season are both the opportunity and his ability.
The Slot Receiver or "H" position has been pivotal in the Texas Offense over the past two seasons. Despite there being a change at Offensive Coordinator, Mike Yurcich and Tom Herman share many of the same beliefs in offensive philosophies.
Someone has to replace Devin Duvernay, just like someone had to replace Lil'Jordan Humphrey. Smith has already shown the ability to consistently get behind defenses and win vertically up the seam with his speed. He's shown the ability to make contested grabs in traffic while taking a hit. I suspect what's next is we will see him in more opportunities to make plays with the ball in space and at the point we will really see Smith take off as the next star in the Texas Offense.
This goes without mentioned a guy like Jordan Whittington, a former 5-Star recruit, who is finally healthy and will also see time in the slot in addition to time in the backfield as a versatile weapon for the Longhorns.
Josh Moore is back.
Tarik Black transferred in from Michigan.
As you can see, Texas isn't lacking for options. The question is simply who's going to step up?
******************************************************
All-Big XII selections revealed
The Preseason All-Conference team was released by the Big XII Conference last week.
2020 Preseason All-Big 12 Football Team
OFFENSE
Pos.
Player
School
Class
Hometown
QB
Sam Ehlinger
Texas
Sr.
Austin, Texas
RB
Pooka Williams Jr.
Kansas
Jr.
New Orleans, La.
RB
Chuba Hubbard
Oklahoma State
Jr.
Sherwood Park, Alberta
FB
Nick Lenners
Kansas State
Jr.
Lincoln, Neb.
WR
Andrew Parchment
Kansas
Sr.
Fort Lauderdale, Fla.
WR
Charleston Rambo
Oklahoma
Jr.
Cedar Hill, Texas
WR
Tylan Wallace
Oklahoma State
Sr.
Fort Worth, Texas
TE
Charlie Kolar
Iowa State
Jr.
Norman, Okla.
OL
Creed Humphrey
Oklahoma
Jr.
Shawnee, Okla.
OL
Adrian Ealy
Oklahoma
Jr.
Gonzales, La.
OL
Teven Jenkins
Oklahoma State
Sr.
Topeka, Kan.
OL
Samuel Cosmi
Texas
Jr.
Humble, Texas
OL
Jack Anderson
Texas Tech
Jr.
Frisco, Texas
PK
Gabe Brkic
Oklahoma
So.
Chardon, Ohio
KR/PR
Joshua Youngblood
Kansas State
So.
Tampa, Fla.
DEFENSE
Pos.
Player
School
Class
Hometown
DL
JaQuan Bailey
Iowa State
Sr.
Jacksonville, Fla.
DL
Wyatt Hubert
Kansas State
Jr.
Topeka, Kan.
DL
Ronnie Perkins
Oklahoma
Jr.
St. Louis, Mo.
DL
Eli Howard
Texas Tech
Sr.
San Angelo, Texas
DL
Darius Stills
West Virginia
Sr.
Fairmont, W.Va.
LB
Terrel Bernard
Baylor
Jr.
La Porte, Texas
LB
Garret Wallow
TCU
Sr.
New Orleans, La.
LB
Joseph Ossai
Texas
Jr.
Conroe, Texas
DB
Greg Eisworth
Iowa State
Sr.
Grand Prairie, Texas
DB
Kolby Harvell-Peel
Oklahoma State
Jr.
College Station, Texas
DB
Trevon Moehrig
TCU
Jr.
Spring Branch, Texas
DB
DShawn Jamison
Texas
Jr.
Houston, Texas
DB
Caden Sterns
Texas
Jr.
Cibolo, Texas
P
Austin McNamara
Texas Tech
So.
Gilbert, Ariz.

Players listed at each position alphabetically by school.
As you can see, the Longhorns have 5 players that made the list which is tied with Oklahoma for the most players for a team.
We know what Texas has in Joseph Ossai, Sam Cosmi, and Sam Ehlinger. I was slightly surprised to see Caden Sterns and even more so D'Shawn Jamison's names on the list. Sterns has a reputation after being a 5-Star recruit and having a hot start to his Freshman season, but Jamison actually has an argument for having been the best player from that 2018 DB class to this point.
The truth is, if Texas is going to win the Big XII this season they need more than just the names listed to show up in the postseason All-Conference list. Out of all of the players listed, Texas is the only school that appears to be getting a huge benefit of the doubt with their guys. Only Samuel Cosmi was an actuall All-Conference selection last season and that was 2nd team.
The Longhorns need guys to start living up to their billing and its year three coming up for the much ballyhooed 2018 group. A healthy BJ Foster has a chance, Brennan Eagles has a chance, DeMarvion Overshown has a chance.
What about Keondre Coburn? Keaontay Ingram? Junior Angilau?
It's time.
The media poll was also released:
2020 Big 12 Football Media Preseason Pollfirst place votes in parenthesis
| | | |
| --- | --- | --- |
| 1. | Oklahoma (80) | 888 |
| 2. | Oklahoma State (6) | 742 |
| 3. | Texas (4) | 727 |
| 4. | Iowa State | 607 |
| 5. | Baylor | 489 |
| 6. | TCU | 477 |
| 7. | Kansas State | 366 |
| 8. | West Virginia | 287 |
| 9. | Texas Tech | 267 |
| 10. | Kansas | 100 |
Oklahoma was selected as the favorite for the 5th consecutive season. I know that makes Texas fans sick, but until I -or anyone else for that matter- sees a Quarterback struggle at Oklahoma or see the Sooners struggle to score points in conference play under Lincoln Riley, they have to be the prohibitive favorites until we see them get knocked off of their pedestal.
Seeing Oklahoma State listed above Texas initially shocked me, but it's hard to look at the firepower that the Cowboys are bringing back on Offense with the surprising returns of RB Chuba Hubbard and WR Tylan Wallace, both potential 1st Round picks in the 2021 NFL Draft. Pair them with a more experienced Spencer Sanders and a Defense that returns their main playmakers from a year ago and it makes sense.
Iowa State has Brock Purdy and Breece Hall back with more experience. *gulp*
Baylor is going through a coaching overhaul. TBD is what comes to mind there.
Gary Patterson loaded up on transfers/late additions during this offseason and the Frogs also pulled in their best recruiting class despite going 5-7 last season. TCU is always of reason for concern for Texas.
This has a chance to be a fascinating Football season in Big XII play, excluding all of the other abnormalities that are going on in the world right now. If we have a Football season, it could be one of the most competitive in recent history.
File this name away just in case
I've got a very brief recruiting update.
This will likely fall under the category for some of you as going through the "scrap heap," but Texas does appear to be doing their due diligence and turning over every rock to find the right members for the 2021 Offensive Line class.
Clearwater International HS (Clearwater, Florida) OT Albert Reese IV is committed to Rutgers, but tells me that he was recently followed by a few Texas coaches including OL Coach Herb Hand. The 6'7, 310lb Reese would be open to listening to the Longhorns if/when they do decide to come calling.
The search continues at OL.