Open Post | Weekend, August 21st – 23rd
Posted on: August 21, 2020
Quick Hitter | Kamari Wilson's Texas Interest
– CJ Vogel
If you are active on social media, you have probably seen 2022 IMG Academy safety Kamari Wilson being very active with pro-Texas posts being displayed on both Twitter and Instagram.
I traded messages with him to confirm his uncommited status.
To be clear, Wilson is not committed to Texas.
If you check the first post of his Instagram bio, he does have "@TexasFootball" in his bio. Which is interesting in itself.
Things are trending towards Texas right now and the momentum generated with Quinn Ewers' commitment certainly helps. I don't expect a decision anytime soon but the Longhorns really have to like where they are sitting at the moment.
I believe Darius might have a more in-depth post on Wilson this week.
---
Texas OL Willie Tyler Opts Out of 2020 Season
– CJ Vogel
The second Texas Longhorn to opt out of the upcoming 2020 season has come public. This time it is offensive lineman Willie Tyler.
Tyler had been running with the twos for the most part early in practice. Which back to K's point from earlier, was not drawing rave reviews so far. Tyler's absence will hurt from a depth perspective.
The JUCO transfer joins defensive end Marqez Bimage as the second Longhorn to opt out for the 2020 season.
---
Possible 2021 QB Options
– Andrew King
With the flip of Jalen Milroe to Alabama from Texas, we'll see what Texas does with 2021 QB recruiting. 5-star 2022 QB Quinn Ewers is locked in with Texas. So that limits their options, as most recruits are looking to play early. And with Ewers coming in 2022, that's a massive threat to early playing time for a 2021 QB. So if Texas takes a 2021 QB, I'd expect more of a development type recruit. Two guys that come to mind and I expect Texas to at least test the waters with are Grayson James and Maddox Kopp.
James is a DFW product who has played at John Paul II, but has transferred to 6A powerhouse Duncanville for his senior season. He totaled over 4,000 yards and 44 touchdowns as a junior. He's 6'1 200 pounds, and James is more of a pro-style quarterback. He only carried the ball 44 times for 250 yards as a junior. 2020 presents a huge opportunity for James. If he can produce at Duncanville I can see his recruitment skyrocket. He was an Elite 11 selection.
Currently James' offer list of ten is headlined by Texas State, San Jose State, Dartmouth, and Columbia.
Kopp is from Houston and also plays at a private school in St. Thomas, and was also an Elite 11 finalist. At 6'5 210 pounds, Kopp is a prototype pro-style quarterback. He threw for over 3,000 yards and 28 touchdowns but also had 14 interceptions.
The thing with Kopp is that he plans to announce his commitment on September 1st. So the clock his winding down for Texas to make a move. Kopp plans to decide between Ole Miss, Houston, Colorado, Tulane, and Wyoming.
---
Thirsty Thursday | Milroe, Leyrer, 2022 & Hoops Note
– D.T.
Welcome back to another edition of Thirsty Thursdays! As always, I'm here to try to help quench your thirst for Longhorn Football in the drought of the offseason, along with other topics of interest in Longhorn sports this week.
Revisiting the Jalen Milroe situation
Tompkins HS (Katy, TX) QB Jalen Milroe had been committed to Tom Herman and the Texas Longhorns since July of 2019. He had also been committed to former Offensive Coordinator Tim Beck and his system.
In his decommitment edit that he posted on his Twitter social media account, I found it interesting that he made sure to distinguish that it was Beck that he felt loyalty to and a connection with. He took the high road and also included current Texas Offensive Coordinator Mike Yurcich in his gratitude, but the change in tone was undeniable.
While most believe that Milroe's decision was tied to the commitment of #1 2022 prospect Quinn Ewers, I actually have reason to believe that it was other factors that set this all into motion.
"I know initially I wasn't your guy, but you continued to build a relationship with me."
I interpreted that as "You don't think I'm a fit for your system and you wanted to recruit other QBs until we met and it was made clear that I wanted to be the only QB in the class."
I don't think the two clicked at all, which planted the seed to open the door to what eventually transpired. These are the Quarterbacks that have started for Yurcich over his 7 years at the FBS level:
2013: Clint Chelf, J.W. Walsh
2014: Daxx Garman, Mason Rudolph
2015: Mason Rudolph
2016: Mason Rudolph
2017: Mason Rudolph
2018: Taylor Cornelius
2019: Justin Fields
Each of those guys (outside of Walsh) are what would be considered Pocket-Passer types. Yurcich was on campus when Oklahoma State landed current Quarterback Spencer Sanders, who is a Dual-Threat guy, but in reviewing some old interviews Sanders doesn't really mention Yurcich at all. He talked almost exclusively about Mike Gundy being his reason.
Yurcich wasn't at Ohio State yet when the Buckeyes landed the commitment of Georgia transfer Justin Fields.
I don't believe that a true connection or relationship was ever really established between Milroe and Yurcich. When you also add the hype and excitement that is currently coming out of Austin about the two Freshmen QBs on campus (mostly Hudson Card), there are plenty of reasons to believe that Milroe had been looking around the entire time.
Ewers was simply the final in the coffin of a casket that was already on its way toward being buried in the future. Ewers also represented another clear example of the style of Quarterback that Yurcich seems to prefer to Milroe. In a way, this was a best-case scenario as the Longhorns still have time to find a Quarterback to be part of their #trUTh21 class, although he almost certainly won't be the caliber of a player like Milroe.
You knew there was no way that all of those guys (Card, Jackson, Milroe, Ewers) would all really make it to campus together. No way. The odds are also in the favor of another one of those names likely not being present by the time the early enrollees of the 2022 class would be set to arrive in the spring of 2022.
Milroe chose the University of Alabama, who has the #1 Quarterback in the 2020 class on campus in Bryce Young and almost assuredly will land a top Quarterback in the classes following 2021. This would point to competition not being the real issue, more so than the fit with the Coordinator and scheme.
Best of luck to Jalen.
*********************************************************
2021 OT Quick Hitter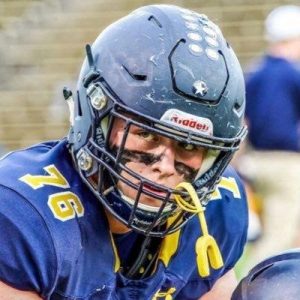 Highland Park HS (Dallas, TX) Offensive Tackle Jack Leyrer was offered by Texas last week. The 6'5 275lb three-star prospect holds offers from programs like Northwestern, Stanford, USC, Vanderbilt, Virginia, Dartmouth, Harvard, and Penn.
Those options should give you a pretty good indicator of what type of student Leyrer is and how seriously he takes his academics. With that in mind, he has a top grouping Stanford, Vanderbilt, USC, Northwestern, and Texas.
While I have seen optimism from some about distance being a factor that works in the Longhorns' favor here, I had been told by a source close to the situation that the Longhorns have ground to make up here.
Stanford is the perceived leader in the clubhouse for Leyrer's commitment and my source isn't convinced that there is enough time left for Texas to pull it off.
Stay tuned.
****************************************************
A few 2022 updates
I was able to connect with a few top 2022 prospects to get quick updates on their status and thoughts about the Quinn Ewers commitment. I'll also share my thoughts on a few other guys in the class where there has been some activity this week.
Summer Creek 5-Star OT Kelvin Banks Jr
"Texas got a great player and it seems like Texas is a great fit for him."
When asked if it got his attention at all: "I'm not sure yet. But, any decision I make won't be based off of what Quarterback is there."
IMG Academy 5-Star S Kamari Wilson
"I've been in contact with Texas for a couple of months now and Coach Valai has been recruiting me the entire time."
"I love the vibe about UT, I just have to get to Austin and put my eyes on everything when I get the chance."
"The most important factors in my recruitment will be the defensive scheme and how they mold their athletes as men not just players."
Manvel LB and Texas offer Justin Medlock
"I'm talking to Texas and OU each about once a week."
"I'm happy for Quinn and his commit. It makes me look at Texas even harder now."
Klein Cain 4-Star RB Jaydon Blue
When I debuted my 2022 rankings, Blue debuted as the top Running Back in Texas. Earlier this week, he was recognized by Rivals as the top Running Back in the nation.
I also mentioned in my write-up that Blue was a big fan of both Texas and LSU. I feel comfortable stating that the Longhorns should be considered the favorite for Blue at this point.
Lewisville 4-Star WR Armani Winfield
There were some crystal balls put in for Winfield earlier this week and I can confirm that Winfield does indeed have a good relationship with Ewers.
Although I've always personally viewed Winfield as Oklahoma's to lose for over a year now, I no longer feel that way. The Sooners could be looking at bringing in a large Wide Receiver class in 2022 and they don't have a shortage of options. While I don't believe that anything is imminent, these things could end up playing in the Longhorns' favor in a big way here.
Port Arthur Memorial 4-Star CB Jaylon Guilbeau
There's also been chatter about Guilbeau and the Longhorns this week. In the 2022 debut, I mentioned that the Longhorns would be a very strong contender for Guilbeau's commitment whenever the time comes.
With teammate Jordon Thomas already on board, it truly does some like more of a matter of "when" and not "if" when it comes to Guilbeau ultimately ending up in Austin.
Del Valle 5-Star WR Caleb Burton
I recently stated that I didn't think that Texas would be much of a factor in Burton's recruitment. I was going to back off of that claim anyway after seeing recent comments by Burton about the Texas staff. When you add in the Ewers commitment, all of a sudden Texas actually looks like it may be a real contender here after all for the Austin-area standout.
**************************************************
Texas Mens Hoops adds another 
The Texas Men's Basketball team and Head Coach Shaka Smart added their third member of the 2021 class when Brookfield, WI Forward David Joplin made his announcement over the weekend. Joplin joins Iowa Guard Emarion Ellis and North Carolina Post Keeyan Itejere in the class.
Joplin is another piece of what will like be a five- or six-man class for Texas in 2021. He's a versatile forward with the ability to play the 3 or the 4 and be a mismatch offensively for opposing teams. What made Joplin such a major priority for Texas is his ability to shoot it from deep. He has the look of a quality 4-year player that will be a key piece for the Longhorns in the future.