Open Post | Weekend, August 28th – 30th
Posted on: August 28, 2020
Commitment Analysis | 2021 QB Charles Wright
– D.T.
Less than a week after losing the commitment of Jalen Milroe the Longhorns were able to reach into their backyard and flex some in-state muscle. After being a long-time commitment to Iowa State, Austin HS QB Charles Wright wasted no time becoming the 17th member of the Texas 2021 recruiting class when presented the opportunity.
What's Texas getting in Wright?
Ranking: Consensus 3-Star
Offers: Iowa State, N.C. State, Arkansas, North Texas, Texas State
Size: 6'0 190lbs
Stats: 206/371 (55.5%), 2,510 yards, 27 TDs (13INT) – 1st Team All-District (25-6A)
Projected College Position: Quarterback
Player Comparison: Todd Reesing (Kansas 2006-2009)
Analysis: In a top-heavy 6A district in Central Texas, Wright has been a three-year Varsity starter and put up nearly 60 total touchdowns. He doesn't play on a team with very much talent, yet Wright shows some leadership qualities and the ability to elevate the play of his peers.
He has a knack for the deep ball and actually reminds me a little bit of former Longhorn and current SMU Quarterback Shane Buechele with that particular talent. He can drop it in with touch outside of the numbers, and his arm is strong enough to put it on a line 25+ yards down the field up the seam. The ability to change arm angles exists and I get a "gamer" type of vibe from him when I watch him.
He has average size and I wouldn't consider him much of a running threat, although he can get himself out of trouble. He's the type that won't hesitate to sacrifice his body for a first down and he shows up to compete every week on Friday nights despite regularly coming in at a disadvantage.
Wright wasn't the Longhorns first (or second, or third, etc.) choice to be the signal-caller in this class. He will be the least physically talented QB on the roster the entire time that he is on campus and he understands that. He understands that almost all of the odds are against him ever being the starting Quarterback at Texas.
None of that mattered.
Wright comes from a family of Longhorns and he didn't blink when Tom Herman and Mike Yurcich extended an offer to him this past Saturday. There's something to be said about a guy that doesn't seem to have any reservations about competing and he doesn't have anything at all to lose during his journey.
Instant Impact Rating: 3. The odds currently are against Wright playing much early at Texas without major injury to numerous older players. He represents quality depth for years to come with the upside to develop into a starting-caliber option in time. 
---
Texas Signs Grad Transfer RB Gabriel Watson
– CJ Vogel
According to our sources, Texas is gaining runningback depth with the addition of grad transfer Gabriel Watson.
Watson previously attended the University of Sioux Falls (DII) in North Dakota where he led the nation in rushing yards with 1957 and found the endzone 26 times. Unfortunately, Watson missed the 2019 season due to a nagging injury.
Prior to the signing, Texas had just three scholarship runningbacks on roster in Roschon Johnson, Bijan Robinson and Keaontay Ingram.
Good on the Texas staff for adding a talented back who will at the very least provide much needed depth at the position.
---
Update | Savion Byrd | Trending
– Super K
As you know, for most of the summer, we haven't felt particularly good about Texas' chances with Savion Byrd.
Early, the Duncanville connection seemed like it could play in Texas' favor. But as the summer wore on, you just kept hearing OU, SMU, LSU with smatterings of Texas. And OU continued to feel better and better about where they stood.
Coach Hand has been throwing offensive line offers out but has yet to land a punch. The hope, I'm told, was that Byrd wouldn't make it to the Sooners weekend shindig ("Summit").
However, he did. And per our sources on that side, they feel extremely confident and I'm told this is based on what they've been told by Byrd himself. I am trying to find out how soon an announcement will come and if Texas' will have a chance to pull this one back in their favor.
But right now, it's looking like a very serious uphill battle for coach Hand.
---
Thirsty Thursday | Examining RB for 2021, Grad Transfer RB, Hoops Note
– D.T.
Welcome back to another edition of Thirsty Thursdays! As always, I'm here to try to help quench your thirst for Longhorn Football in the drought of the offseason, along with other topics of interest in Longhorn sports this week.
Examining the RB position for the 2021 class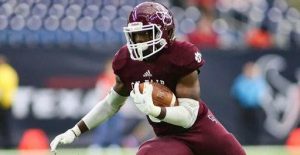 Alright, let's just get right into it.
After reports surfaced last week from everywhere that Texas was the leader for both of the elite in-state running backs this cycle, Camar Wheaton and LJ Johnson, I immediately knew that there was a less than 0% chance that both of those guys would end up in the Texas class.
Despite Wheaton posting a picture last week of himself throwing up a "Hook'Em" sign while on a Zoom call with Texas Running Backs Coach Stan Drayton, his assistant, Brandon Harris, and NFL Running Back Leonard Fournette, it just didn't really make any sense.
Texas landed the best running back prospect in the nation during the 2020 cycle when they pried 5-Star RB Bijan Robinson away from Ohio State. He's just getting started. Sophomore RB Roschon Johnson shocked everyone with his transition to from QB last season and by all accounts, he's likely to be the guy lining up to Sam Ehlinger when the first snap is taken September 12th against UTEP.
Those two guys have at least two seasons left playing together. That doesn't account for Keaontay Ingram, a true Junior on the preseason Doak Walker Award Watchlist, who has started 15 of 26 games over his first two seasons and is the presumed starter when healthy.
Yes, it is true that there have been teams that have signed multiple top-tier Running Backs in the same class or back-to-back classes. Those teams off of the top of my head were USC in 2003 (Reggie Bush, LenDale White), Georgia 2x (2014 Nick Chubb, Sony Michel) (2018 James Cook, Zamir White), and Alabama (2019 Trey Sanders, 2020 Jase McClellan).
USC was a machine on the recruiting trail under Pete Carroll in the early-to-mid 2000s. Georgia and Alabama may be even bigger recruiting machines now in 2020. 2020 Texas doesn't belong in the same conversation as any of the programs if we are being honest. They haven't earned that trust from young prospects.
Texas holds a commitment from 3-Star RB Jonathon Brooks a year after signing Robinson and I would have told you that they would be very fortunate to sign a 4-Star caliber back in the class if you asked me a year ago.
Back to Wheaton.
After the Zoom call excitement, Wheaton showed up in Norman for the "Sooner Summit" event that was 100% squeaky-clean and had no involvement from the Oklahoma Football or Athletic Department whatsoever. On that visit, Wheaton, and roughly a dozen or so other recruits and their families surfaced on photos throwing the upside-down "Hook'Em." A few days later, Texas went from being the presumed favorite for Wheaton to all of a sudden not being included in his top three.
Make of that what you choose, but in my opinion, that means that Camar either was never coming to Texas or he got wind of a more crowded 2021 backfield than he would like.
Oklahoma has been famished for a quality running back signee for several classes now. They're desperate. He would almost be guaranteed second-team snaps the moment he steps on campus.
Alabama doesn't have a running back currently committed in the class and they are wrecking shop in the state of Texas in the 2021 class with commitments from Jalen Milroe, both Brockermeyers, and Kendrick Blackshire. That doesn't even include Latrell McCutchin who they let walk earlier in the process. The Crimson Tide are always a threat.
LSU holds commitments from JoJo Earle, Landon Jackson, and Garrett Nussmeier. Quite the haul so far. LSU does hold a quality commitment from RB Cory Kiner in the class, but the Tigers can sell the need for two since they didn't sign a big name in 2020. Just like Alabama, LSU doesn't lose many recruiting battles that they decide they really want.
Which brings our attention back to LJ Johnson.
Johnson has family ties to LSU with his father having played for the Tigers. The good news on the Texas front is that Kiner is a similar type of back to Johnson and the Tigers appear to prefer a contrasting style in the class.
Texas A&M, much like Oklahoma, is in dire need of adding running back talent. Talented Sophomore Jashaun Corbin transferred in the offseason and Isaiah Spiller was the only back in 2019. The Aggies signed two 3-Stars and a 2-Star RB that is the brother of a highly-rated 2021 recruit in their 2020 class. They can offer immediate playing time to Johnson.
As of right now, both the Longhorns and the Aggies appear to have all of their eggs in the same basket. While Texas feels good about where they stand currently in Johnson's recruitment, you'd be a fool to believe that A&M isn't going to pull out all of the stops to try to swing this one back their way. Neither team has a viable back-up option if they miss here.
The good news is that we may all have an answer in a month or so.
******************************************************************
Who is Gabriel Watson?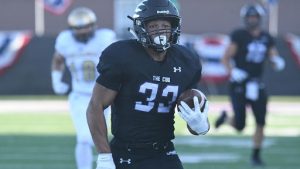 As you are all aware of now, Texas landed a transfer yesterday evening from Sioux Falls University Running Back Gabriel Watson. In 2018, Watson led all of Division II Football in rushing. During that season, Watson rushed for 1,957 yards and 26 touchdowns on 269 carries (7.2ypc). He missed pretty much all of 2019 after suffering a hamstring injury in the team's season-opener.
For those that may not be aware, Sioux Falls was an NAIA powerhouse prior to being moved up to Division II in 2011, having won national championships in 1996, 2006, 2008, and 2009.
With that being said, after doing a little digging I did find out that Mr. Watson is a well-traveled young man. Originally from Piedmont, CA, (not far from Oakland) he didn't earn any scholarships to play football coming out of high school. He attended two different JUCOs in California before finding his way to Sioux Falls University, where he had his breakout season.
Listed at 6'1 229lbs on the Cougars' roster prior to being removed, Watson will provide a lot of the same qualities that former Texas Running Back Daniel Young used to bring with his 6'0 230lb frame. He's a big back with quick feet and better athleticism that most expect from bulkier type of backs. He does a terrific job of running behind his pads, has a low center-of-gravity and you have to really want to bring him down in order for it to happen. Sticking an arm out isn't going to get the job done. I think his vision is solid as well. I don't see a guy that will be much of a threat to break long runs and it remains to be seen if he can be used in the passing game at all.
For Texas, he's simply a much-needed body in the room. If you remember, Tom Herman and co. flirted with Towson Running Back Shane Simpson before he ultimately chose Virginia. Keaontay Ingram has been going through a lot physically since returning to campus and his status may be up in the air a little bit, especially regarding the beginning of this season. Freshman Bijan Robinson and Sophomore Roschon Johnson are going to be difficult to keep completely clean and healthy over the next two weeks. Texas needs Watson and if he can provide anything at all it's a win for both the Longhorns and the young man, after all, he'll be getting two years of grad school out of this deal. You don't have to necessarily like this move, but it was a necessary one. I expect Watson to play a legitimate role this season at some point.
*******************************************************************
Some changes taking place in Texas Basketball
Although I've still yet to see anything official, all signs are pointing to Texas losing assistant coach Jai Lucas, who has been instrumental in Texas landing a great deal of their players during Shaka Smart's tenure. Lucas, who is the son of former NBA great John Lucas, has major recruiting ties in the state of Texas (particularly Houston) and was Smart's longest-tenured assistant. He remained at Texas when Rick Barnes was relieved of his duties.
Lucas is heading to Kentucky, where he will serve in a non-coaching role that will see him earn a raise from what he was making during his time in Austin. The thinking is that he will be next in line for an Assistant Coaching role in a season or two.
This will impact Texas in more ways than one. Texas holds three commitments from players in the 2021 class, but the number one target is in-state 5-Star big man Daimion Collins (Atlanta, TX). The bad news is that Collins' primary recruiter was Lucas and a move was already made.
Yikes.
Texas did make a strong move in response, hiring SMU Associate Head Coach K.T. Turner and adding him to the staff. Turner has much more substantive resume than Lucas does as a coach and he is no slouch on the recruiting trail either. Turner was responsible for SMU getting NBA names like Shake Milton, Sterling Brown, and Semi Ojeleye.
There is still another vacancy on the Texas Basketball side with Assistant Coach Luke Yaklich taking a Head Coaching opportunity at UIC. It remains to be seen what Smart does there, but he has reportedly met with multiple different candidates over the past few months.
Before we leave, here's a announcement to watch tomorrow that may impact Texas. Tamar Bates is a Combo Guard that plays for IMG Academy, but is originally from Kansas City. He's been a priority for Texas for over a month and a half.