Open Post | Tuesday, September 1st
Posted on: September 1, 2020
Weekend Mailbox | Questions Answered!
– Andrew King
How would you rank the following coming out of HS: Bijan, Wheaton, LJ?

follow up: If we land LJ where would you rank our backfield nationally in a couple years?
Bijan Robinson would be my number one guy. After that I think I'd give Camar Wheaton the slight edge over Johnson. And to go perfectly with your follow up question, in two years if the Texas running back room is led by Bijan Robinson and LJ Johnson I think it will be among the best in the nation. And I think the duo of Robinson/Johnson is better than the duo of Robinson/Wheaton in regards to what Tom Herman wants to do. All we hear is ground and pound and wanting to physically dominate the opponent. Robinson and Johnson are two extremely physical running backs who are freakish athletically. Want a duo of running backs to wear down the front seven for Quinn Ewers and company? Bijan/LJ sound pretty good to me.
With the NBA players boycotting playoff games, are there any rumblings that there might be further boycotts from NCAA Football players, and UT players specifically?
You never know, but it's not something I expect at the moment. COVID-19 will be the only thing keeping games from happening. Most programs have taken pretty proactive first steps in regards to unrest regarding racial injustice.
Paranoid about OL recruiting this year – should i give up on possibility of landing a blue chip OL recruit?
Hand has landed Katy Taylor (TX) offensive guard Hayden Conner and Bishop Kenny (FL) Michael Myslinksi who projects as a center or guard. Texas is on the lookout for tackles going forward in 2021. They've missed on the Brockermeyers, Donovan Jackson. And Savion Byrd and Bryce Foster are likely headed elsewhere. Highland Park (TX) offensive tackle Jack Leyrer is the guy I have my eye on for this class.
That would only be three 2021 offensive lineman. But after (most likely) losing Samuel Cosmi, Derek Kerstetter, Tope Imade, and Denzel Okafor after the season. Texas is still 10-deep along the offensive line before you add the three 2021 guy. And note Texas has been pretty active in the grad transfer and JUCO market for offensive lineman so that could always be the case heading into next year.
Don't love percentages. And Johnson is a bit of an unknown because he doesn't talk much. Had a source at his school tell me he's a "quiet and private guy", and I know Texas A&M is still pushing. But I feel very good about Texas' position with Johnson as of today.
Chances on the following recruits (1-100):MukubaShemar TurnerJoJo EarleDavid AbiaraJack LeyrerLandon JacksonTerrance CooksJJ Henry LJ Johnson
Won't do a 0-100 ranking for all of them. But I'll list them in most likely to least likely commit based on where things stand today.
LJ Johnson
Terrace Cooks
Jack Leyrer
Shemar Turner
Andrew Mukuba
JJ Henry
JoJo Earle
David Abiara
Landon Jackson
What's the real skinny on the LB situation this year? I'm not heartened by what I read between the lines.
There isn't that star at linebacker like we've seen in years past. Juwan Mitchell is the main guy. I'm excited to see redshirt freshman Marcus Tillman Jr. DeMarvion Overshown has made the move to linebacker and he's the realX-factor at the position. At 6'4 220, he's slim but can also run with most receivers as a linebacker. Ayodele Adeoye could be a factor but he has struggled to stay healthy and redshirt freshman David Gbenda is another guy with a good frame but is unproven. Somebody needs to step up out of this group, but Super K reported Friday night Coleman Hutzler seems happy with the linebacker room when it came to grad transfers at the positions. And remember only two linebackers will be on the field most of the time in Chris Ash's defense.
As we get closer % the season still happens?
Again, don't love percentages but I expect the season to start. After that, I don't think anyone has a clue what will happen at that point. At lot of these programs and universities have spent so much of time and money to make this happen and keep the players safe first and foremost. I sure hope it can happen, like the rest of you.
---
LJ Johnson | Update
– Super K
As I previously noted, we had heard LJ Johnson was looking at a possible early September commitment date.
I spoke with someone close to Johnson and it sounds like that is still the plan. I'm told it's likely to happen sometime within the next week or so.
I still like where Texas stands.
---
Commitment Analysis | Grad Transfer WR Brenden Schooler
– D.T.
The Longhorns got a very late addition to their #cloUT2020 recruiting class when Arizona transfer WR Brenden Schooler quietly committed on August 28th. He joins former Sioux Falls RB Gabriel Watson as a new, yet experienced, face for the 2020 Texas Football team.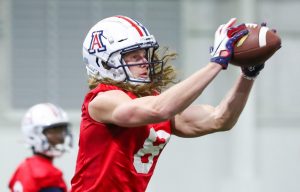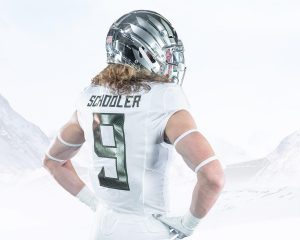 What's Texas getting in Schooler?
Ranking: Schooler was a low 3-Star recruit in the 2016 class from Dana Point, CA.
Offers: Oregon was his only FBS offer.
Size: 6'2 195lbs
Career Stats: Offense: 41 receptions, 477 yards, 4 touchdowns. Defense: 58 tackles, 4 Interceptions.
Projected Position at Texas: Wide Receiver/Gunner
Player Comparison: Jeff Maehl (Oregon)
Analysis: What an interesting addition this is.
Schooler spent three seasons at Oregon and played in two games in 2019 before deciding to redshirt and transfer. He ended up at Arizona only to have the PAC-12 postpone their fall football season.
On the surface, there's nothing about Schooler's numbers that make you believe that he has much value to bring to the Wide Receiver room at Texas. Texas actually doesn't have a single Receiver on the roster with more than a season's worth of experience outside of Michigan transfer Tarik Black, who has zero experience playing at Texas.
Schooler started 13 games for Oregon at Wide Receiver as a Sophomore and Junior. He started an additional 10 games for Oregon as a Safety when he was a true freshman. He also happens to be a two-time 1st Team All-PAC selection on special teams as a standout Gunner on punt and kickoff coverage. There are guys in the NFL right now that have accumulated millions of dollars in the bank over the years due to their ability to thrive on special teams. When was the last time Texas had kick-ass Special Teams? 2009? That also happens to be the last time Texas was really good.
Schooler is a guy that represents a number of invaluable things for Tom Herman and this 2020 Texas Football program. He provides experience, as I previously mentioned. He represents stability for Sam Ehlinger and for a young Receiver room that is budding with immense, but also unproven, talent. Brennan Eagles has been dealing with a lot off of the field this offseason. Josh Moore didn't play last year. Jordan Whittington has to stay healthy. Tarik Black has to stay healthy. Marcus Washington is unproven. We don't know what Jake Smith will look like in a bigger role this season. What about Al'Vonte Woodard? Kennedy Lewis?
You see how the Schooler addition makes sense now. While I think he's unspectacular as a Wide Receiver, he has good size and repeatedly shows a feel for where the sticks are and reliable hands. He gets after it in the run game and is an asset on the perimeter as a blocker. Maybe he could even fill in for Texas on the backend in an emergency situation. Schooler is a pure football player and you can never have too many of those.
Instant Impact Rating: 6. Schooler instantly becomes the best Special Teams player on the roster and he provides experienced depth and leadership at the Wide Receiver position.
WR Highlights:
---
Talking Point | COVID in Dorms, 'Leverage' & UTEP Lines
– CJ Vogel
It has been an eventful Monday so far around the 40 Acres. News has come out regarding the present and future of the Longhorn program that may have both positive and negative consequences.
---
Positive COVID tests in San Jac Dorms
A university spokesperson announced today that two students tested positive for Coronavirus with one living in San Jacinto resident hall and the other living in Jester. For those that attended UT, you probably know that San Jac is the home to most athletes in their first and second years in school, which includes members of the football team.
The students who tested positive have been isolating and public health workers have been attempting to reach out to close contacts to get tested as well. Fortunately, this is just the 7th and 8th positive tests recorded on campus since students returned for the start of the (virtual) school year.
While the team has done a great job of avoiding positive tests and sticking to the health guidelines set up by the university and health officials, this is a situation to monitor with a good amount of the team sharing the same hallways.
---
Texas Launches 'Leverage'
Texas is getting ahead of the curve of the looming battle to maximize the name, image and likeness appeal to recruits by launching a new program called Leverage.
"The program is designed to prepare, enhance and play a critical role in our student-athletes developing and growing their personal brands," UT athletic director Chris Del Conte said in a statement regarding the release of Leverage.
Leverage will be a huge tool in the belt of recruiters for all sports at UT, none more notable than football. The NCAA is set to adopt new rules in 2021 to allow athletes to profit off of their likeness. As a result, athletes can earn revenue through social media posts, television appearances and autograph signings.
---
Vegas Sets Week One Texas-UTEP Line
Texas opens up as 42-point favorites over UTEP for the week one matchup set to take place in Austin on September 12.
During the Dana Dimel regime, UTEP has amassed an uninspiring 2-22 record. Though, the Miners have lost by 30 points just twice and never lost by more than 35 points.
UTEP games allowing more than 40 points: 6
UTEP games allowing more than 50 points: 2
While I am admittedly not a great gambler, 42 points should give a good indication about how week one should go for the Longhorns.