Open Post | Tuesday, December 9th
Posted on: December 8, 2020
Coaching Notes | Where to Turn Next
– Super K
***Chip Brown of 247 has reported that talks between Texas and Urban Meyer have to an end. While I'm not prepared to officially confirm that, it certainly falls in line with our general expectation beginning last Saturday. I held out a bit of hope when the offer was upped, but never could get even my most optimistic sources to go more than about 40% on the chances Urban would take the job.
***If things are indeed done between Texas and Urban, the question is what direction does Texas go in next.
***First, I think you're going to see CDC lay down the law a bit. What I mean by that is while CDC was obviously involved in this, per a source (who has been nails on this so far) it sounds like CDC felt a little pressured by the "Checkbooks" and Hartzell and would've preferred to have taken a little more time or approached this in another manner. At a certain point though, you've got to get the front of wave if you want it to look like you're leading.
***I think whatever happens now will be CDC's move (not to say he didn't want Urban) and on his timeline with his process.
***As I said before, person I spoke to who knows CDC speculated based on having worked with CDC that while CDC wants a splash hire, he wants the hire to be his hire.
***CJ mentioned last week that the coach's name he heard that would be next on the list is Dan Mullen.
***I heard the same name on Sunday evening from a separate source. This particular source knows Dan Mullen.
***I asked said source whether he/she thought Mullen would take the job. Source has not spoken to Mullen about it but offered this speculation, "For that kind of money and to get out of the grind of the SEC, why not? If he gets that offer he's going to wake up and realize, I don't have to recruit against Kirby and Nick Saban anymore".
***Question still remains whether there will be support for someone not named Urban Meyer (or Nick or Dabo) to make a change this year given the financial responsibilities. But honestly, I don't know how you don't. After this search that has been widely reported even on a national level and with recruiting trending down, it just seems like Texas would be putting themselves in a really bad position should Herman not win big next year.
***Lastly, I know some folks have asked about the possibility of Chris Peterson. I did reach out to someone who is close to Peterson and asked if he would entertain the Texas job. Source said, "very doubtful. He's done".
---
Shemar Turner | Keeping the Talent Should be Easier
– Super K
Earlier this week, Darius and I were chatting about Shemar Turner. As you know, Darius has a great deal of knowledge about Turner's recruitment.
Part of the context of our conversations was just the sheer number of kids we've seen as of late grow up bleeding Burnt Orange only to go elsewhere. This, in my estimation, might be the biggest knock on the Herman era.
I remember the Chris Daniels recruitment. Texas hadn't offered Daniels. OU had offered him early and recruited him the entire process. They made him a priority. Charlie Strong came in at the very end of the recruitment and with the assurances from the university president that Strong would be retained, Daniels flipped.
None of it should be this difficult.
As Darius noted, Shemar grew up rooting for Texas. Despite that, it's our believe that Alabama and Texas A&M are in the lead. Why isn't this an easy decision for Shemar? He loves Texas. His close friend is going to Texas.
It's not easy because rightly or wrongly, there is a sense that Alabama and TAMU (yes, TAMU) can more readily help him achieve his NFL goals.
With all the talk of Urban Meyer and the frustration of some at suggestions of someone other than Urban Meyer, I don't think it's as difficult as some think.
The point of looking back on our mistakes is to learn from them and it feels like the only lesson some fans are learning is if it's not Urban Meyer then it won't work.
And while it may have seemed difficult for many at the time to see red flags with both Charlie Strong and Tom Herman, they were there. So let's not make the mistake of believing that unless you're Urban Meyer, Dabo Swinney or Nick Saban, then you're Charlie Strong or Tom Herman.
You don't have to, for example, want Texas to go after Matt Campbell but you can't seriously argue that Campbell's current HC resume is the same as Herman's or Strong's resume at the time they were hired by Texas.
The same thing is true of Dan Mullen or Mike Gundy or Gary Patterson or James Franklin and the list goes on and on. You don't have to want those hires but let's not act like just because they aren't Urban Meyer then they are Strong and Herman.
I say that to point out that I don't think Texas fans appreciate how easy it is to land truly elite talent at Texas – if Texas can just get a good coach. And, a good coach is made great by great talent. The Brockermeyers should have been slam dunks to Texas and if Texas gave them any substantive reason to go to Texas, I suspect they would have. Do you know what kind of difference it makes when you have a first through third round tackle?
Do you know what kind of difference it makes when you have a first through third round DE?
Gary Patterson, for example, is producing NFL talent on a defense where he takes his 4th and 5th choice of guys – if not lower. It is scary to imagine what kind of defense he would build at Texas. Why? Well, I remember asking Shemar Turner who his favorite coach was and he said, Zarnell Fitch. But TCU has no chance at Shemar Turner. Gary is putting more defensive linemen in the league than OU and Texas with far less recruiting draw. You think there is any way he misses on Shemar Turner?
And to be clear, I'm not making the case for Texas to hire Gary Patterson or anyone else. I'm making the point that while the Herman and Strong hires may have scarred the Texas faithful a bit, those of us who may be a little more objective can see a lot of potential coaches who could do the easy job of keeping the best Texas talent and taking even a good coach to greatness.
Shemar Turner should be a guy that is a slam dunk. He is a guy, by circumstance, is likely to get away from the Longhorns once again.
---
Trending | Shemar Turner
– D.T.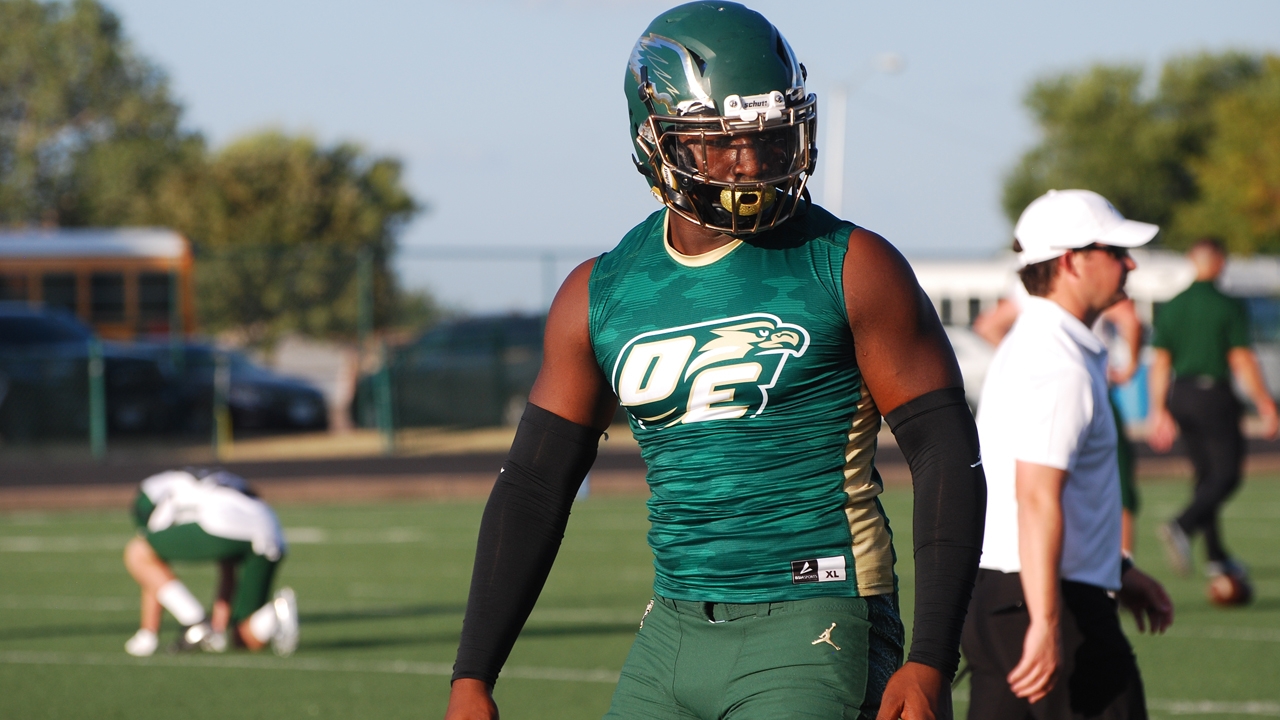 According to our sources, the recruitment of 5-Star DeSoto Defensive Lineman Shemar Turner should be coming to an end shortly. After a lengthy battle between Texas, Texas A&M, and Alabama, he is expected to sign during the Early Signing Period on December 16th.
Unfortunately, it would come as a big surprise to us if Turner were to announce for Texas.
---
By The Numbers | Texas vs. Kansas State 2020
– CJ Vogel
There were quite a few points scored on Saturday during Texas' 69-31 victory over Kansas State. Let's take a dive into some of the statistics that really stood out for the Longhorns.
---
Big Play Day
There was no shortage of monster plays from the Texas offense, specifically on the ground from Roschon Johnson and Bijan Robinson. But D'Shawn Jamsion added a monster kickoff return that ended just a yard short of the fight song being played. I want to take a look at the plays that resulted in 25+ yards for the Longhorns.
Jordan Whittington 32-yard reception
D'Shawn Jamison 37-yard kickoff return
Bijan Robinson 27-yard rush
Bijan Robinson 75-yard rush TD
D'Shawn Jamison 99-yard kickoff return
Bijan Robinson 27-yard rush
Jake Smith 33-yard reception
Malcom Epps 32-yard reception TD
Roschon Johnson 43-yard rush
That's nine plays that went for 25+ yards. Yes, two of them were in the kickoff return game, but regardless, the explosive plays really opened up the offense and man it was great to see this offense clicking at full strength.
Big Play Day Pt. 2
Texas actually led the country in yards per play for week 14 of the college football season.
1. Texas – 10.0
2. Alabama – 9.2
3. Arkansas State – 9.1
4. Buffalo – 8.8
5. UTSA – 8.8
---
New Faces on the OL
We came into the week knowing the offensive line was going to have to answer a lot of questions with its new look. Obviously, an unfortunate wrinkle was thrown in to the fold when Derek Kerstetter went down with a gruesome leg injury. But the offensive line held its own and the new additions impressed.
Texas run game averaged 10.1 yards per carry.
Pressures allowed (pass protection snaps)
Jake Majors – 3 (29 snaps)
Junior Angilau – 1 (29)
Christian Jones – 1 (29)
Denzel Okafor – 1 (29)
Andrej Karic – 0 (10)
---
Breakout Games
It was a game of firsts for a number of Longhorns. There were a number of first-time accomplishments for a number of Texas freshmen and underclassmen.
Bijan Robinson – 1st touchdown (believe it or not)
Jordan Whittington – 1st touchdown
Jerrin Thompson – 1st start & interception
David Gbenda – 1st interception
Jake Majors – 1st start
Gabriel Watson – 1st carry at Texas
---
Offense Travels
Could just be a coincidence or an unfortunate schedule but there is a huge discrepancy in Texas' scoring when they are at home compared to when they are on the road.
Home – 30.8 PPG
Away – 54.5 PPG
And that is with Texas scoring 59 points at home against UTEP to open the season.
---
Wide Receiver Breakdown
The biggest story of the day was clearly the insane offensive output from the running game, but here is a breakdown of the receiving room including snap count and targets.
Brennan Eagles – 39 snaps (7 targets)
Joshua Moore – 36 snaps (2 targets)
Jake Smith – 32 snaps (4 targets)
Brenden Schooler – 21 snaps (1 target)
Alvonte Woodard – 17 snaps (1 target)
Kai Money – 13 snaps (1 target)
** Jordan Whittington – 11 snaps (3 targets) **
Marcus Washington – 7 snaps (no targets)