Open Post | Tuesday, February 16th
Posted on: February 16, 2021
Quick Notes | Takeaways From Sky's The Limit Workout
– CJ Vogel
I trekked through snow, sleet and ice Thursday afternoon to get up for a wedding this weekend in Dallas. On Saturday morning I was able to stop by Sports Academy at The Star to watch the Sky's The Limit WR Workout coached by Margin Hooks.
Some of the best receivers in the DFW area made the trip, including Armani Winfield, Evan Stewart, Jalen Hale and a number of other WR with division one offers were in action. I'll jump into some notes I took that really stood out when I was there.
---
*** Top Texas target and 2022 Frisco Liberty WR Evan Stewart looked great in workouts. His movements are effortless and he is really impressive with his releases off the line of scrimmage. We know Stewart was close to pulling the trigger and joining the Texas class, but has taken some time to re-evaluate things. I'll get into this more later in the week, but Stewart basically took a three week break from recruiting, but has since started conversing with coaches once again.
*** Texas commit Armani Winfield looked great. It was my first time seeing him in person and I am a fan of what Texas is getting in the 6-foot-2-inch Lewisville product. Winfield told me he has his eyes set on a few Texas targets that he has hopes to try and lure in for the class.
For what it's worth, Winfield and Stewart were basically inseparable during the workout. The two are clearly great friends with one another and it certainly doesn't hurt Texas' chances with Stewart.
*** One of the best 2023 prospects was in attendance as well. Longview WR Jalen Hale was very impressive. He told me afterwards that he's hearing mostly from Texas, TCU and Oklahoma. I believe the Sooners are going to be very involved in this recruitment for the duration.
*** A 2024 quarterback name to file is Flower Mound Marcus product Cole Welliver. At 6-feet-6-inches, Welliver is physically an appealing fit at the QB position. He just moved to Texas from Seattle so he was unable to play during his freshman year of high school, but that hasn't stopped schools from getting in contact with him early on.
*** 2023 Justin Northwest QB Jake Strong is another quarterback to know moving forward. Strong looked real good in the limited throwing drills the quarterbacks were able to take part in. He throws a tight spiral and is very precise in the drills he takes part in.
*** I was fortunate enough to meet Temple WR Mikal Harrison-Pilot and ATH Naeten Mitchell last week at Bam's workout, and they made the trip up to Dallas for the workout with Hooks. Since last week, Harrison-Pilot has earned offers from TCU and Maryland, I wouldn't be surprised to see Texas get involved soon.
As for Mitchell, I like him more as a safety. His film is very fun to watch from his time at Manor and think he is at his best coming downhill. But regardless, he has the tools to play WR as well. He told me Arizona has been in contact with him soon, I bet the offers begin coming in real soon.
*** Lovejoy had a pair of pass catchers in action. The first is 6-foot-6-inch tight end Omari Murdock who previously lived in Arkansas before moving to Allen last semester and right across town to Lovejoy at the beginning of the semester. Murdock caught everything thrown his way and moved pretty well. According to his Twitter, he holds offers from UConn and Illinois State.
The other is 2023 WR Kyle Parker. Despite not having any offers at the moment, Parker was put in the elite group and fit right in. Lovejoy has a rather explosive offense and a good season this fall will definitely put him on the map.
*** 2023 Prosper WR Tyler Bailey looked very smooth as well. He's been offered by Kansas, Illinois State and New Mexico so far in his recruitment.
*** Carthage has another stud in the works. 2023 WR Montrel Hatten has offers from SMU and Arkansas so far, he will be another East Texas guy to keep an eye on as well.
---
2022 Aledo TE Jason Llewellyn Talks Texas Offer
– CJ Vogel
I was able to connect with 2022 Aledo tight end Jason Llewellyn who recently collected a Texas offer to see where things are standing in his recruitment currently.
Llewellyn has been on the recruiting scene for some time now after being a massive contributor to an Aledo team coming off their 10th state championship in school history. Llewellyn has picked up offers from the likes of Arkansas, Texas Tech, Baylor, Michigan, TCU and around 10 other D1 programs. Though he said there was some real excitement when Texas gave him the call about his offer.
"It was a very humbling offer by an amazing program," said Llewellyn, who is hoping to study sports broadcasting in college. "I was extremely excited about it."
Llewellyn told me he had texted a few times with tight end coach Jeff Banks prior to the offer and when he was offered, head coach Steve Sarkisian accompanied him on the phone.
The relationship on both sides is still young, but it's one that Llewellyn says he "definitely wants to build it with both of them."
There is no shortage of interest from the regional schools, Llewellyn said he hears the most from Arkansas, Baylor, Oklahoma State and a number of B1G schools as well. If Texas is serious about adding a tight end this cycle, they would be smart to continue to establish a relationship here with Donovan Green off the board.
Following the Texas offer, Llewellyn also picked up an OU offer and they will be legitimate players in this recruitment as well.
In the current pandemic world of recruiting, virtually visiting is the closest a recruit will get to seeing coaches on campus and so far only Arkansas, Texas Tech and Oklahoma State have hosted the rising prospect. Llewellyn added he has been down to Austin a number of times, yet has not really looked at the campus with much detail.
---
Texas Still in Good Spot for 2022 WR Evan Stewart
– CJ Vogel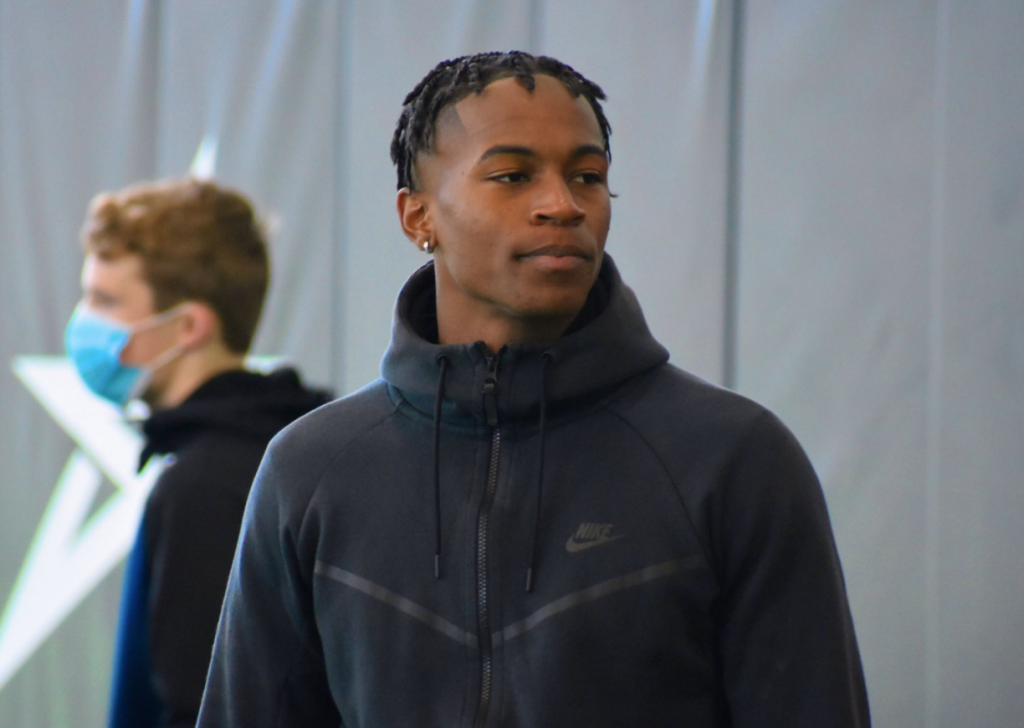 I was able to see four star 2022 Frisco Liberty WR Evan Stewart in action this weekend at the Sky's The Limit WR workout at Sports Academy at the Star in Frisco.
As I mentioned in my notes on Sunday afternoon, Stewart is just as a quick and twitchy as advertised. Stewart was basically connected at the hip with Texas commit Armani Winfield as well. It's clear the two are very good friends and that relationship certainly does not hurt Texas' chances.
Luckily, I was able to catch up with him after the workout to see where he stands recruiting wise.
"It's actually slowing down for me right now," Stewart said regarding his recruitment. "It's picking back up a little bit, but I had it on hold for a quick minute."
As we know, Stewart was very close to joining the Texas class a couple of weeks ago, however he held off on any public decision and began to re-evaluate his options. Stewart said he took about a three week break from talking with the Texas staff but has since been in communication once again with WR coach Andre Coleman.
"I mean I do, I do want to get it over with," Stewart said about his recruitment. "But I still want to play it slow and see what the whole decision is on the visits, but if (the NCAA) makes the decision (to extend the dead period) I may just go ahead and choose."
Once the dead period is lifted, Stewart says he wants to get out to see Texas, Florida, Georgia, TCU and USC. If and when Stewart is able to get down to Austin, new Texas HC Steve Sarkisian will be able to pitch his offense and scheme to Stewart in person, something that has already caught the eye of the four star Frisco native.
"I can just trust that he knows what he is doing," said Stewart. "He has a great offense, he knows who to get the ball to and how to get the ball to them. He's a real good offensive coach."
Obviously, Texas was able to land five-star quarterback Maalik Murphy on Saturday. Stewart told me he has had contact with Maalik in the past and was even supposed to get out west to California and throw with him but was unable to. He added that Maalik was trying to recruit him to join his 7 on 7 team for this weekend's Pylon event out in Las Vegas, but Stewart had already committed to a team for the weekend.
I get the sense that the addition of Maalik Murphy to the Texas class is going to pay off big dividends for the remainder of the class and while the two have had talks in the past, Stewart reminded me that no one addition to a class will sway him to commit to a school. The decision will be 100% his.
---
My Take
I still think Texas is in a great spot for Stewart, though the gap has closed significantly. Stewart was pretty firm on the stance that other commits in a class won't sway him too hard, but I do think it will help in the end.  For the time being, I don't see a move coming anytime soon.
---
Kris Ross | Down to Four | The Latest
– Super K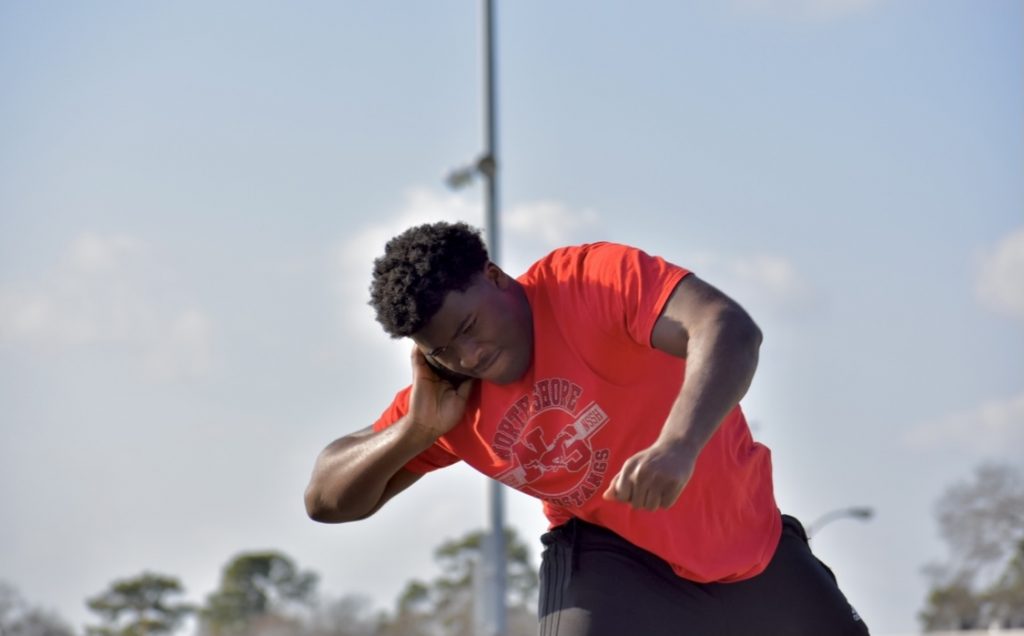 Last week, 2022 DT, Kris Ross (North Shore) announced his top four, which included Baylor, OU, Texas and recently offered LSU.
In the tweet, Ross also said "Big news coming Friday". I spoke with Ross a bit ago and he tells me that he will not be committing this Friday.
He also said that he did not have a decision made.
In my conversation with him about a week or so ago, we went through each of the schools above and here is what I can tell you.
OU – Sooners defensive line coach, Coach Thibs, seemed to be his favorite coach.
Texas – Proximity to home and strong academics. He was just building a relationship with Bo Davis.
Baylor – Early offer and has a strong relationship with the entire staff.
LSU – He is originally from Louisiana and said LSU is his dream school.