Open Post | Tuesday, February 23rd
Posted on: February 23, 2021
Quick Hitter | Texas Making Missouri DE a Priority
– CJ Vogel
A 2022 defensive end to keep an eye on is DeAndre Wesolak out of Boonville, Missouri.
Texas offered on February 8th, but the relationship Wesolak has with members on the staff has existed long before they put on the burnt orange.
"I've been connecting with most of their staff since before Coach Sark," Wesolak said. "I was offered by them then some members that stayed after reached out to me and kept up until they found there defensive staff and soon as they were all put in place, Coach K and their DC reached out. I've known (Coach Kwiatkowski) and have had a relationship with him since he was at Washington so he loves me. Coach K and Coach Sark have been keeping up with me they feel that I could be a huge commitment to their program and can bring a lot of others with me."
Wesolak added that he feels like a big priority target for the Longhorns and hopes to visit Austin in the near future.
"They've made it clear that I am their number one pass rusher they want."
---
2022 DE Zac Swanson | In-Person | Initial Update
– Super K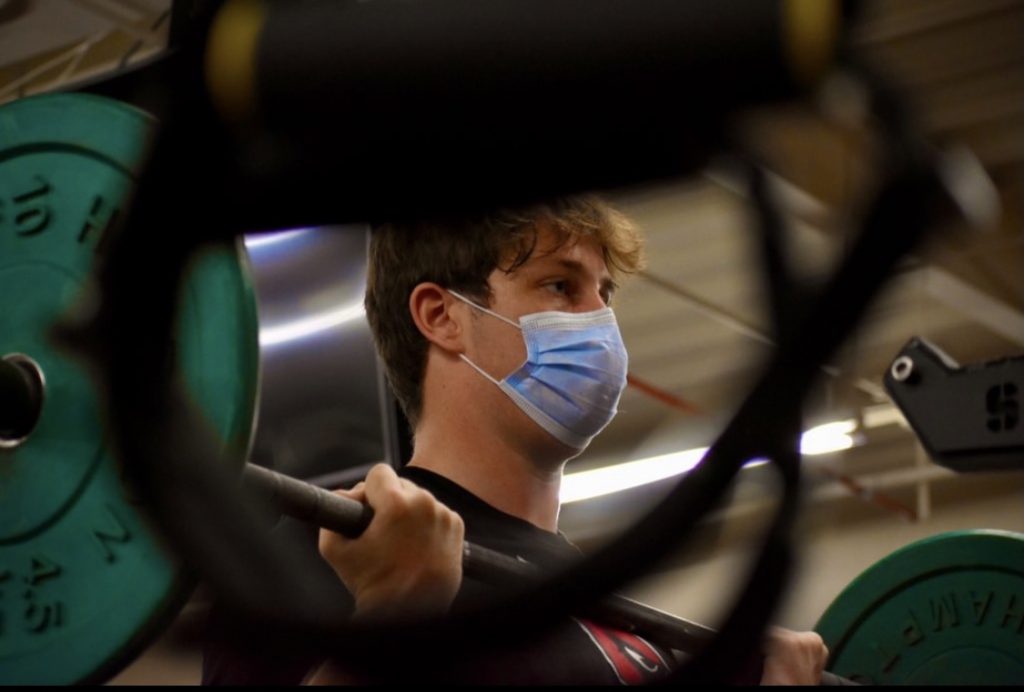 Was out at Brophy Prep in Phoenix, last week, to see recent 2022 defensive end offer, Zac Swanson.
Swanson tells me that the offer came from Sark and he had a previously relationship with coach Banks when Banks was at Alabama.
Zac says Oregon is one of the teams really work hard to get Zac in the boat. But the Texas offer certainly made an immediate impact. He said, as long as Texas wants him, he wouldn't make a decision without visiting Austin. He also noted that the offer from Texas immediately catapulted them in his top group.
---
Notes | 2023 Temple Trio to Keep an Eye on
– CJ Vogel
Last Sunday when I made the trip to the Bam Performance workout, I was introduced to a trio of 2023 Temple prospects who will be on division one radars in the near future. Temple has been a hot bed in central Texas for division one talent having produced Texas TE Jared Wiley and former Texas commit Quentin Johnston as well.
In Frisco this past Saturday, I saw two of the Temple products once again. It's time for the trio to be introduced to the board.
2023 ATH Mikal Harrison-Pilot
The first off the bat is Mikal Harrison-Pilot, who already has a handful of division one offers under his belt. Arkansas, Baylor, Houston, LaTech and UNT have already extended an offer to the two-way stud from Temple.
MHP told me he has been hearing the most from Baylor so far in his recruitment. With Waco just 30 minutes away, it makes sense for the Bears to take care of their own backyard. Arkansas is active in this recruitment as well. MHP said he hears from both staffs weekly and hopes to remain in contact with each school.
When asked about the Longhorns, MHP said his mom was a Texas fan and while he has yet to hear from the Texas staff so far, he would be open to the Longhorns should they throw their hat in the ring. The 6-foot playmaker said he hopes to be committed prior to his senior season.
2023 LB Taurean York
York is coming off a season where he was named the 12-6A Defensive MVP as a sophomore. York, who could be a freshman since he is just 15 years old, said recruiting has yet to really take off so far.
At just 5-feet-11-inches, height may be the biggest deterrent in this recruitment, though the production and on-field play speaks for itself. So far, York says he has been followed by a number of coaches at big time programs. After some investigation, coaches from Texas A&M, Houston, UNT and Brent Venables from Clemson are among the coaches on his follower list.
York says he has only been in contact with Houston and UNT. Should his body continue to grow, and he expects it will, that list will certainly expand.
From DT's post on Thirsty Thursday:
Downhill football player that takes very good pursuit angles to the ball and arrives with an attitude. He does a really impressive job of staying square and scraping laterally for his age. I'm guessing a lack of prototypical height are the reason for a lack of early offers. I would think that evaluators would have learned by now how little that actually matters at his position. York is a good, not great athlete, and his upside ultimately may hinge of how hard he works on maintaining/improving his quickness and speed. I'm a fan.
2023 S Naeten Mitchell
I was a big fan of Mitchell's film when I first looked him up. The dude hits people and flies downhill like a bullet from the safety position. Mitchell also stood out at the workout when working agility and change. Mitchell recently moved from Manor to Temple so he is still getting on radars as a guy to know at Temple.
Like York, Mitchell's recruitment is in the beginning stages. He has yet to receive an offer but has made contact with a number of coaching staffs. SMU and TCU are two of the most notable regional schools that he has heard from, while Wyoming and Arizona State are lurking as well. Once he receives his first offer, I imagine the floodgates will open here.
Mitchell is really close with current Texas CB Jahdae Barron. Something to keep note of moving forward.
---
Texas Weekend updates from Arizona
– Super K
I've been out in Arizona for a couple of a days. Stopped by to see some players in Phoenix and then came over to the Pylon tournament in Bullhead City, AZ.
***On Friday, I was a Tucson Turf 7v7 football practice. Really weren't any targets there that Texas is currently recruiting but there certainly was some talent. But something noteworthy that was Texas related did happen…
A few of the top prospects there just started throwing up the horns and were yelling, "Sark! What's up Sark!". I'm realizing more and more as we cover Texas that Sark has his own brand. The combination of his brand with the Texas brand in a good marriage right now. Whether they're being recruited by him or not, kids seem to like Sark.
***Related to the note above, I stopped by to see 2022 DL, Anthony Lucas (Chaparral). Right now, he's really move of a OU target. But he did tell me that Sark has actually reached out to him. So, I do wonder if he will end up being a guy Texas offers. He has some serious upside. In talking to Anthony, it's clear Texas A&M has made him a big priority and I get the sense they are one of his top schools.
***At the Pylon tournament, Texas RB commit, Jaydon Blue listed out some of the targets he's going after…
***Texas DB commit, Jaylon Guilbeau had a good evening. Did a nice job in man coverage but also good spacing and breaking in zone. He does a nice job of displacing a wide receiver to get hands on the ball. Guilbeau also said he's going after a number of players.
***Texas would love to land Chris Marshall and I can see why. I like how fluid he is for his size. He can get a DB off his spot and then stack him. Very good deep threat because he isn't just a one direction guy.
He certainly seems to like Texas but in talking to him I think he's going to take some time with his recruitment. I don't get the sense he's in a rush.
***Kevin Coleman comments on Texas. Thought it was noteworthy that he has that connection with Texas WR, Marcus Washington.
***Recent Texas 2022 OT offer, Malik Agbo can move! Hoping to have more with him later this week…
***CJ Williams – I believe I still have a full interview with CJ that I have yet to transcribe. I plan on doing that. But I did speak with him at the Pylon as well and something he said that I wanted to note. It sounds like there are some schools who are pressuring him – giving him the whole, if you don't commit soon, we might not have a spot left. Williams said that isn't something he's going to let force his hand and he added that this was something he really likes about Sark, "he doesn't pressure me, he's letting me go through my process".
---
Commitment Analysis | 22 Wide Receiver Evan Stewart
– D.T.
The "22Effect" class keeps rolling. This time, Texas got a near-midnight surprise on Thursday night when Frisco Liberty WR Evan Stewart announced his commitment to the University of Texas.
What's Texas getting in Stewart?
Ranking: Consensus Top-90 Prospect Nationally
Size: 6'0 175
Offers: Alabama, LSU, Texas A&M, Oregon, Florida, Notre Dame, Oklahoma, LSU, Michigan, Auburn
Player Comparison: Calvin Ridley (Alabama 2015-17)
Analysis: This is a big one.
First things first, Stewart is an elite athlete with the verified numbers to back it up (10.7 100M, 21.08 200M, 24'6 LJ, and 47'9 TJ, as a Sophomore in HS). For reference, those Long Jump and Triple Jump numbers would have made the podium at the 6A UIL State Championships. On top of that, it all translates to the field and jumps off of the screen on tape as he effortlessly glides by the opposition. Over two varsity seasons, Stewart has amassed totals of 89 receptions for 1,670 yards and 16 touchdowns at the 5A level in the metroplex.
Stewart probably has the most quick-twitch out of all of the available in-state Wide Receivers in this year's crop and is one of the more explosive prospects in the 2022 class. He eats up cushion in a hurry and repeatedly eliminates pursuit angles on tape as a ballcarrier. He can be used on Jet Sweeps, Bubble Screens, Swing Passes, Option Routes, and Reverses. He has the athleticism and enough size to play any WR position in any Offense at a high level.
While I compared him to Calvin Ridley, there are some important differences to note between the two as prospects. For one, Ridley was 20 years old when he graduated High School, so naturally he is/was a much more polished prospect from a technical and physical standpoint. To this day, there aren't many route-runners that can compare. I think that the two athletes have similar builds and similar quick-twitch muscles which allow them to snap off routes and create separation.
Ridley spent the majority of his career working on the Outside at Alabama, but has transitioned to more of an Inside-Outside option as a pro. I believe that Stewart has similar Inside-Outside versatility and if he reaches his ceiling he could be drafted in a similar spot that Ridley was.
This is exactly the type of prospect that Texas has missed on over the past decade (KD Cannon, Jaylen Waddle, Rondale Moore, Garret Wilson, etc.)
Instant Impact Rating: 6. Stewart will play as a True Freshman barring injury.
---
Update | 2022 RB | TreVonte Citizen
– Super K
As we've noted, Texas is looking to add a second running back to go along with Jaydon Blue. A guy to keep an eye on is TreVonte' Citizen (Lake Charles College Prep).
His 7v7 team, EPS Blaze, were set to play in this past weekend's Pylon event but due to whether they could not make it.
However, the head coach for both EPS Blaze also happens to be Citizen's head high school football coach and he was at the tournament. I spoke with him and he told me that "Texas has been coming real hard".
Coach said that Citizen really likes Texas and said the other schools in the mix are Arkansas, Mississippi State and LSU.
You never know who LSU is going to really push for but my gut tells me that Citizen may be the second back in this Texas class. It just makes a lot of sense. He's in close proximity to Texas and he's a big athletic powerful back who doesn't necessarily have the recruiting profile but does have the talent. Citizen can be a perfect second back to go along with a more highly decorated guy.