Open Post | Weekend, February 19th – 21st
Posted on: February 19, 2021
Updates | Visits, Trends, Offers and More
– Super K
***As you know, last week, I went out to see 2022 4-star DB, Bryce Anderson. At the time, most had him trending towards Texas A&M.
However, after that visit, I noted that I felt Texas was actually the team to beat.
Since then, the sentiment in the recruiting world has shifted and a lot of folks now also feel Texas is in a good spot.
The other thing I noted was that while Bryce says he wants to take some time with a decision, don't be surprised if something happens in the near future.
***Should Texas land Bryce to go along with Guilbeau, they'll be looking to add a couple more defensive backs to the class. I get the sense they are looking for four (maybe five) DBs in this class. Bryan Allen is a primary focus.
***Texas already has running back Jaydon Blue in the boat. I expect Texas to take two in this class. They have offered in-state running back, Jamarion Miller (Tyler Legacy). You will recall that Jamarion's older brother, Damion Miller, was at one time committed to Texas during the Strong era before signing with a JUCO.
***But in speaking to a coach over at Desert Pines, I'm told that he will be bringing 2022 4-star RB, Jovantae Barnes out to Texas for a visit in May as part of a visit tour. Barnes is currently high on OU and USC and I currently see him as more of a OU target within this region. But again, I'm told they plan on visiting Texas, as well and Barnes is certainly the kind of guy Drayton would take if it fell into his lap.
***As I noted yesterday regarding 2022 DL, Kris Ross, I spoke with him yesterday afternoon and he told me was not planning on committing this week. I know the general view in the recruiting world right now is that Texas leads. I don't personally get that sense. I certainly think he could ultimately end up there given the proximity to home, the academics, Bo Davis' ties to North Shore, etc. But in my conversations with him, I got the sense Texas had some relationship building still to do and I would've had him trending OU or LSU.
***Texas also made a few more West Coast offers. I think Sark is finding a great balance right now. He's offered a ton of in-state guys and they're recruiting those guys but they also aren't being stingy with the out-of-state offers. That's how you keep the in-state coaches happy and still keep the pressure on.
Two offers came out of Washington state in Malik Agbo (Federal Way, WA) and Josh Conerly Jr. (Seattle, WA).
We've been in touch with both Conerly and Agbo previously because the Sooners had been recruiting them pretty heavily. And, Conerly had mentioned that Flood was in touch with him almost right when he got to Texas. So, my guess is they've been itching to offer both Conerly and Agbo but wanted to get the in-state offers out.
They also made a defensive end offer out of Cali in Gracen Halton (San Diego, CA). Halton is currently committed to Oregon.
We'll have more on these targets, soon.
***Yesterday, Pete Thamel reported that Brandon Harris would be taking over Bryan Carrington's position as the new Director of Recruiting.
I noted last week that the replacement had been made and we were told that it was Harris. For some reason sources didn't want it out at the time. But we can confirm this.
---
Commitment Analysis | '22 QB Maalik Murphy
– D.T.
The "22Effect" class is officially up and running with 5 commitments making up what has the initial signs of what will be a very strong class. Over the weekend, Steve Sarkisian nabbed his signal-caller for the cycle when highly-touted Serra HS (Gardena, CA) QB Maalik Murphy made things official via Twitter.
What's Texas getting in Murphy?
Ranking: Consensus Top-65 Prospect (Top 5 Pro-Style QB)
Size: 6'4 225
Offers: Oregon, Arizona St, USC, UCLA, LSU, Georgia, Washington, A&M
Player Comparison: E.J. Manuel (Florida St. 2008-2012)
Analysis: Size is legitimate and stands out on tape, even watching him as just a Sophomore. Murphy has an extremely strong arm with the ability make every throw that is asked of him. Unlike many young QBs, he has shown an understanding of putting touch on his passes and is capable of changing velocity and arm angles to get throws off.
Has been a standout on the 7-on-7 circuit, but it remains to be seen how his abilities translate for an extended period of time in a real 11-on-11 setting when the lights are on. We have no clue what pocket presence is like, his ability to rally his teammates, or how he adjusts to adversity or after he's been hit in the mouth.
What we do know is that he was a clearly a priority for Steve Sarkisian and he is a big enough believer in what Sark is bringing to Texas that he was able to commit without having ever been on campus. By all accounts, he's a very charismatic young man that has the type of personality that draws others to him. He has what you're looking for from the QB position from a social standpoint.
It remains to be seen if Texas shuts things down at this position after adding walk-on Cole Lourd, but I wouldn't be shocked to see only one guy taken this cycle.
Instant Impact Rating: 3. Murphy figures to provide depth and develop during his first few years on campus before competing for a chance to be the starter.
---
2022 Texas Commit Armani Winfield Talks Commitment, Maalik Murphy & Evan Stewart
– CJ Vogel
Texas commit Armani Winfield was in action this weekend at the Sky's the Limit WR training session hosted by Margin Hooks in Frisco.
This was my first time seeing Winfield in action, and it's clear why Texas was wanting to take the verbal pledge so early into the cycle. Winfield has legit size and moves very well. He didn't drop a pass in any of the drills I watched him take part in either.
I was able to catch up with him about his pledge to Texas and the addition of Maalik Murphy following the workout as well.
"Everything is going good," Winfield said who pledged to Texas at halftime of the National Championship game. "It's going smooth. A lot of stress is relieved, you know what I'm saying. I'm committed and just getting ready for the next season."
Winfield spoke praise of wide receivers coach Andre Coleman. He added that Coleman has been recruiting him since his freshman year and once he saw he was going to be retained by Steve Sarkisian, it made the decision that much easier for him.
"Me and him's relationship is really good," Winfield said. "That's why when the new staff was coming in and he stayed, I felt comfortable committing because I had been talking to him for three years."
Winfield said he was very close to pulling the trigger under before Tom Herman was fired, however he decided to wait to see what would eventually happen with his coaching status.
The love for Texas has always been there. Fortunately for Texas, they did not fall into the "Dream School" curse which seemingly is a death sentence in many recruitments when that phrase is uttered. Winfield said he has been a fan of the school since he was a kid and pointed at the proximity as another plus.
One thing I found interesting that Winfield brought up in our talks about Texas was the LEVERAGE program. Last August, the University launched LEVERAGE, an initiative that will drive name, image, and likeness opportunities to student athletes will allowing them to build their own brand. It's why, for those of you who follow DeMarvion Overshown on Twitter, you see him tweet about arm bands and being the "Arm Bandit" so often. He's taking what he's learned in LEVERAGE and putting into action to create a brand.
Honestly, I have not heard of this as much as I first imagined I would when the initiative started, but it struck a chord with Winfield and ultimately helped land him. "There's a lot of money to be made in Austin," Winfield told me.
I mentioned that Winfield was close to committing under Tom Herman, though he instantly found a connection with Steve Sarkisian when he was announced to be the next head coach for the Longhorns.
"Sark is a real laid back dude. When he got off the plane, he wasn't in a suit or tie, he was just dressed casual, and I like that. It's a business but like with him, it just feels laid back and chill. That's the coach I want to play for."
Obviously, Evan Stewart was in attendance as well. "Me and Evan, we go back," Winfield said. "That's my dog. You know, same trainer, same city. I've been really trying to pull him to Texas and I think he's leaning towards it but we gotta see. You never know with Evan."
I met with Winfield on Saturday, prior to the announcement from Maalik Murphy, though Winfield mentioned he knew the decision was coming and expanded on their preexisting relationship.
Winfield told me he flew out to California two weeks ago to play with Maalik on his 7 on 7 team. "He really shocked me because he can really throw the ball for sure." Winfield added that the two hit it off and have been in contact since the throwing session.
As for who else is on the radar for Winfield when it comes to possible additions to the 2022 Texas class, he told me one guy stands out in particular – Bryce Anderson.
---
Late Night Note | 2022 TE Set to Visit Austin This Weekend
– CJ Vogel
2022 Aledo tight end Jason Llewellyn told me he hopes to make the trip down to Austin this weekend to see the campus, city and facilities.
Of course, that is all contingent on the weather and if I-35 is clear enough to drive after the wild week of snow and ice across the state.
Llewellyn added he will be up in Norman the weekend following. Texas offered on February 1st and the Sooners on February 13, but both will be big players in this recruitment moving forward.
---
Commitment Analysis | 2022 LB Trevell Johnson
– D.T.
The page has been completely turned to the 2022 class now that Signing Day II has passed for the 2021 group. Texas is off to a hot start and that momentum carried over to the defensive side of the ball when Arlington Martin LB Trevell Johnson announced his commitment to Steve Sarkisian and co.
What's Texas getting in Johnson?
Ranking: Consensus 3-Star
Size: 6'0 200
Offers: LSU, Baylor, Missouri, Ole Miss, Colorado, Texas Tech, SMU
Projected Position at Texas: Dime Backer (Inside LB) – Physicality to engage OL, Tackling Ability, Interior Pass Rush Skills
Player Comparison: Keyshawn Bierria (Washington 2013-2017)
Analysis: Like the player that I compared him to, Keyshawn Bierria, who played for Pete Kwiatkowski at Washington and was a drafted in the 6th Round of the 2018 NFL Draft by the Denver Broncos, Trevell Johnson moves with a sense of urgency on the football field and arrives at the football with bad intentions.
I'm told by a source at Arlington Martin that Johnson is "a baller and mean (on the field). He's been one of the hardest workers in our program from the first day that he arrived."
On tape, Johnson isn't necessarily going to 'wow' you with any of his physical attributes, although he is a fluid and at times explosive, athlete. What he does impress with are his instincts, balance, and nonstop motor. The functional strength is clear and I see a natural football player when I watch him play. Former teammate and future Texas teammate Morice Blackwell is a better athlete, but Johnson may have been Martin's most consistent presence on their stout defense.
Baylor was hard after Johnson, as they were Blackwell in the 2021 class. This is a repeat of what happened last cycle, when Baylor evaluated and targeted a prospect early, but the prestige of the University of Texas won out. Kudos to the new staff for quickly deciding that Johnson was worth a re-offer and making him comfortable enough to pull the trigger so quickly.
Instant Impact Rating: 5. Although he will have some veterans in front of him on the depth chart when he arrives, Texas figures to lose multiple starters at the LB position following the 2021 season. The opportunity to provide instant depth and contribute on Special Teams will be there for Johnson.
---
Quick Hitter | Longview WR Jalen Hale
– CJ Vogel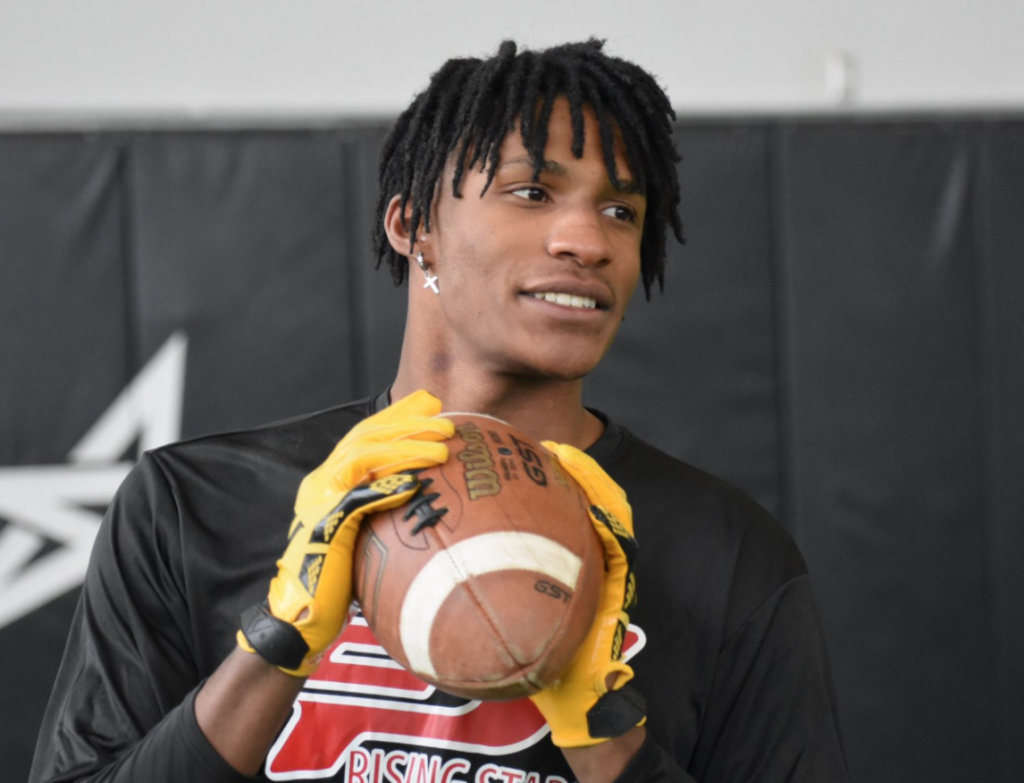 I was able to catch up with one of the top 2023 wide receivers Longview's Jalen Hale this weekend.
*** From the sounds of things, he is hearing mostly from three schools at the moment – Texas, TCU and Oklahoma.
Hale told me the Oklahoma staff is who has been hitting him up the most so far. He has already been on one virtual visit with them and hopes to get on another soon.
*** Hale told me he had talked with coach Andre Coleman and Steve Sarkisian a couple times already but the relationship is still in the building stages.
*** Luckily for Texas, Hale does not hope to have a commitment any time soon. He said that a top schools list is likely closer to this upcoming football season and I expect Texas to be included on that list.
---
Thirsty Thursday | 2022 Recruiting Board Offense, 2023 Glance Ahead LBs
– D.T.
Welcome back to another edition of Thirsty Thursdays! As always, I'm here to try to help quench your thirst for Longhorn Football in-season and during the drought of the offseason, along with other topics of interest in Longhorn Sports this week.
2022 Recruiting Board (Offense) …
Quarterback (1 or 2)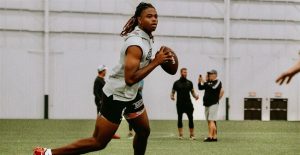 (Maalik Murphy)
Targets: (TBD)
Commits: Maalik Murphy (Gardena, CA) ****
Overview: Murphy is a nationally recognized name and part of the allure of pushing for his commitment so early was the potential talent that he could attract with him to Austin. Texas has offers out to Quinn Ewers and Cade Klubnik, but it is impossible for them to secure a 2-man class from this trio. I personally believe that a game of musical chairs could take place at the position nationally later in the game. Whether that happens or not, I think the odds favor there being only one signal-caller in the class, especially after adding walk-on Cole Lourd late in the 2021 class.
Running Back (2)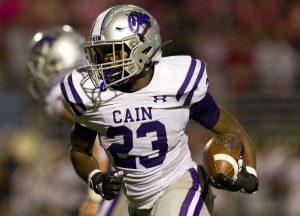 (Jaydon Blue)
Targets: (3) Tavorus Jones (El Paso, TX) ****, Jamarion Miller (Tyler, TX) ***, Le'veon Moss (Baton Rouge, LA) ****, Zach Evans (Rockwall, TX) ***
Commits: (1) Jaydon Blue (Klein, TX) ****
Overview: The Longhorns landed the big fish when they were able to secure Blue's pledge so early. He's the undisputed top in-state RB in the class and one of the best in the entire country.
Texas has other offers out to guys in other states, but I think that the odds are much stronger of the second back coming from the in-state targets. Jones was close to committing under Tom Herman's reign and it's a priority of mine to try to get an update from him soon. Miller is high on Texas and makes a ton of sense.
I think we will have our answer here by the summer at the latest.
Wide Receiver (3 or 4)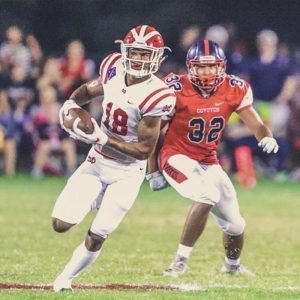 (CJ Williams)
Targets: (7) CJ Williams (Santa Ana, CA) *****, Kevin Coleman (St. Louis, MO) *****, Evan Stewart (Frisco, TX) *****, Jordan Hudson (Garland, TX) ****, Brenen Thompson (Spearman, TX) ****, Shazz Preston (St. James, LA) ****, Chris Marshall (Houston, TX) ***
Commits: (1) Armani Winfield (Lewisville, TX) ****
Overview: There are some big names on the board here and Texas is off to a good start with a firm commitment from Winfield. Williams (Outside WR) and Coleman (Inside WR) are the long-distance big fish that Texas is rumored to be sitting pretty with early.
You all know the story by now with Evan Stewart (Outside WR). Rumors are that Brenen Thompson (Inside WR) really likes what he's hearing right now from the Texas staff. I don't think he's anywhere near making a decision, though.
I think that Chris Marshall is a guy whose stock is going to continue to steadily climb and I think he ultimately ends up a part of the class as an Outside Receiver.
There will undoubtedly be new names that surface, but these are the main handful to focus on at the moment.
Tight End (1)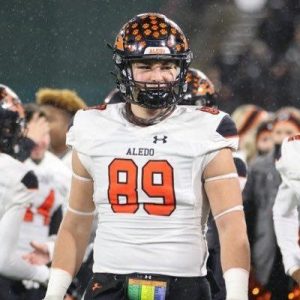 (Jason Llewellyn)
Targets: (4) Jaleel Skinner (Greer, SC) ****, Oscar Delp (Cumming, GA) ****, Holden Staes (Atlanta, GA) ****, Jason Llewellyn (Aledo, TX) ***
Commits: N/A
Overview: I think that the odds of plucking Skinner out of SEC territory and away from Clemson are really slim. Delp is a new name to the board, but Georgia has made an emphasis this year on locking down their state and he is a prime target which means that the odds are slim for Texas.
Staes is another Peach State prospect, but he's not currently a priority for the Bulldogs. He recently decommitted from Penn State and wants to get down to Austin at some point in the Spring for a visit. Could have something there.
Llewellyn and Donovan Green are the only in-state TE offers so far this cycle. Green is committed to Texas A&M and was a longshot to end up in the class for Texas, anyway. Llewellyn is planning to visit campus soon and will follow that up with a trip to Norman. Starting to get a vibe in that one that a decision could come sooner rather than later in what is shaping up to be an old-fashion Red River Shootout.
Offensive Tackle (2 or 3)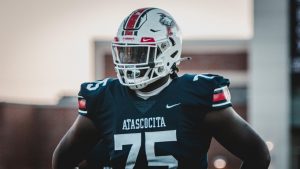 (Kameron Dewberry)
Targets: (7) Kameron Dewberry (Humble, TX) *****, Zach Rice (Lynchburg, VA) *****, Kelvin Banks (Houston, TX) ****, Jacob Sexton (Edmond, OK) ****, Josh Conerly (Seattle, WA) ****, Tyler Booker (Bradenton, FL) ****, Malik Agbo (Federal Way, WA) ****
Commits: N/A
Overview: Offensive Line Coach Kyle Flood quickly re-offered the guys he likes within state borders and now has cast a wide net of offers nationwide.
Dewberry and Banks are going to be bloodbaths and I can't say that I think either would pick Texas if they had to decide today. Plenty of time for things to develop and change with these guys.
Texas recently made Sexton's top five, but he's from Oklahoma.
Conerly and Agbo are Washington state prospects that have a familiarity with Sarkisian and a few other members of the Texas staff. It remains to be seen how serious of a player the Longhorns become for either.
Rice and Booker are what I would consider longshots, but to be fair I haven't really had a chance to see what this staff can do yet as far as finding ways to get guys on campus.
Texas is shooting high here and I'm sure we will have some new names emerge in-state as Offensive Tackles always uncover later than other positions.
Interior Offensive Lineman (2 or 3)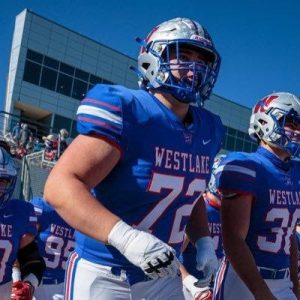 (Connor Robertson)
Targets: (4) Devon Campbell (Arlington, TX) *****, Cole Hutson (Frisco, TX) ****, Neto Umeozulu (Allen, TX) ***, Connor Robertson (Austin, TX) ***
Commits: N/A
Overview: I've felt good about the Longhorns standing with Campbell for a while. I think he profiles as an interior guy in the future due to his height.
It remains to be seen how strong of contenders they become for Hutson and Umeozulu. They were early offers and then re-offers by the new staff so I have to believe that they are being made priorities.
Robertson is a local prospect with some strong ties to the university. His stock is on the rise and he would be a quality addition, especially in tandem with one of the aforementioned prospects.
********************************************************
Glancing Ahead – 2023 Linebackers
Denton Ryan LB Anthony Hill (6'2 220)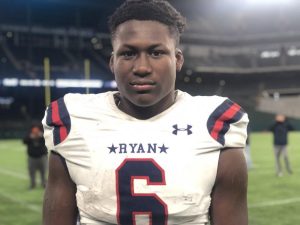 On the Hoof: Big-timer. Hill looks like he's moving at a different speed than everyone else on the field when he locks in on his target. He was a key cog in the middle of a state championship Defense as just a Sophomore. 5-Star talent.
Offers: Alabama, Ohio St, Florida, Texas, LSU, Oklahoma, Miami, Texas A&M, USC, Michigan
Highlights: Anthony Hill Highlights
Temple LB Taurean York (5'11 210)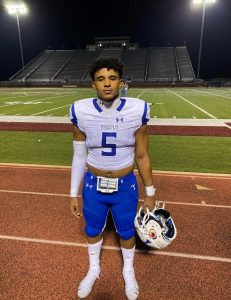 (Greg Wille, TempleBeltonSports.com)

On the Hoof: Downhill football player that takes very good pursuit angles to the ball and arrives with an attitude. He does a really impressive job of staying square and scraping laterally for his age. I'm guessing a lack of prototypical height are the reason for a lack of early offers. I would think that evaluators would have learned by now how little that actually matters at his position. York is a good, not great athlete, and his upside ultimately may hinge of how hard he works on maintaining/improving his quickness and speed. I'm a fan.
Offers: N/A
Highlights: Taurean York Highlights
Cypress Ranch LB Christian Brathwaite (6'3 210)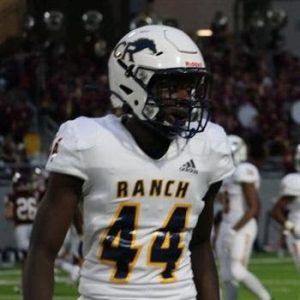 On the Hoof: Long and rangy, Brathwaite has a frame that's going to add a bunch of good weight in the future. He plays the game with an attitude and covers a bunch of ground as a Boundary defender for his school. The upside exists for a double-digit P5 offer guy if he continues on his current trajectory.
Offers: Baylor
Highlights: Christian Bradwaithe Highlights
DeSoto LB/S Jalen Milliner-Jones (6'0 190)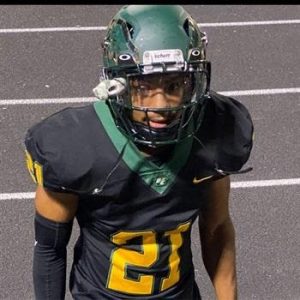 On the Hoof: Milliner-Jones spent his time playing both Safety and Outside Linebacker out of necessity during his Sophomore campaign. He has big-time speed and has the ability to play in space that is at a premium in today's game.
Offers: Mississippi St, SMU
Highlights: Jaden Milliner-Joes Highlights
Dallas Skyline LB Dylan Brown-Turner (6'3 195)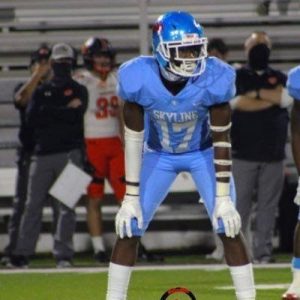 On the Hoof: One of the higher upside prospects at the position that I've seen so far in the class. Brown-Turner has legitimate size and length with a frame that is going to add a bunch of good weight over the next 3-5 years. He shows some exciting promise as an edge-rusher and has some explosive traits. Future high P5 prospect.
Offers: Georgia Tech, Kansas
Highlights: Dylan Brown-Turner Highlights