Open Post | Weekend, February 5th – 7th
Posted on: February 5, 2021
Thirsty Thursday | Wrapping Up Signing Day, Snapshot of '22, Glance Ahead '23 WR
– D.T.
Welcome back to another edition of Thirsty Thursdays! As always, I'm here to try to help quench your thirst for Longhorn Football in-season and during the drought of the offseason, along with other topics of interest in Longhorn Sports this week.
I think I've got a good one for you all today. It's a lot of reading, so take your time and if you have any questions or comments please don't hesitate to leave them below. Enjoy.
National Signing Day II (It's a Wrap) ….
The Longhorns put the finishing touches on their 2021 class on Wednesday. Depending on where you look, the 21-man class is rated anywhere from 16th to 18th nationally. Let's take a quick look at how everything went down with the main targets heading into the home stretch.
The Wins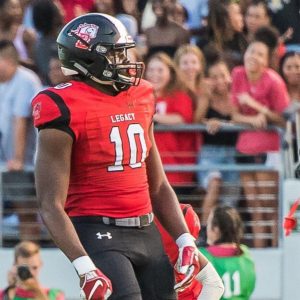 DE David Abiara – Look at those long arms. The mystery man himself did what most of us expected him to do when the time came. Abiara was a guy that the previous Texas staff offered relatively early and prioritized. Although he committed to Notre Dame and gave Oklahoma a silent verbal on numerous occasions, it always felt like Texas was lurking in this one. A lot happened over the course of 12 months with Abiara decommitting from Notre Dame and Texas deciding to part ways with Tom Herman and his coaching staff. This is a situation where it all kind of worked out as the right time and right place for both parties.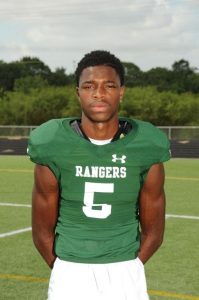 WR Keithron Lee – A former Basketball standout, Lee dominated as a Senior on the gridiron and saw offers roll in from multiple FBS programs in the region. Once Texas offered it was over. I know a long-time coach in the area that is very, very high on Lee and he believes that he is a future NFL draft pick. Lee will begin his career in the Slot for Texas and figures to instantly provide talented depth.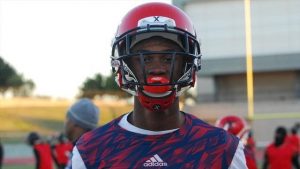 CB Ishmael Ibraheem – Ibraheem's status has been up in the air since December when he ran into a few off-field issues. Those issues have since been resolved and the 4-Star Corner and Under Armour All-American sent in his Letter of Intent on Wednesday morning. Ibraheem was locked in to Texas since his commitment during the summer. Like David Abiara, Ibraheem will be getting a "second chance" with an opportunity to turn his story into a example for younger athletes in his area that look up to him.
The Misses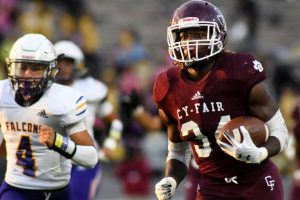 RB LJ Johnson – If you would have told me a year ago that this recruitment would go start to finish all the way to Signing Day #2 I would have bet you a lot of money that it wouldn't. Now that it's over, I feel like it's safe to reveal that Johnson shot a commitment video with TFB over the summer prior to the start of his Senior season. So obviously, he was all but set to be a Longhorn prior to what happened this season. Despite all the turnover, he still appeared to be leaning towards heading to Austin before deciding on Monday that the best business decision for himself was to sign with Texas A&M. The commitment of Jaydon Blue in the 2022 class a day before certainly softened the blow of losing Johnson for Texas fans.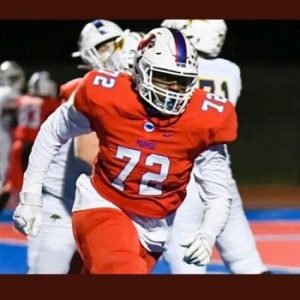 OT Austin Uke – Uke transferred to Parish Episcopal from Trinity Christian Cedar-Hill for his Senior season to protect the blindside of National Top 100 QB Preston Stone and possibly garner himself some better looks from college programs. Mission accomplished. Uke saw offers come flying in during a Senior season that ran all the way to a State Championship at the TAPPS level. Texas and former OL Coach Herb Hand were simply too late to the party here. Uke had established relationships with other programs that offered him earlier. The fact that Texas ended up being the runner-up despite the staff turnover is a testament to the job that was done here and what could have been.
Side Note*
I couldn't help but notice that Coach Sark didn't mention Notre Dame transfer EDGE Ovie Oghoufo during his press conference yesterday. I went back and checked the Texas Football twitter account and they also didn't put out a graphic for Oghoufo. I'm not saying that something is up, but I found his omission weird. I'm sure details will come out in the coming days/weeks as to what the hold up may be.
***************************************************
Early Snapshot of 2022
I'm sure a few of you would be interested to see how things are looking already for the 2022 class on the recruiting trail with the conclusion of 2021 coming yesterday.
In this section I'll take a quick look at what's going currently with the top 30 prospects in the class and where I believe Texas currently stands with them. From a scale of 1-10 (1 being "no way in hell" and 10 being "he already has his locker picked out."
1*** Quinn Ewers QB Southlake Carroll
What's going on: Committed to Ohio State
Chances Texas wins: 3. While contact is being kept, I think Texas will need a few things to fall their way for Ewers to somehow end up back in the class.
2*** Denver Harris CB North Shore
What's going on: Harris has always liked Texas and a staff change hasn't done much to deter that. He is a national recruit and Texas will have some very stiff competition for his signature, but the Longhorns have as good of a chance as anyone in this one.
Chances Texas wins: 7.
3*** Devon Campbell OL Arlington Bowie
What's going on: Similar to Harris, Campbell is a guy that has always liked Texas and he was targeted early by the previous staff. New Offensive Line Coach Kyle Flood has already made contact with Campbell and the Longhorns remain in a good spot for the talented big man.
Chances Texas wins: 7.
4*** Omari Abor DE Duncanville
What's going on: I feel like a few different things would have to go Texas' way for Abor to seriously consider them. He grew up an Oklahoma fan and his father is a big fan of SEC football. Texas would need to have a great season to have a shot at this guy, in my opinion.
Chances Texas wins: 3.
5*** R.J. Cooper DE Arlington Martin
What's going on: Luckily, the previous Texas staff was all over Cooper, so Texas shouldn't be offset by the coaching turnover too much here. I've got some background on Cooper that suggests that Stanford is going to be a real player here. He is high on academics.
Chances Texas wins: 5.
6*** Malick Sylla DE Katy
What's going on: Committed to Texas A&M
Chances Texas wins: 1. Sylla is likely locked in to A&M and if he were to rethink things, Texas would still have ground to make up on others.
7*** Jaydon Blue RB Klein Cain
What's going on: Committed to Texas
Chances Texas wins: 9. It's still really early, but it's never a bad thing to hold a commitment from one of the nation's best.
8*** Bear Alexander DT Denton Ryan
What's going on: Committed to Georgia.
Chances Texas wins: 1. Texas always seemed to be a little bit behind the pack with Alexander and I'm not sure that I expect a whole lot to change on that front in the coming months.
9*** Kameron Dewberry OL Humble Atascocita
What's going on: Dewberry has offers from all of the nationally elite. Texas A&M, Ohio State, and Alabama figure to be the main competition group for Texas to try to separate themselves from.
Chances Texas wins: 5. Texas has to have a big-time year on the field in 2021 to have a real chance of pulling this one off.
10*** Harold Perkins LB Cypress Park
What's going on: Perkins is the top LB prospect in the state and his list of suitors is long and impressive. I personally think that the kid has an eye for the SEC, but we will see how it plays out.
Chances Texas wins: 4. I don't have a good feel for Texas' chances currently.
11*** Caleb Burton WR Del Valle
What's going on: Committed to Ohio State
Chances Texas wins: 1. Like I said a few months ago, this one isn't happening for Texas.
12*** Kobie McKinzie LB/DE Lubbock Cooper
What's going on: Committed to Oklahoma
Chances Texas wins: 1. Even prior to committing to the Sooners as a Sophomore, Texas and McKinzie have never really been linked.
13*** Armani Winfield WR Lewisville
What's going on: Committed to Texas
Chances Texas wins: 8. Winfield was close to committing to Texas under Tom Herman, so it's safe to assume he's always wanted to be a Longhorn. It's still early and you always have to keep an eye on Wide Receivers, they like attention.
14*** Cory Hendrix OL College Station
What's going on: Hendrix is still a bit under the radar. Have to think when/if the Aggies offer, it's going to be tough to keep him away from there.
Chances Texas wins: 3. Texas would do themselves a favor to go ahead and offer.
15*** Kelvin Banks OT Houston Summer Creek
What's going on: Banks already has one decommitment under his belt (Oklahoma State) and he doesn't seem to be in any hurry to rush into another. His stock has blown up since then. Many believe that he is an A&M lean. Texas re-offered the other day.
Chances Texas wins: 4. I'm still trying to get a feel for where Texas stands, Kelvin doesn't tip his hand much when we speak. I don't have any reason to believe that the Longhorns are one of his current favorites.
16*** Bryan Allen Jr. S Aledo
What's going on: BJ recently decommitted from LSU and is hitting a reset on his recruitment. Alabama, Oklahoma, and Texas figure to be big players for his signature.
Chances Texas wins: 5. This one is going to be a battle.
17*** Tavorus Jones RB El Paso Burges
What's going on: Stan Drayton was the first to offer Jones last year and that fact is not lost on the talented rusher. The fact that Drayton was retained only enhances the odds that Texas eventually closes on this one, despite the commitment of Jaydon Blue.
Chances Texas wins: 7.
18*** Conner Weigman QB Bridgeland
What's going on: Rumors are swirling that Weigman could be making a decision soon. If that proves to be true, it won't be Texas because the Longhorns haven't offered.
Chances Texas wins: 2. Looking like A&M or Florida.
19*** Evan Stewart WR Frisco Liberty
What's going on: Stewart has offers from the nation's elite. He is very high on Texas and the Texas staff. While I'm expecting a bit of a roller coaster recruitment, Texas currently has as good of a shot as anyone.
Chances Texas wins: 7.
20*** Bryce Anderson S Beaumont Westbrook
What's going on: Anderson recently decommitted from LSU. I do know that he likes Texas, but many believe that Texas A&M has the inside track currently in this one.
Chances Texas wins: 4.
21*** Brenen Thompson WR Spearman
What's going on: Thompson has offers from all of the nation's elite. He likes the Longhorns a lot and Texas is going to have a legitimate chance to win him over.
Chances Texas wins: 6.
22. Josh Hoover QB Rockwall Heath
What's going on: Hard to get guys you don't offer. The vibe I'm hearing is that Arkansas is close to locking this one up.
Chances Texas wins: 1.
23*** Jordan Hudson WR Garland
What's going on: Committed to Oklahoma.
Chances Texas wins: 3. Hudson is a stud that was a priority for the previous staff. It remains to be seen if the new staff goes after him, but either way I think he's pretty solid to the Sooners.
24*** Julian Humphrey CB Houston Clear Lake
What's going on: I may be a little higher on Humphrey than most. He has some pretty good early offers and isn't in any rush to make a decision.
Chances Texas wins: 6. Texas would immediately shoot to the top of Humphrey's list with an offer.
25*** Anthony Black WR Coppell
What's going on: I haven't seen Texas and Black linked much at all. Black's father played Basketball at Baylor.
Chances Texas wins: 2.
26*** Jaylon Guilbeau CB Port Arthur Memorial
What's going on: Committed to Texas.
Chances Texas wins: 5. Guilbeau is keeping his options open after the coaching changes. A lot can happen between now and Signing Day next year, including possibly even the Longhorns deciding to go in a different direction. TBD.
***27 Chace Biddle S Garland
What's going on: Biddle likes Texas. One of his good friends, Jordan Hudson is committed to Oklahoma and Biddle is a priority for the Sooners. This one is going to be a fight.
Chances Texas wins: 5.
28*** Donovan Green TE Dickinson
What's going on: Have to think Green is locked in to A&M.
Chances Texas wins: 1.
29*** Cameron Williams OT Duncanville
What's going on: It's hard to land a guy when you haven't offered him.
Chances Texas wins: 2.
30*** Curlee Thomas DE Fort Worth Nolan
What's going on: See Cameron Williams.
Chances Texas wins: 6. If the Longhorns do decide to make a move here, I have plenty of reasons to believe that they would shoot to the top of his list and possibly even earn a quick commitment.
**********************************************************
Glancing Ahead – 2023 Wide Receivers
Longview Wide Receiver Jalen Hale (6'2 185)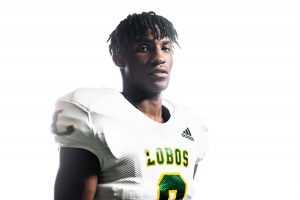 On the Hoof: Size, speed, hands, ball skills, etc., Hale has it all. He accounted for 10 touchdowns and nearly 700 yards, despite receiving less than 40 targets. He figures to put up big-time numbers in the coming seasons and he will undoubtedly be recognized as one of the top Receivers in the nation in the 2023 class.
Offers: Georgia, Texas, Oklahoma, Miami, Texas A&M, Auburn, Arkansas, Mississippi St, SMU, TCU
Highlights: http://www.hudl.com/v/2EP4gK
DeSoto Wide Receiver Johntay Cook II (6'0 170)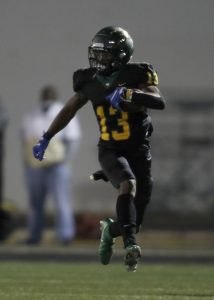 On the Hoof: Cook is as smooth as it gets. Blessed with swivel hips and lightning-quick feet, he glides around the football field. He has Inside-Outside versatility. He led one the nation's most FBS-fertile programs in Receiving as a Sophomore and has garnered the attention of many of the nation's elite programs in the process.
Offers: Texas, Texas A&M, Auburn, Florida St, Nebraska, Miami, Texas Tech, Oklahoma St, South Carolina, Baylor
Highlights: http://www.hudl.com/video/3/13212276/5f8c728a9680360a98cc42b3
South Oak Cliff (Dallas, TX) WR Randy Reece (6'0 175)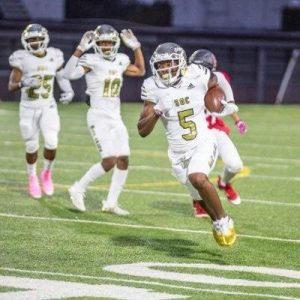 On the Hoof: Reece is fast, he's a rocket with the football. He's at his best on in-breaking routes (Slants, Posts) where he can get up to top speed without much wasted motion. I do see some hip tightness, which will limit his route tree a bit until improved, but this is a big-time player that will have his fair share of P5 offers to choose from.
Offers: Kansas
Highlights: http://www.hudl.com/video/3/13811649/5fa5b3c07bd3660c5c1ee235
Del Valle (Austin, TX) WR Braylon James (6'3 185)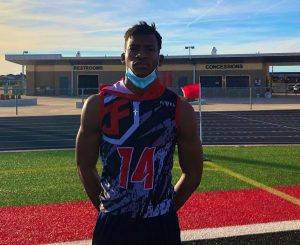 On the Hoof: James looks like a freak athlete and is likely going to end up being a nationally-rated prospect with offers from everyone. He has impressive top-end speed and can turn short passes into touchdowns if he isn't quickly taken down. Like most young Receivers, there's plenty of room for improvement from a technical standpoint.
Offers: Arizona St, Miami, Kansas
Highlights: http://www.hudl.com/v/2EXBwa
Austin Westlake WR/TE Jaden Greathouse (6'3 205)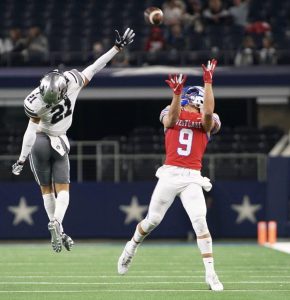 On the Hoof: Greathouse made headlines as a Freshman when he earned a starting role for a national powerhouse program. He wins deep with size and subtle hand-fighting. He has some solid RAC ability and shows a willingness to mix things up in the run game. Depending on where his body goes, he could end up as more of an H-Back type player in at the college level.
Offers: Oklahoma, Texas, Penn St, Baylor, Arkansas
Highlights: http://www.hudl.com/v/2Excqx
Lovejoy Wide Receiver Jaxson Lavender (5'11 165)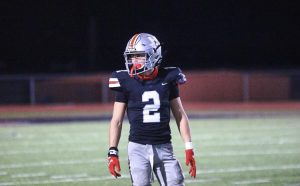 On the Hoof: I fell in love with this guy's highlights. Lovejoy made a deep run this season and the Sophomore played a huge role as a Receiver, Running Back, and Return Man. He's a home-run threat every time he touches that ball and projects as a dynamite Slot Receiver/Punt Returner at the next level if he stays on his current trajectory.
Offers: N/A
Highlights: http://www.hudl.com/video/3/6327691/5fac339f4797e30a08210c37
North Mesquite Wide Receiver Cordale Russell (6'2 180)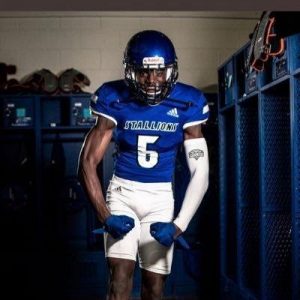 On the Hoof: Russell is tall and rangy with a huge catch radius. He accounted for 637 yards and 6 touchdowns on just 38 receptions as a Sophomore. He's a long-strider with the ability to eat up cushion on Defensive Backs. Russell has as high of a ceiling as anyone in the class.
Offers: Tennessee, Arkansas, Mississippi St
Highlights: http://www.hudl.com/video/3/13046667/5f68ec07bed6830b188e9f94
John Tyler (Tyler, TX) Wide Receiver Montrell Wade (6'1 175)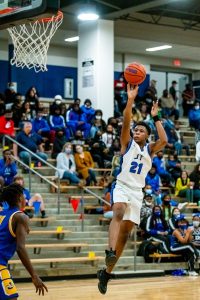 On the Hoof: Wade is raw, but as a Sophomore he is the most talented athlete in a program that historically produces FBS prospects on a yearly basis. He's garnered some early attention and figures to be a heavily recruited regional prospect.
Offers: Oklahoma St, Georgia Tech, Kansas, UTSA
Highlights: http://www.hudl.com/v/2EjXAm
Sam Houston (Arlington, TX) WR/TE Lafayette Kaiuway (6'4 205)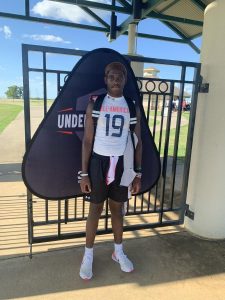 On the Hoof: Kaiuway might grow into a Tight End and that's a scary proposition for any future opponents. He shows the ability to high point the football and also some surprising straight-line speed. I'll be watching this kid with much interest over the next 8-10 months.
Offers: Kansas
Highlights: http://www.hudl.com/v/2EhdrV
---
2023 Cy Woods LB Dylan Rogers Next Up
– CJ Vogel
There is going to be a flock of college coaches heading to the Cypress area once the dead period ends for 2023 linebacker Dylan Rogers. The District 2-16 First Team linebacker is going to be one of the biggest targets in the state on the defensive side of the ball for the 2023 class.
For the moment, only Arizona State and Virginia Tech are the only schools to have thrown their hat in the ring for the Cypress stud.
Shockingly, Rogers told me his favorite school at the moment is Ohio State and with the way this 6-foot-2-inch, 210 pound backer is progressing, it wouldn't be surprising to see the Buckeyes eventually be a player in this recruitment.
Rogers told me this offseason is going be huge for his development. He said he is "working with some trainers and staying in the weight room" right now, hoping to add strength to his already impressive build.
Rogers told me he was aware of Texas' decision to part ways with Tom Herman, and that it would not play a big role in his view of the Longhorns. After all, the older staff did not communicate often with Rogers, meaning the new staff will be starting with a fresh slate.
I get a feeling that the new staff will be all over this talented Cypress product. Should they wait, it may be an uphill battle once SEC schools toss their hats in the ring.
For now, put a pin on this recruitment and we'll comeback to it in a few months.
---
Quick Hitter | Details Behind Uke's Decision
– CJ Vogel
After meeting with Uke a few weeks ago for the first time, I originally had thought Stanford and Texas were the teams to beat, with the Longhorns trailing just a bit.
Earlier this week, I made the trip to Parish Episcopal again to catch up with Uke right before his decision. I had heard USC was making a strong push for Uke in the past couple weeks since I had first visited him and that appeared to be the case.
Uke did a phenomenal job of not tipping his hand to anyone during the process. I received hints from a number of sources close to Uke and none were 100% confident which is why I remained a bit uneasy with my confidence level.
After our meeting on Monday, I felt that the Longhorns had made it a closer race. Uke had tremendous things to say about Texas, the city of Austin and his relationship with the new coaching staff. Still, however, I wasn't confident enough to say Texas led.
This morning, a source hinted at me that Texas should be feeling comfortable which led to me commenting on the NSD thread that I was beginning to feel more confident there.
Well, turns out, Stanford was the pick.
Uke told me after the ceremony that he went to bed last night without having made a decision and woke up this morning knowing Stanford was the place. This morning, he gave the Cardinal staff a call and made them aware of his decision. Shortly after, he submitted his NLI and announced at the ceremony.
I do think Texas was very close in this recruitment, but it's another example of Stanford being Stanford.
---
2022 Clear Springs WR Noah Thomas Stock Skyrocketing
– CJ Vogel
At the Dallas Pylon event back in January, perhaps no player opened my eyes wider than Clear Springs WR Noah Thomas.
At the time of the Pylon tournament, Thomas held offers from just Cal, Houston, Arkansas, Tennessee and Colorado. Yet, since then, he has earned 11 more offers, with Texas A&M, Baylor, Notre Dame and Penn State being among the group.
"It's going great right now," Thomas said about his recruitment. "I'd love to be a hometown hero, but truly it is all about the best fit for me. It doesn't have to be the biggest school or anything like that, just the best fit."
At 6-feet-5-inches tall and a smidge under 190 pounds, Thomas carries over a tremendous amount elusiveness that really showcases his athleticism. Prior to the Texas coaching changes, he told me he was hoping they would reach out to him, and now that the new staff is in place, he is hoping the same.
"Oh, I'd be very, very interested," Thomas said about the Longhorns if they were to come knocking on his door. "Texas is one of my favorites since I was a little kid."
Thomas said he grew up a Texas, Texas A&M and Baylor fan. He said he grew up watching Baylor because his uncle is 2x All American LB Mike Singletary who attended Baylor from 1977-1980.
Texas has made a quick splash in the WR department so far in 2022 class with Armani Winfield joining the class and Evan Stewart having some buzz around him as well. Should Texas get involved here I think they will instantly be up among the true contenders.
I am a big, big fan of Thomas' game. Think he rivals some of the more well-known receivers in talent. He should be a consensus four star guy, but a thing that will hold him back in the offensive scheme at Clear Lake which really does not allow him to showcase his talent. Regardless, I like his game a lot.