Open Post | Tuesday, March 16th
Posted on: March 16, 2021
Kris Ross Still Deciding
– Super K
As you know, 2022 DL, Kris Ross is set to announce his decision on March 23rd.
Saturday night I checked in with Ross and he tells me that he has not yet made a decision. In fact, after chatting with him, I got word via a source that he is headed out to Cali in the next week or two for a self guided tour to USC.
I still think Ross ultimately stays close to home. Baylor, LSU, Texas and OU were the main schools in the mix. But, it sounds like he is still making up his mind.
You'll recall that indecision is what prompted him to delay his first commitment date.
---
2022 OL Kelvin Banks | In-Person Initial Update
– CJ Vogel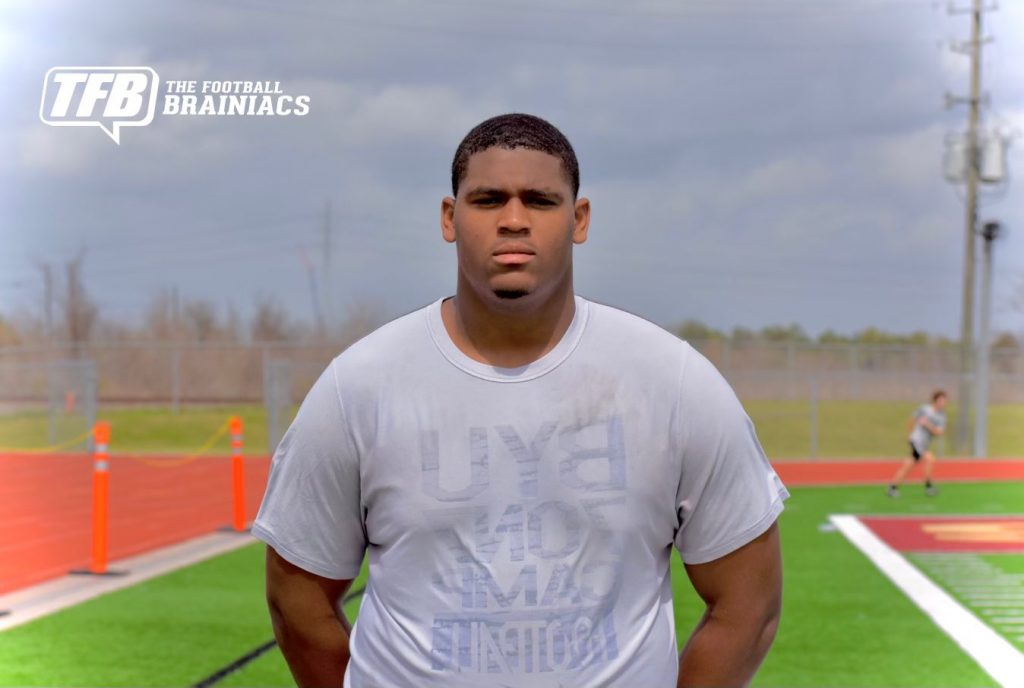 Was able to catch up with 2022 Summer Creek OL Kelvin Banks yesterday to get an update on his recruitment and see just where Texas stands amongst his top schools.
My trip was timed perfectly considering Banks dropped a top eight on Wednesday, so we were able to talk about why those schools survived the cut and where he liked each of the remaining teams.
Communication with the coaching staff is a big factor in Banks' recruitment. He mentioned a number of coaches going the extra mile to get a virtual cake for his birthday on Wednesday to celebrate over Zoom with him. In fact, one staff that was included in the birthday festivities was Texas.
"It's a good relationship," Banks said of the Texas staff. "We talk 3-4 times a week. Coach Sark, he hits me up and hits up my parents too."
In his conversations with Sarkisian, Banks said that he can tell he is a very laid back coach and someone you can easily get along with. A strong relationship with members of the 2022 class is in the works to go hand and hand with Sarkisian and offensive coordinator Kyle Flood.
"Jaydon Blue, he's from the Houston area as well, he's been after me pretty good," Banks said. "Maalik Murphy has been hitting me up a lot. Those are the main two ones, I've had a couple other guys talk to me as well but they've been trying to get me to commit before the season pretty fast."
Banks said he is very appreciative of those guys in the 2022 class who are coming after him. Said he feels like the mutual respect among others in his class is very high and quite important to him.
*** There are a number of factors that have caught Banks' eye about the Texas program. First, Banks is fond of how well the players stuck together last year during the social justice movement in the summer. Secondly, Banks said he grew up a fan of the Longhorns during his childhood. And finally, the coaching staff coming right off a National Championship is going to "put the pieces together" according to Banks.
Charlie mentioned yesterday in the quick hitter about Banks that he cares about developing into a NFL caliber offensive lineman, but a coach's developmental track record alone won't be enough to win him over. Banks mentioned coaches all over the country are able to get guys drafted and it's up to the player for the most part to take the instruction and work on his craft over time to get to that point.
I get the sense that the Longhorns have a lot of momentum in this recruitment. However, until Banks is able to see campuses in person, there will be a lot of factors still up in the air.
Banks hopes to become a coach when his playing days are over, so I believe that means he will be majoring in kinesiology.
If I had to guess, the OV's will go to Texas, Texas A&M, Oklahoma State, Oregon and probably Oklahoma. Banks mentioned wanting to be committed early into his senior season, so the summer visits will be a big part of where things go in his recruitment.
I believe Texas has a very good chance with Banks. There are a lot of factors pointing in the Longhorns' favor and should the visits and communication go well, I could certainly see him being a member of the 2022 class.
---
Sunday Snapshots & Quick Videos From the Road
– Charlie S
With Super K, CJ, and Darius out and about, figured I would throw a thread together for you all with the social media hits they threw up:
Super K caught checked in with 2022 DB Jacoby Mathews…
Also got to see 2022 RB Tre'Vonte Citizen…
CJ and Darius saw 2022 OL Neto Umeozulu…
They also saw 2022 OL Devon Campbell…
DT grabbed 2022 WR commit Armani Winfield…
Rising 2022 LB Jeremy Patton…
2022 LB commit Trevell Johnson…
2022 LB offer Kip Lewis…
A 2022 DL everyone needs to know in Chris McClellan out of Owasso, OK…
2022 DL Kris 'Suge' Ross looked good…
Offensive line priority Kelvin Banks…
---
Kam Dewberry Announcement Info
– Charlie S
Recently Kam Dewberry tweeted out the following…
Just spoke to CJ who let me know that this will be a top schools list and you can expect Texas to make the cut.
The date is significant to Kam as it is his grandmother's birthday.
So again, top schools list, expect Texas to be on it.
---
Texas a Real Player for Jacoby Mathews
– Super K
I know we had previously said that in the race for 5 star 2022 DB, Jacoby Mathews (Ponchatoula, LA) Texas was likely running tied for third with Oklahoma behind LSU and Florida.
After speaking to Mathews his past weekend, I no longer feel that way.
I went through Mathews top six with him and we discussed each school. I'll have more on that but let me bottom line it for you, for now.
My sense is there is a three way tie at the top and Texas is right in that group. After that conversation, I came away thinking, Texas can win this one. I'm not saying they will win it but I absolutely believe they can. I wouldn't necessarily have said that prior to this most recent conversation.