Open Post | Tuesday, March 30th
Posted on: March 30, 2021
Texas in Heavy Contact With 2023 Shiner ATH Dalton Brooks
– CJ Vogel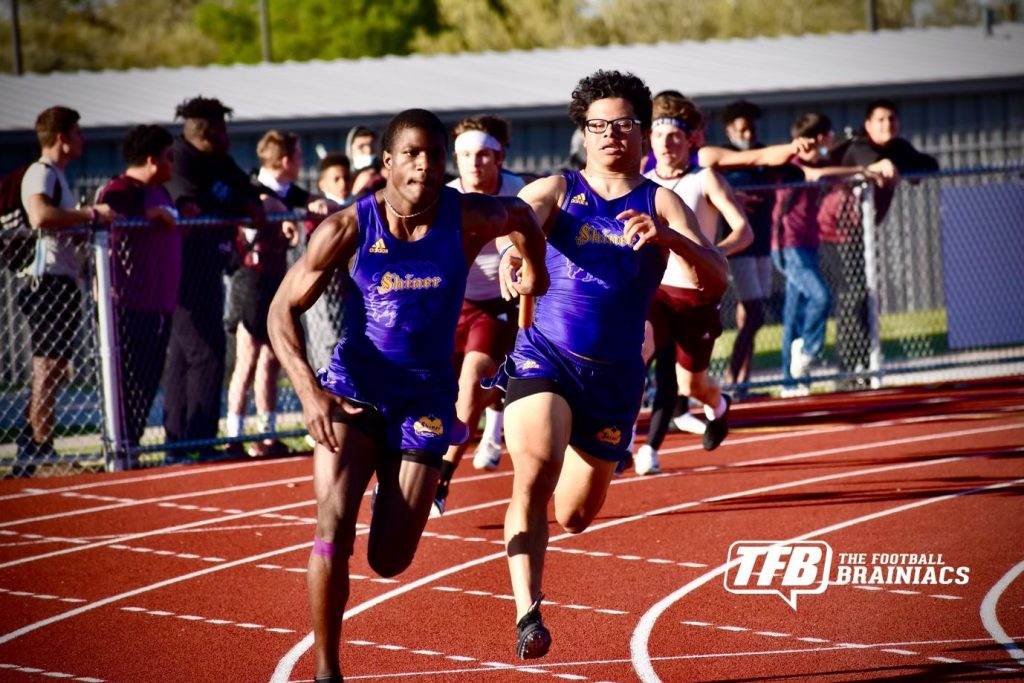 As I mentioned in the Douglas Brooks post, I was able to catch Shiner star ATH Dalton Brooks in person in his track meet at Flatonia High School yesterday.
Brooks has completely blown up on the recruiting trail as of late. With national offers from Alabama, LSU, Notre Dame and Arkansas to go along with Texas and Texas A&M. Things are moving smoothly for the state champion.
Things are very early for Brooks, but he told me he has been hearing mostly from Texas, Alabama and LSU so far. Those three schools, I would anticipate, will be factors for the duration of his recruitment regardless of who else gets involved.
I mentioned in the comments of the Douglas Brooks post that Coach Blake Gideon has been the main communicator on the Texas side for both Brooks brothers. Gideon has been able to create a pretty strong relationship with the brothers and the family, something that is very important for Dalton.
"Me and (Coach Gideon) communicate real well," Brooks said. "We FaceTime every Saturday at 4:00 p.m. We have conversations, we laugh, we joke. We talk about life in general."
Brook said Gideon has been able to share some of his experience of being a Longhorn to provide some perspective of what it is like in Austin. On the field, Gideon sees Brooks as a safety and has obviously been recruiting him as such.
Steve Sarkisian has been able to connect with Brooks through the FaceTimes each week as well. The addition of Sark has Brooks excited about the potential Texas could reach with him at the helm.
"I feel like there's going to be more speed play, more aggression play. The defense is going to be suped-up a little. They're going to make more plays than they did the year before."
One thing I found interesting when talking with Brooks, is that when he was younger, he said he wanted to get out of town and go far for college. Though as he has aged a bit, he kind of reneged on that idea and believes it will be hard to go months without seeing his family.
The Brooks family is very close. Douglas and Dalton's father won a state title for Shiner back in his high school days and the family has been nestled into the community ever since. Dalton told me he hopes to be a physical trainer or coach when he's older and wants to come back to Shiner to improve his town. So schools close to home, will have an edge here.
Jonathan Brooks, the Hallettsville runningback and future Longhorn freshman, is first cousins with the brothers and has been in their ears about the Longhorns.
Dalton finished off our conversation saying he wants to see a lot of schools when he is able to. Mentioned Texas, LSU, Alabama and getting out west to California as well.
Texas, as long as they keep up strong communication, will have a very good shot at landing one of the state's most talented athletes.
---
2022 Shiner DT Douglas Brooks in Contact with Texas
– CJ Vogel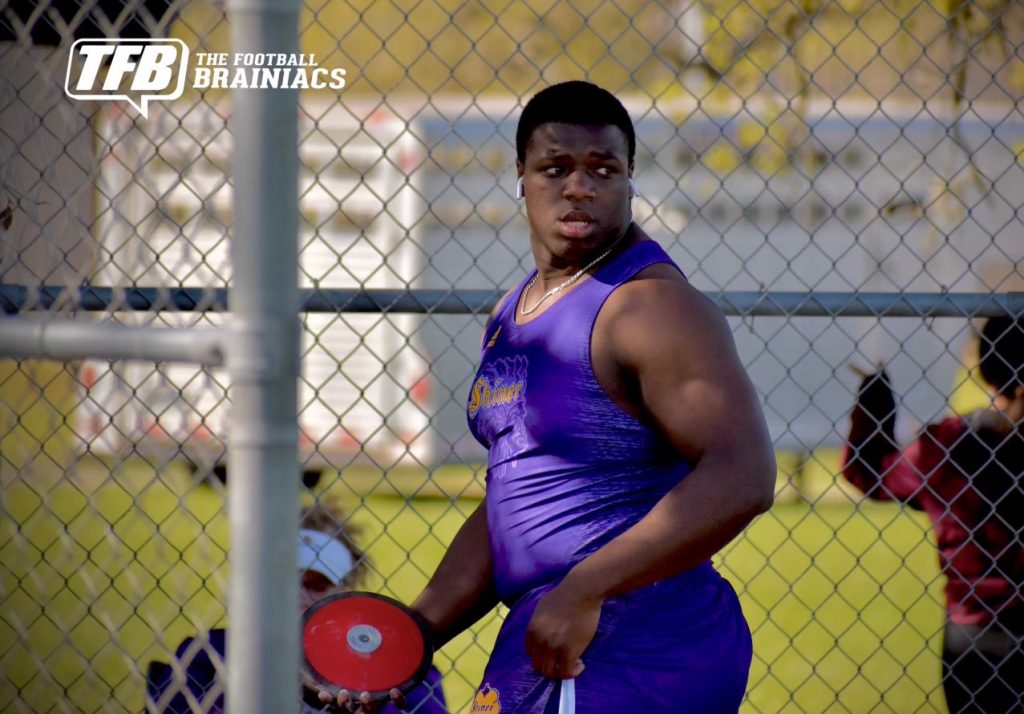 Was able to head out to Flatonia, TX yesterday to see a track meet with two of the biggest stars in the 2A classification last fall, Shiner's Douglas and Dalton Brooks.
Douglas Brooks, a 6-foot, 280 pound defensive tackle, did a little bit of everything for Shiner last fall in route to a 16-0 season and a State Championship victory. Currently, Brooks currently has offers from Houston, UTSA, Colorado State and Army.
Brooks told me that Texas, specifically coach Blake Gideon, has been in contact with him over the last couple of months and hopes to get him on campus once the dead period ends.
"I was at a basketball game when (Coach Gideon) called and we talked," said Brooks about the first time he heard from Texas. "He was like 'This isn't going to be a brother deal, it's going to be we want you because of you.' He's a good person to talk to, almost becoming a friend."
Gideon was referencing Douglas' brother Dalton, who is set up to be one of the top in-state 2023 athletes in the class.
Brooks told me he has been up to Austin before and hopes to make the trip once more when the dead period ends. He said that he does not have plans to officially visit, though if an offer is extended I do believe there won't be any troubles scheduling one.
"I like (Austin), it feels homey," Brooks said. "It's not too far from home, but just enough."
I do think being closer to home will be a factor for Brooks who has UTSA and Houston currently under his belt.
There is still a lot of time left in this recruitment as Brooks said he hopes to make a decision close to the middle of his senior season after taking visits and hopefully reeling in some new offers along the way.
---
Quick Hitter | Evan Stewart OV Date
– CJ Vogel
For now, Frisco Liberty WR Evan Stewart is locked into an official visit with the Longhorns on June 11-13.
Though that may be changing.
i spoke with Stewart this afternoon and he mentioned pushing his OV to Texas back a week. Texas is having a big weekend on June 18-20 and is trying to get Stewart on campus with all of their current commits for one weekend together.
In the grand scheme of things, it's a good move by the Texas staff.
---
The Latest | Ish Harris Sets Texas Visit
– CJ Vogel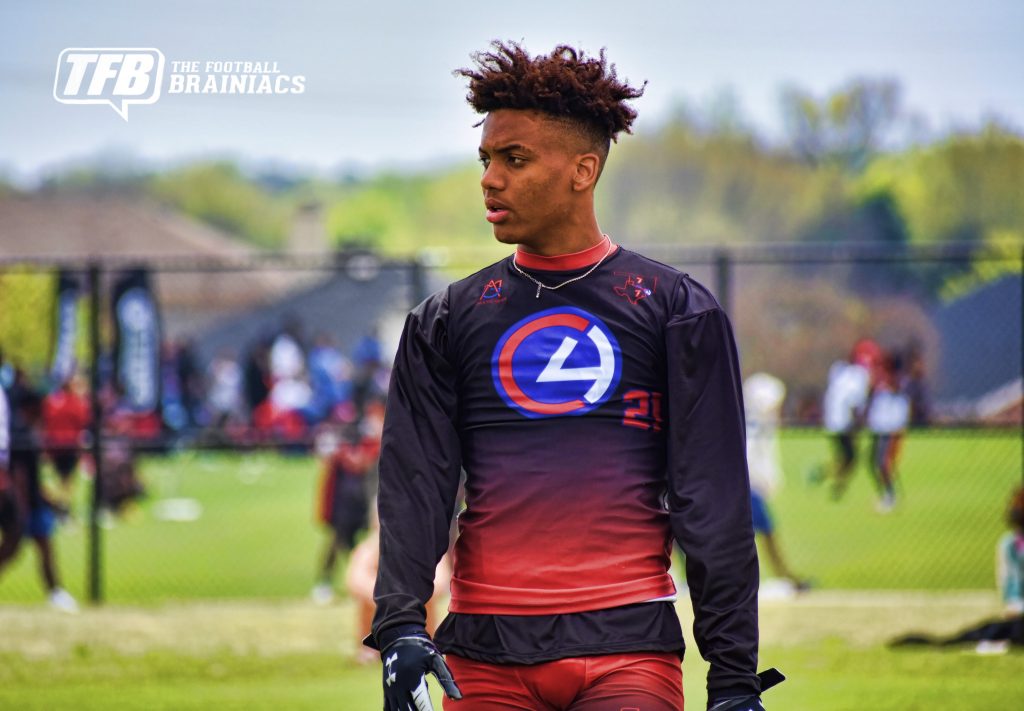 2022 Pilot Point ATH Ish Harris has been rather proactive in making self-guided visits before the dead period ends.
A quick look at some of the visits Harris has made in the last 2+ weeks:
Oklahoma: March 12
Texas A&M: March 18
Baylor: March 18
I spoke with Ish this weekend at the True Buzz Invitational to get a sense of where things with the Texas staff currently stood and when he plans on visiting Austin.
Harris told me he hopes to visit Austin at least twice. The first trip south will be an unofficial visit on June 25.
He mentioned wanting to unofficially visit ahead of his Official date so he could have a sense of the campus and city ahead of time. I believe that first visit to Austin will come one weekend in June.
Harris has been to Austin before, and said he really enjoyed his time in the city, though has not toured the campus or facilities.
Inside LB coach Jeff Choate is spearheading this recruitment and doing a real good job of staying in constant communication. I get the vibe Harris will wait to use his official visits until closer to the season to get a sense of gameday vibes and overall atmosphere at each school.
I believe the OV's will look something like this for Ish – Texas, Texas A&M, OU, Miami and Utah.
---
Texas Still Pushing for 2022 Garland WR Jordan Hudson
– CJ Vogel
2022 Garland WR and current Oklahoma commit Jordan Hudson was in action this weekend for Grand Elite at the True Buzz 7v7 Invitational in DeSoto.
Hudson, all weekend really, was tremendous. He really is one of, if not the best, wide receiver in the state. I caught up with him afterwards to get an update on his recruitment and the push the Longhorns are currently making.
"I've been talking with (the staff)," Hudson said. "They've really been trying to get me to flip and come put on for the state of Texas."
Hudson mentioned WR coach Andre Coleman and head coach Steve Sarkisian being the two guys that have really remained in contact with him since his commitment to Oklahoma.
Hudson told me Sark has been very good at remaining in contact and is in communication with his mother very often. I get the sense Texas is doing everything they can to get Hudson to reconsider his Sooners pledge.
One thing Texas has going for Hudson is quarterback commit Maalik Murphy. The two are good friends and Murphy has been talking with Hudson about putting on the burnt orange as well. He added that he was "solid" to OU but that he will continue to evaluate all options available as the season nears.
Hudson told me Texas will "probably" get an official visit.
Once the season officially gets here, Hudson said he really wants to see Texas "air it out" offensively.
This is really not news to you all who have been following our coverage of Hudson. Back in early February Super K wrote this about him:
'Hudson said the school trying hardest to flip him is Texas. Hudson says Sark, Banks and company have been recruiting him since Alabama and they're recruiting him hard now that they've arrive at Texas.
Hudson said, the new staff has told him they are going to change the culture and standing of Texas but Hudson says he's waiting to "see the progress".
He also added that he "probably" would take a visit down to Texas once Covid clears. From what I can tell Hudson is very solid to Oklahoma but Texas is trying to play the long game here, hoping they can chip away a bit.'
I will say it's not likely that Hudson backs off his commitment to the Sooners, but there are a lot of pulling factors moving in Texas' direction here. It'll be a situation to keep an eye on, but again, I don't think anything is likely to happen. Until Texas hosts him for an OV, we can probably shelf the idea of anything happening to Hudson's commitment status.